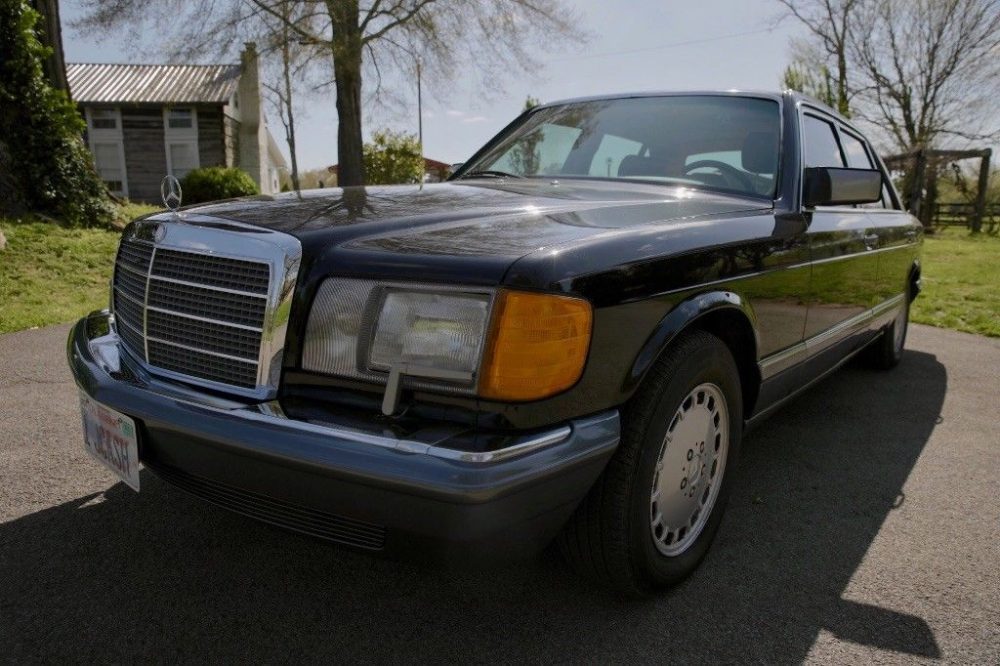 It probably isn't a surprise that the "Man in Black" Johnny Cash also liked in his cars in black. It might be a little bit of a surprise that the romantic outlaw musician liked his black car to be a Mercedes-Benz 560SEL. I have to admit I didn't expect a man with an image like Cash to choose such a fancy car like a 560SEL, but I suppose the W126 will make believers of us all. Cash purchased this vehicle new in 1990 which meant he would have been 59 years-old at the time, so it's not like he was in the prime of his lawless ways, but image is everything and I guess in the pre-internet days it was a lot easier not to be seen. Nonetheless, this is what is claimed to be his last car and now it is up for bid in Tennessee. Fair warning, if you are expecting a prime example 560SEL, you aren't going to find it here.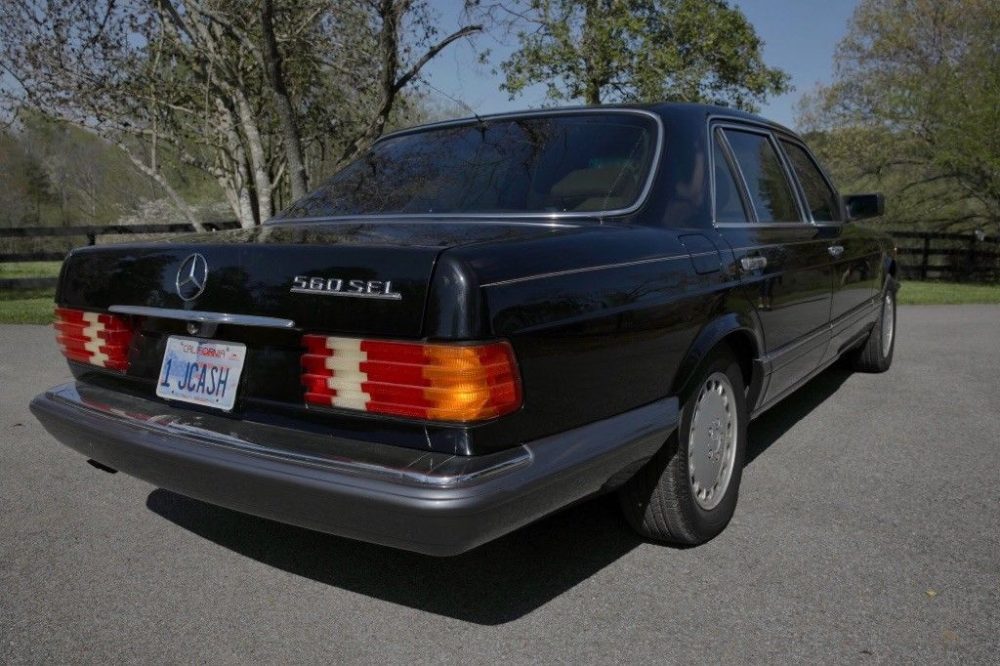 Year: 1990
Model: 560SEL
Engine: 5.6 liter V8
Transmission: 4-speed automatic
Mileage: 139,495 mi
Price: Reserve Auction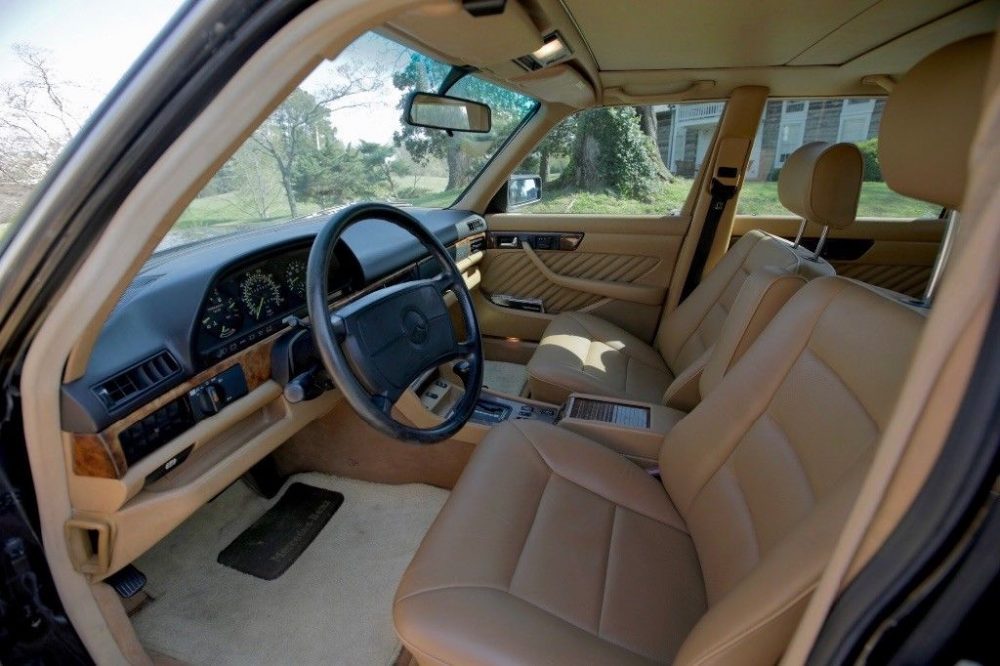 1990 Mercedes-Benz 560 SEL (Johnny Cash's favorite & last automobile)

Johnny Cash fans, collectors and or investors, Do not miss out on this Very rare opportunity… This automobile is coming out of a private collection, It is in Excellent mechanical condition, well cared for and maintained. 1990 Mercedes-Benz 560 SEL Sedan owned by Johnny Cash, the S-seris are already becoming collectible cars Plus this one coming from the Legend himself!! It was the smooth styling of the W126 S-class that propelled this model into becoming a top-tier luxury sedan, a true flagship, and a lasting symbol for Mercedes-Benz. The 560 SEL being the top of the line with 238hp v8 is what makes this car stand above the rest, the S-Class is widely considered to be the poster car for Mercedes top sales in the U.S.

I am the automobile broker that will represent this Mercedes for sale as it is Nothing more Nothing less!! This car is for sale locally so this auction may end at any point, unless the reserve has been met at which time the car will be Sold to the highest bidder! This Mercedes has always been garaged and will continue to be until it is turned over to the new owner. 139,495 actual miles, owner will proved documentation, all service records and nearly 70 service invoices made to Johnny Cash, June Cash along with Cindy Cash. Its overall condition represents that of a very well cared for automobile. The Reserve is set well below the collector value of this One Of A Kind item. I'll try and cover everything in the ad but if you have any questions feel free to contact me for any and all questions.

Exterior-

Body is straight, No rust in the car. Black paint is in very good condition. All chrome is in good condition. All glass is in good condition. Tires are in good condition. All emblems are in good condition with only lite fade on door handles. Car is all factory original. Has scuff on passenger side bumper trim noted it the pictures below.

Interior-

Original saddle color interior is in excellent condition. The interior shows with little to no wear at all. Highly optioned car, cold A/c and Hot heat. All options works as they should. The overall interior of this car is in excellent condition.

Drivetrain-

Original 8 cylinder with 238hp. The engine, drivetrain and drivability has just been completely inspected and are in good driving condition. Engine starts and runs without any issues. Automatic transmission shifts out nice. This Mercedes Benz runs, drives & rides as it should.

Other-

Hard to describe in words the meaning this car brought to the Cash family. Johnny Cash himself said the day he bought this car "This will be the last car I ever buy" indeed it was the last! I welcome anyone to come & inspect this car in person. Seeing is believing!! No expense has been spared keeping this car in its present condition, thousands have been spent on upkeep and all documented service history will also go with the car. As noted above this car was bought new by Johnny Cash, then given to his daughter Cindy Cash at which time the current owner purchased it from her. (the bill of sale from that transaction is included in the pictures below) The history and joy this automobile brought to him and his family is priceless! It is currently titled in a llc for business proposes, But we will be glad to provide you with any and all necessary documents. This is a huge piece of Cash family's history! Reserve price is not a buy it now price. It is merely the least amount it will take to own this piece of automobile history. I have set the reserve @ far less than it's collector value. We are hopeful it will bid FAR above that number!

Bonus-

The winning bidder will get a Free 6 day, 5 night vacation stay in Johnny Cash's private hidden farm in Bon Aqua, Tennessee as the owner also owns this property as well!! This alone is a unbelievable experience, enjoy his home & farm just as he did! This was his favorite place to go after he came off tour. Please contact us for full details on this Very generous offer the owner has included! Click the link below for a video of the Mercedes.

Link-

Terms of Sale-

Cash in person or Wire Transfer only- Vehicle is 28 years old & is being sold AS IS WHERE IS with NO WARRANTY- Please understand that by bidding you are entering a contract to purchase, not to come look at & then make an offer, that will not happen. Winning bidder is required to send a NON REFUNDABLE deposit of $500 within 48 hours of auction ending. Balance due within 10 days after auction closes! I am a licensed & bonded auto dealer in the state Tennessee. We will handle all necessary paperwork to complete the transaction. As noted above we are the broker for this 1990 Mercedes-Benz 560 SEL, Any/all TN residents will be required to pay sales tax @ the time of sale. Any out of state buyer will pay tax @ his/her home state. Winning bidder is responsible for shipping and/or pick up & any/all costs associated with that. Winning bidder is responsible for any/all future repairs the vehicle may require & any/all costs associated with such repairs. Again we are willing to make ourselves available for you and or your inspector to view the car anytime before the auction ends.

* Remember this is not only a fine automobile, but also a piece of country music history! The Man in Black "Hello I'm Johnny Cash"

Thanks for looking, feel free to ask any questions & good luck!!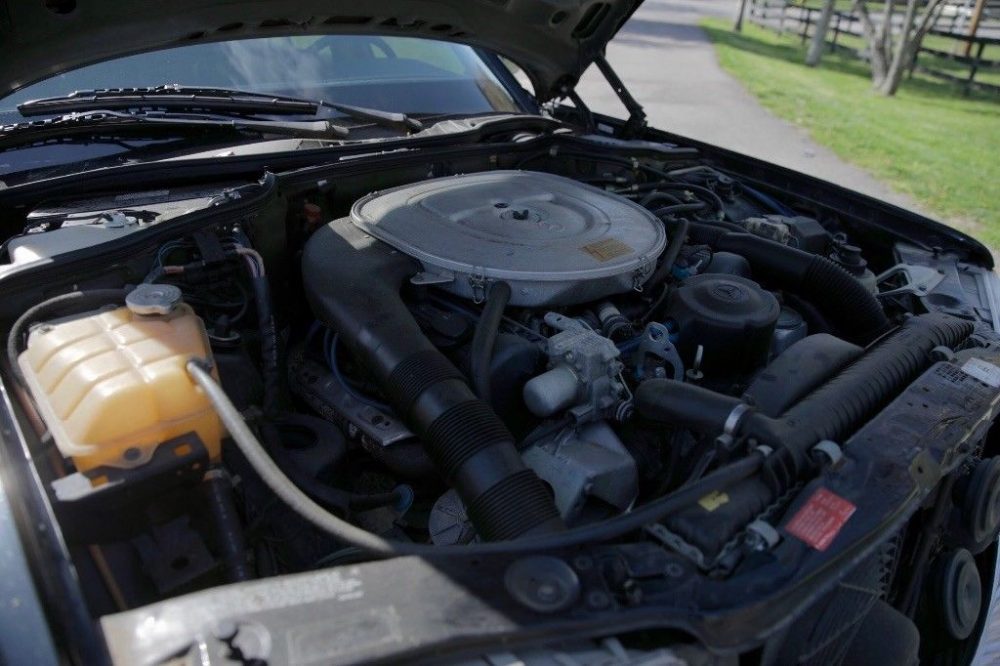 This is probably one of the oddest examples of a car that I've seen go all out to market a car. The seller actually made a short video with use of a drone only to showcase the scuffed up bumper, misplaced 560SEL badge, scratched up paint, low coolant warning light and to top it all off, a great cinematic shot of the crooked hood star. The actual condition of this car is average to good at best and I'm a little surprised they wouldn't correct these issues before putting the car on the market. My guess is that they probably think the car's actual value is that it was owned by Cash and I can't say I disagree. The seller went the extra mile and then some to make sure everyone knows who owned this car and even went as far as to type up a crude story about how this was his favorite car.
I looked through all the photos and saw once piece of documentation that showed this car being sold in 2013 from his daughter to a man named Brian Oxley for $65,000. After I picked myself and my chair up off the floor, some research shows that Oxley is the man who owns and operates the Johnny Cash museum on Cash's former property. Some further reading relieved this car was actually sitting in a barn under a tarp for quite some time as well. Great story for Ferrari 275 GTB, not so much for a 560SEL. That probably explains the current condition of this W126.
Clearly this auction is about selling a piece of Johnny Cash memorabilia and not really about selling a 560SEL. What does that mean for the price of this car? My guess is the seller thinks the car is worth a boatload of money if they paid a jaw-dropping $65,000 for it originally when the actual car value was about $10,000 without Cash's name attached. I have to wonder who else values this car more than the actual person who runs the Johnny Cash museum, but I don't think it's a price the seller is looking for. This car was up for sale in California a few years ago with an asking price of $30,000, so that might give you some kind of idea what the seller is looking for. Will it happen? Probably not.
– Andrew