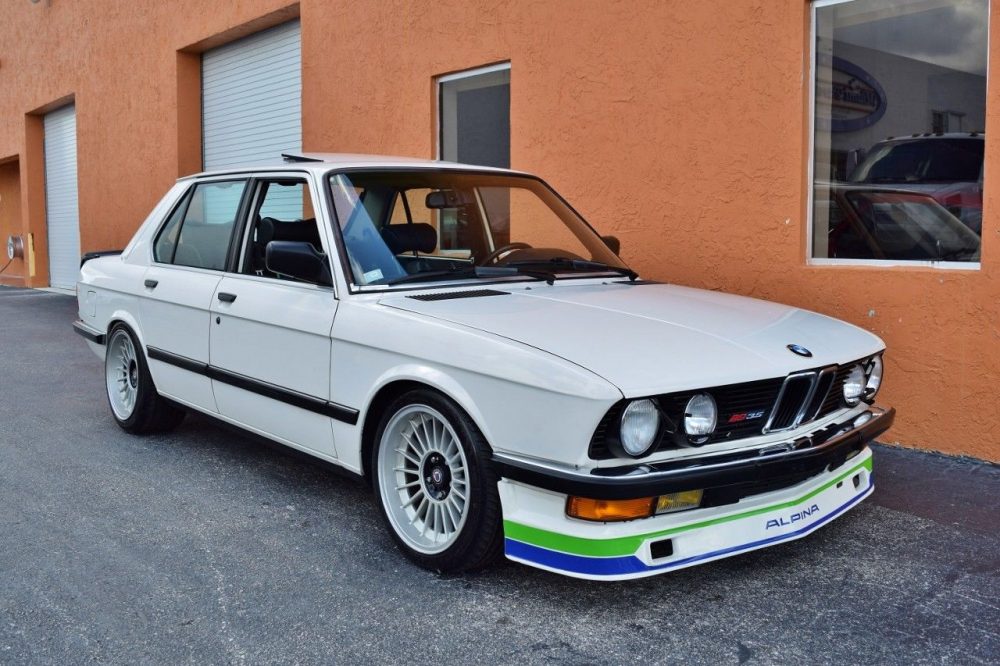 We've certainly seen our fair share of fake Alpinas come across these pages, but this one makes no claim to be authentic. Instead, it's inspired by Alpina but takes its own route and character. I originally looked at this car back in 2014 and it's been on and off the market since. Now showing "8,800" kilometers, the side Alpina decals gone and with a $10,000 increase in asking price since the last time we saw it, will the market appreciate this custom-built E28 this time around?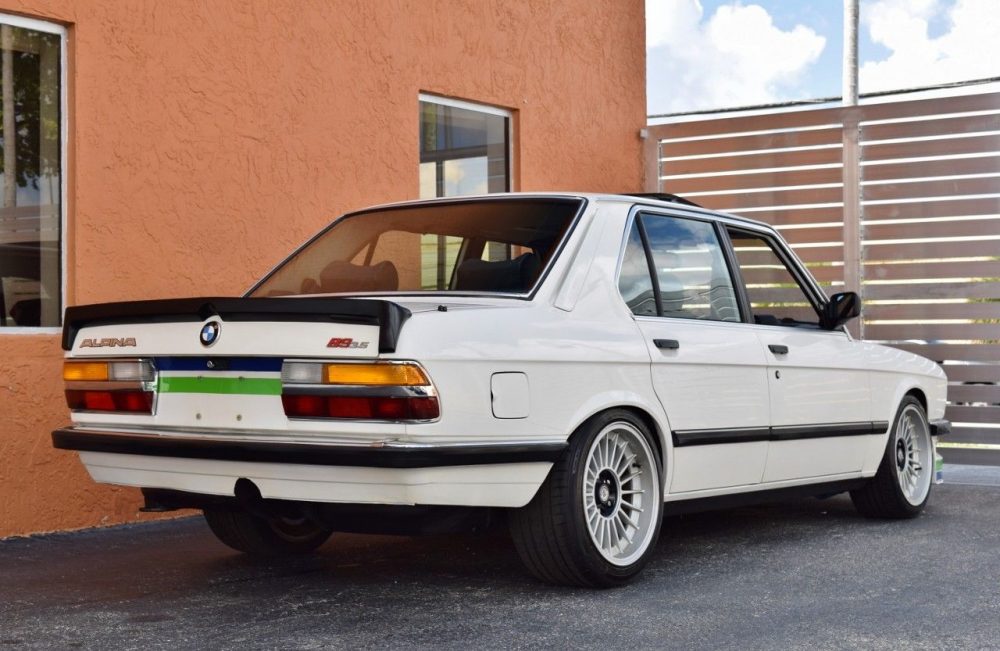 About a month ago, I wrote up a 2002 M20 Turbo built by a company called Manofied. Well, the Manofied folks have been at it again, this time with a 535i. They've fully built the car in the style of the Alpina B9, replete with plenty of Alpina parts, some Euro bits, and what appears to be a fantastic individual throttle body engine. The downside? As with the 2002, the price for this build is quite high for a non-original car. But before you jump to conclusions, take a look: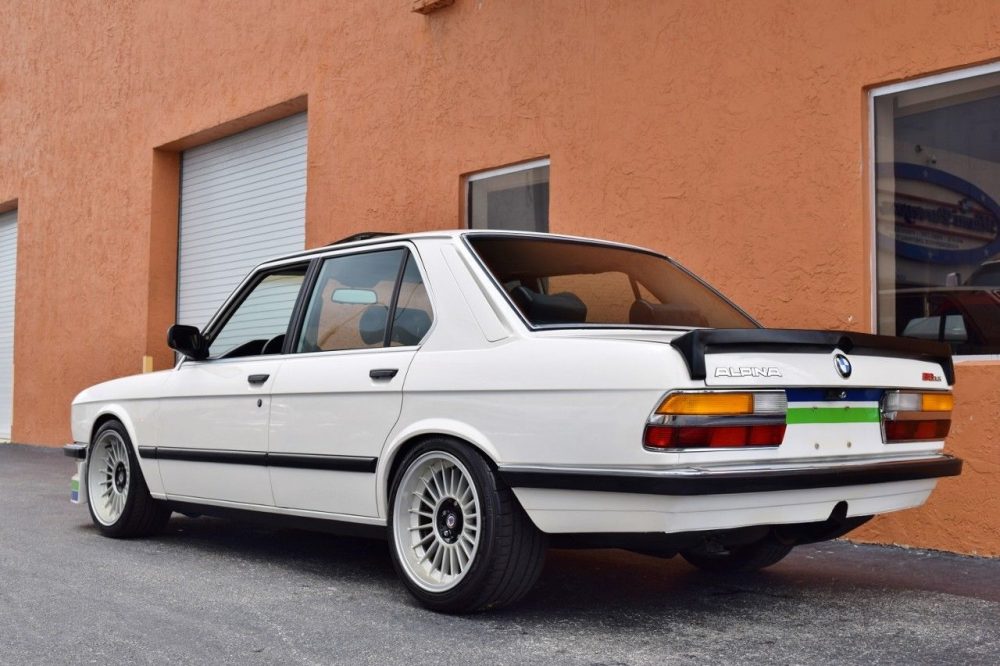 Year: 1988
Model: 535i
Engine: 3.5 liter inline-6
Transmission: 5-speed manual
Mileage: "8,800" km
Price: $42,000 Buy It Now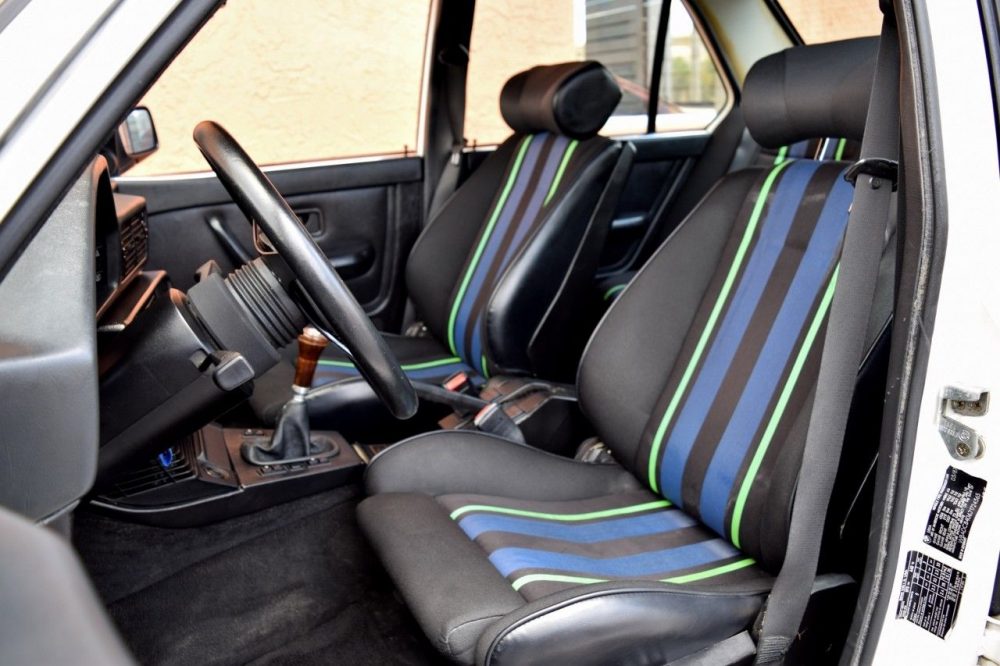 New Description
1988 BMW 535i B35 Swapped ALPINA B9 Inspired Assembled and tuned

RMC Miami is now offering this amazing BMW for your consideration. This e28 has been well put together BY MANOFIED RACING Serial # 012.
8,800 KM shown is how many miles are on the build. Car has never been in an accident spent almost its entire life until 2015 in California and has a clean carfax.

Factory Body is in great shape for the year that being said there are miscellaneous minor scratches rock chips and a touch up on the rear passenger door0
Body has been outfitted with Euro bumpers Euro Factory aluminum front valance, Alpina front spoiler. Alpina trunk spoiler, Alpina green blue striping
Alpina badges. Real staggered Alpina wheels 17 X 8. 5'S In front.17 X 9. 5'S in rear
Interior is just as nice and correct as the exterior. Alpina correct cloth front seats the power seats function properly with no issue.
Alpina cloth rear seats. Alpina steering wheel. Alpina instrument cluster in metric Km.
Alpina floor mats. Alpina dead petal. Custom VDO cluster. Separate VDO coolant temperature, Oil pressure, and voltmeter

Engine is a B35 3.5 Liter Blue printed and balanced. 10. 3. 1 Compression with Rossy pistons. H-BEAM Rods with ARP hardware.
Port and polished head, stainless steel valves, titanium retainers . Iski dual valve springs with 292 cam. Manofied Corsa billet adapters to bolt factory
E28 M5 Individual Throttle bodies. Manofied Corsa billet velocity stacks with filters. Manofied Corsa Individual coil packs.
Manofied Corda distributor delit kit. Manofied Corsa stand alone plug and play ECU.

Drive train consists of 5 speed manual transmission. Aluminum flywheel. Race clutch kit and a 373 differential.
Brakes have been converted to 7 Series front caliper & rotors. E28 Factory rear calipers & rotors with steel braided brake lines.
Cooling system consists of Oem radiator, silicon rubber hose kit, Manofied Corsa billet thermostat housing.
Manofied Corsa inline thermostat and Moroso coolant reservoir.

Exhaust sounds amazing it consists of a mandrel bent 3 inch stainless steel piping with a magna flow muffler.
This exhaust is mated to Manofied Corsa headers TIG Welded SST Tubing.
Suspension has adjustable camber and fixed caster plates on the front. Manofied Custom built coilovers with billet top plates. Adjustable rear toe kit.
Adjustable rear camber kit and all urethane bushings. 25mm. Front and 19mm. Rear Sway bars.
.
Car runs and drives good. Has a very steady idle and is very planted while driving. Has all the driving characteristics
of BMW when they were at their peak. Watch the video below so you can get a feel for how nice this car runs and drives.
The clutch engages nicely and every gear goes in smoothly. The engine purrs like a kitten, loves to be revved out to
red line and sounds so intoxicating that you just want to keep on pushing it and driving it.

See Video Below


Serious Inquiries call Eddie 786-377-4331 or Danny 786-291-3622

Follow us on Instagram for live updates! @rmcmiami
Can Ship (Insured) Anywhere Worldwide if Needed.
Located in Miami, Florida 33126
Financing Available with Approved Credit
Trades Always Welcomed (UP or DOWN)

Old Description
1988 BMW 535i B35 SWAP ALPINA B9 INSPIRED

ASSEMBLED AND TUNNED SERIAL NO: 012 BY MANOFIED RACING LLC.

ENGINE:

B35 SWAP, 3.5LTR. BLUE PRINTED AND BALLANCED.

10.3.1 COMPRESSION WITH ROSSY PISTONS.

H-BEAM RODS WITH ARP HARDWARE.

PORT AND POLISHED HEAD..

STAINLESS STEEL VALVES.

TITENIUM RETAINERS.

ISKI DUAL VALVE SPRINGS WITH 292 CAM.

MANOFIED CORSA BILLET ADAPTERS TO BOLT FACTORY E28 M5 ITB'S

MANOFIED CORSA BILLET VELOCITY STACKS WITH FILTERS.

MANOFIED CORSA INDIVIDUAL COIL PACKS.

MANOFIED CORSA DISTRIBUTOR DELIT KIT.

MANOFIED CORSA STAND ALONE PLUG & PLAY ECU.

VIEW DYNO RESULTS FOR PRODUCED HP AND TORQE.

DRIVETRAIN:

5-SPEED TRANSMISSION.

ALUMINUM FLY WHEEL.

RACE CLUTCH KIT.

373 DIFFERENTIAL.

COOLING SYSTEM:

OEM RADIATOR.

SILICON RUBBER HOSE KIT.

MANOFIED CORSA BILLET THERMOSTAT HOUSING.

MANOFIED CORSA INLINE THERMOSTAT.

MOROSO COOLANT RESERVIOR.

EXHAUST:

MANOFIED MANDREL BENT 3 IN. STAINELESS STEEL PIPING WITH MAGNAFLOW MUFLER.

MANOFIED CORSA HEADERS TIG WELDED SST. TUBING.

SUSPENSION:

MANOFIED CORSA ADJUSTABLE CAMBER AND FIXED CASTER PLATES ( FRONT ).

MANOFIED CUSTOM BUILT FRONT COIL OVERS.

MANOFIED CUSTOM BUILT REAR ADJUSTABLE COIL OVERS AND BILLET TOP PLATES.

FRONT SPRINGS RATE IS 525#

REAR SPRINGS RATE IS 325#

ADJUSTABLE REAR TOE KIT.

ADJUSTABLE REAR CAMBER KIT.

ALL URETHANE BUSHINGS.

25mm. FRONT AND 19mm. REAR SWAY BARS.

BRAKES:

7 SERIES FRONT CALIPER & ROTORS SLOTED.

E28 FACTORY REAR CALIPERS & ROTORS.

STEEL BRAIDED BRAKE LINES.

EXTERIOR:

FACTORY BODY WHITE PAINT.

EURO BUMPERS.

EURO FACTORY ALUMINUM FRONT VALANCE.

ALPINA FRONT SPOILER.

ALPINA TRUNK SPOILER.

ALPINA GREEN/BLUE STRIPPING.

ALPINA BADGES.

INTERIOR:

ALPINA CORRECT CLOTH FRONT SEATS.

ALPINA CLOTH REAR SEAT.

ALPINA STEERING WHEEL.

ALPINA INSTRUMENT CLUSTER IN METRIC Km.

ALPINA FLOOR MATS.

ALPINA DEAD PEDAL.

CUSTOM VDO CLUSTER.

SEPERATE VDO COOLANT TEMERATURE , OIL PRESSURE AND VOLTMETER.

WHEELS:

ALPINA 17 X 8.5'S IN FRONT.

ALPINA 17 X 9.5'S IN REAR.

235-40-17'S FRONT TIRE SIZE.

255-40-17'S REAR TIRE SIZE.

FOR MORE INFORMATION PLEASE CONTACT US VIA EMAIL

OR MANOFIED WEB-SITE.

THANK YOU.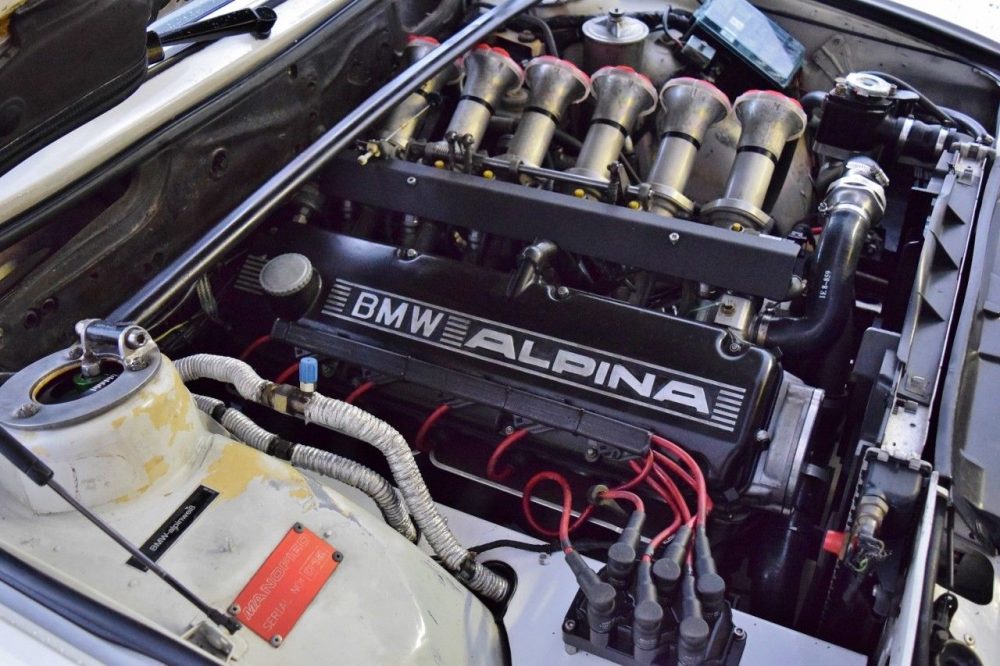 Outside of the basic body structure, it doesn't appear that much has been left alone by Manofied. They installed the heavy-duty suspension, 7 series brakes, Alpina wheels and tires to keep the car grounded. Then there's the crazy ITB engine build with stand-alone electronic fuel injection, replete with dyno sheet to show near-M5 levels of power. Top that off with the Alpina interior, spoilers and stripes and this is one great looking build. I think it sits a bit too low, but only a bit – and I wonder what level of driveability has been sacrificed for power with the ITB setup. Outside of that, though, I really like everything here – except the price. For $32,500, with some searching you could find a real Alpina B9 if you were a serious collector, or certainly one of the nicest M5s in the world. However, if you wanted to replicate this build from scratch, you'd likely be better off just buying this one – the parts and labor alone would likely come close to the asking price here. Either way, it's a great looking build and to me much more appealing than the custom turbo 2002 they built.
-Carter