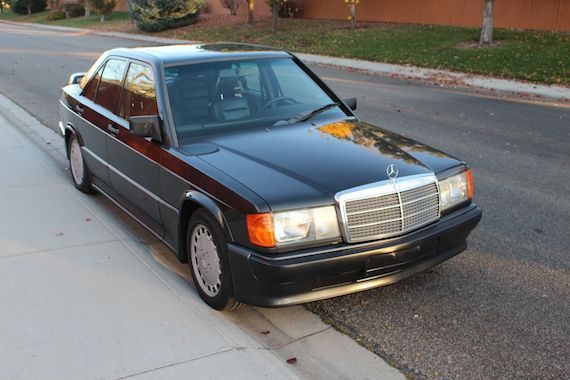 I've posted several 190Es since joining GCFSB, making no secret of my love for the W201. But I haven't yet written up a 2.3-16, the high-performance version developed in conjunction with Cosworth to go racing at the DTM. It's not because I don't like them. Far from it; I lusted after one of these when I was in the market for a W201 a few years ago. But the 16v models in my price range were all wrecks and so I settled for a stock 2.6 instead. (I did, however, get my hands on a full 16v body kit but, as some of you will know, I crashed my car before I had the chance to install it). The reason is rather that many of these come to market in poor shape, and it takes a special car to pique my interest. This one has it's faults but, being a European market gray import, it also has a few redeeming features.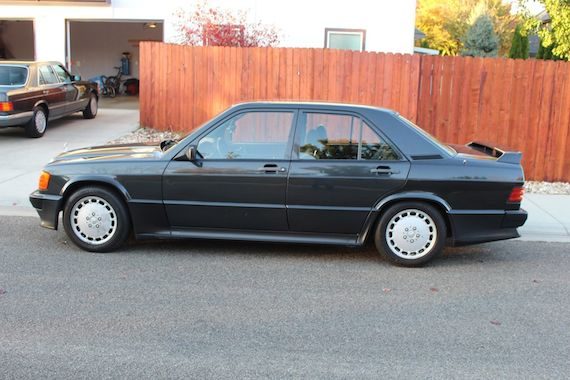 Year: 1985
Model: 190E 2.3-16
Engine: 2.3 liter inline-4
Transmission: 5-speed manual
Mileage: 66,750 mi
Price: $18,000 Buy It Now or Best Offer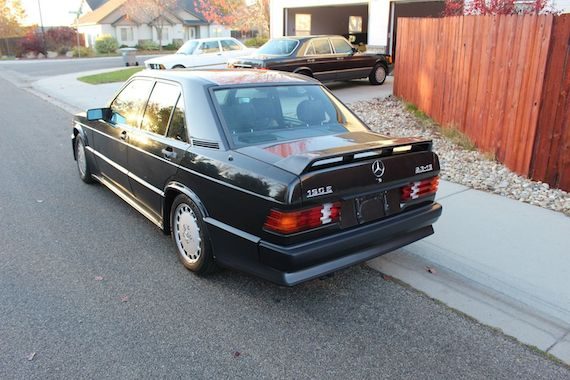 Below is the posting from the Original owner (the gentleman we purchased from):

"An AMAZING opportunity to buy an early, Euro model Mercedes-Benz 190E 2.3-16 Cosworth at a very reasonable price. This is a local Minneapolis car with just over 63,000 original, one owner miles. The car was purchased by its only owner, the man who owns the car today, in Germany, in 1985 (before they were available in the U.S. as U.S. spec cars. 5 speed manual Getrag transmission and the tuned Cosworth engine.
Read the complete description below, contact info for the owner is below:
Mercedes Benz 1985 190 2.3-16
Exterior: Pearl Black (blauschwarz metallic) interior: Black Leather
Panasonic DP720U CD AM/FM radio with removable faceplate – Boston Acoustic rear speakers
5 speed manual Getrag Transmission Original Euro headlights (not sealed beams)
Never raced or abused VIN: WDB2010341A227130
Garaged in Minneapolis Minnesota Current mileage: 63,750

Mileage note: The actual mileage on this vehicle is 2,400 miles LESS than recorded 63,750 miles, on the odometer. When the car was converted to DOT/EPA requirements, a new odometer/speedometer, in miles, was installed. Instead of converting the then 6,000 kilometers on the car, to 3,600 miles; the conversion company set the new speedometer to 6,000 miles. It would have been more of a hassle to change it back than it was worth. This is more of a conversation item, I guess.

History:
Ordered by me in West Germany 9/1984
Delivered in West Germany 7/1985
Used in Europe, by my wife and me, then shipped to the US 10/1985
EPA/DOT conversions and certification by Classic Motors, Westmont, IL – completed 12/1985 Classic Motors was the AMG licensee for the Midwest, before Mercedes purchased AMG
The car has been stored in a heated garage, in Minnesota, since new. It has seen frequent summer driving until 1994, then sporadic summer use since 1995.
Service has been performed by Sears Imported Autos, the local Mercedes dealership. Most service receipts are available. Some oil changes, and recent service, has been done by my trusted, local garage: Steve's Tire and Auto in Minneapolis. They have done service work on my Amphicar, and other vehicles, for many years.

Significant repair items:
5/87 replaced AC line
9/89 motor mounts replaced
7/96 front muffler replaced
4/98 steering shock and right tie rod end replaced
9/06 fan clutch replaced
5/09 brake master cylinder replaced
Tires: Michelin Pilot Exalto 205/55R15 ultra high performance installed at 63,000 miles
The spare tire is the original Pirelli P6, on the original wheel. It has never been used, or even removed from the trunk. Original jack, handle and tool pouch are in the trunk.
A new, in the box, front hood ornament is included. It has not been installed yet, but shown in the photos.
A new windshield was installed at aprox. 62,500 miles.
The battery was new on 10/2006

Since this is a Euro spec car, it may not have the same accessories as found on an American spec car. The engine has a higher horsepower output than the American version. Since I have never driven another 16V, I cannot offer a comparison, Euro vs. American, but, from what I have read, the Euro version is somewhat quicker. I believe the Euro puts out 185 bhp vs. 167 for the American version.

Optional Factory Installed Accessories:
These may or may not be standard on an American spec. car, but were not standard on Euro models. I specified these on my order for the car in Germany. Heated front seats – power front seats with memory (both sides) – power right side mirror (left is manual, with an interior knob) – heated mirrors – power antenna – power sunroof – front and rear headrests – central power locking – antilock brakes – a/c – electric windows (4) – rear window defroster – auto leveling hydraulics – English and German owner's manuals – rubber floor mats

Observations of note:
Unfortunate hail damage was sustained in 1998 – the paint is not chipped from the hail, so dentless removal would likely work just fine, except on the rubberized rear spoil, which needs repainting. There are also some door dings, fine scratches, and other wear and tear to the original paint. The hail damage consists of APPROXIMATELY 11 trunk dings, 20 roof, 6 hood, and numerous dings on the rubberized rear spoiler.
There is a "ding" next to the driver's side window, in the B pillar window frame. This was caused by someone trying to break the window with an unknown object. They eventually succeeded. The window is no more than 3 years old. The metal damage is visible in one of the photos of the B pillar.
The dash has three or four cracks, as is common with this era of Mercedes – a dash cover would most likely cover these completely, since they are all on the horizontal surface, and not all that noticeable.
The driver's seat has some leather surface color wear on the left (as seated) edge, from driver entries and exits. Other seats are in near excellent shape.
The a/c blows as cold as it ever did; but, being a black on black car, it never got cold inside on a hot, humid summer day, unless I am on the highway for some time. This isn't a wear item, just a declaration.
The clock has stopped working, probably from sitting, unpowered – no attempts have been made to repair it. It probably just needs some oil and a nudge.
The original wheels have some clear coat peel happening. It isn't really a peel, but a disappearance of some of the coating, leaving a somewhat mottled look to the silver wheel finish. This is primarily on the front wheels. There is a photo of each wheel in the PDF photos.
The trunk lock was disconnected from the central locking system. It needs to be locked/unlocked manually with the key. It could be reactivated to the central locking system, but, as I recall, there is a small connecting piece that would need to be replaced.
An Alpine, after market, security alarm was installed, but was disconnected many years ago. It is still in the car, and could probably be reactivated by an auto electrician. (the manual and remote are included)
The car does not have cruise control. It was illegal in Germany, and not available to order, at that time.
There is not an airbag on this car. It was not available, at the time, on the German model, although the cars that were sold by Mercedes, in the US, a year later, did have airbags.
Minnesota had an annual EPA emissions testing program until 2000. This car passed the testing, on the first test, each year. Each annual inspection report is included.
The car has always started immediately after sitting in a heated garage all winter; which in Minnesota means from October to April or May.
This Euro version of the 16V has about 15 more horsepower than the US version. It is fast.
The Mercedes is fully functional and serviced, ready to drive."

In my time of owning it, nothing has changed. I replaced the hood insulation due to old age. Interested parties can contact me directly @ 253 397 9173. Local buyers are welcome to come and test drive.

Free Shipping to buyer in the lower 48.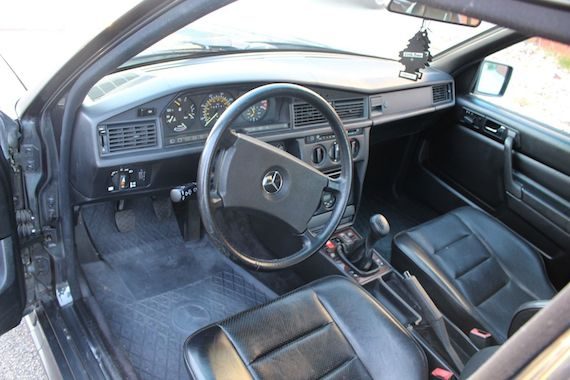 This low-mileage car comes in 199 Blue-Black, which I think is a much better color than the more frequently seen Smoke Silver (aka Grandpa Beige). The 80s-tastic flared wheel arches, revised bumpers and rear deck lid spoiler are all intact (good news since these parts are expensive to replace). As a European-spec car, flush glass headlights adorn the front end, a massive improvement on the US-spec lights and their plastic housings that tend to cloud with age. But the more interesting differences lie under the skin: the Euro version of the spruced up M102 inline-4 motor is a bit more powerful than the one offered Stateside, and pushes out about 185 hp (versus 167 hp). That's mated to a dogleg Getrag manual gearbox.
The downsides? Well, I think this car may turn out to be a "10 footer." From afar, condition looks good, but closeup pics reveal a number of scuffs and gouges in the paint, and peeling lacquer on the wheels. Worse, however, is that the car has been left with dimpled sheet metal following a hail storm. The seller claims a PDR could take care of it, but I'm assuming it won't be cheap (perhaps this car will appeal if you own your own body shop). It's especially disconcerting given the asking price: I think $18k would be fair if the car were in mint condition, but of course it is not.
Also of note: most of the ad is a copied from an earlier ad from 2012 (see here), where the car was priced at a much more reasonable $11k. Moreover, the eBay listing suggests that virtually no major work has been done since then. The 16v motor is a bit finicky, so intensive catch-up maintenance might be in the near future on this one. Again, it's a bit galling considering the asking price.
On the plus side, one of the photos shows the car sitting between a W126 and an E21 BMW. So at least we know the seller has good taste.
– Craig