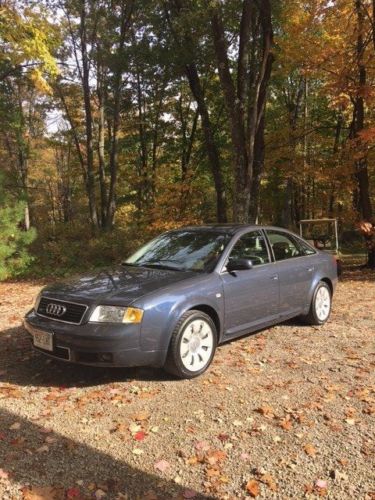 After the legendary run of turbocharged inline-5 motors ended for U.S. customers in 1995, Audi would not deliver another S6 to these shores until 2002. When it arrived, it came in only one form – the popular Avant package. While many rejoiced that this was at the very least an option, it was still pretty expensive and not everyone loves the fast five doors (crazy though it may seem!). But Audi came very close to offering S performance in the special package which was the A6 4.2 quattro. There were many variants of the C5, and ostensibly the 6-speed manual 2.7T was the "sport" option for the chassis. But the top of the heap 4.2 40V offered you the ART/AWN V8's torque and 300 horsepower with instant throttle response starting in 2000. Underneath the 4.2 carried a special aluminum subframe. Additionally, the all-aluminum engine was joined by specially flared fenders and hood in aluminum, "door blades" that would later be seen on S models, plus optional 17″ x 8″ Speedline (later changed to forged and polished "Fat Fives") wheels and upgraded brakes and pads. Suspension was lowered and stiffened with the 1BE sport springs and struts in the optional Sport Package; a 20mm drop was accompanied by 30% stiffer springs, 40% stiffer shocks and larger sway bars. The combination gave a menacing appearance to the C5 that wasn't really present in the narrow-body 2.7T. Today, the argument over which is the better chassis still rages in multiple fora, and while tuners usually love the twin turbo manual option, many others prefer the velvet hammer 4.2 which really was a defacto S6 sedan Audi never brought here: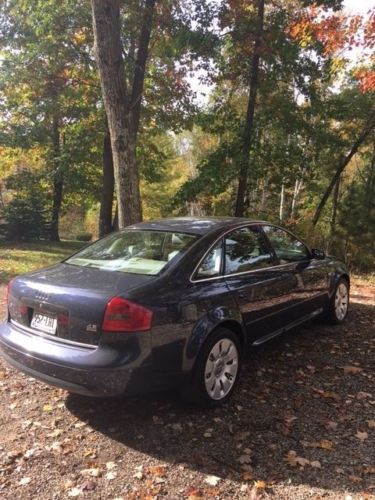 Year: 2001
Model: A6 4.2 quattro
Engine: 4.2 liter V8
Transmission: 5-speed automatic
Mileage: 131,425 mi
Price: Reserve Auction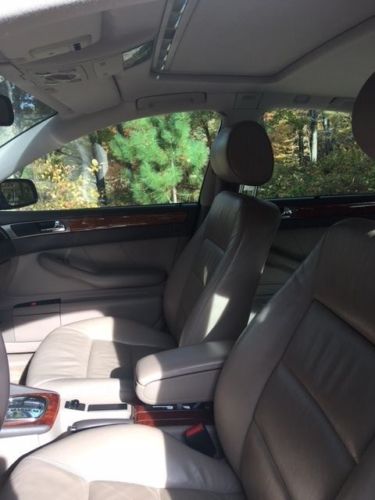 2001 Audi A6 4.2. This is a beautiful car in beautiful condition. Exterior is flawless, no rust, no dents or scratches. Interior also is in excellent condition. Everything works, only flaw is the driver information screen between the gauges is starting to deteriorate (common audi problem). I am listing this car for my parents. I purchased it in 2005 and transferred to my parents several years later. Our family has owned this car for many years and loved it. All required maintenance has always been performed when necessary. You will not find a 2001 Audi in better condition anywhere. Unique dolphin blue pearl exterior with tan interior and birdseye maple wood. Fully optioned vehicle with A/C, Cruise, Quattro all wheel drive, newer tires, heated seats, moonroof, full instrumentation, CD player with cassette, Automatic Transmission, heated steering wheel, keyless entry, power driver and passenger seats, and traction control. This is the 4.2 v8 with 300hp and special flared quarter panels and fenders to accommodate the larger wheel and tire package Audi fitted to the 4.2 version of this vehicle. This car is very fast and very comfortable to drive.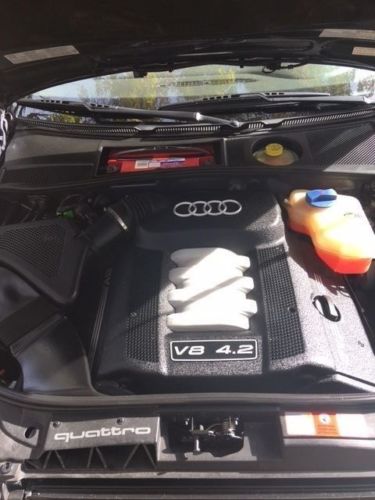 While the seller refers to the color as "Dolphin Blue Metallic", I'm pretty sure it's Nemo Blue Pearl. They are correct, though, that the center display often fails (and is repairable). Is this the best condition 2001 Audi anywhere? Probably not, but it's certainly very nice. The color and original Speedline wheels look great and the tan comfort interior with warm wood trim is a nice place to be. The seller would have been better served with more detailed landscape photos and documenting what service had been performed; like the S6, the 5-speed automatic transmissions on these cars are suspect at this point. Bidding is slow at only $2,000 so far, but figure the market value on this car is likely $4,000 – $5,000 today – perhaps a bit more if the condition is as perfect as described and the seller can produce expensive maintenance records such as a recent timing belt job or transmission service.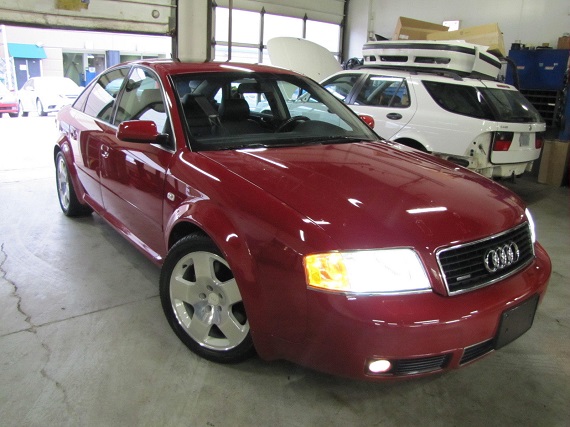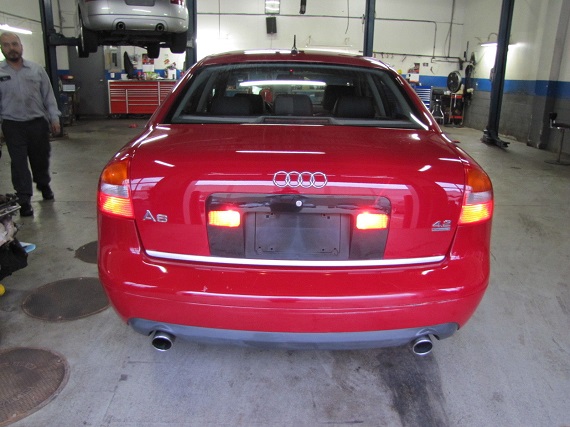 Year: 2003
Model: A6 4.2 quattro
Engine: 4.2 liter V8
Transmission: 5-speed automatic
Mileage: 132,389 mi
Price: $4,200 Buy It Now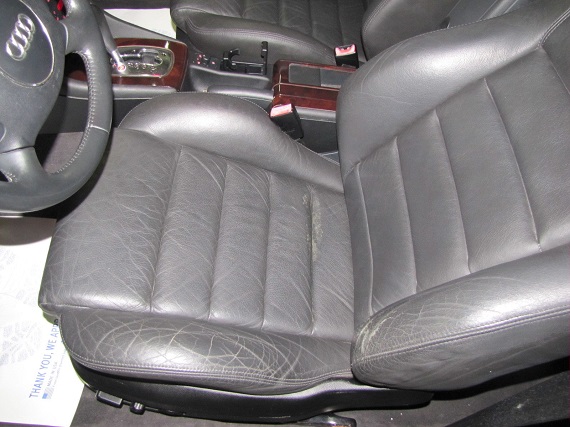 HI,UP FOR BID IS BEAUTIFUL 03 AUDI A6 QUATTRO 4.2V8 WITH 300HP AUTO WITH TRIPTRONIC WITH 132K MI FROM SAAB AND AUDI BEST TECH INC IN CHICAGO, THIS IS A NICE AND CLEAN CAR VERY WELL MAINTAINED,WITH SPORT PACKAGE WITH SPORT SEATS,SPORT SUSPENTION,SPORT RIMS. RUNS AND DRIVES 100% NO LEAKS OR FUNNY NOISES., TRANS SHIFTS GREAT WITH NO ISSUES , POWER SPORT LEATHER HEATED SEATS WITH POWER LUMBAR AND MEM,POWER ADJ STEERING WHEEL,HEATED REAR SEATS,HID HEADLIGHTS POWER HEATED AND POWER FOLDING MIRRORS WITH AUTO DIMMING,SPEED SENSITIVE POWER STEARING IN DASH 6 DISC CD AND ELECTRONIC STABILTY CONTROL,, AC IS ICE COLD, `LEATHER IS IN GREAT COND WITH NO RIPS OR TEARS,BEAUTIFUL RED PAINT IS EXEL WITH ONLY MINOR SCRATCHES AND DINGS,SOME CLEAR COAT IS PEALING.17″FACT FAT 5 WHEELS ONLY AVALIBLE ON THE 4.2 WHEELS IN GREAT COND NO CURB RASH WITH 4 GOOD TIRES,POWER HEATED MIRRIORS. POWER SUN ROOF,KEYLESS ENTRY WITH ORGINAL KEY, WE ARE A SAAB AND AUDI ONLY REPAIR SHOP AND HAVE BEEN IN BUSNESS FOR OVER 28 YEARS WE HAVE DONE A FULL MAJOR SERVICE,NEW TIMMING BELT AND WATERPUMP. AND A FULL DETAIL. WE NEVER CHARGE ANY DOC FEES,AND CAN ARANGE SHIPPING AT A REASONABLE COST. I HAVE PERSONALY DRIVEN THIS CAR FOR OVER 1000 MILES WITH NO ISSUES DRIVES PERFECT.PLEASE CHECK OUR FEEDBACK (100%) REMEMBER THAT HIS IS A USED CAR AND NOT NEW AND WILL HAVE SIGNS OF NORMAL WARE AND TEAR,PLEASE ASK ALL QUESTIONS OR COME INSPECT THE CAR BEFORE BIDDING. EMAIL WITH ANY QUESTIONS,OR CALL 773-525-SAAB (7222)-THANKS FOR LOOKING AND HAPPY BIDDING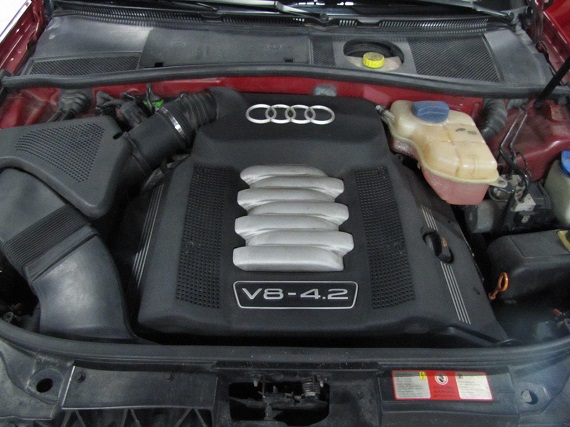 There are a few reasons to like this 2003 model a bit more. First off, it's pretty well equipped. Like Nemo Blue Pearl, Amulet Red is a great color and set off nicely by the later forged "Fat Five" polished wheels. This car also has a bunch of great options; the PPS Sport Package option gave you the lowered and stiffened suspension shared with the S6, along with the Sport Seats in front (also S6 items). The car doesn't appear to have the Premium Package (PPX) option which would have given you Bose, auto-dimming and auto-folding mirrors, sunroof and Xenon lights, but does have the later two options installed. Interestingly, it does seem to have the Cold Weather Package (PAW) which included heated front and rear seats, heated steering wheel and ski sack – but the last item is not on the build sticker. From the build sticker, the car does not have the optional Solar Roof (3FR).
Like the S6, the A6 4.2 was a timing belt motor, and this car has had that recently serviced according to the seller. Additionally, there does not appear to be any pixilation of the center display screen. The downside? Autocheck seems to indicate the car has a branded title, which might explain the peeling clearcoat on what otherwise seems to be a very nice example. Baring any major undisclosed issues with the repairs, the $4,200 asking price seems not out of line for what the car is.
-Carter