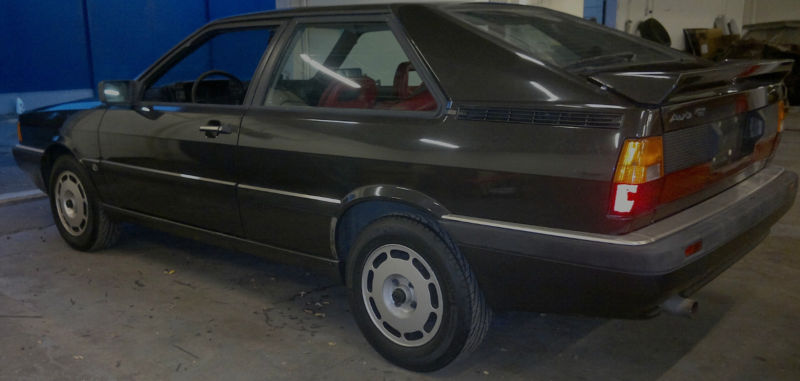 We've featured a few Audi Coupe GTs here recently, and for different reasons I have loved them all. In the case of this car, it has to be the interior – one of the hard-to-find Commemorative Edition GTs with red leather. These are fun but affordable cars that have a healthy dose of good styling from Giugiaro but enough practicality to transport four plus luggage, and are known to run easily into the hundreds of thousands of miles. Unlike their 4000 quattro stablemates, mint condition examples of Coupe GTs seem to pop up from time to time, and today we have found one – a Graphite Metallic 1986 Audi Coupe GT CE.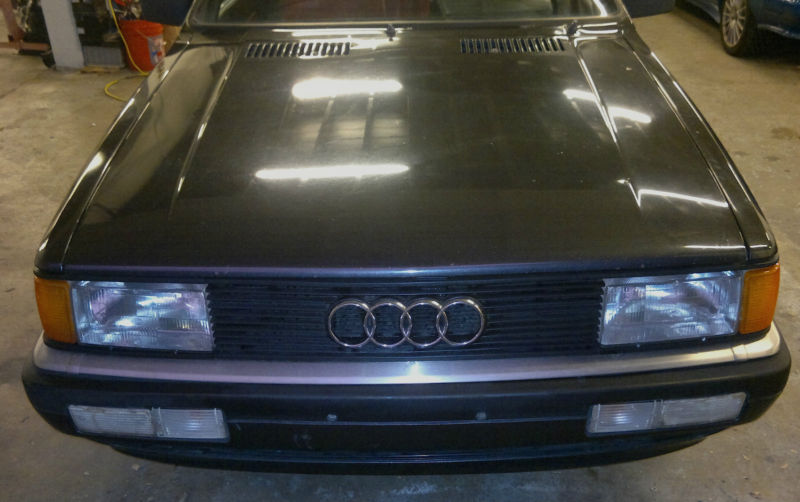 Year: 1986
Model: Coupe GT Commemorative Edition
Engine: 2.2 liter inline-5
Transmission: 5-speed manual
Mileage: 56,500 mi
Price: $7,999 Buy It Now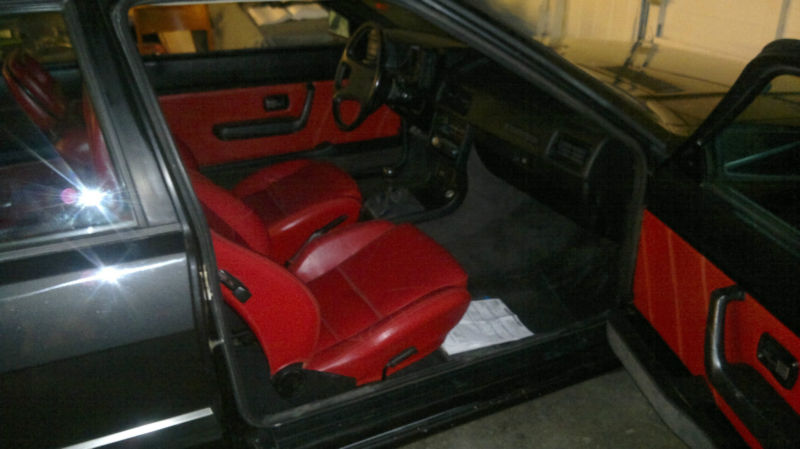 ULTRA Rare Anniversary Edition Audi Coupe GT. Probably the rarest Coupe GT in the USA and the Black Exterior with Red Leather Interior is the rarest color combination. They made these in 1986 and Anniversary Editions had Digital Dashes, different wheels, red leather interior, red door panels, body color painted spoiler, Coupe GT Floor Mats, blacked out interior trim instead of chrome stock, digital trip computer, mpg, etc. They only came in White and Black and Black being the rarest. You WONT find another one like this and its taken me 2 years to go thru it. Car has 56K original miles. Interior is in Mint condition. Door cards and pockets are all attached still and in excellent shape. Has New Michelin Hydro-edge tires on original wheels. Original COUPE GT Floor Mats with red stitching, Fully functional Digital dash working as new. Everything works as it should. New sunroof seal. New rear trunk shocks.

Car had been in a hail storm in the past from a previous owner, so I had taken out all the interior and headliner so I could get it all done by a pdr guy which cost me $1,400. I had every dent on every panel taken out. Put everything back in and fixed anything that needed to be fixed or repaired. Original carpet is mint, dash, center console, all in excellent condition. trunk is like new with original jack, spare and tools. Car has rear window defrost, rear wiper. All headlights are excellent, lenses. Rear tail lights are mint, rear prismatic coupe strip is mint. I replaced oil pan gasket, head gasket (10v turbo metal), head bolts, valve cover gasket(1 piece rubber), water pump, timing belt, tensioner roller, alternator belt, power steering belt, thermostat and vacuum pump gasket, painted oil pan cover, valve cover, timing belt cover. Radiator completely gone thru, re-cored, and re flow tested and painted. New Clutch Kit, OEM. New Battery. Lots of other hoses, etc are new. Car has minor surface rust spots from the hail where it cracked paint. Nothing serious. Hard to see with black. No Rust Anywhere other that that surface spots like I said. Underneath is immaculate. New Magna-flow Exhaust that sounds amazing. You wont find a nicer one of these and very few Coupe GT's from any year in this kind of condition. This is a collectors Item and will go up in value year by year. I have many Audi's and id like to keep this car. No enough space as 2 years was much longer than I anticipated as I had to do a lot of the work myself.

Pics of everything at photobucket:s120.photobucket.com/user/hoopster21/library/Anniversary Coupe GT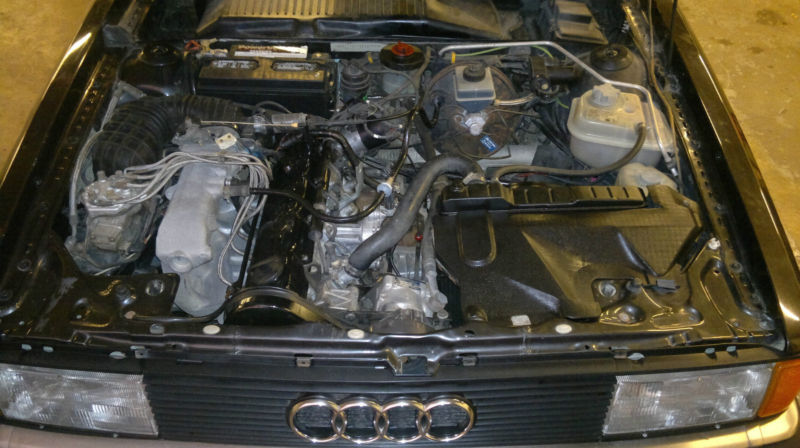 This car comes to us from the same seller that offered the equally rare and equally pricey
Ginster Yellow Coupe quattro. He obviously has a knack for finding rare Audis – eagle-eyed readers will likely spot a rare 1984 4000 quattro in one of the photos. That said, I do have some issues with the way the car is presented – mostly being that the information presented on the car isn't completely correct. The car isn't black (that wasn't an option on the C.E.), but Graphite Metallic. Graphite is the more rare color for the C.E. Coupes, but this is not the rarest combination available on GTs – that would likely fall to the ultra-rare black with black leather Special Build 1987.5s.
In other advertisements for the car, the seller's quote on paintless dent removal varies from $800 to $1,400, and frankly the paint just doesn't look as nice as some other lower mile GTs I've seen for sale, though the Graphite color was tough to keep looking good – many had clearcoat failure long ago. The wheels are not correct for a 1986 model GT – indeed, the C.E. did not get different wheels than the normal GT (other than being painted white on Alpine White models). The wheels on the car are either from a FWD 5000 model or perhaps one of the very rare FWD 4000CS models with "heavy duty brakes." There is also talk on the 4000/GT model forum that the A/C is disconnected and non-functional. These may seem like minor points, but they draw into question the level of detail on other items, and when you're attempting to set the market with price, in my opinion you should have your ducks in a row.
With that said, it is very difficult to find a nice 1986 GT these days, though not impossible. The mileage on this car is certainly lower than many I've seen in a long time. The difficult to keep looking good red leather looks fantastic, and the seller claims to have mechanically updated the car. It is interesting that two low mile GTs have come up in the Pacific Northwest in the past two months – the last was turned around somewhere in the $6,000 range and was in the more desirable Tornado Red shade. As much as I love it, I think the seller is reaching on this car by a fair amount and the value is $5,000 -$6,000 at most. Even at the top of the market for these cars, they're well bought drivable classics that you can have fun with for many, many years to come.
-Carter