I find it extraordinarily sad that this year saw the nearly unnoticed passing of one of the great Porsche tuning firms, ANDIAL. If you're newer to the scene, ANDIAL probably doesn't mean much to you, but if you grew up in the 1980s or were a fan of motorsports then they were one of the top tuning firms pushing out some of the fastest Porsches in the world – they were really the U.S. equivalent of Ruf. They backed that performance up with race-winning efforts – ANDIAL became the defacto 962 race engine supplier in the United States, and racked up an impressive string of both prototype and GT racing wins and championships. Though they were very well respected, ANDIAL downsized as the trio of owners aged and then passed away, culminating in the retirement this past February of the last remaining founder, Dieter Inzenhofer, Porsche Motorsports North America bought the name, but with undisclosed plans to use it, we'll just have to wait and see. Coming across an ANDIAL tuned car is something of a rare treat, and for the 993 they cooked up a twin-plug, twin turbo 3.8 motor that was just a monster. Today's example is one of the best prepared in the world: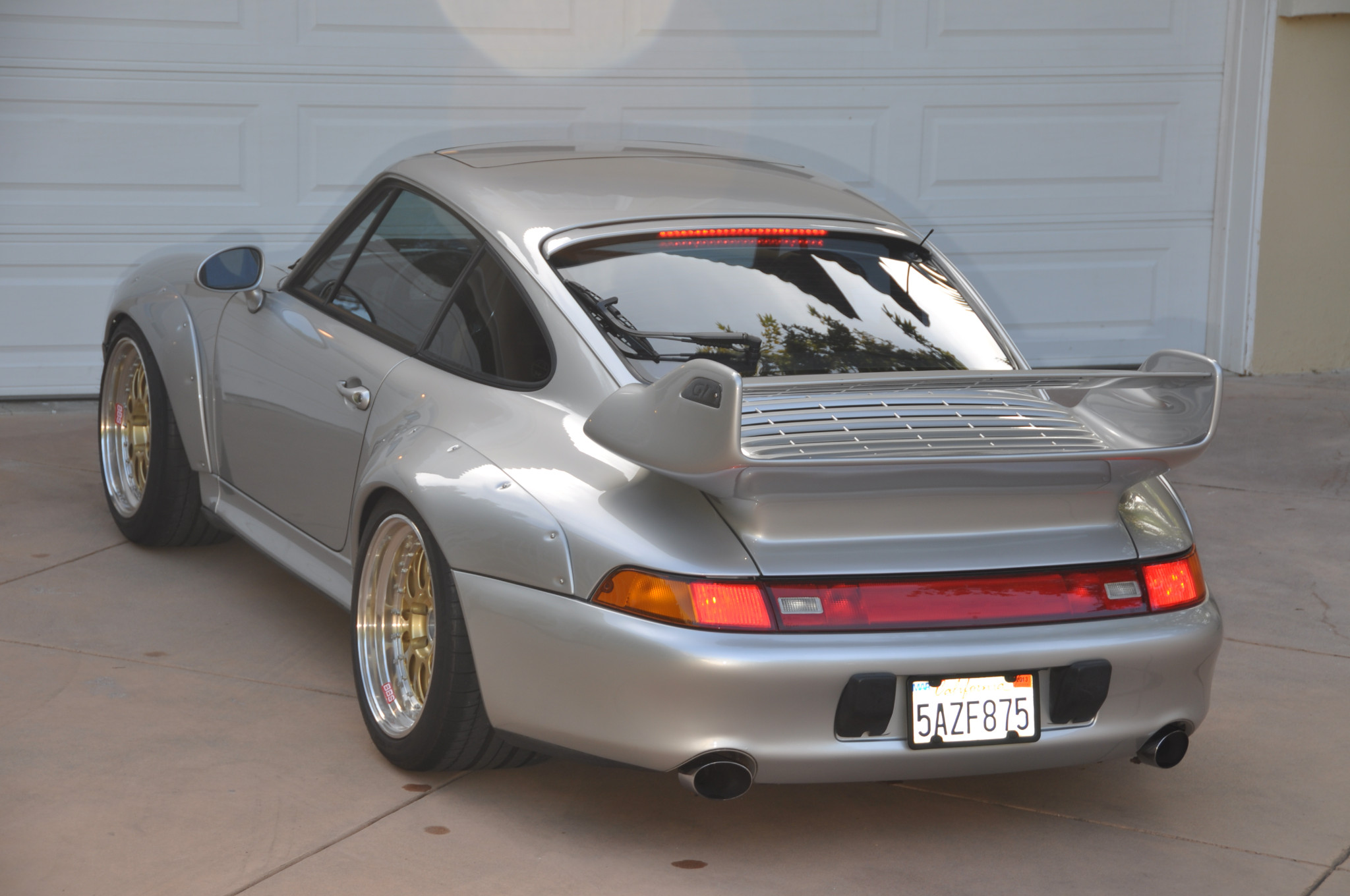 Year: 1997
Model: 911 Twin Turbo Andial Twin Plug
Engine: 3.8 liter twin turbocharged flat-6
Transmission: 6-speed manual
Mileage: 37543 mi
Price: $169,500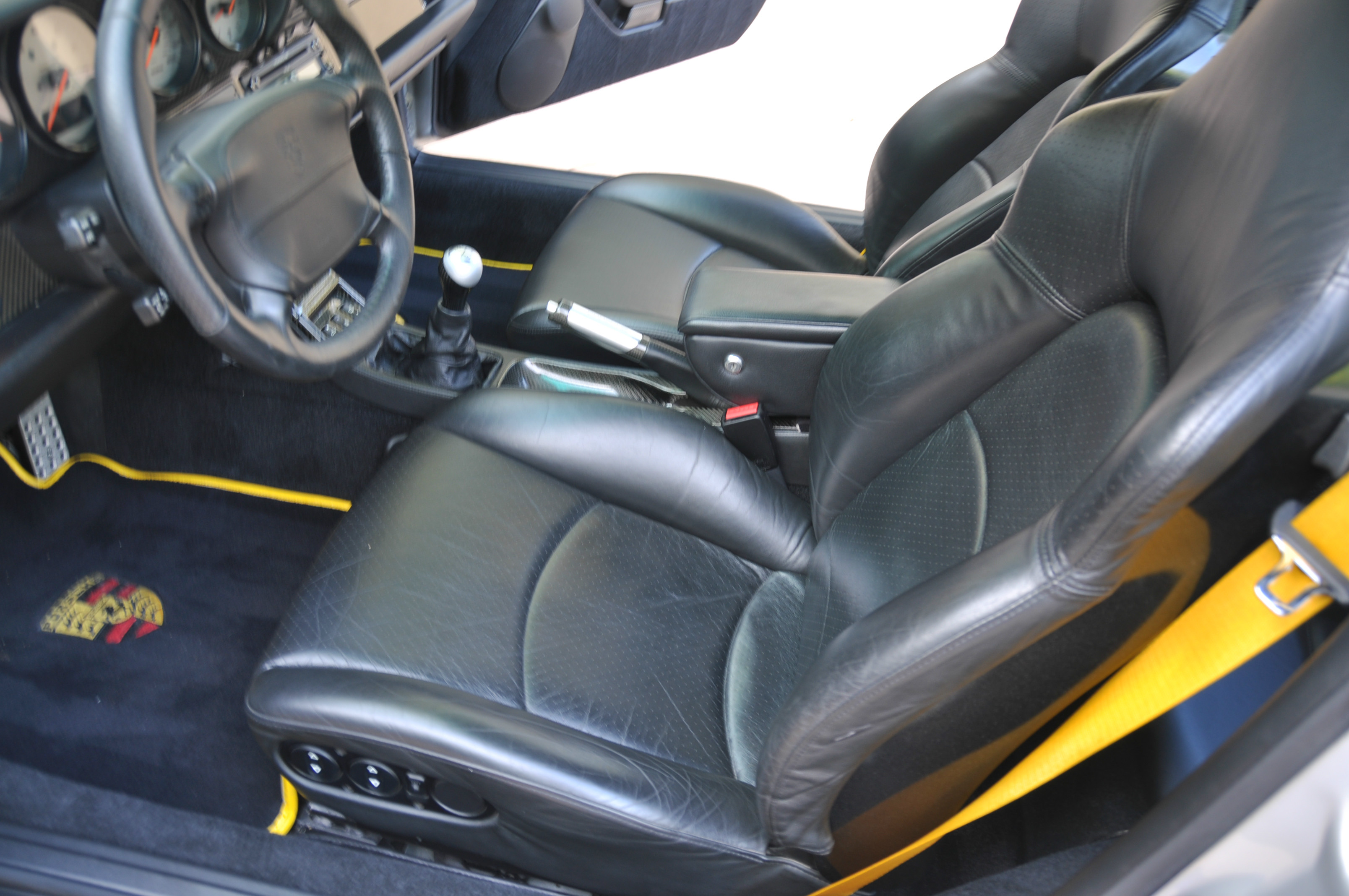 Year: 1997
Make: Porsche
Model: 911
Porsche Model: 993 Turbo
Mileage (numbers only please): 37543
Options (Please check ALL which apply): Airbags, Air Conditioning, Alarm System, Antilock Brakes, Cruise Control, Foglamps, Intermittent Wipers, Leather Seats, Power Brakes, Power Door Locks, Power Steering, Power Windows, Sunroof, Traction Control
Color: Arctic Silver
VIN: WPOAC299XVS375740
Price (no $ sign please): $169500
Private or Dealer Listing: Private Listing
Location (Region): SoCAl
Body Style: Coupe
Transmission Type: Manual – 6 speed
2 or 4 Wheel Drive?: 4 Wheel Drive
Engine Type: Turbo
Stereo System: AM-FM CD
One of Ninteen Certified Andial 3.8 Liter Twin Plug Conversions.

Please see hi-res Photo Gallery

1997 Andial 3.8 Twin Plug Twin Turbo Specs
Andial dual program 3.8 twin plug
Andial intercooler
Andial LW clutch and flywheel
Andial sport cats
Custom "Big Oval" muffler bypass
Forge diverter valves
RS short shifter
RS engine mounts
Cargraphic additional oil cooler
Front and rear RS adjustable sway bars
14 inch front brakes
Cargraphic active front brake ducting
RS rear brakes
GT2 uprights and tie rods
PSS-9 suspension
Corner balanced and aligned
12.5 x 18 and 10.5 x 18 BBS E28 wheels
335.30.18 and 265.40.18 Michelin PS2 tires
Carbon fiber rear decklid
Fiberglass wing with "Guerney Flap" mounting holes.
Hand laid fiberglass fender flares
OEM Euro GT2 front end bodywork
Ruf A-pillar fairings
Sport seats
Yellow seat belts front and rear
Carbon fibre interior
Leather air bag cover

Car History
Here is the information I have been able to glean about the car.
This highly optioned car was purchased in the Chicago area by car collector John Pizer. He immediately had it flat-bedded to the Andial facility with only delivery miles on the car.
The full Andial 3.8 liter twin plug conversion was performed at an estimated cost of 55-60 thousand dollars.Andial Twin Plug
A few years later the car was purchased by collector Amir Fahti in Calabasas with around 4000 miles on the clock.
In 2007 I purchased the car from Mr. Fahti with 27,181 miles on the clock. Unfortunately Mr. Fahti had lost the build sheet on the car. Andial confirms that this is one of the 19 certified 3.8 liter twin plug conversions, of which only 17 remain. Andial Registry

Over the next few years I had Michael Schatz MKS Performancein Camarillo fettle the car into tip top condition, replacing the front differential, viscous coupler, clutch accumulator, steering rack and installing a set of GT2 uprights and tie rods, new hood shocks, breeze constant torque clamps on the intercooler hoses and forge diverter valves. I removed the k40 radar detector and installed functional front brake cooling ducts and a larger Cargraphics oil cooler. I installed yellow rear seat belts to match the front seat belts. Finally, a complete corner balance and alignment and rake was performed.

In 2011 elected to make this car into my vision of the ultimate street version of a GT2.
I contacted 1998 IMSA GT2 champion Jochen Rohr who generously supplied me with the rear wing and carbon fibre deck-lid plus the BBS wheels he had left over from that race team. I sourced a brand new OEM European narrow-body front bumper and some hand laid fender flares and commissioned Ed Palmer at Kundensport to perform the conversion.

The car is everything I could have hoped for. It looks fabulous in my eyes. It rides very smoothly. The GT2 uprights and tie rods have minimized bump steer and the ride is not harsh in any way but it still handles brilliantly. The paint is exceptional. It is the best rding 993 I have ever driven. I clay barred it using Final Detail as the lubricant over a weekend and it presents very well indeed. It is nearly impossible to put the car cover on by yourself because it keeps shooting off as the paint is so smooth. Obviously the car is brutally fast but also very tractable. The larger pistons on the RS rear calipers match the 14 inch front brakes very well. A minor service and detailing was performed last week.

With the passing of Arnold in 2011 and the purchase of Andial by Porsche Motorsports in 2012, I believe no more of these cars will be built and a stellar chapter in Porsche history has closed.

Nits to pick:

There are a few rock chips on the front.

The front tires can rub if the wheel is turned to full lock at parking lot speeds.

The Thielert dual program street/race gas ecu is a bit unsophisticated and no longer supported. They need two revolutions of the crank to start the car and can run a little rough just off of idle. It occaisionally becomes "confused" and can cough and spit for a bit. Then it remembers it's manners and clears up. It is not foolproof. You need to make sure you have 100 octane race gas in the tank before switching to the race gas setting or damage could occur.

There is a more modern Andial aproved ecu available, but you lose the dual programming capabilities. Having the "psychopath switch" under your left hand is just too much damn fun! As a result I elected to keep the dual program ecu and live with the very minor flaws.

For more information email me at scottmellor@karenschiltz.com
__________________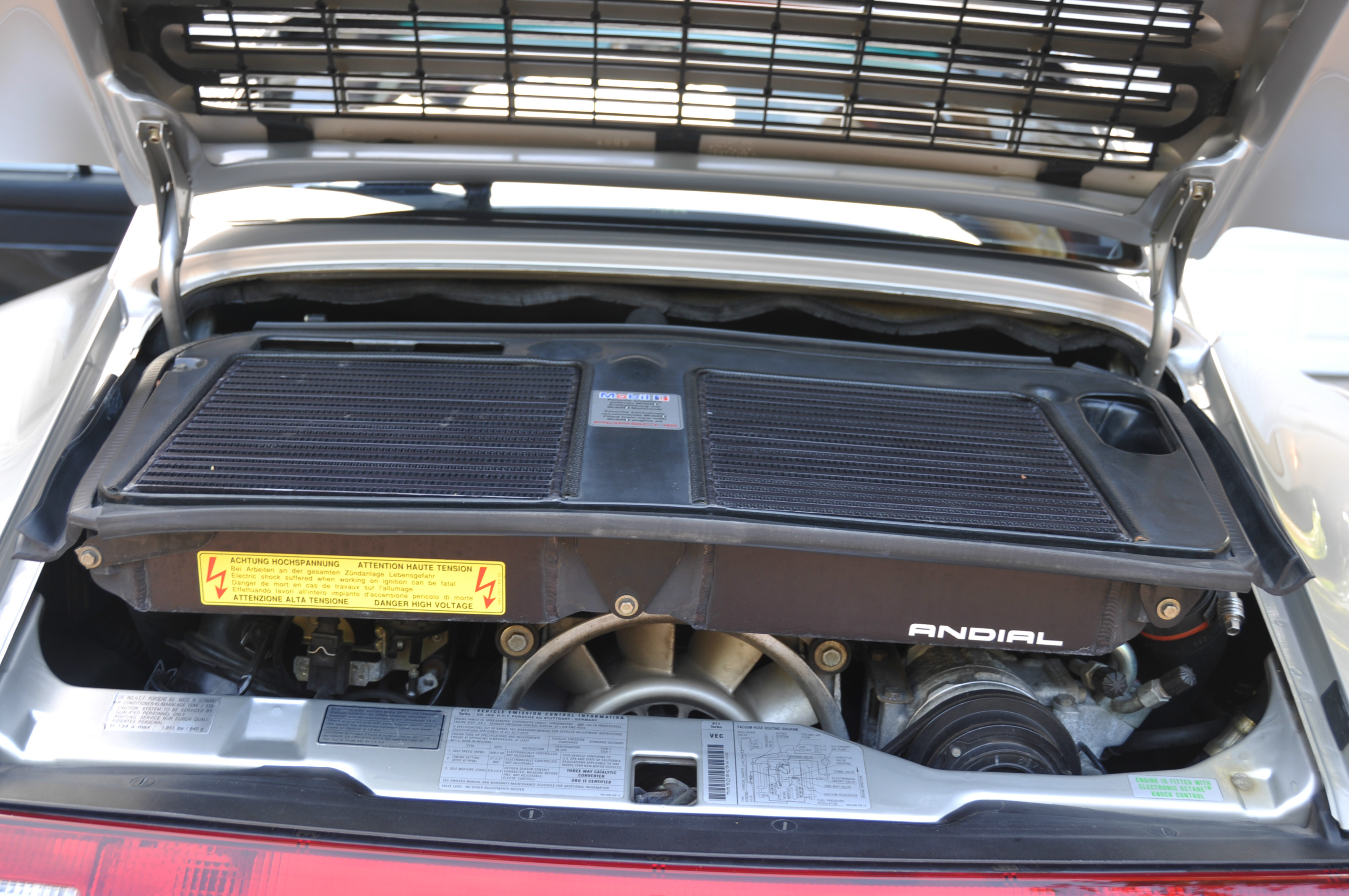 The price may seem outrageous, but it's in line with some of the Ruf cars. Although this is a bit of a home-brew combination of several different car looks, I think it pulls it off exceptionally well. The GT2 flares look perfect, the wheels look perfect, I love the understated color…I have to say, the only thing I'm not really a fan of is the seatbelts. Some of the technology in the engine tuning has progressed and the owner notes that this earlier multi-level Theilert computer has its hiccups, but depending on what you wanted to do this could be solved either somewhat expensively in a standalone programmable ECU or very expensively by sending it to PMNA to let them sort it out.
I don't think the ANDIAL name really carries the weight of the name Ruf outside of the Porsche crowd, so my guess is that someone who is really in the 993 know is going to be the one to scoop this gem up. The price is probably realistic given the rarity and the modifications, but it's a pretty narrow market for this car. You could replicate the look easily enough if you have deep pockets, but that motor is really something special. It's a shame that we won't be seeing any more from ANDIAL, but I do hope then name doesn't fade away completely into obscurity. Given the choice between this car and a Ruf, I would have to think long and hard before plunking down my hoard of cash.
-Carter