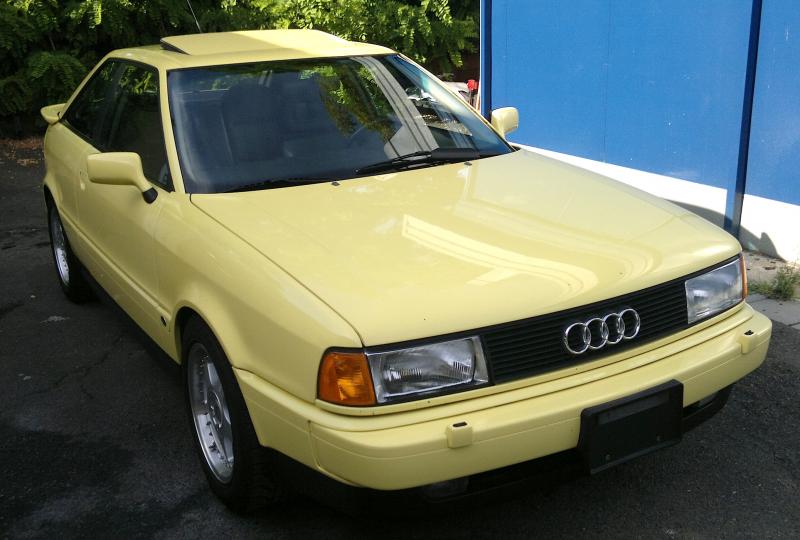 In 1989, Audi's lineup in the U.S. was pretty flat. Although they had renamed both the B3 and C3 chassis to fall into line with the rest of the world nomenclature and the B3 was a "new" car, the performance of both chassis relative to their competitors was pretty poor. Indeed, Audi's only claim to fame was that the retained the Quattro drive train option. In Europe, though, Audi released two brilliant engines that would find their way to the U.S. shores in 1990; the awesome all-aluminum 32V V8, and the 20 valve version of their venerable inline-5. While immediately everyone thinks of the turbocharged version, the normally aspirated 2.3 liter version, named the 7A, was a solid performer of its own. The 7A, like the 2.0 16V in Volkswagens, was only available in the U.S. in two cars; the 4 door 90 Quattro 20V and the new Coupe Quattro.
With scandals hurting Audi's image and poor performance to price value compared to most of its rivals, both 20V versions sold slowly and were only available for two years. Still, the Coupe Quattros developed a cult following for their all-weather hatchback practicality. Because of that few remain in good condition, unlike this Ginster Yellow Coupe Quattro for sale today: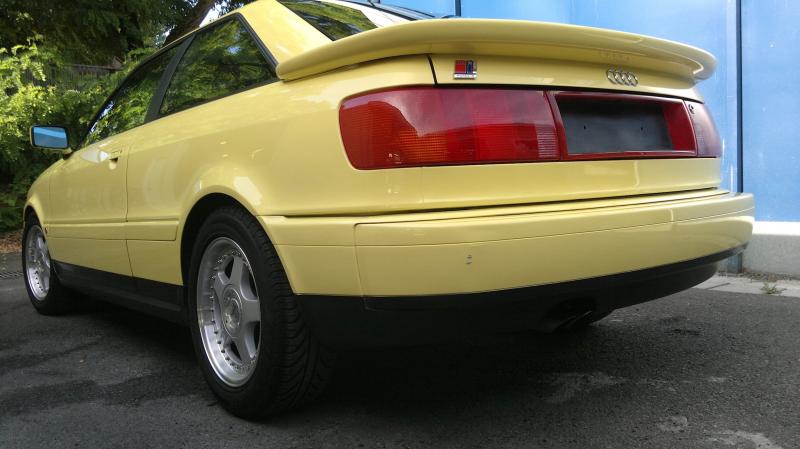 Year: 1990
Model: Coupe Quattro
Engine: 2.3 liter inline-5
Transmission: 5-speed manual
Mileage: 144,000 mi
Price: $8,750 Buy It Now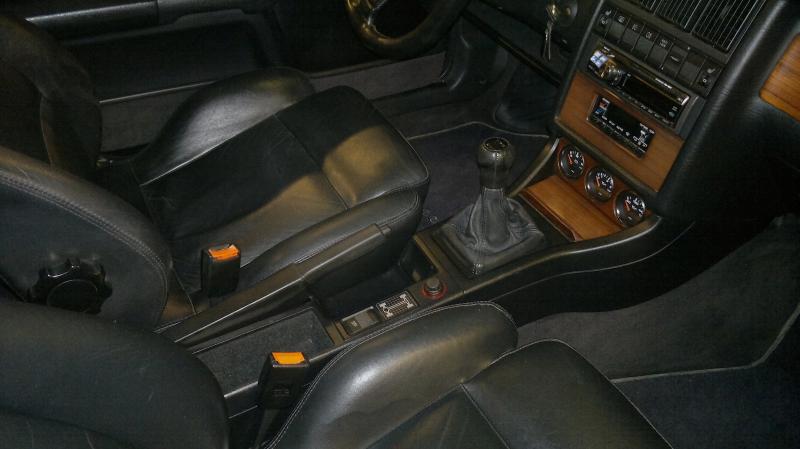 Very Rare 1990 Audi Coupe Quattro. Extremely Rare Early Build in Factory Ginster Yellow with Black interior. 6/89 build date. Carbon Fiber Drive-shaft and Bag O' Snakes Stainless Steel Headers separate the early builds from the later builds after September or October they did away with both. as well the computer control switch is located on the dash and the later models have it on the wiper stalk.

Only 1730 of these came to the USA in 2 years, of which 1400 in 1990. Every Interior Light, Cluster Light, Everything Works. Cruise Control is the only thing that isnt working. The color combination makes this car 1 of only a few. The best part of this car is the care it has had and maintenance history which shows in the condition it is in today 24 years later.

1990 Audi Coupe Quattro Ginster Yellow, Black Leather interior. Winter Package which includes heated mirrors, door locks, headlight washers, and Heated Seats that work perfect. Rear Fog-light and Front Fog-lights, and Ski Bag inside the car. Power steering, brakes, windows, mirrors, locks, sunroof/moonroof, ABS. A/C that has been converted to r134a that needs a recharge. Factory Alarm still Works.

145k Miles of which I just put 3k miles on a road trip with it. did not burn or drip a drop of oil and the compression was done on this car with all cylinders either 170 or 175 which is amazing. H&R Sport Springs which are very firm with Boge Turbo Gas Struts. Valve Cover Powder Coated and new Gasket installed about 6k miles ago. Ja-Max Upper Strut Brace Stray Bar. 034 Short Shift Kit is as tight as any new car. 034 injector upgrade kit with adapter set which makes a huge difference on performance and gas mileage. I averaged 27.6mpg on this last road trip averaging 70+mph which is 3500 rpm and got this mileage. Imagine a 6th gear or any other 5sp tranny with a tall 5th gear and this car would get over 30mpg easy and perform.

I have had many of these coupes and this is by far the best one, tightest, drives tight and no shakes or ticks. Engine runs perfect, tight and zero ticks. Synthetic only. Also has the Euro Rear Lights and center tub. OEM RS2 Badge. Euro S2 Steering Wheel. Original Windshield, Original Quattro Floor Mats, Mint Leather interior. Cargo Cover still works as it should, no broken parts. Most are missing or broken. All interior lights work, cluster, door, trunk, gauges. Zero Rust anywhere. garaged and meticulously taken care of.

This car sold 2 years ago from Carrera Motors off the Showroom floor for 13k. That should tell you about the condition of the car. I have the receipt to show. Original Wheels will be sold with the car and they have $800 Michelin Pilot Alpina Studless Snow tires on them. This car will go anywher with these on there. The Wheels on the car do not go with the car unless I get full Price for the car. They are perfect condition Keskin 16″ Wheels with Michelin Pilot Sport Z rated Tires. Not Cheap!
More pics of everything at photobucket.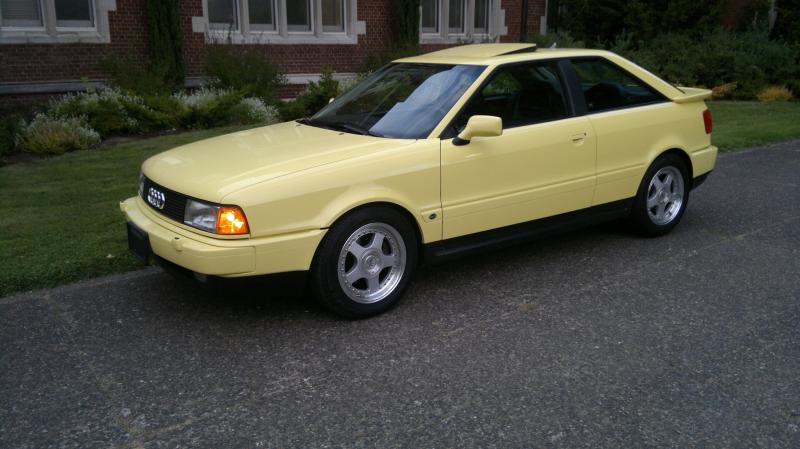 Without a doubt, Ginster Yellow Coupe Quattros are the most rare of an already rare breed. Reports vary on numbers, but figure less than 200 of these made it to the States. Couple that with one of the few remaining good condition Coupe Quattros that haven't been snapped up for 20V Turbo conversions, and this is indeed a very rare sight. While for most cars, 144,000 miles wouldn't be considered "low mileage", the condition of this car seems to shrug that off. The owner has an extensive photo album available, documenting the low wear on the interior and exterior. The original Speedline alloys are included with the sale with mounted snow tires. They're famously difficult to keep looking good and hard to properly refinish (ask me how), so it would be nice to see them in equally good shape as the car, but most owners seem to toss them in favor of larger stock.
There are a host of great upgrades with this car – the 034 Motorsports injectors are great replacements for the stock units which seldom function properly at this point, H&R springs and the Jamex stress bar are desirable to keep the original floaty ride in check, and the S2 wheel has a fantastic feel and just looks right. Most of the Ginster cars were early builds which includes the more desirable tubular header (dubbed the "Bag of snakes") that is a work of art by itself. There is a solid community behind these cars that will both appreciate the condition of a mostly-stock yellow example and help the owner keep it running for many, many years and miles to come.
Now, the ask price – $8,750. Keeping in mind that the owner says at that price the car comes with both sets of wheels, you either get a few thousand dollars worth of wheels and tires with the package, or you could opt out and save a few dollars if they weren't to your taste. Values on good condition Coupe Quattros seemed to spike a few years ago when people looking to make S2 clones were searching for the best possible chassis, but that trend has cooled and subsequently values have fallen a bit since then. Indeed, you can usually find a 20V Turbo equipped Coupe Quattro at this price point without too much difficulty. In that light, the price seems a little bit high if your goal is to make a 20V Turbo Quattro monster. However, when you factor in the wheels and the general condition of the car, along with the exclusivity of Ginster Yellow and the relative originality, I think the price is just about spot on. Most enthusiasts wouldn't flinch at a clean original E30 325 in this price range, and the Coupe Quattro is equally deserving of that respect. Buy it and enjoy the ride knowing you're not likely to see another one like this anywhere you drive.
-Carter