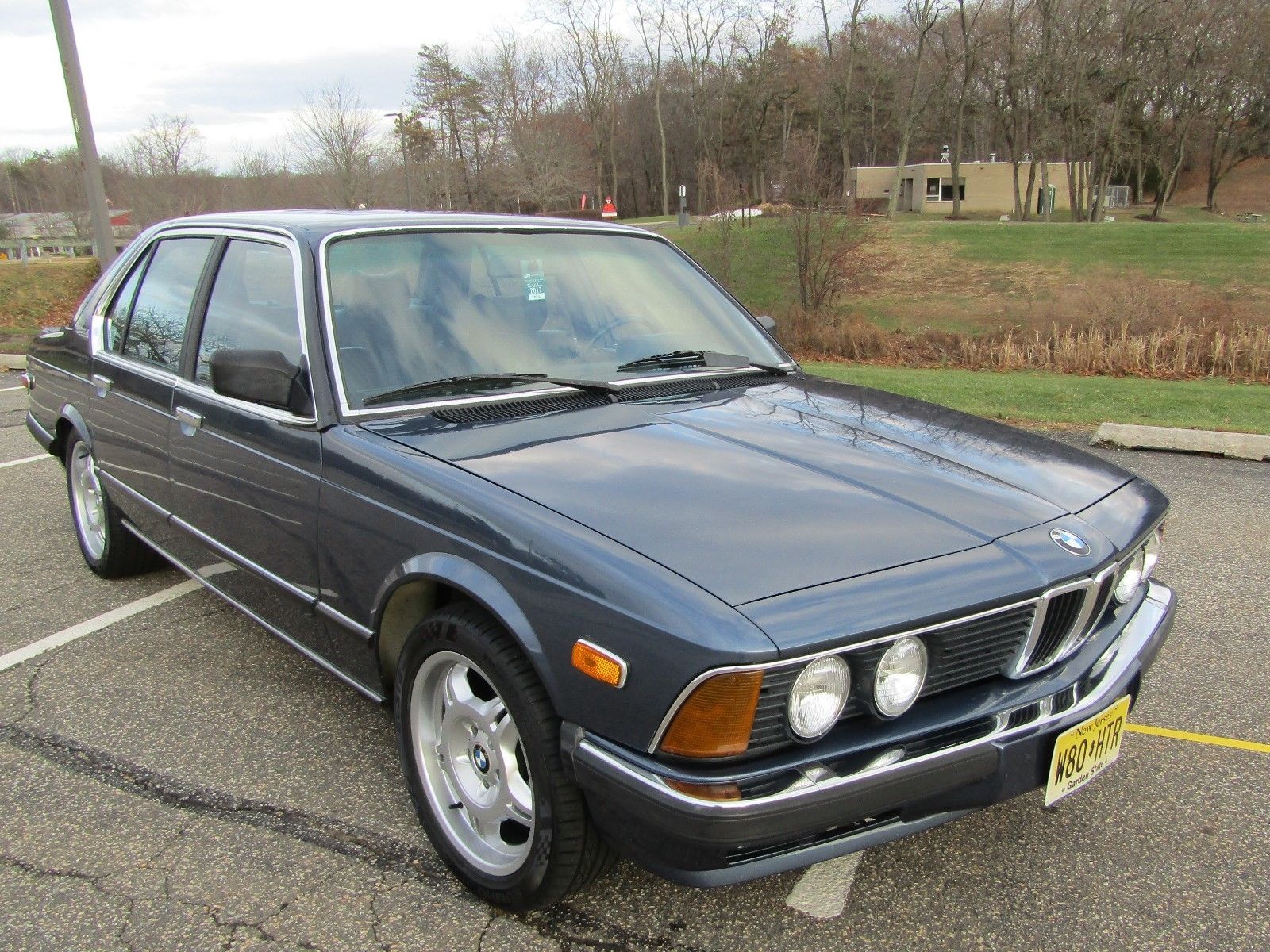 To go up against the established Alpha executive from Germany – the S-Class Mercedes-Benz – BMW's engineers had to think outside of the box. It wasn't simply good enough to mimic the go-to large luxury sedan. They'd have to outperform it, to be better than Stuttgart's best. That was a tall order for the Munich firm, since its last truly large sedans were the 501/2 series cars; the Baroque Angels of the early 1950s. Though they launched at roughly the same time as BMW's microcar craze, they were really holdovers from another era. The same wouldn't work in the late 1970s, but primed with the success of their 5- and 6-series models, BMW was ready to face the challenge.
Though the E3 had offered a sizeable sedan, the new E23 really stretched BMW's platforms. The new 7-seres was 6 inches longer overall, most of which fell in a longer wheelbase versus the E3. It was also wider by a few inches and lower, too. Paul Bracq again provided the styling and it was nothing surprising; it carried the torch of many of the design elements of the 3-, 5- and 6-series cars, and that certainly wasn't a bad thing. But what BMW hoped would help to set it apart from the competition was technology and performance, along with a high-level of material quality in the cabin. Options included Buffalo leather, an on-board computer system, anti-lock brakes, heated and reclining power seats front and rear, and even an airbag late in the run; standard fare today, but way ahead of the curve in the late 1970s and early 1980s. BMW matched this technology with a thoroughly modern driver-oriented cockpit which made the W116 Mercedes-Benz competition feel immediately antiquated.
Where the E23 really established itself, though, was in keeping with the "driving machine" motto of the company. This was a performance sedan, and consequently BMW brought its turbocharger technology over to the E23. Launched in 1980, the new "745i" derived its name from the 1.4 multiplier for turbocharged displacement, and the M102B32 3.2 liter inline-6 cranked out an impressive 252 horsepower with 280 lb.ft of torque channeled through a 3-speed automatic ZF-built 3HP22 gearbox. It provided effortless highway cruising with a broad torque curve. With a full assortment of luxurious options, a driver-oriented design and pioneering turbocharger technology, these really were cutting edge sedans in the early 1980s. The M102 was replaced for the later '82-86 745is with the M106, which produced the same peak horsepower but at a lower rev range. Displacement was up to match the M30 at 3.4 liters and it now used Motronic engine management: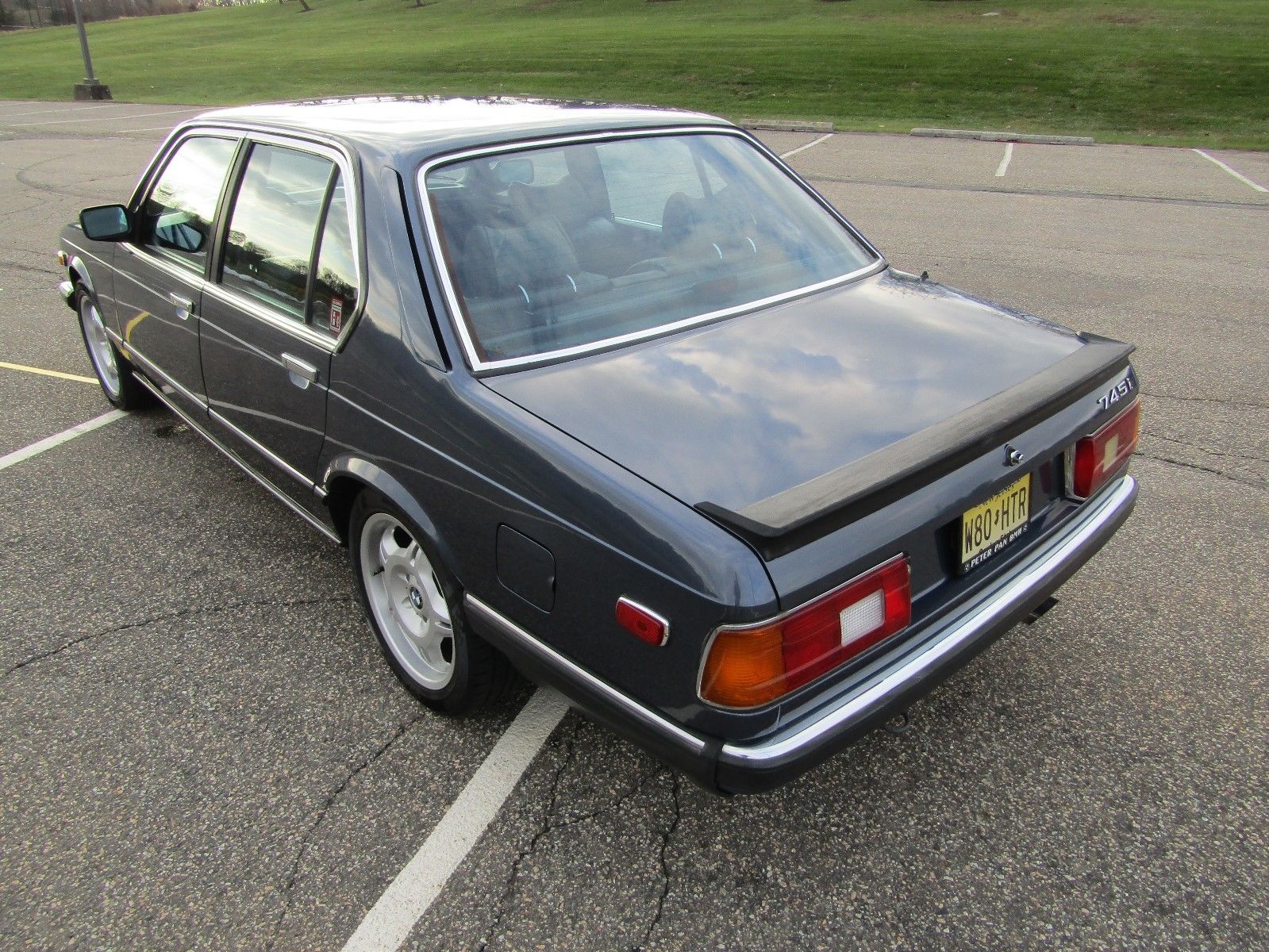 Year: 1986
Model: 745i
VIN: WBAFJ910308752655
Engine: 3.4 liter turbocharged inline-6
Transmission: 3-speed automatic
Mileage: 138,495 mi
Price: $6,495 Buy It Now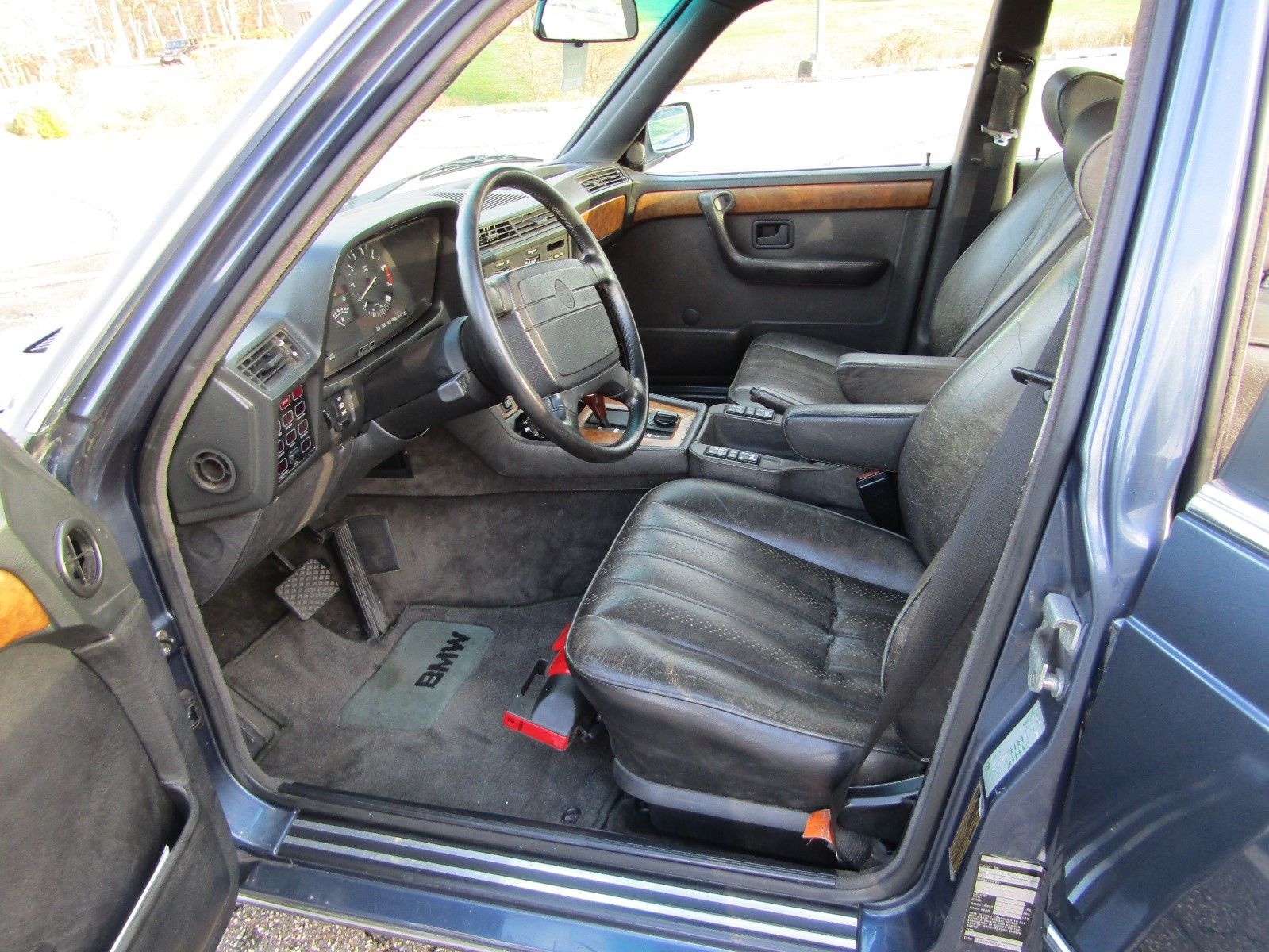 1986 BMW 745i turbo euro spec. Gray market car that was "federalized" when imported to US, US spec headlights and speedometer were installed. Dashboard writing still in German. Rare Exectutive Package. Beautiful Articblue metallic paint with black buffalo hide leather interior. Great running drivers car. Upgraded turbo, wastegate, adjustable boost, team745i performance chip and Magnaflow exhaust. Gauge package: Boost, Fuel/Air Mixture, Oil pressure and Volts. Body and interior is mostly original. Minor spot of rust on top right rear wheel arch and lower right front fender at the rocker. Rest of the body and floors are great. Undercarriage in great shape. Interior is near perfect. No cracks in leather, 2 minor cracks in dashboard. Garaged all it's life. Aftermarket 17″ wheels with new Kumo tires. 15 years of Service records. A/C converted to r134. Was working fine till a recent vacuum leak somewhere in the HVAC system that will have to be addressed by the next owner. If you are familiar with BMW e23s you are aware of the HVAC vacuum issues they're known for. Lots of information on the internet on how to diagnose and repair. I have to many cars to devote more time to this one. Heater and defroster work fine. All other systems, Power Window, Seats, heated seats, sunroof and ABS brakes work fine. No warning lights. Drive it anywhere. I drove it on a 1500 mile round trip to Asheville NC last year with no issues.

I've owned the car since April 2017. Previous owner, a BMW enthusiast owned it 14 years and performed the turbo upgrades.
Work I've done:

New Kuhmo Tires
New Starter
New Ignition Switch
New Distributor Cap, Rotor, Spark Plugs
Valve Adjustment
All Fluids Changed
New Window channel Weatherstrip on drivers door. New channel for passenger door included but not installed
All fluids changed
Factory Becker AM/FM Cassette refurbished Auxiliary input added

Carfax report shows transmission was replaced in 1999. Also shows collision to left rear. Previous owner said it was minor. Was professionally repaired and is undetectable.
Majority of paint is origional and shines very well. There are minor scratches but the paint shows very well.

Please feel free to ask questions. Car is available for viewing by appointment only. Car is listed locally and I reserve the right to end the auction early.

Cold start video: https://youtu.be/LofEb_274fI
Walk Around: https://youtu.be/8Ch8Bdrq8GA
Under hood: https://youtu.be/MUAfX7cJQ0w
DrivIng: https://youtu.be/Fp-b69Q04bE

Bidders with no bidding history will have their bids canceled. If you have no bidding history please contact me before bidding.
Car is sold as is where is. Winning bidder is responsible for pickup and /or shipping of vehicle.

$500 deposit via paypal at end of auction. Balance due within seven days of end of auction. Winning bidder pays the winning bid amount, its just that simple.

Questions? Reach me @ 9736984509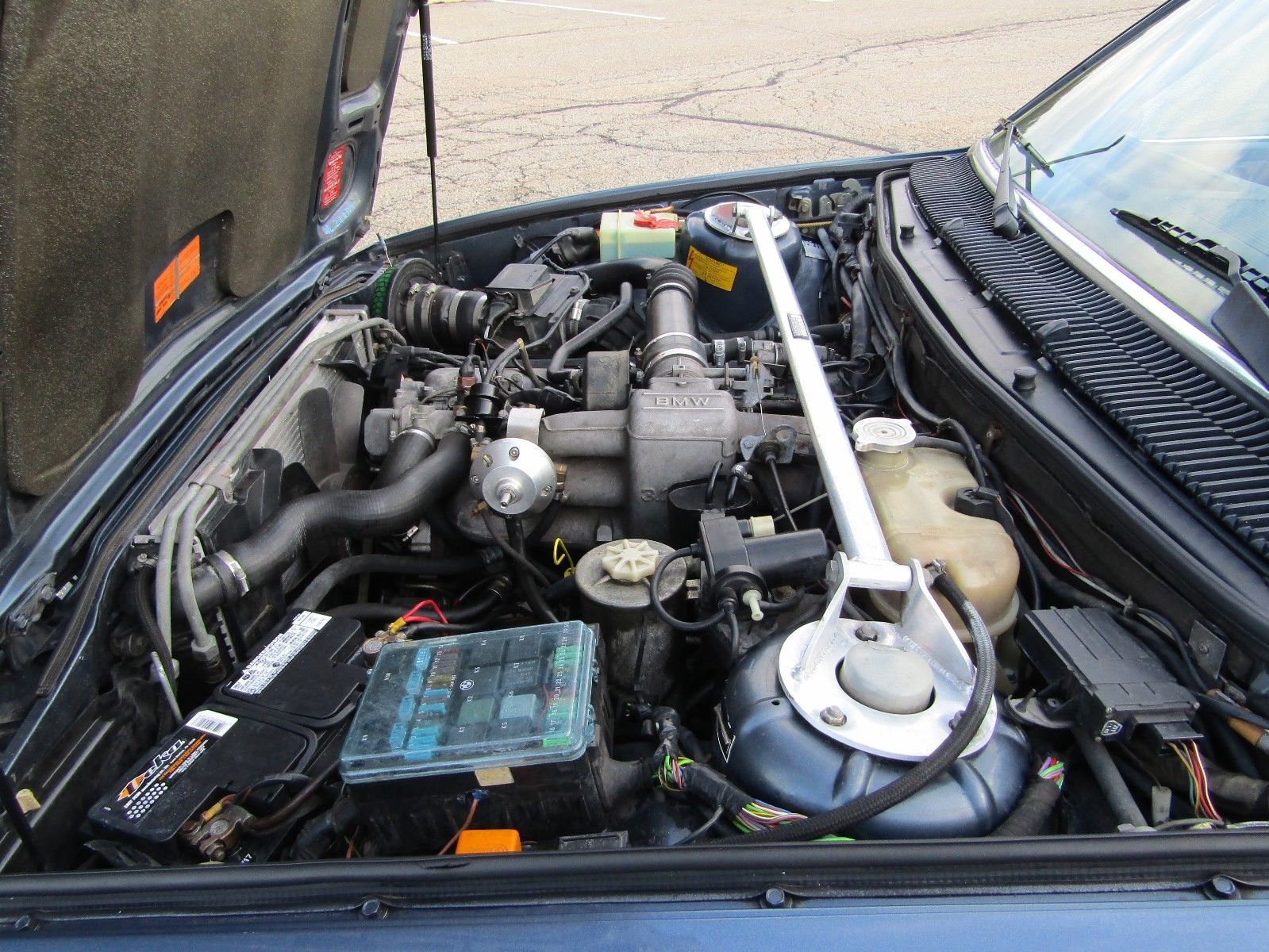 Clean E23s are hard to find. Euro-spec models are, of course, even harder. Put that together with a nice example of the late production 745i and this one is really a bit of a unicorn. Mileage isn't museum low, but it's quite acceptable and the seller seems to have done a good job sorting major issues. Better still, the car is presented in a beautiful color – my father owned an Arcticblau Metallic 635CSi and it was stunning when clean. The Buffalo seats always look neat when well presented and though the forged E36 M wheels are a bit out of place, they are valuable units that you could sell and swap out for earlier period-correct BBS items if you wanted.
The seller is looking for $6,500. To me, that's a very fair price for a quite rare and desirable E23. Usually sellers are looking for the moon on these cars because they see other 80s BMWs taking off, but the E23 really is a fringe car that doesn't have the same appeal as Ms. Track down a set of period-correct wheels and Euro headlights for this one and you've got a winner.
-Carter