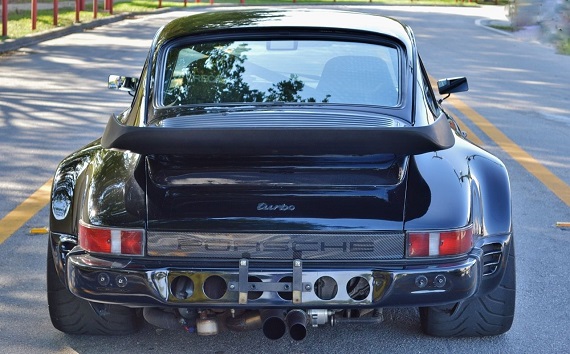 I've featured a few modified 911s lately and in each case part of the appeal to me was that each seemed to be a well-executed build that didn't try to do too much. While each was unique in itself, each also easily would be recognized as a 911, but one that had been turned up a notch in certain ways. This 911 is…not like that. It is not subtle, it is not understated, and it's been turned up a lot. The 930 Slantnose always has been a car that epitomized '80s excesses so it makes sense to use that as a base for this kind of build. This isn't a factory Slantnose, but rather a 930 that has been converted to the Slantnose body. But one look at the rear tires reveals that under that body is no normal 930. The built turbocharged flat-six is said to be delivering 450 hp to those rear tires. The transmission also was rebuilt and I assume it is the same 4-speed unit that came standard. The interior received some attention in the guise of a roll bar and a set of Recaro Pole Position seats, but I think it is the drivetrain modifications that will interest most buyers. With around 200 additional horses available over a stock 930 the performance of this machine should be seriously spirited and require significant attention. The 930 has been known as a widow maker and the overall look and build of this example suits that moniker to a tee.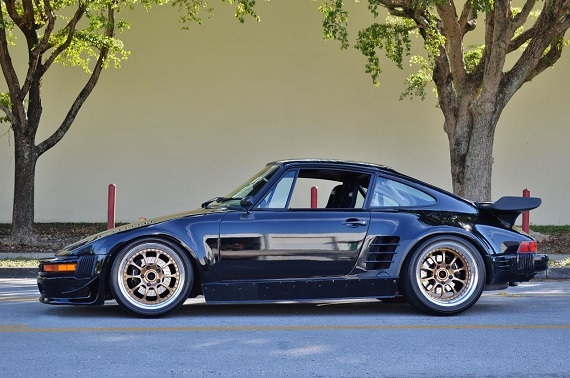 Year: 1986
Model: 911 Turbo
Engine: 3.4 liter turbocharged flat-6
Transmission: 4-speed manual
Mileage: 112,000 mi
Price: $72,500 Buy It Now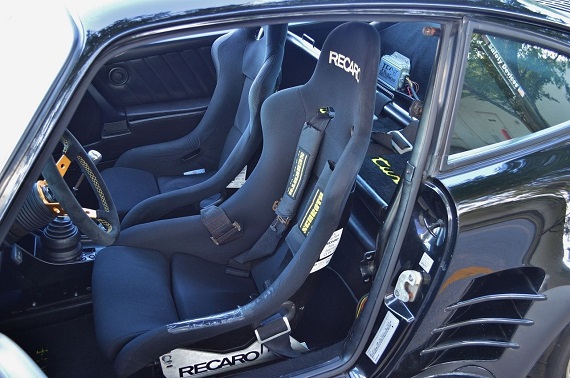 1986 911 Turbo SlantNose Real 930

This is by far the most badass dual purpose street terrorizing air cooled Porsche I have ever owned. Not for the weak hearted, not for your average concourse event, not to take your wife to the grocery store to pick up some milk… unless she's into that. Slammed, huge cam, turbo whining and spooling, flame throwing, faster then a 991 turbo, etc… these are things that you must be of interest if you want to buy this car!

Built 3.4L by Vision Motorsports in Laguna Hills, CA about 12k miles ago, and top end refreshed 3500 miles ago. ( ODO was reset during full drivetrain rebuild )
Mahle 3.4L Jugs Pistons and Rods – 7.5 : 1 Compression – ARP studded – 964 race cam – Electromotive Tec GT EFI conversion and the list goes on. At 1.1 Bar setting the car is estimated to be putting down about 450whp on 93 OCT, and has the potential to make much more on FlexFuel or AvGas. Transmission completely rebuilt at the same time engine was… all new synchros, 4 Puck race clutch, flywheel, pressure plate, forks, linkage etc. There is about a total of $70k+ in receipts. The most recent service was done 800 miles ago and consisted of all new NGK spark plugs, Oil change and filter, rebuilt steering rack and alignment. The car does run a little but rich at idle but rich is always better then lean, clutch is a little tricky to get used to at first, 3rd gear is a little bulky.

Originally this was a real 930 now converted to an ALL steel slant nose conversion. It has never been in any type of accident and does retain a clean carfax… Still retains the original options sticker under the hood, original quarters and doors. The paint shines nicely and benefits from a full detail, freshly paint corrected front end for rock chips. Has minor scratches through out the body but shows very nicely. Stock slantnose body through out for the execution of the custom made side skirts and carbon fiber sunroof. Bronze painted Kinesis 3 piece wheels contrast the black nicely, was trying to go for the old 935 Johnny player special look. Wheels have been recently rebuilt but rear passenger will leak out after a few days… Toyo R888 have 1k miles on them and are 335's in the rear and 255's fronts. Fenders have been rolled in order to fit these MASSIVE wheels.

The interior of this 930 is in great shape for the most part… upgrades include Recaro Pole position driver and passenger, color matched to wheels Renown suede concave steering wheel, 4 point Safety Device cage with the option for 6 point, Elevated short throw shifter, Rennline aluminum pedals, Profec Greddy boost controller, Digatron EGT, Transaxle Temp gauge. Rear seats, Dash and gauges, door panels, and headliner are still original. Small tear in driver side Recaro, missing an interior light, and two pieces of front carpet are missing but not really noticeable.

Now as you may believe this or not, this has been my daily driver for the last 6 months with a smile on my face. I absolutely love this car but not practical for everyday driving in Miami… I never tracked this car personally, PO didn't either since top end refresh. The car has a Huge oil cooler and won't run hotter then 160 – 170 degrees in traffic, I have driven the car spiritdly and she has not skipped one beat, not one issue… Pulls extremely hard through every gear. It has made a highway pull against my buddies 991 Turbo with exhaust and a tune, my 930 pulled away from 60 – 130 until we let off. So all in all, you have a real 930 that is still good investment and has modern day supercar horsepower and reliability. Theres nothing better then being able to enjoy your investment, and looking badass at the sometime!

According to Carfax mileage should be 112k in total on chassis, I will be driving this car to orlando for the next two weekends so will go up a little more…

For any questions or information please call me at (786) 291-3622 Danny
The car can be seen in Miami, FL 33156
I will entertain other vehicle that are similarly as interesting…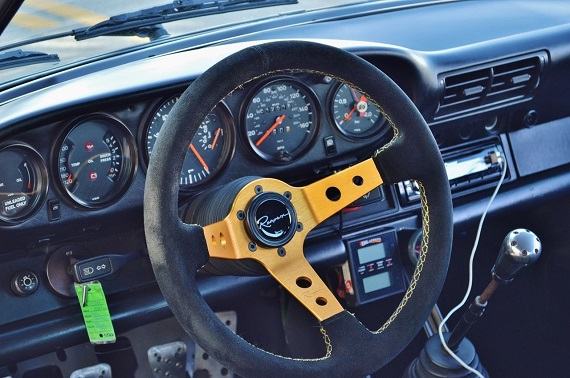 Naturally, the audience for a car like this is going to be pretty limited. The look, the level of power, the time and effort to keep everything running and maintained properly. All of these will turn off many of those on the second-hand market. Most high horsepower 911 builds I've come across are based off of the 996 or 997 and a lot of them look terrible. This one? I'm a fan of the 930 Slantnose so I like the look. Its profile is basically that of any other black Slantnose, at least until you get close and realize there's a lot more going on underneath that skin. In that regard I can see the appeal. It'll stand out and it will turn heads, and if the power numbers are accurate, it will go like just about anything else on the street. The asking price isn't bad all things considered though I'd imagine for it to make sense, then you really have to be looking for exactly this because it's still a decent bit of money for a car that likely won't increase in value like a stock 930 would. Nonetheless, for those who really desire over-the-top aggression in their vehicles, this is one heck of an example of that breed.
-Rob