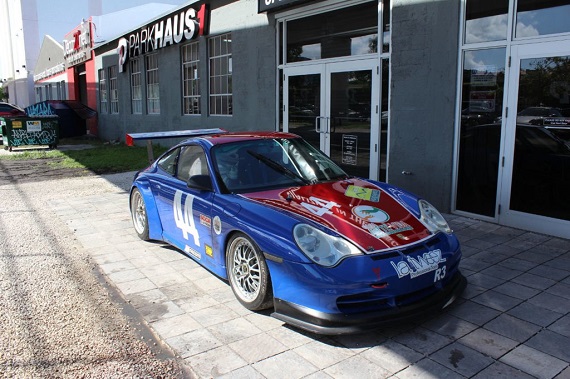 The number of Porsche 911 variants can be baffling. Just the other day, Rob and I were joking back and forth that at one point a few years ago, Porsche offered no less than 20 variations of the 911 model to the public. Not to be outdone, the current lineup has added one more and created a nice drinking game of "How many current 911 models could you name?" Add in the racing variants, and things get even more convoluted. Porsche's top of the heap racing model has always varied, but when it came to the 996 Porsche went full-bore with the 911 GT3 Cup program and created a potent race car for pros and well-to-do amateurs as well. Indeed, the GT3 Cup program was the model for many customer-based race programs that exist in Audi, Lamborghini, Aston Martin, Ferrari and the like today. But the lineage of the GT3 gets confusing, too. Launched in 1998, it was effectively a replacement for the 993 Carrera Cup model. Called the GT3 Cup, it was a stripped out factory built race car with a turned up motor and some trick suspension and wheels, along with a little added aero tweaks that would be the basis for the later road going model named after it – the 911 GT3. Confused? Well, in 1999 Porsche dropped the "Cup" from the name and added "R" to make race models distinct from road going models. Now, that's easier. Then, they brought the GT3 Cup model back in 2000 with some mild performance upgrades. But things really started to get messy in 2001, when the company launched the GT3 RS model – not to be confused with the GT3 RS road going model, which wasn't launched until 2003. Still with me? Well, then in 2004 they needed to differentiate the road and race GT3 RS, so with some more upgrades was launched the GT3 RSR. On the way from Cup to RSR, Porsche added more downforce, wider flares and more vents, along with more power and even wider tires. The 2001 RS model struck a balance between the Cup and RSR, with wider rear track and flared front fenders, but without the massive venting and sequential gearbox of the later model: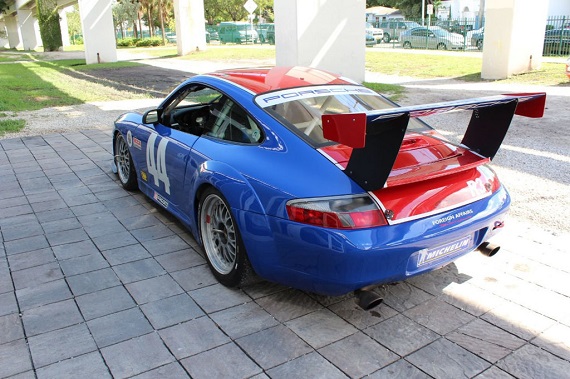 Year: 2001
Model: 911 GT3 RS
Engine: 3.6 liter supercharged flat-6
Transmission: 6-speed manual
Mileage: 33,310 mi
Price: $55,996 Buy It Now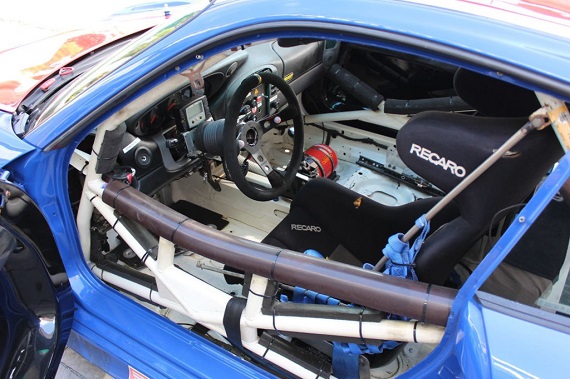 2001 Porsche GT3 RS factory Race Car.
Correct Body with factory roll bar, no body damage.
Correct Factory Racing Suspension and Brakes.
Correct Factory Air Jacks
GBOX 996 Racing limited slip gearbox w/ approx. 10hours
996 Racing Engine w/compressor w/ approx. 10hours
Cool Suit assembly
Factory Recaro Seat
Two Sets of BBS Factory wheels
Extra Set of Kevlar Front Bumper and Fenders new still in primer.
New windshield
Speedcom Radio assembly

Daytona 24 HoursRolex 24 at Daytona 4.2.2001 #47
Driven by: Joe Foster (USA)/Gary Schultheis (USA)/Scott Neuman (USA)/Ross Bleustein (USA)Result: 56th

Watkins Glen 6 HoursSports Car Grand Prix at The Glen19.5.2001 #92
Driven by: Scooter Gabel (USA)/Ross Bleustein (USA)/Gary Schultheis (USA)Result: 35th

Petit Le MansAudi Petit Le Mans6.10.2001
Driven by: Scooter Gabel (USA)/Gary Schultheis (USA)/Doc Lowman (USA)Result: 21st

Daytona 24 HoursRolex 24 at Daytona3.2.2002 # 44
Driven by: Gary Schultheis (USA)/Tony Kester (USA)/Sylvain Tremblay (CDN)/Selby Wellman (USA)Result: 9th
Grid: 60th (1:59.240)

American Le Mans Series Mid-OhioAmerican Le Mans At Mid-Ohio30.6.2002 #42
Driven by: Joe Policastro, Jr. (USA)/Tony Kester (USA)

Road America 500 MilesRoad America 500 presented by The Chicago Tribune7.7.2002 #42
Driven by: Gary Schultheis (USA)/Tony Kester (USA)/John Lloyd (USA)Result: 14th

American Le Mans Series WashingtonCadillac Grand Prix21.7.2002 #42
Driven by: Tony Kester (USA)/Gary Schultheis (USA)
listed, never drove: Grady Willingham (USA)Result: 19th

Petit Le MansAudi presents Petit Le Mans at Road Atlanta12.10.2002 #42
Driven by: Gary Schultheis (USA)/Joe Policastro (USA)/Joe Policastro, Jr. (USA)
listed, never drove: Tony Kester (USA)Result: 26th

WILL TAKE PRE-73s, 911 SC Coupes, 930's, CARRERAs, 964 OR 993 AS PARTIAL TRADE OR FULL TRADE.

If you have any questions or would like detail pictures please do not hesitate to contact me Al @ Cell: 305-301-7545

Parkhaus1
2644 SW 28th Lane,
Miami, FL
33133

Follow us on Instagram #parkhaus1 @parkhaus1

http://www.racingsportscars.com/chassis/photo/WP0ZZZ99Z1S692072.html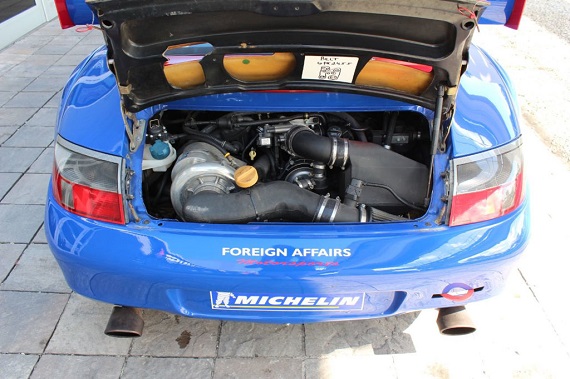 This particular chassis has some interesting race heritage and if you follow the links has evolved in color – from the original bare-chassis race white it first raced in, through yellow to yellow and black and on to the current livery. The engine has also evolved to a supercharged flat-6, which no doubt provides some serious motivation though it's not entirely clear if it's a 996 street or Cup engine that has been supercharged. Having spent a considerable amount of time around these cars at PCA events, I can't imagine thinking they'd need greater motivation than they came with stock. Cup cars are notoriously expensive to run, but currently they are without a doubt the best value in factory race cars going. Well balanced, generally easy to drive and with extremely high limits, these are affordable nuclear-grade weapons in the realm of racing Porsches. Get this one sorted with a correct motor and maybe the original all-white with gold BBS wheels, and in a few years you could even campaign it in vintage racing.
-Carter