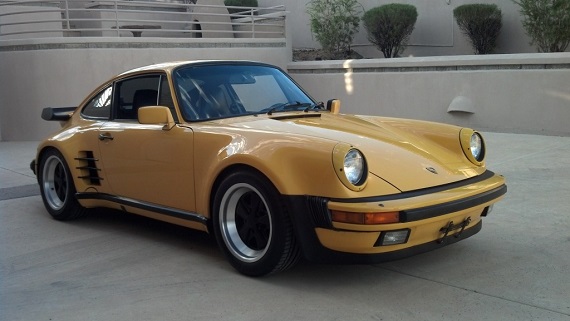 Now and then I'll come across a car that looks in good shape and with reasonable mileage and think, "why is this car so cheap?" Cheap, of course, is a relative term, but lately for air-cooled 911s, and especially the 930, it is rare to come across a car that is priced reasonably, if not too low. The immediate next question is, "so what's wrong with it?". This is the basic process I went through after coming across this car: a Yellow 1986 Porsche 930, located in Phoenix, with 51,000 miles on it. Typically, a 930 with this mileage and in a color we rarely see would be priced somewhere in the neighborhood of $100K. The car may not ever sell for that price, but it sets the starting point. So when I saw this one with a BIN of $54,900 it seemed like a steal. There are many who have dreamed of owning a 930 and watched those dreams fade as prices for one have climbed ever higher. It's becoming increasingly difficult to find examples that are accident free and in good mechanical condition, so while the car here isn't offered at a low price, it is certainly the sort of car that may provide a window of opportunity to fulfill one's dreams.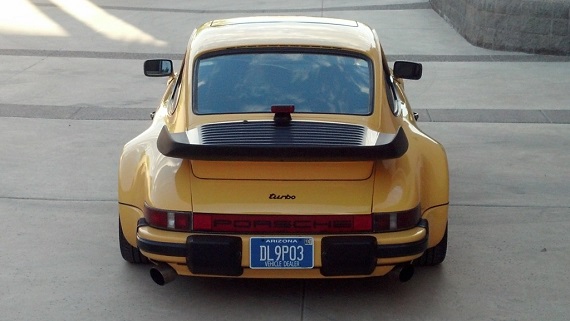 Year: 1986
Model: 911 Turbo
Engine: 3.3 liter turbocharged flat-6
Transmission: 5-speed manual
Mileage: 51,000 mi
Price: Reserve Auction (Buy It Now $54,900)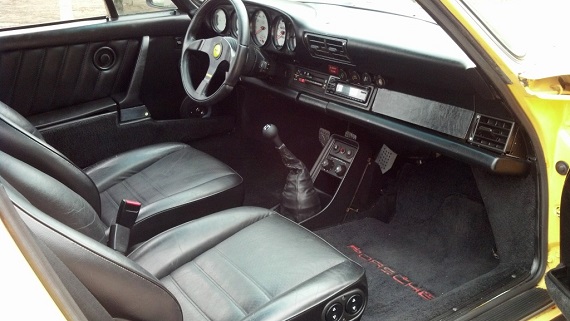 You are bidding on a factory 1986 Porsche 930 Turbo, 51,000 Actual miles, documented on Arizona certificate of title.. gorgeous yellow paint with black leather interior.. recent service and inspection by local independent Porsche shop, document this car as never being in any major accidents, and no rust.. 3.3 litre intercooled turbo engine runs very strong, has upgraded stainless exhaust with headers and heat exchangers, upgraded 5 speed close ratio gearbox, this car is a rocket!! with virtually no turbo lag.. same owner for past 10 years.. very nice yellow paint, full glass out all new rubber, correctly done.. interior is also very nice, original and shows well.. dual power leather seats, no dash cracks, power windows and power sunroof work correctly.. AC is new and works well.. heater works.. European ride height.. 8's and 9's with brand new tires.. clean and clear Arizona title, with 51,000 actual documented miles.. vehicle history report is posted below.. some records included..runs and drives excellent, this car is very fast!! Pictures speak louder than words..

Email or call Alan with questions or offers 602-363-2300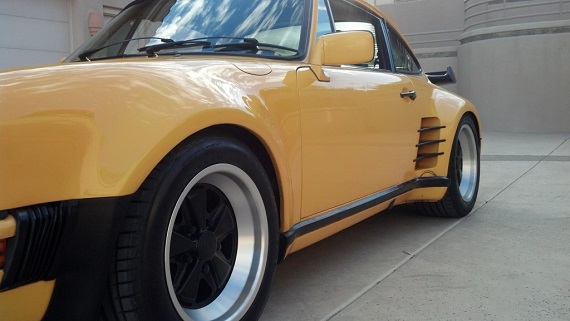 So…what's wrong with it? It appears, not too much. At least, not much if your hope is to own a driver-quality 930 and have little desire for a collector or concern over the car as an investment. For one, the paint may not be the original color. We need some clarity, but it sounds like it has been repainted and the seller has made no attempt to claim it's the original color, which typically we would expect. For a driver that's not really a big deal. Perhaps more problematic is the transmission. The standard 4-speed box has been replaced with a 5-speed, and again we need some clarity to know exactly what transmission this is. With that said, a good 5-speed box should provide for a better overall drive. Other than that, there are a few other minor modifications, but nothing that would detract from the overall nature of the car. All in all, there is definitely some investigation needed before any buyer will feel comfortable with the car, but if some of these issues check out and everything is mechanically sound, then as a driver-quality 930 this should make for a very interesting opportunity.
-Rob