Warning!
This post is in our archives. Links in this post may have been updated to point to similar cars available to bid on eBay.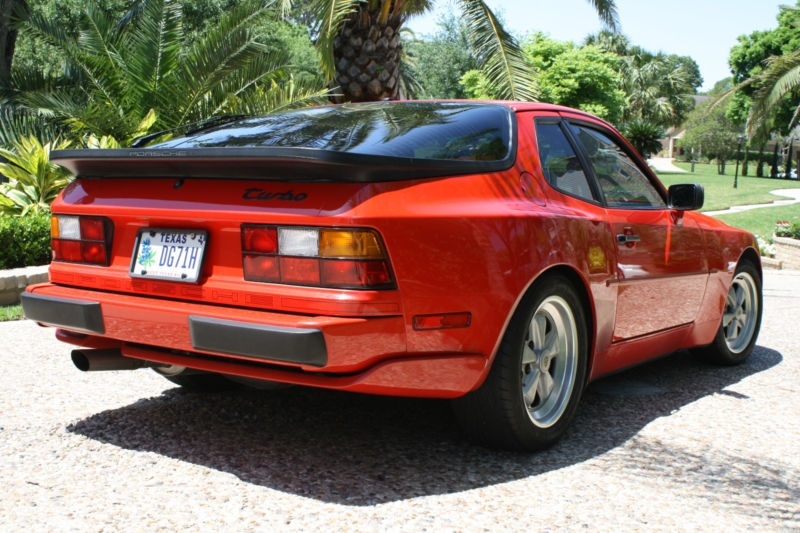 I still remember my first drive in my father's 1989 944 Turbo S. Being a young adult who had been into cars for quite some time, I had read all of the magazine articles about the 944 and knew it by the numbers. Still, it was a special feeling traveling down the road, one that transformed me into a bit of a megalomaniac. I had traveled almost exactly 1/3 of a mile before I decided that I was a driving God and would show everyone just how good I was. Ahead on the road was a merge intersection requiring you to come to a stop before entering traffic. "No problem," I thought, "I'm in a Porsche Turbo." As an infinitesimally small gap in traffic opened, I popped the clutch, squeezed the steering wheel, mashed the throttle and squinted to bear the brunt of the impending acceleration I was sure was going to come. It didn't.
In disbelief, I looked down to make sure the car was still running, then panic washed through me as I turned my attention to the rear view mirror and the rapidly approaching Camry with its high beams and horn blazing. I had just enough time to utter "Oh, Shi…" when BOOM – I was sure I had been rear ended. The 944 squatted, grunted, and like a scalded cat with Tabasco splashed on its nether regions, I rocketed away from the Camry like the hero I thought I was. That was my trial by fire in the 944 Turbo, one of the many Dr. Jekyll and Mr. Hyde forced induction cars built in the 1980s. Not as uncommon or sought after as some of its equivalents like the M3 or Audi Quattro, the 944 Turbo remains a solid value for exotic level German performance. Today's example is a sharp looking excellent condition Guards Red 1986: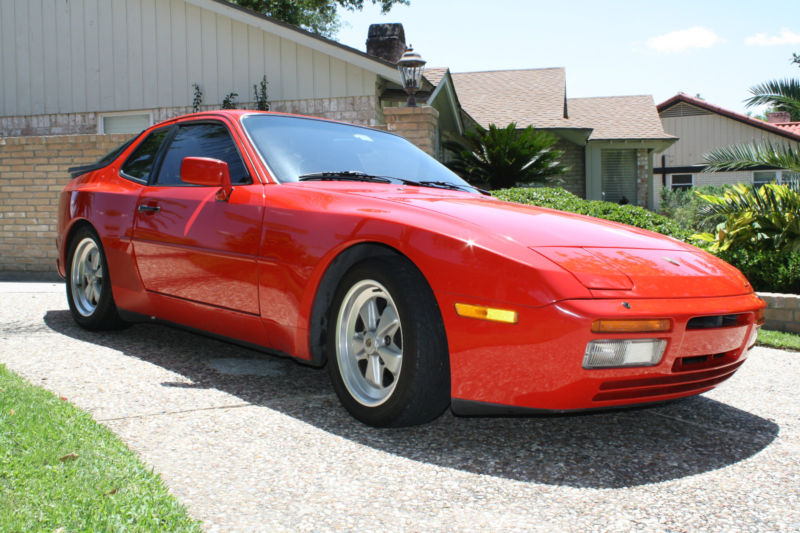 Year: 1986
Model: 944 Turbo
Engine: 2.5 liter turbocharged inline-4
Transmission: 5-speed manual
Mileage: 42,000 miles
Price: $15,000 Buy It Now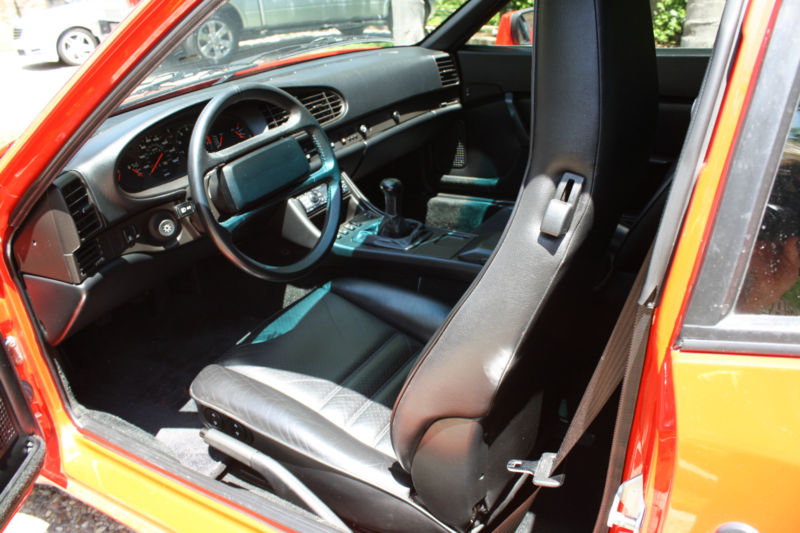 This is a 944 Turbo, never raced, has Porsche Certificate of authenticity, as well as full documented maintenance history. As the most recent owner I have replaced the clutch, clutch master cylinder, clutch slave cylinder, water pump, thermostat, turbo water pump, power steering pump, muffler, sound and heat barrier under the hood, and hydraulic steering rack. Interior leather is in mint condition. The dash has no cracks. Hood has been re-painted to fix rock dings, but the rest of the car is ORIGINAL paint from 1986 in excellent condition. The tires are in very good condition. Car has been always been covered and garaged.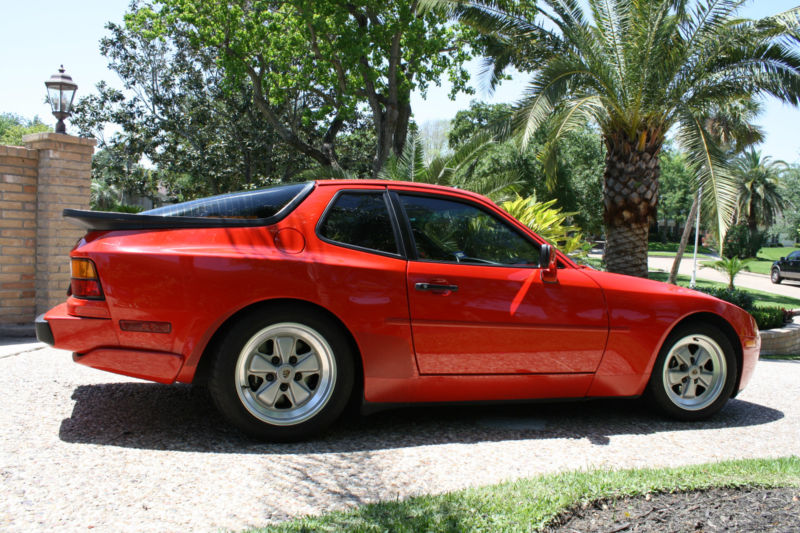 Finding unmodified low mileage 944 Turbos is pretty difficult. There are plenty of beaten cars available for under $6,000 and more needing attention between $6,000 – $10,000. This example strays a bit from stock with what appear to be non-stock Fuchs alloys; either they're refinished originals (they should be black) or are from another car and replaced the original silver "phone dials". Either way, they're a nice change from the standard fare on these cars without looking out of place. Otherwise, the car appears to be original. The seller notes that the front has had paint work due to rock chips, and there is plenty of maintenance mentioned; chief among which is the infamous clutch replacement, a noted bear of a repair on these cars. Interestingly, my father's car recently had the steering rack and lines replaced as well, and that was no simple or inexpensive process. Having these and other failure points covered certainly takes away some of the worry of ownership of a car of this caliber – now you can save your money to pay the speeding tickets.
$15,000 is bordering on decent Turbo S money, but you're not likely to get into a Turbo S with similar miles and maintenance for that amount. While at the high end for a non-S model, it's still a lot of car for the money, especially in comparison to the values that 911s, E30s, and even clean Audi Quattros are bringing these days. These cars are stellar performance machines if kept in the power band, are noted as one of the best handling chassis of the 1980s, yet will return 30 mpg on the highway and are comfortable cruisers with hatchback practicality. It's surprising that more people don't snap them up for a great weekend and occasional car. Now's your chance!
-Carter