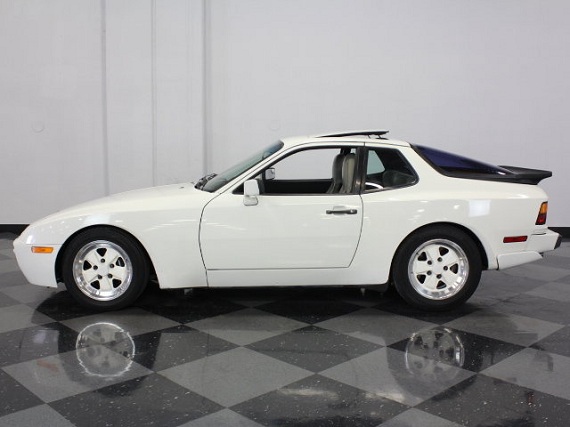 It's been said more than a few times here; the Porsche 944 Turbo remains the performance bargain of 1980s German cars. Comfortable highway cruisers, solid build quality, great looks and the ability to rip your face off on boost personify the boosted and box-flared Wunderkind. If you want a collectable, right now the market is focused on the racing Turbo Cup and more potent Turbo S models, leaving the run of the mill 1986 and 1987 Turbos more affordable. They don't come much more 80s spectacular than today's triple white model; so will this Turbo boost your Holiday spirits and make it a White Christmas for you?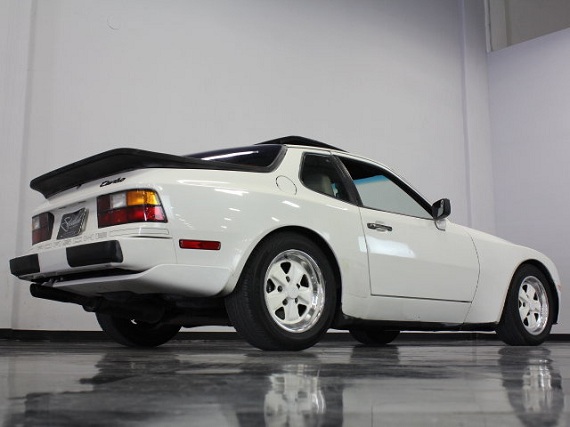 Year: 1986
Model: 944 Turbo
Engine: 2.5 liter turbocharged inline-4
Transmission: 5-speed manual
Mileage: 113,044 mi
Price: $11,995 Buy It Now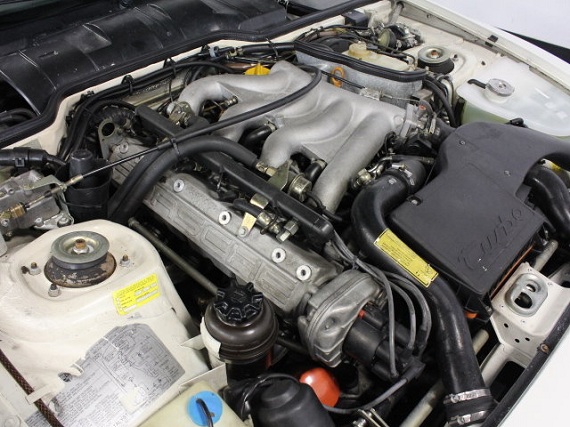 SELLER REMARKS

Name another 25-year-old car that can still run with the big dogs both on the street and on the track like this 1986 Porsche 944 Turbo. Few cars represent bigger bang for the buck, and this immaculately maintained original car still commands respect wherever it goes.

Maybe some 911 guys look down at the front-engined, water-cooled 944, but one drive will convince anyone that this is a serious driver's car. The all-white bodywork is a little "Miami Vice" but still looks fantastic, a testament to the care it has received for the past few decades. There's no evidence that it was ever raced or abused, and unlike many of its siblings, it hasn't been chopped and gutted to make a track day special. The Turbo's special front fascia carries large fog lamps and extra cooling ducts, but no scuffs or cracks from steep driveways. Fit and finish are typically Porsche excellent and even the black rubber trim like the rear spoiler and weather stripping is smooth and supple. Look at the condition of this car, then look at the price and be prepared to be impressed.

The interior is as pure a driving environment as you'll find. Designed by the same guys who win at Lemans, it avoids the quirks of the 911 and delivers all the gear you need to get the most out of the hardware. Supportive leather buckets are grippy but all-day comfortable, and the textured surface seems to be defying the years with its condition. Clear analog gauges put function over style and the 5-speed shifter is the best one this side of a Mazda Miata's joystick. Just about everything was standard (this IS a Porsche, after all) including A/C, power windows and locks, cruise control, and a sunroof overhead. The original 80s vintage stereo has been replaced by a great-sounding Pioneer AM/FM/CD head unit, but otherwise it's as the factory built it. The 944 is also practical, with a large hatch area and two rear seats that are useful in a pinch.

The 944's turbocharged inline-four cranked out a robust 217 horsepower from just 2.5 liters. Canted over at an angle for a lower center of gravity, it makes big torque at low speeds, yet its light weight means that the car has almost ideal 50/50 weight distribution. While these cars are ridiculously easy to modify, this one remains completely stock, and given Porsche's impressive durability it should continue to run for years and years. The 5-speed manual transmission has its own oil cooler for track use, and the fully independent suspension is race-bred yet supple and everyone knows Porsche's binders are legendary. Expert maintenance means that it's turn-key ready, and the impressively clean undercarriage is more proof that this car has led an easy life as a fair-weather toy. It's even worth noting that the exhaust system is still stock. This car also carries optional (and valuable) color-matched Fuchs forged alloy wheels with 205/55/16 front and 225/55/16 rear Toyo performance rubber.

Go ahead, give this one a try. At 27 years old, it's still impressive on the road and it should be no surprise that these are still incredibly popular track day toys. This one is so clean and well-maintained, there's still a lot of fun awaiting its new owner. Call today!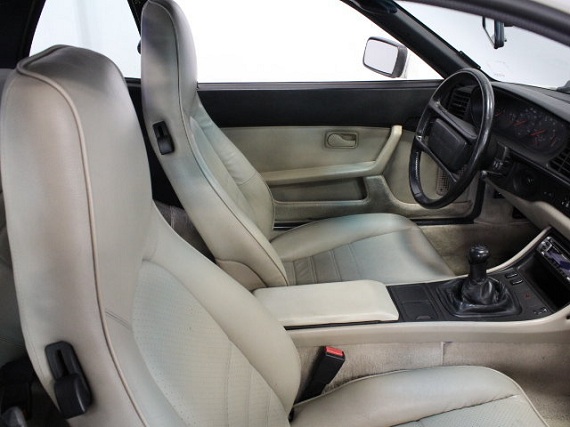 I have to give the seller credit for one of the more entertaining ad copies to read, and certainly better than most of the typical Ebay auction house "It's a car, come buy it" descriptions. Despite that, not a tremendous amount of detail about this particular car is provided – critically missing is detail of any mechanical work that a 113,000 mile Turbo would certainly need at this point. The seller does mention that it is mechanically sorted with "expert maintenance" though, so perhaps some digging through hopefully provided receipts would show what had or hadn't been gone through. It certainly does look pretty clean and well cared for though, and the color-matched Fuchs are a great and desirable touch on this car. Though it may lack the punch and trick suspension of the Turbo S, these early Turbos are just as great to drive. $12,000 gets you into this particular example; a figure that a few years ago would have seemed about 50% too high, but in all honesty getting into a clean 944 Turbo like this is likely a $10,000 bill today. For that money, you get more performance than was offered out of its contemporaries at a lower price. So along with being a Jekyll and Hyde 1980s superhero, the 944 Turbo is now good value too – and there aren't many Porsches you can say that about.
-Carter