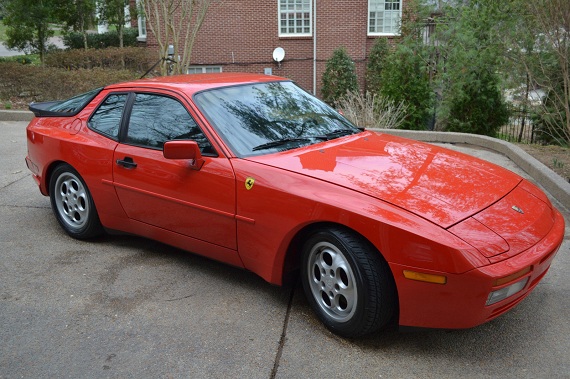 Dismayed by recent price increases in the E30 market? I'll admit I am; I've had a dream since I was 12 of owning an E30 M3 – back when they were new – but recent prices mean that ship has sailed. But there are still plenty of options for affordable German motoring – even a race-bred, flared 4-cylinder kind. If you missed out on the trio of 944 Turbo racers I wrote up earlier this week, today I've got two affordable and good looking options for driver-quality 944 Turbos. As these are the early cars, they're down on power out of the box compared to the later S, but these are easily tunable cars that accept a myriad of upgrades and still have a very active and enthusiastic community supporting them. Faster, better handling and braking, great looking and even more fuel economy than the E30 is what you can expect from the 944 Turbo. But the one thing you won't see is ridiculous prices, for now: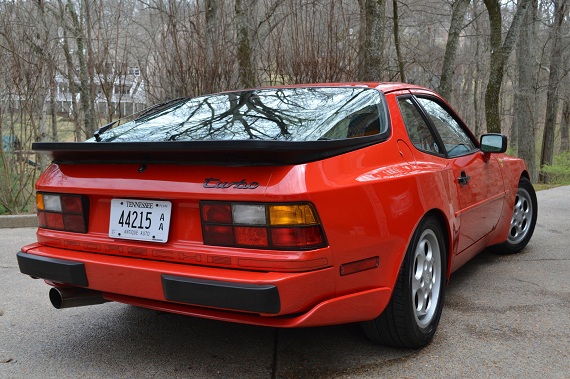 Year: 1987
Model: 944 Turbo
Engine: 2.5 liter turbocharged inline-4
Transmission: 5-speed manual
Mileage: 114,000 mi
Price: $10,500 Buy It Now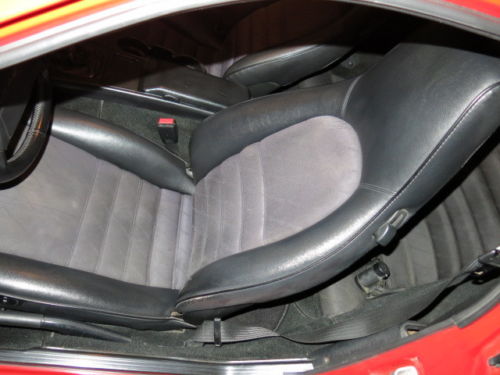 1987 Porsche 944 Turbo, clean and full service records for past 25 yrs, very nice car Has 114,000 miles but you'd never know it. Runs extremely strong. Motor was fully rebuilt approximately 10k miles ago (have receipt for over $10k in motor work alone). Has an extensive list of updates, maintenance and mods. Owned by a surgeon and his family since 1989 and nothing was spared – always kept perfect and very well maintained. Only selling because I just got an Infiniti Q60, so could use some garage space. Vehicle is listed locally so I reserve the right to end this listing early. Bid with confidence, this is a very well kept example of a great car. · -New tires and alignment a few hundred miles ago – include lifetime repairs. · – Air Conditioning works well and has been converted to R134a · -Weltmeister Cambermeister strut tower brace · – Lindsey Racing boost enhancer and chipset o Boost is very conservatively set on this car to maintain durability · – Magnaflow 3" full exhaust system · – Front and rear suspension upgraded to Koni/Bilstein · – Short throw shifter · -Over $2,000 sound system with solar-baric Kickers, Eclipse head unit, 3-Way active electronic crossover system and Ipod aux jack input. Sounds incredible – my teens like itJ · – I have the original stereo as well · – Driver/passenger airbag system · -Power windows, mirrors, power and removable roof, power drivers seat. · -Cross Drilled brake rotors · -Everything works flawlessly · -Has the typical minor two to three cracks on top of dash – I never bothered repairing but will throw in a kit to do it. Or just buy one of the dash covers. · -Pulls hard, handles great, shifts perfect. · -Have full service and mod records for past 25 years – too much to list. · -Have original owner's manual packet, tool kit, car cover, full repair manual, extra oil filter, two keys, etc. · – Needs nothing at all and can be driven daily · -$500 deposit due upon winning bid. · I'd keep it forever but other hobbies and expenses take priority · Located in Brentwood, TN which is 15 minutes south of Nashville.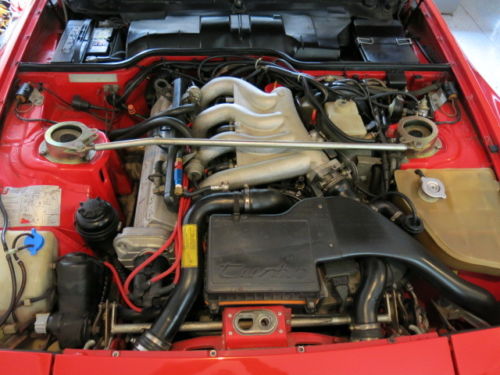 Guards Red is a popular color on these 944 Turbos and fits well. The car looks to be in impressive shape; miles have been kept in check, maintenance is claimed up to date, and there are some modifications which are pretty common but certainly not outrageous. The one thing I could probably do without is the stereo upgrades – the only thing I see as a detraction from the car, in all honesty. Otherwise, it looks like a reasonably priced, excellent condition example of a 1987. However, were I in the market for one I'd really like to pick up a more infrequently seen color: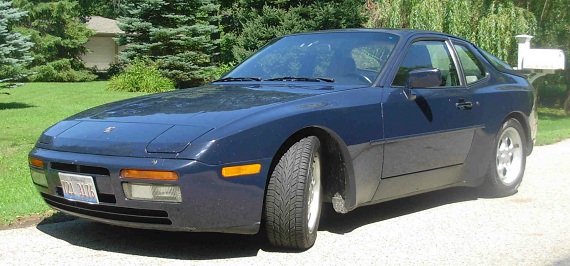 Copenhagen Blue was a color used by both Porsche and Audi for a time, and looks good no matter where it appears. It's not particularly common to see, and unless kept well polished can look a bit flat. This car seems to fall into that territory just a bit as it doesn't seem to have the shine I'd expect from the lower miles it shows relative to the more pristine appearing Guards Red example. Despite that, everything else appears in order on this 1986: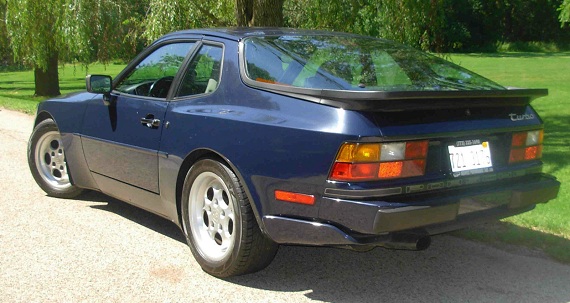 Year: 1986
Model: 944 Turbo
Engine: 2.5 liter inline-4
Transmission: 5-speed manual
Mileage: 92,745 mi
Price: $9,995 Buy It Now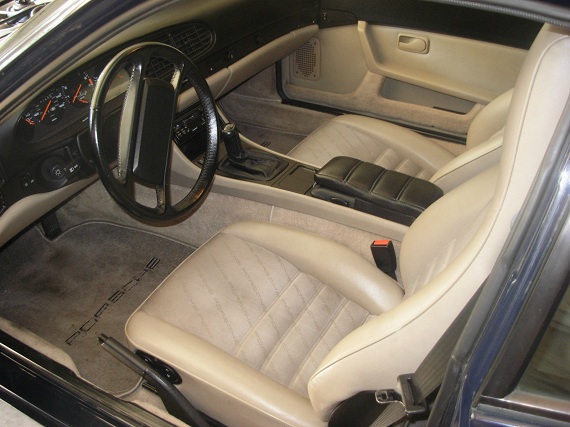 This 1986 Porsche 944 Turbo is in great condition. This is very rare Copenhagen Blue color, originally purchased in Pennsylvania and sold to its second owner in Illinois before me. With all service records, this vehicle was only maintained by Porsche Specialists and recent documented services include:

New A/C Compressor (38K)
4 CV Joints and Boots (68K)
New Water Pump, Balance Shaft Belt and Timing Belt (74K)
New Power Steering Rack (81K)
Complete Brake Job ((81K)
New Battery (90K)
Received a new engine at 24,000 miles that was completely paid for under Porsche warranty. When the engine was replaced, a new clutch was installed.
This vehicle shows no evidence of any accident damage, and the car has had no paintwork whatsoever.

This is a very rare colored 944 that was extremely well maintained

Tires: 10 out of 10 / Rims 8 out of 10 / Paint 7 out of 10 / Windshield 9 out of 10 / Dash 9 out of 10 / Front Seats 8 out of 10 / Rear Seats 8 out of 10, Carpet 8 out of 10 / Headliner 8 out of 10. Please call or email with any questions.

Exterior: This vehicle is in great condition and has a few blemishes to note: Hood has a few paint chips, and passenger side rear quarter panel has a small scratch. The driver side mirror has a few small paint chips.

Interior: In great shape. A small wear area in the rear trunk mat. The interior speakers were replaced in 2004.

Mechanically: The vehicle runs strong and drives well. There are no known issues that have gone unrepaired, and the vehicle is ready to be driven

2.5 L I4 Turbo SOHC 8V F1 Engine

5-speed Transmission

Alarm System

Cruise Control

Power Sunroof

Copenhagen Blue Metallic Paint

Power Windows

Air Conditioning

Power Mirrors

Trip Computer

Velour / Cloth Seats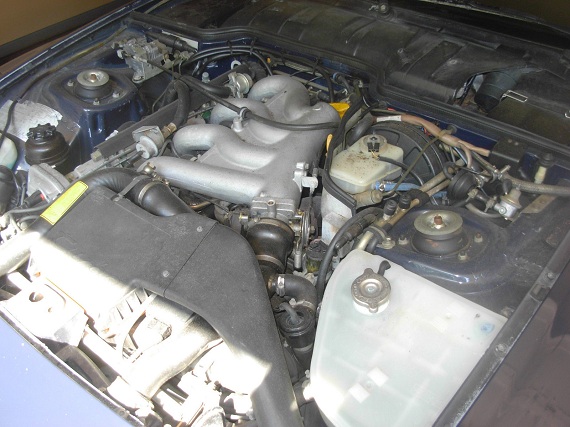 Again, it looks like a well presented example with maintenance records. I really like the color combination on this example, and normally it would be my choice. However, even with a few less miles on the clock the paintwork appears to be in worse condition by a long shot than the Guards Red example. It's a minor nit to pick, but the price difference between the cars is close enough that I'd probably chose the one that looked better – and in my mind, all things being equal that's the Guards Red this time around. However, I'd like to see that Copenhagen car in person and judge whether I could salvage and touch up the paint; a day of detailing could really make a huge difference in the presentation and appeal of that car. At the end of the day, though, either looks like a very appealing classic Porsche for right around $10,000 – and for that money, either is a lot of car that you'll not likely regret purchasing.
-Carter