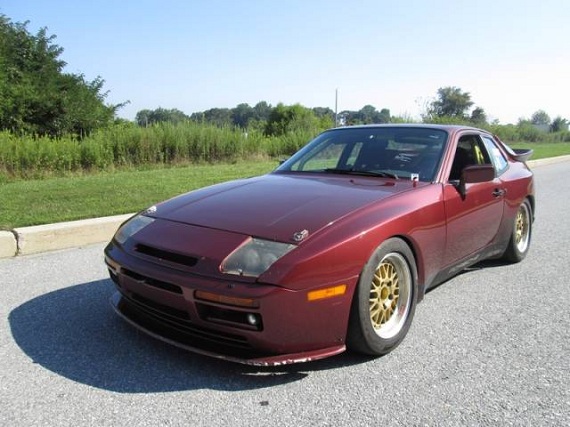 Long before the E36 even debuted, the Porsche 944 was deeply entrenched in the track scene. From weekend warrior autocrosses to full out Le Mans endurance racing, the 944 touched all aspects of motorsports, and in many cases won. While the roots were in a economy sports car, the 944 Turbo took well to supercar slaying – massive flares hiding brakes borrowed from its brethren and boosted performance from the all-Porsche turbocharged 2.5 inline-4. With near perfect weight distribution, these Turbos were relatively easy to drive and accepted high levels of modifications well. Into the 1990s, the continued to be favorites at track events – and today, even nearly 30 years later, they're still potent packages capable of winning club races. Today I have three different takes on the 944 Turbo; modified but still streetable track event car, stripped and turned up club racer, and a collectable bit of Porsche racing history with a Turbo Cup car in original configuration. Which is your flavor?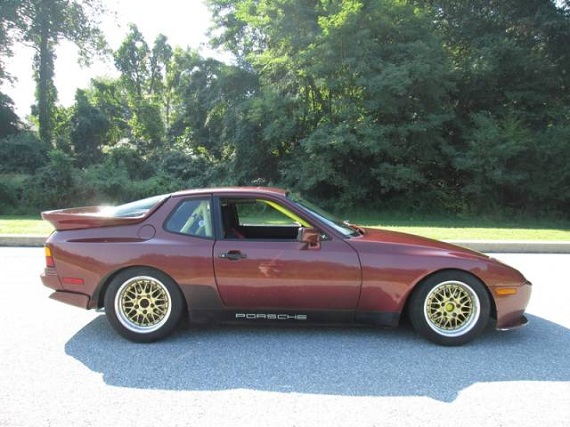 Year: 1986
Model: 944 Turbo
Engine: 2.5 liter turbocharged inline-4
Transmission: 5-speed manual
Mileage: 86,000 mi
Price: $11,995 Buy It Now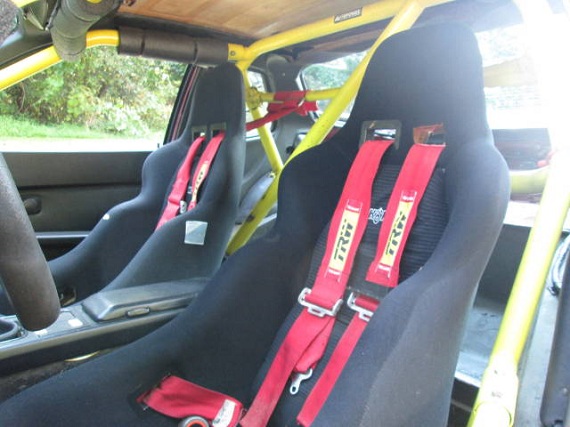 1986 PORSCHE 944 TURBO RACE CAR TRACK DAY CAR LOADED ACCIDENT FREE LOW MILES

TRACK PREPARED '86 944 TURBO·

DRIVER'S EDUCATION I PCA CLUB RACE CAR

mts CAR HAS BEEN METICULOUSLY MAINTAINED AND MODIFIED TO PRODUCE THE BEST
COMBINATION OF FUN AND RELIABILITY. IT IS FAST AND HANDLES EXCEPTIONLY WELL
BEST BANG FOR THE BUCK AVAILABLE!

UPGRADES AND MODIFICATIONS

· BILSTEIN MOTORSPORTS INVERTED SlRUfS WITH 550 LB PRIMARY SPRINGS

· BILSTEIN MOTORSPORTS COILOVER REAR SHOCKS WITH 500 LB SPRINGS

· CUP CAR 30MM HOLLOW FRONT SWAY BAR

· WEL TMEIS1ER 22 MM REAR ADJUST ABLE SWAY BAR

· FABCAR 'N ARMS

· DELRAN 1RAILING ARM BUSIllNGS

· S4 FRONT CALIPERS WIlli 993 FACTORY DRILLED ROTORS

· PAGID ORANGE AND CARBOTECH PADS

· COOL BRAKE FRONT DUCTS

· STAINLESS STEEL BRAIDED BRAKE LINES

· AUTOPOWER FULL RACE CAGE

· KOENIG RACE SEATS FOR DRIVER AND PASSENGER

· lRW CAMLOCK 5 POINfHARNESS' FOR DRIVER AND PASSENGER

· K-2618 "S" TURBO

· TURBO BOOST GAUGE

· AUT01HORITY CUSTOM CIDPS

· FULL 3″ EXHAUST (NO CAT-NO lEST PIPE) WITH FLOWMASTERMUFFLER

· STAINLESS SlEEL B&B HEADERS

· CUSTOM TRANSAXLE WI1H LOW RING AND PINION, COOLER & LIMnED SLIP DIFF

· TURBO CUP RACING CLUTCH

· PCA ELECI'RICAL CUTOFF AND TOW MOUNTS

· GT RACING FIBERGLASS HOOD WITH CAPTIVE LATCHES

· GT RACING FRONT AND REAR AERO SPOll.ERS

· GT RACING LIGHTWEIGHT EURO REAR BUMPER

· GT RACING VENIED NOSE PANEL FOR ADDITIONAL INTERC()()LER VENllLATION

· GT RACING LIGHTWEIGHf SUNROOF PANEL (SAVES 20 LBS)

· HELLA 90MM FIXED HEADLIGHT CONVERSION (SAVES 20 LBS) HAVE ORIGINAL'S

· REMOVED POWER STEERING (SAVES 20 LBS) HAVE EVERY1HING FOR REINSTALL

· 924 GIR AC DELElE PULLEY

· CUSTOM 3 PIECE BBS MAGNESIUM RACING WHEELS WI MICHELIN SPORT CUPS

· SET OF 4 16″ X 8″ PHONE DIALS WI1H BRAND NEW YOKOHAMA 032R'S FOR RAIN

MOTOR COMPLETELY REBUILT BY PORSCHE SPECIALISTS DOUGHERTY AUTOMOTIVE AT
76,000 MI WITH RACEWARE ROD BOLTS AND HEAD STUDS, WIDEFIRE RING HEAD GASKET.
REPLACED WATER PUMP, TIMING BELT AND CLUTCH. EVERY1HING DONE TO INSURE TIIE
UlMOSTINRELIABILITY.

Thanks for taking a look at our latest Porsche race car. This car is an accident free 1986 Porsche 944 Turbo. It has been profesionally converted from a street car to a dedicated track day car. This car was never PCA club raced, but was used for my wife and I to enjoy some together time at the track with our local Porsche Club. 3 children later, we are not using it enough and I've finally realized the track will have to wait till my kids can drive with me. We have spared no expense in preparing and maintaining this car. The motor was professionally rebuilt a few thousand miles ago by Billl Dougherty of Dougherty Automotive in West Chester, PA. It is said to be the last engine hand built by Bill himself. He's still very much in the business, but has a competent crew trained working for him these days. In any case, this engine is revered as one of the most bulletproof examples of a 944 turbo engine. It has never overheated, broken down in any way or even given a hint of trouble. My wife and I have enjoyed the car's amazing smoothness, its balance on the track and the ease with which you can push this car without the spin danger of a rear engine or mid engine Porsche. This car has several modifications, all to make the car either safer, more durable or lighter. The Turbo has never been turned up to put out more boost. We are firm believers that speed at the track is done through smooothness and understanding vehicle dynamics. We've done the stint with a 3.6 Turbo and other more powerful cars, only to conclude that this car is very fast and smooth when driven well.

Upgrades include racing seats, roll cage, fiberglass sunroof panel, fiberglass hood, retractable headlights removed, interior gutted, upgraded brakes, forged engine components, upgraded suspension, etc. It has 86,000 original miles on it with about 3,000 miles on the engine build. The car runs on 93 octane and never skips a beat. It had a clutch slave cylinder done this year and needs nothing but a willing driver.

Call Dave with questions and potential trades of interest. The car comes with a clear title and can be driven home if you wish.

At our dealership we work very hard to accurately describe our vehicles through text descriptions and elaborate photos. When you purchase a pre-owned vehicle it is not a new vehicle. Any used vehicle can have normal wear and blemishes. Before placing a bid please read the descriptions thoroughly and view all of the pictures. We encourage you to contact us directly and welcome a pre-purchase inspection. Please contact our team directly for more details.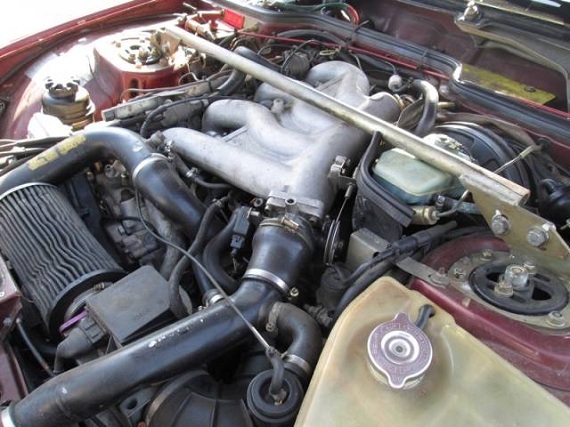 There's certainly a lot to like with this build, not least of which is the low price. For about the same amount as a reasonable E36 M3, this car is a much better performer on track and has an impressive build sheet. While it claims that it could be a club racer, this to me looks like more of a Driver's Education car; probably a little extreme to drive to and from the track, but it might be possible. The big draw here is the BBS magnesium wheels, new worth well over a third of the asking price of the entire car. While at this age turned up 944s wouldn't be considered the most reliable car out there, if you wanted to go to the track on a budget this car certainly looks like a good candidate. Rather go racing?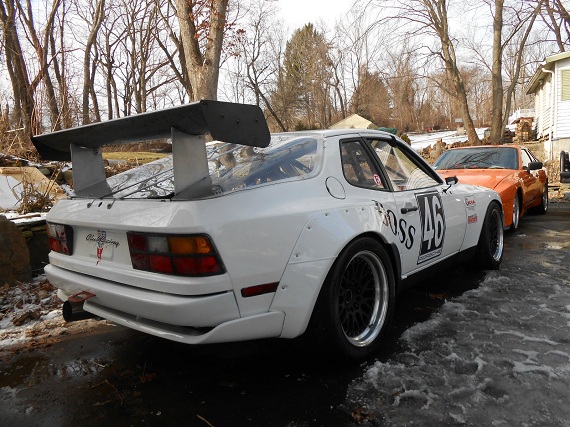 One of my favorite liveries on 1980s Porsches was the 944 GTR-LM "Boss" livery for Le Mans. As the livery indicated, that car was indeed the boss of the business – a monster racer that was nearly capable of running with the prototypes. Today's example isn't quite that extreme, but like the previous 86 Turbo offers a lot of value for the asking price: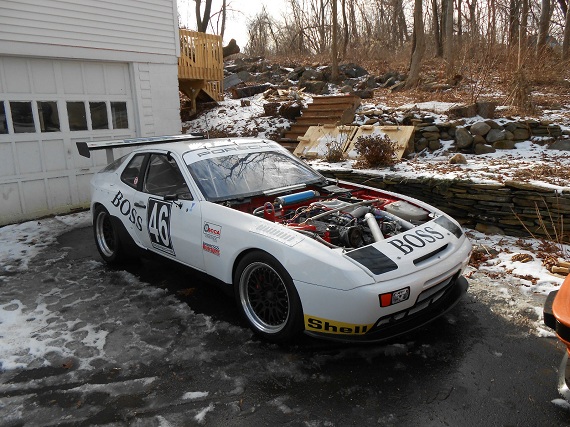 Year: 1988
Model: 944 Turbo
Engine: 2.5 liter inline-4
Transmission: 5-speed manual
Mileage: 88,000 mi
Price: $16,500 Buy It Now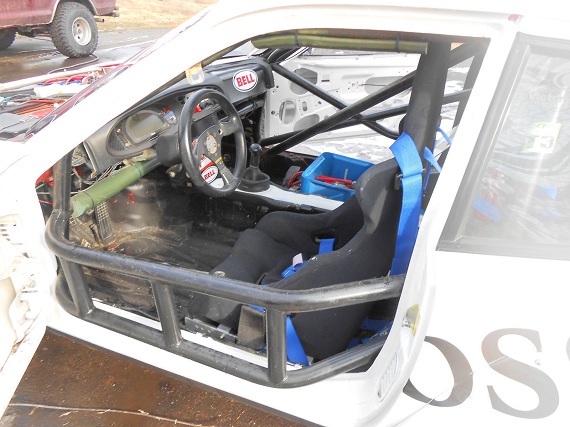 Ready to race porsche 951 turbo Built by Pipermotorsports in Virginia. All documentation included. History: Car bought stock in 1988 remained stock until 2000. Transformed into GT/ITE car. Ran full seasons in 2001-02. Many podiums. Since purchase in 2011 only 20 laps at Lime Rock. Personal obligation have forced me to part with this fine machine. I have driven the car on the street ,and track its very fast. the car has been dyno tuned using the motec standalone fuel management and makes 328hp at the wheels with a safe track tune,and 15psi boost, 500hp+ capable at 30psi, but has never been pushed that far.

Garret GT3040 full ceramic bearing turbo w/ custom crossover and down pipe

Knife edged cross drilled crank
JE Pistons
Pauter rods
Motec fuel injection
Motec dashboard
individual coils
4in turbo inlet with knn filter
Lindsey race model waste gate
Fabcar 3″ cat bypass exhaust
Bosch custom 78 injectors
Lindsey stage 2 intercooler w/ Wiggins fittings
3 quart accusump
Lindsey racing oil breather
Quaife limited slip
Short shift kit
Big Reds F/R Alcon rotors …custom hats
aluminium racing fuel cell
Suspension:

F: Koni dual adjustable front coil overs
1200 lbs springs
Fabcar control arms
968 30mm sway bar
Adjustable camber plate
Racers edge spherical bearings

R: Koni dual adjustable coil overs
Kokein rear suspension with torsion bar delete kit
1000 lbs springs
Webmeister adjustable sway bar
Racers edge spherical bearing

Thank
call Tim for more details 860 836 0636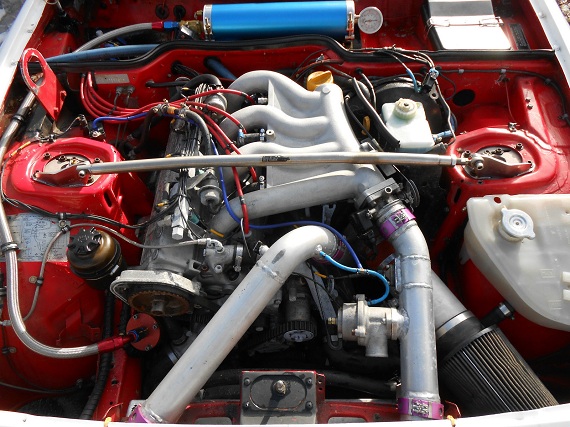 This car is likely a quite competent track car that probably needs a light freshening before hitting the track. Until recently, it was 944s like this that held many of the track records in PCA racing; true, the more recent GT3s have eclipsed them in performance, but it took them well over 20 years to do so. That's an indication of just how fast these cars can be – if you're willing to foot the quite high bills for running them at that speed. Otherwise, you can turn the boost down and have a great handling racer capable of running with the big-boy 911s for much less money. The car appears to look nice overall and as with the first example offers a lot of performance for the money. Rather have something a bit more collectable?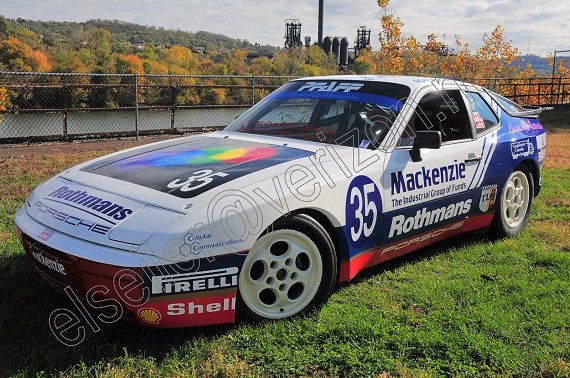 Neither of the first two cars is or will be a collectable edition of the 944; they're tools to enjoy, but there are many 944s that are really important pieces of racing history. Prime examples of this are the Turbo Cup cars – a one car series that preceded the Carrera Cup and offered top-notch drivers on an equal playing field. For those that saw the racing, it was some of the most inspired driving many remember – and entertaining to boot. One of the most popular drivers in the series was Ron Fellows, still quite active in motorsports. In 1990 he raced this very 944 Turbo Cup which has been for sale for some time and was written up by Paul in January 2012. It remains for sale still: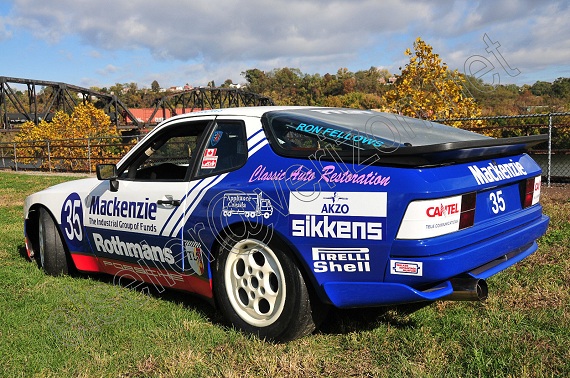 Year: 1988
Model: 944 Turbo Cup
Engine: 2.5 liter turbocharged inline-4
Transmission: 5-speed manual
Mileage: 6,235 mi
Price: $89,000 Buy It Now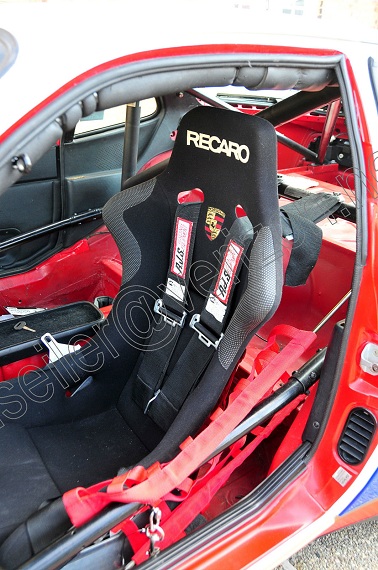 An outstanding example of one of the 192 factory-built race cars created for the Rothmans Turbo Cup series in 1988. The series was conducted in Germany, England, Canada, France, Australia and South Africa in 1988 through 1990.

This particular car was one of 32 brought into Canada for their series and was driven by Ron Fellows in the 1990 season and by Ted Powell in the 1988 and 1989 seasons. Ron Fellows frequently took the car from the back of the pack at the start (as a result of being unavailable to qualify the car) to a leading position when the checkered flag dropped. Except for taking the photos in this listing, the car has not been driven on the street or track since its last race (Moosehead Grand Prix of Halifax – October 7, 1990) and has been meticulously restored to pre-race condition over the past 15 years.

This is a rare car with a significant race history, making it very suitable and highly desirable for vintage racing or show events. This sale provides an opportunity to own an important part of racing history.

The VIN # is WP0ZZZ95ZJN165096 and the odometer shows 10,038 kilometers (6,235 miles). Please note that the VIN number does not conform to standard passenger car format and is therefore not recognized in eBay's system. Photos of the VIN number plate are included under the photo links at the bottom of the listing.

The Customs Receipt (from Canada into the US) includes the notation "This car meets US EPA & US DOT Specifications."

Also known as the Weissach Racing Turbos, these cars were designed to look identical to the street version of the 944 Turbo with the exception of the specially-designed white magnesium racing wheels (which were the only wheels allowed for the Rothmans Porsche Turbo Cup series).

In an effort to keep all of the cars in the Rothmans Turbo Cup series "on a level playing field" the engines were sealed at several locations with safety wire and lead seals having "Turbo Cup" embossed into them. The seals are still in place on this engine. Click this link to view the seals at the cam tower, balance shaft and oil pan.

These cars sold for $100,000 Canadian, without any spares, back in 1988.

The following list represents the factory modifications to the standard car:

1. Magnesium racing wheels

2. Magnesium intake manifold

3. Magnesium oil pan

4. 928S4 brakes

5. Racing brake pads

6. Brake cooling kit

7. Strut tower brace bar over engine

8. Fiberglass hood/engine cover with race locks

9. Exterior power kill switch

10. Interior power kill switch

11. Larger high-output turbo unit

12. Larger sway bars, rear adjustable

13. High performance engine electronics

14. Surakrit safety windshield

15. Safety roll cage

16. Recaro racing seat

17. Driver racing harness

18. Lightweight side mirrors

19. Special Bilstein front struts

20. Special rear shocks with extra springs

21. Strengthened rear torsion bars

22. Heavy duty racing clutch

23. Quick ratio steering

24. Higher degree limited slip axle

25. Strengthened differential and axle gears

26. Strengthened transmission gears

27. Close-ratio 5th gear

28. Transmission oil cooler

29. ABS brakes

30. Stiffened main chassis

31. Strengthened strut towers

32. Hard rubber suspension mounts

33. Lightweight battery

34. Single engine cooling radiator

35. Underbody drag reduction panels

36. Lightweight noise insulation

37. Delete – Power steering

38. Delete – Fender liners

39. Delete – Radio, speakers

40. Delete – Headlight washers

41. Delete – Air conditioning

42. Delete – Power windows

43. Delete – Rear wiper

44. Delete – Engine shield

45. Delete – Undercoating

46. Delete – Sunroof

47. Delete – Power seat

48. Delete – Leather interior

49. Delete – Rear trunk release

50. Delete – Power mirrors

51. Delete – Door storage pockets

52. Delete – Cassette storage

Performance comparisons with other 944 models:

944

944 Turbo

944 Weissach Turbo

HORSEPOWER

147

217

250+

MAXIMUM TORQUE

140

243

272

WEIGHT

2800

2998

2579

TOP SPEED (Km)

210

245

275

ACCELERATION (0-60mph)

8.3

6.1

5.3

COEFFICIENT OF DRAG

0.35

0.33

0.32

WEIGHT TO POWER (lb/HP)

19.05

13.82

10.32

Included in the sale are:

· Vehicle Log Book for the Rothmans Porsche Turbo Cup series sanctioned by the Canadian Automobile Sport Club (CASC). Click this link to view. (5.7MB)

· Title Certificate signed by original owner but never transferred (buyer will in effect be the second owner).

· Workshop Manual for Car #35. Click this link to view.

· Poster for Series featuring Car #35 in green paint and Fuji Sponsorship as raced in 1988-1989 seasons. Click this link to view. (2.4MB)

· Rothmans Porsche Monitor (RPM) for July 1990 featuring Car #35 with Ron Fellows at the wheel. Click this link to view. (6.1MB)

· Rothmans Porsche Monitor (RPM) for October 1990 featuring a photo of Car #35 with Ron Fellows leading Richard Spenard for the checkered flag at Vancouver. There is also a photo from earlier in the race with Car #35/Ron Fellows second in of a five-car pack. Click this link to view. (6.3MB)

· Copy of Final Adjusted Standings and Earnings for 1990 Season. Click this link to view. (1.2MB)

· Copy of Season Summary for 1990. Click this link to view. (0.3MB)

· Copy of FAX sent to competitors dated 8/25/1987. Click this link to view. (1.8MB)

· Copy of FAX from Canadian Pragmatics Ltd dated competitors dated 12/28/1990. Click this link to view. (7.5MB)

Many spare parts are available but are not included with this listing for sale of the car, all of them being Porsche-supplied for the series. If you have an interest in the "Spares Package" we will consider offers separately only from the individual purchasing the car. We will not sell any of the spares separately from the car until after the car is sold. The "spares package" consists of:

· 4 Magnesium racing wheels, 8" – Click this link to see photos

· 4 Magnesium racing wheels, 9"

· Stainless steel exhaust (turbo-back) – Click this link to see photos

· Pin-removable muffler to meet track noise restrictions

· Factory-supplied Recaro driver race seat with distinctive suede shoulder patches – Click this link to see photos

· Ron Fellows' preferred Recaro race seat – Click this link to see photos

· Two spare transmissions as modified for the Turbo Cup Series. – Click this link to see photos of trans #1. – Click this link to see photos of trans #2

· Magnesium oil pan – Click this link to see photos for all the parts listed below

· Turbo waste gate

· Extension coupling for torque tube

· Spring set, progressively-wound

· Original steering wheel (as issued)

· Fuel rail for injection

· Five center caps for spec wheels

· Left quarter-panel window

· Three wheel bearings

· Oil pickup with primary strainer

· Torsion bar set (two bars)

· Quick Lock hood pin with insert

· Approximately 30 pairs of brake pads (seated)

· Steering shaft

· Two top strut mounts

· Coil

· Strut/spring perch adjuster

· Three Lucas fuel injectors

· Please note that the above parts are not for sale separate from the vehicle

Additional Photos of Car (Click on links below):

· Car #35 Photos – Page 1

· Car #35 Photos – Page 2

· Car #35 Photos – Page 3

Video of Races – 1990 Season

A number of the races from the final year of the series were captured on tape and will be made available on a DVD. To view some footage from the race series click on the following links:

· Video Clip from Mont-Tremblant – Round 3

· Video Clip from Mosport – Round 4

· Video Clip from Mosport – Round 6

Terms:

Upon acceptance of an Offer or Buy-it-Now bid, bidder must submit $500 via PayPal as "hand money" to secure the bid, with the balance to be paid by bank transfer or bank check/cashiers check within 10 days. If the bidder or his assigned representative finds the vehicle and spare parts differ from the description provided, the hand money will be returned and the transaction canceled. If the transaction cannot be concluded for any other reason within the allotted 10 days, the hand money will be forfeited by the bidder. If this arrangement is not satisfactory to bidder, an alternative arrangement must be submitted in writing and approved by seller prior to a bid.

FOB Pittsburgh, Pennsylvania, 15145. No shipping or provisions for shipping are included in the sales price.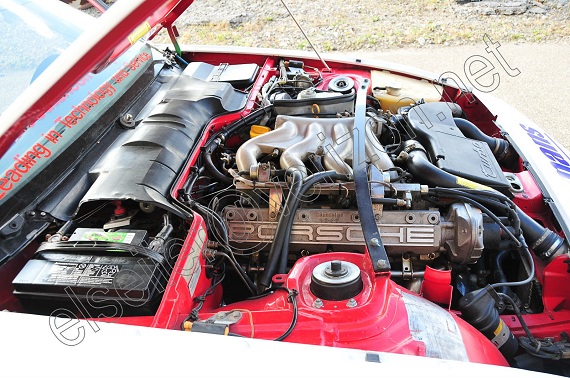 For those in the know, these are very special cars worthy of their premium. In truth, short of some used 996 GT3s, there isn't a much cheaper way to get a factory Porsche race car with significant history in original shape. As E30 prices skyrocket, suddenly the $90,000 asking price on this very rare and very special race car seems to be considerably more reasonable than it did a few years back; if you're looking for a bit of Porsche and racing history that is certain to appreciate and will likely gain you access to some vintage racing events in the not-too-distant future if not currently, this is a fantastic opportunity.
-Carter