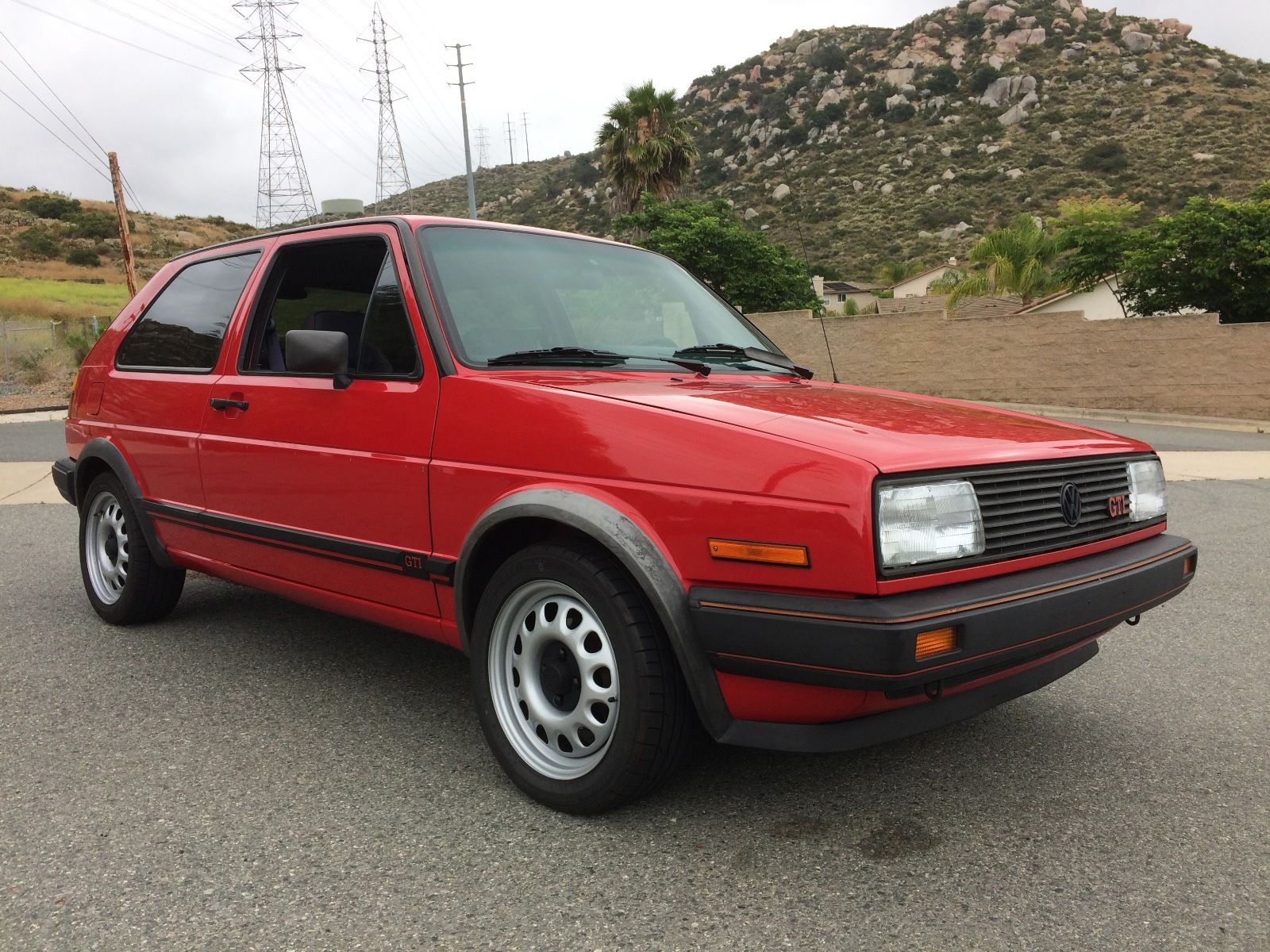 Edit: After selling for $4,650 in the auction from June, this car has been relisted with a $4,750 Buy It Now.
Jumbo Shrimp. Act naturally. Hell's Angels. Living Dead.
Oxymorons are part of our life to the point where we often don't even consider their genesis, nor their contradiction. Yet these things pop up on regular basis and have become integral to our culture. Well, I'd like to add a few oxymorons to the list when considering this 1986 Volkswagen:
1) 1986 Volkswagen GTI 16V : Yes, it's true that the 16V wasn't introduced in the U.S. until the 1987 model year. Yet, here we have a well engineered, so-clean-it-looks-stock PL-code 1.8 16V swapped in.
2) Clean, well-presented Volkswagen: I know this one seems silly, but it's really true – outside of the ridiculously clean (and ridiculously bid to $21,000!) 1987 Jetta Coupe , it is extremely rare to find crisp, well-maintained, well-photographed and detailed Volkswagens from the 1980s.
And, unfortunately for the seller but fortunate for us, there's one more:
3) Buyer didn't pay: This happens on a regular basis on eBay, but thankfully it offers us a chance to take a peek at the lovely condition: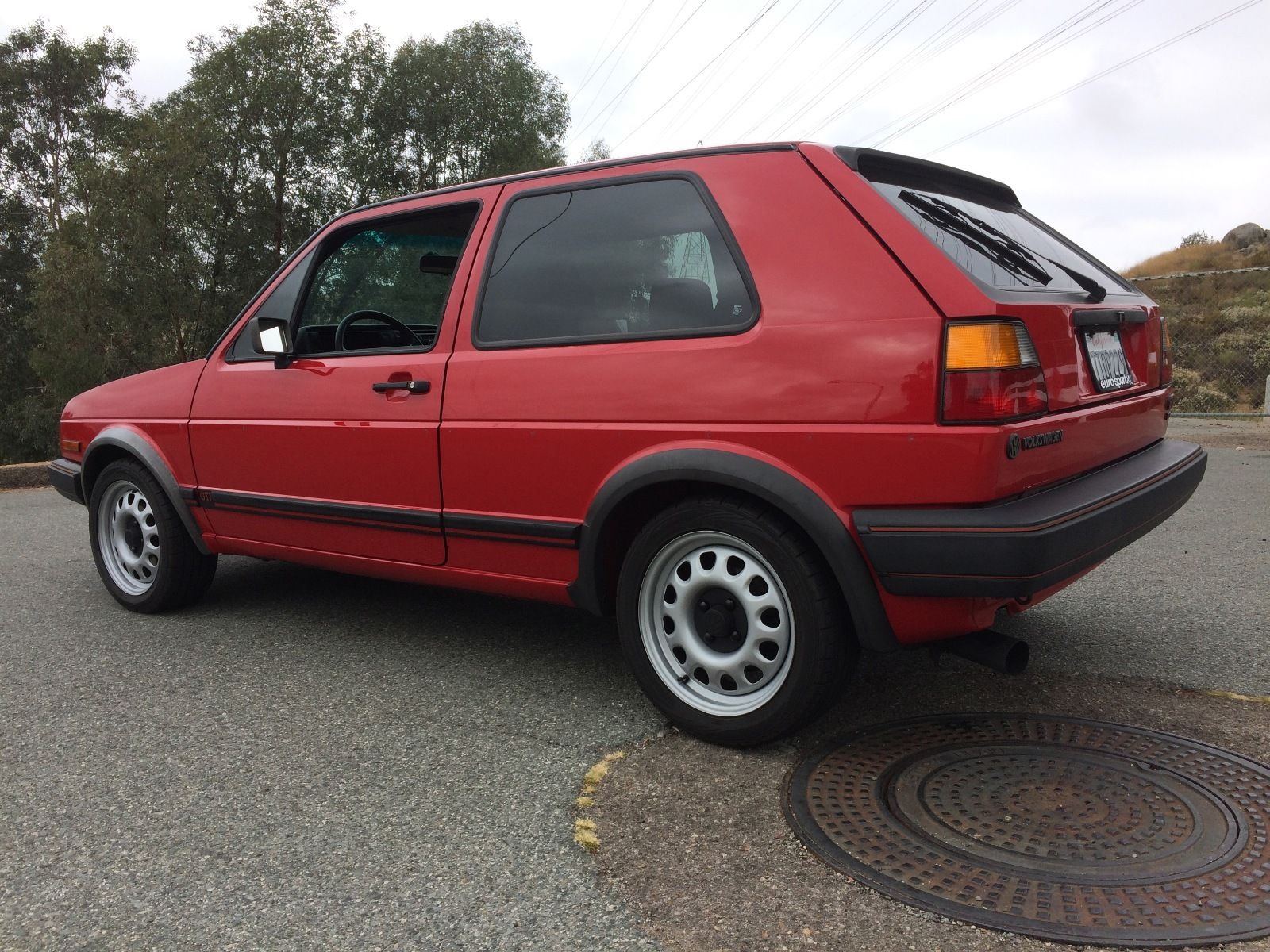 Year: 1986
Model: GTI
Engine: 1.8 liter inline-4
Transmission: 5-speed manual
Mileage: 110,000 mi
Price: $4,750 Buy It Now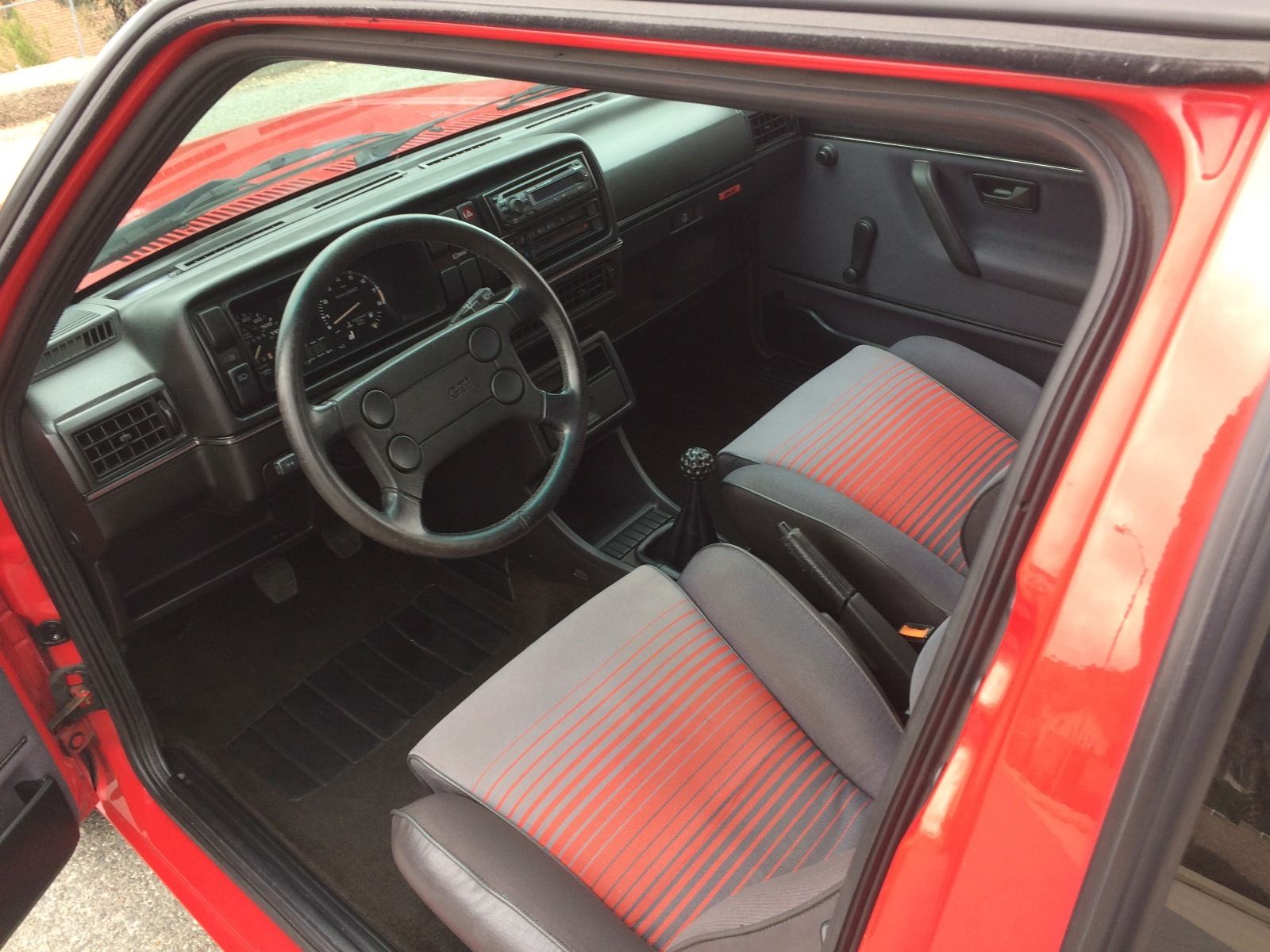 Car is being relisted because buyer was unable to perform. If you intend to bid/buy, please do so only if you can complete the transaction. It just passed CA smog with zero issues. Any CA buyer will not have to smog the car for at least 2 years.

FS: 1986 Volkswagen GTi 16v (swap) in phenomenal condition!!! Located in zip 92071 (Santee, CA – East County San Diego).

Super low miles on both the body/interior (110k-ish) and drivetrain (65k-ish). Car runs GREAT! No issues what so ever. I had the motor scoped and based on what was seen that is the estimated miles. The drivetrain was taken out of an 87 GLi 16v and the research I did I came up with 55k miles before the swap.

The swap and all other work performed was done by Scott Wood of Stray Dog Garage (formally VW Specialties) so you know it was done correct.

I started with 2 running and driving cars. All items needed for the swap were done all at once which include: 1.8 16v motor, tranny, fuel system, ECU, wire harness, air box and more.

When the 16v motor and tranny were out I had them cleaned and re-painted. I also media blasted the exhaust manifold and intake to clean off the usual pitting that happens to them over time. I powdered coated the manifold and intake crinkle black before installation. As you see in the pics it turned out great.

The 16v motor and tranny were resealed before installation so there are zero leaks anywhere.

Before any work was started I had the motor compression tested and a leak down test was performed and all results came back well within OEM specs.

Other items added to the car when the swap was done are as follows: oil, oil filter and drain plug, air filter, fuel filter, tranny fluid, coolant, stat and low temp fan switch, radiator, timing belt and tensioner, cam seals, all other belts, clutch, 4 brake rotors and pads, brake fluid, Koni STR-T shocks and struts, Neuspeed Soft Sport springs, all new suspension mounts and bushings, 16v gauge cluster, 16v steering wheel and e-brake handle, EuroSport cat back, brand new set of OEM VW Steelies with Dunlop tires (have never been on any car aside from this one with zero curbagge) and more I cannot think of at this point. All items used where OEM VW or OE equivalent. No Chinese garbage used on this car.

I've put nearly 6k+ miles on the car since the swap. I drove it out to AZ from San Diego and back (8 hours one way) with not a single hiccup.

The paint and interior are 99.9% OEM. The paint looks and feels really good. It is not perfect by any means. There are some dings and chips from use over the years but still it looks and shines up nicely. I would rate it a 7 out of 10. Besides the few chips, there are some OEM molding holes that go along the side of the body on both sides. They are covered so no water will ever leak in. I did not have them filled and painted because I am trying to track down the molding and reinstall it. I like the look with the molding.

The interior is fantastic. No sagging headliner, no tears or wear marks on the seats. I did have the drivers side bolsters refoamed and recovered as they were a bit worn down form getting in and out over the years. Interior is 9 out of 10 easy.

I tracked down a brand new German made Kamei golf ball shift knob and OEM VW leatherette shift boot that are installed already.

The only non-OEM item in the interior is the addition of a Sony CD player. I do have the OEM am/fm cassette player and it is included with the sale.

I have paperwork dating back to day one and all the way through now. Paperwork included are OEM window sticker, build sheet, VW brochure, receipts for work performed, owners manual and much more.

I have collected a few parts that are also included. They are a bunch of random hard to get VW parts.

Full set of OEM VW keys are also included.

Everything on the car works, as it should with the exception of two items. First, the A/C blows cool and not cold. Could use an R12 recharge if you could find R12 or better yet be converted to R134. And second, the ODO works when it wants. The speedo works and always has but the ODO works sometimes. I took it to an ODO shop and was told it was a spider gear in the dash that is missing some teeth. It would cost $125.00 to fix.

No rust now or ever.

I have owned this exact VIN car 3 times over my life. I love it and don't really want to sell but I need the funds from this sale to fund another.

I'm sure I am missing some info and will update should I remember. Please bid with confidence as the car runs superbly. I encourage any perspective buyer to swing by and go for a spin. Any questions please ask. Good Luck!!!

Bidders with less than 10 feedback or negative feedback need to contact me before bidding or your bid may be cancelled.

I reserve the right to end auction early.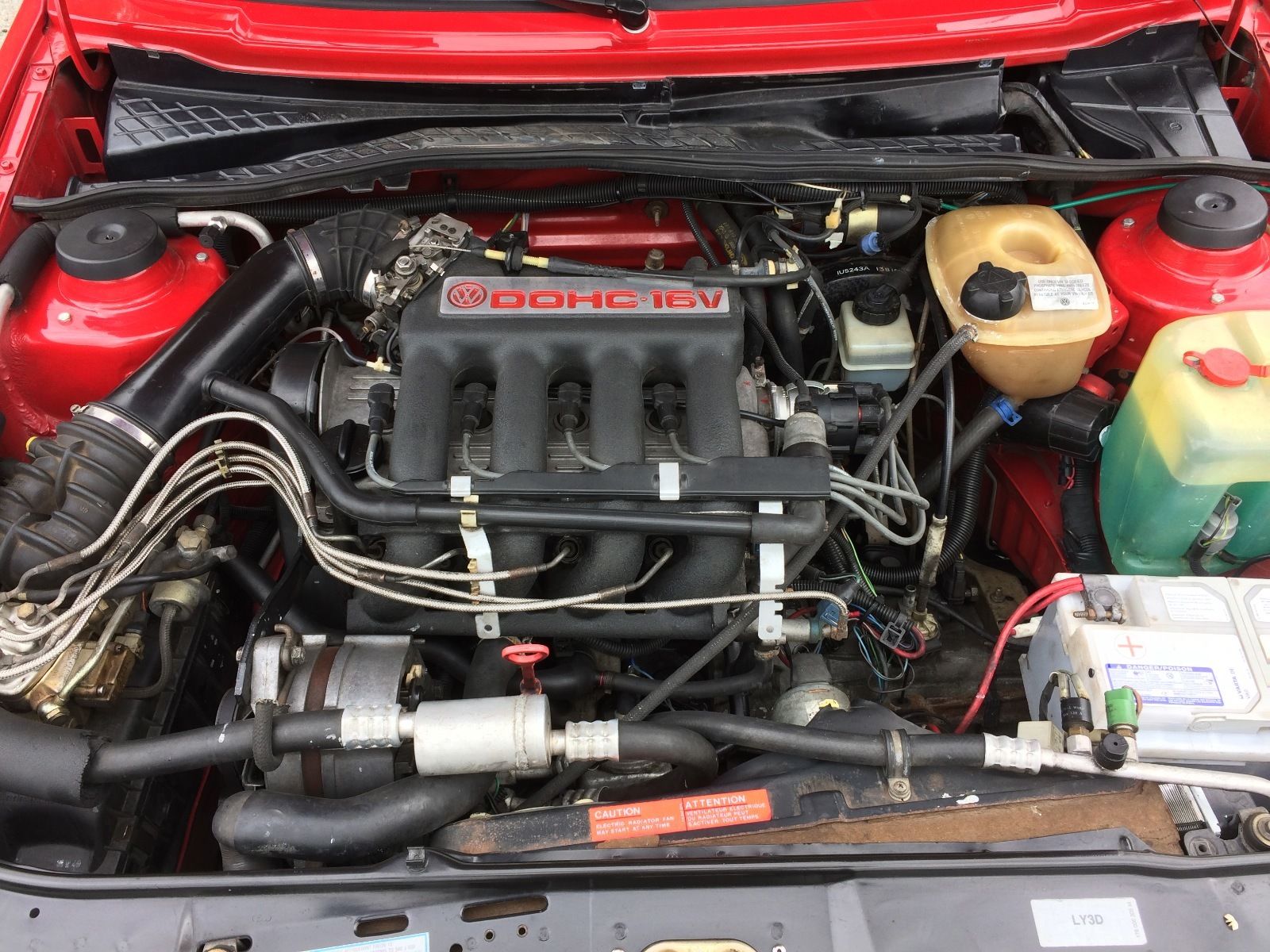 The original RD motor in the '86 GTI was up to 102 horsepower. The only other real change was the introduction of rear seatbelts for the model year. The car is presented in Tornado Red with Charcoal interior with red stripe seats unique to the GTI, and both are excellent. The original "bottle cap" 14″ alloy wheels have been replaced by Corrado 15″ steel wheels for a Euro look which works well. The only options on this car were the addition of air conditioning and the 4-speaker radio, but the inclusion of the original window sticker and build sheet are very cool and infrequently seen. The 16V swap was well thought out and engineered to the point where you'd likely not realize it wasn't stock unless you're quite a pedantic fanboy, and even then you'd be excited to see one in this condition. There are few excuses offered or necessary.
As a collector, unfortunately the swap to 16Vs has I think hurt the value slightly. You did get a 21 horsepower bump with the addition of the second cam, but I think that if this car were presented (like the Jetta) in clean, original 8V condition it might draw stronger bids. However, it's still an exceptionally clean and very well built second generation GTI that's worth a strong and long look. It's also resulted in one heck of a neat driver, and that's worth the price of admission.
-Carter