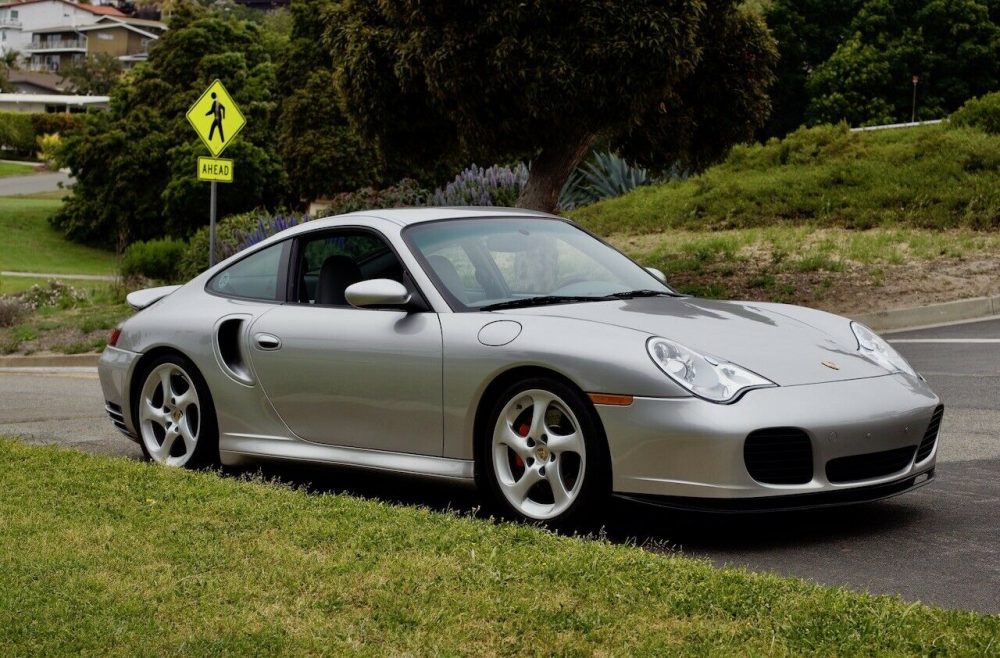 Update 5/7/19: This 911 Turbo sold for $51,600.
I'm not breaking any news saying that now is a really good time to buy a 996 Porsche 911 Turbo. Deals can be had on the right car and outside of really any extenuating circumstances, I don't see them getting any cheaper. The overall 996 market is very popular right now because people are finally starting to warm up to the fried egg cars and see the value in them. Naturally that applies to the Turbo cars because the rising tide usually lifts all ships. Today's car, a 2002 up for sale in California, shows just a little over 30,000 miles and looks every bit the part. It even has a little bit of a surprise when you open the doors.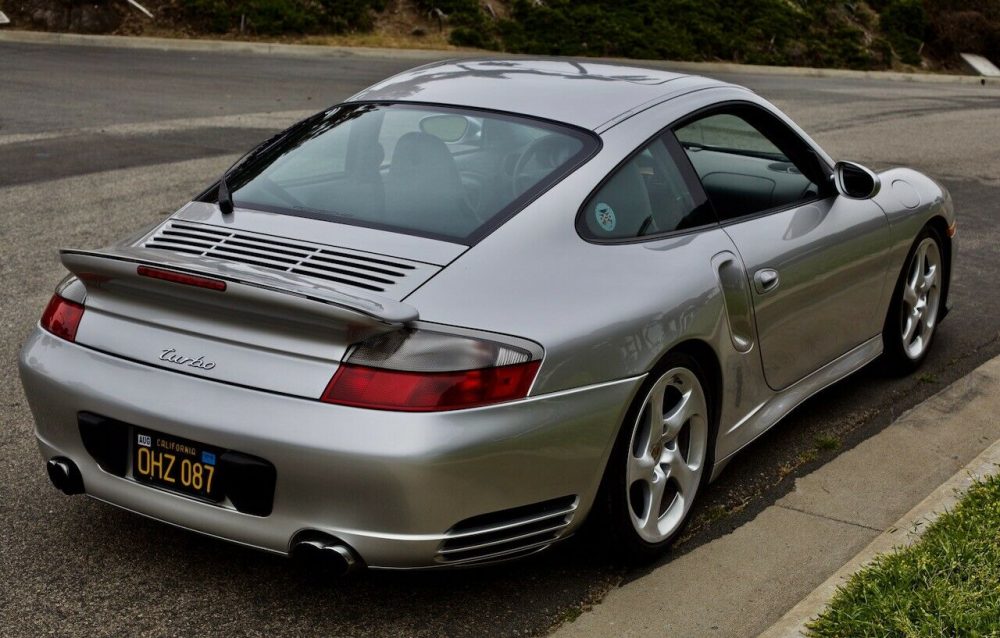 Year: 2002
Model: 911 Turbo
VIN: WP0AB29942S685431
Engine: 3.6 liter twin-turbocharged flat-6
Transmission: 6-speed manual
Mileage: 29,264 mi
Price: No Reserve Auction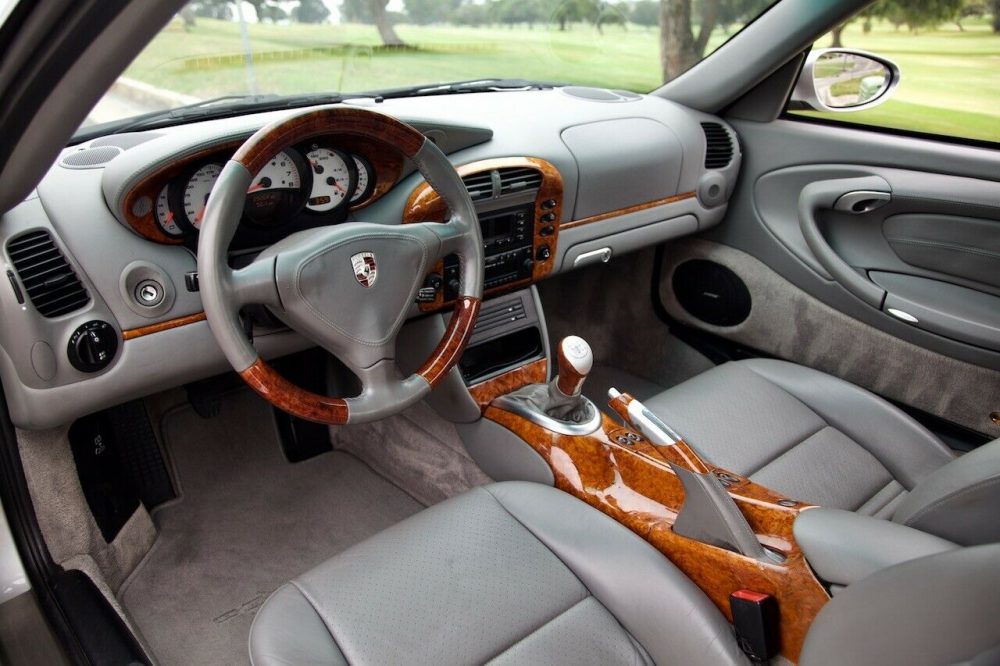 2002 Porsche 911 Turbo Coupe
VIN: WP0AB29942S685431
29264 Miles

PCA Club Owner
#1 Condition
Clean Carfax Attached
Original Perfect Body/Orig Paint
All Books, Tools & Records since 2009
Interior Smells Like New
Arctic Silver Metallic
Graphite Grey Full Leather
Alcantara Headliner

Sticker: $123875
3.6L Twin-Turbo 415hp Flat 6 Mezger
6-Speed Manual

Sunroof
Aluminum Instrument Dials
Wheel Caps w/Colored Crests
Remote CD Changer (6 Disc)
3-Spoke Leather Steering Wheel – Light Wood
Brake/Shifter – Light Wood/Aluminum
Light Wood Package – Small
Rear Center Console – Light Wood
Graphite Grey Floor Mats
Metal Door Sill Model Insignia

Under-Hood Tag Decode:
CO2 – Catalytic converter
446 – Wheel caps with colored Porsche crest
692 – 6-disc CD changer
X70 – Stainless steel door entry guards with logo
X71 – Aluminum-look instrument faces
X72 – Light burr maple gear lever knob
X91 – Light burr maple handbrake lever
XJA – Leather covered ignition lock surround
XKR – Light burr maple center air vent bracket
XML – Light burr maple center console
XNU – Leather dashboard trim strip
XPB – Light burr maple 3-spoke steering wheel
XPW – Light burr maple instrument surround

Note: All pictures are hosted on my ImageShack account
and load below the text of this ad. If your computer or
internet connection is slow it may take some time for all
the pictures to load. If you are having difficulty you can
access them directly through this link:

(note: the little grease spot on the mat in the video has been removed – see the pictures)

I am helping a friend and fellow Porsche-freak sell this magnificent, low mileage 2002 Porsche Turbo. Just as a matter of reference, I have been judging cars at all types of shows including concours for over 25 years and have extensive experience in restoration of many marques. I personally own two Porsche 356's and have owned six 911's from different generations; been a PCA Member for over 20 years. I am extremely picky and probably grade more on the lower side when evaluating vehicles. This example is a collector quality #1 Condition Show car from my perspective. The car has always been considered a "weekend" car by all three owners, having never been a daily driver. It has lived a life out of the sun, spending 99% of its life in a garage.

This 2002 Porsche 911 Turbo shows just over 29k miles and is finished in Arctic Silver Metallic over Graphite Grey leather. The twin-turbocharged 3.6-liter flat-six sends power to all four wheels through a 6-speed manual transaxle, and the vehicle was completely serviced within the last 200 miles.

The exterior is finished in Arctic Silver Metallic, and no accidents are listed on the included Carfax report. Close-up photos of the lenses and quad exhaust tips are provided in the gallery below.

The body and paint on this vehicle is simply the finest you will find on a seventeen year old car, unless it had zero miles on it. The body is perfectly straight and has never been damaged in its history. Take a look at the shut lines and you will see just what I am referring to. The original factory orange peel and color matches from panel to panel and there are zero scratches, abrasions or dings. I would have to rate the paint and body at a 9.9 out of 10. It has spent everyday of its life in a garage and has never been used as a daily driver or sat out in the sun for any extended period of time. The nose up to mid hood is covered in Clear-Bra material. I took several close ups and show it in the video as well.

Glass is all factory original and is free of cracks or pits.

The Interior is completely stock, with no tears or rips to the seats, carpet or headliner. Power seats are trimmed in Graphite Grey leather and are complemented by matching carpets and door panels. There is no wear to the driver seat bolster.

Light burr maple wood accents the steering wheel, hand brake lever, shift knob, and instrument surround. The wood trim around the center console has some hairline cracks as pictured in the photos. There are also small hairline cracks in the steering wheel wood trim as well. Aside from the small imperfections in the wood, the interior is flawless.

The Undercarriage is extremely clean and in fabulous untouched condition and showcases its easy rust-free life.

A factory stereo is retained in the dash. Instrumentation includes a 200-mph speedometer, a tachometer with a 6,600-rpm redline, and a digital odometer that shows 29,264 miles.

The Twin-Turbocharged 3.6-liter Flat-Six sends power to all four wheels through a 6-speed manual transaxle and produced 415 horsepower at 6,000 rpm and 415 lb-ft of torque between 2,700 and 4,600 rpm when new. New spark plugs, coil packs, and a fresh battery were installed earlier this month.

The car rides on a set of lowering springs and stock 18" alloy wheels. Sumitomo HTR Z tires measure 225/40 up front and 295/30 out back and show date codes from 2015.

The car runs and drives just like a brand new car. It shifts effortlessly and runs down the road straight and true. Everything mechanically is up to spec and needs nothing.

The Black and Yellow California Plates do not come with the car and are an example of what could be used in CA.

If you are looking for a near concour level example Turbo with low miles to add to your collection, mechanical perfection and show worthy inside and out, then this may just be the car for you. I would not hesitate to jump in this Turbo and head out on a cross-country trip tomorrow. This car will show very well at any PCA Meet across the country.

Please call if you are local and want to see and experience this fine specimen. We welcome inspection from reputable and knowledgeable inspectors or experts.

I am selling this car for the current owner who is a friend and collector; his number is available as well. Should you have further questions please feel free to call Frank at 949-310-6262, between the hours of 8AM and 11PM Pacific Standard Time seven days a week.

911. For millions of people in the world, just a number. For some, however, it is the numerical code for a phenomenon that defies technical description. To put it another way: for them, it is the legend of the Porsche 911.

Maintenance Records from mid-2010 with 12K miles:
4-2019 29,171 mi $4579
New Battery
Tune Up including 6 new Ignition Coils and Spark Plugs
4 Wheel Alignment
Rebuild Spoiler Mechanism ($1300)
Detail
4-2018 28,616 mi $4162
Clutch Slave Cylinder
Clutch Fluid Reservoir
Power Steering Reservoir
Pressure Accumulator
11-2017 27,581 mi $1015
Oil & Filter CHange
New Window Regulator
1-2017 26,144 mi $907
Oil & Filter Change
Fix Window Problem by replacing Door Lock Assembly
1-2016 24,853 mi $622
Replace Front Left Inner & Outer Axle Boot
12-2015 24,679 mi $235
Oil & Filter Change
10-2014 23,052 mi $231
Oil & Filter Change
2-2014 22,175 mi $671
Left Front Wheel Bearing Replaced
10-2012 18495 mi $235
Replace Clutch Accumulator
7-2010 12,305 mi $510
Replace Oxygen Sensor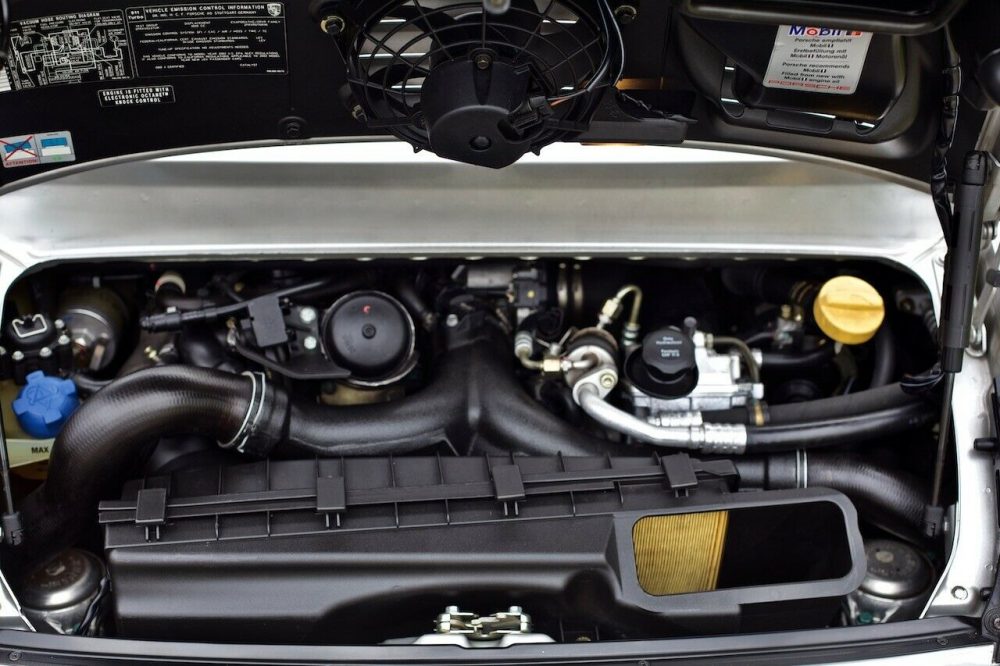 When you open the doors on the car, the Light Burr Maple just about jumps out of the car and smacks you in the face. You see these 996s offered in wood here and there with the Turbo cars even less so. I can't say I really hate it, but rather it certainly wouldn't be my first choice for interior trim if I was seriously searching for one of these. The bad news is that there looks to be some cracks in the wood in a couple of areas and it probably isn't going to get any better. Once the wheel starts going, it gets pretty ugly, pretty fast. The 29,000 miles probably had a lot to do with that, but don't expect that wood to stay that way for long if you use the car a lot.
Bidding is already fast and heavy on the car, so this isn't your 996 if you want a deal. It is possible to snag a decent example in the mid-30s now if you don't mind a couple of miles or rock chips. This one, it is going to probably sell for north of $50,000 without much trouble and I think that is solely on it having just 29,000 miles. Can't say I disagree with that, it is just where these cars are at right now. Will these cars ever be $100,000 in the near future like the older brother 964 and 993? Probably not, no. Going to need another 20 years to get there for that. However, if you have 20 years to wait, go nuts.
– Andrew