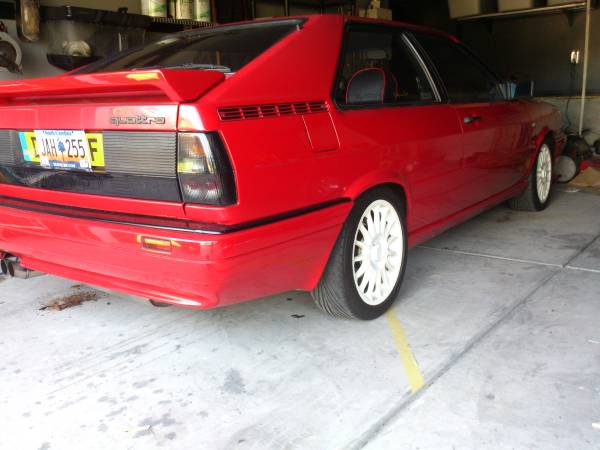 Thought they recently have surpassed the 25 year importation boycott into the United States, it's not likely that you're ever going to see many of this model car on these shores. Sure, there's a group of Audi enthusiasts who are particularly excited when they see a B2 Coupe Quattro pop up for sale – a truly rare event in the U.S.. However, clean models demand a serious premium because of their rarity – a premium which pushes them squarely into the price point of the turbocharged, box flared big brother. Though the drivetrains are for the most part the same, the addition of the turbo, bigger wheels and flares changes the category of ownership from neat footnote to headline splash. As such, it's understandable why the Coupe Quattro is such as niche vehicle. Nevertheless, it's really neat to see one for sale in the U.S., and this occasion is no different.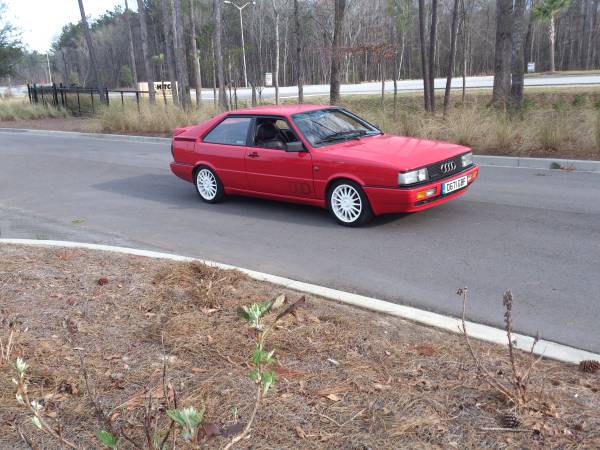 Year: 1987
Model: Coupe Quattro
Engine: 2.2 liter inline-5
Transmission: 5-speed manual
Mileage: 129,988 mi
Price: $6,500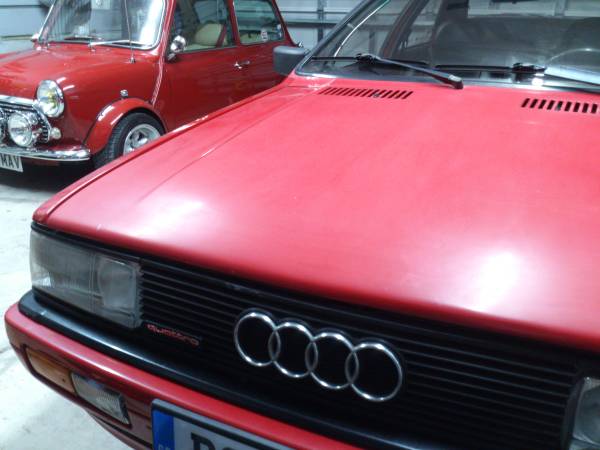 This is a rare 1987 Coupe GT Quattro which was imported from Europe. According to Audi enthusiasts, there weren't any AWD Coupe GTs exported to the US, only the 2WDs. This car is the N/A 5 cylinder with the 4×108 bolt pattern. It spent 25 years of it's life in the UK and has gathered some underbody corrosion which perforated through under the driver side front and rear wheel well. There are other flaws elsewhere, but can be fixed easily. If you're lucky enough to find one of these, expect to pay >$20k. I'm selling this cheap and is registered in SC. I drive this 2-3 times a week and it doesn't give me any troubles, I took it out to Cars and Coffee following the Euro Nation 2014 show on 6/21 and placed 1st amongst 5 Audis in my category! Ever since I brought this in from England, I've had the main wiring harness redone and the head gasket replaced including machine work on the head recently. It also has a Milltek exhaust fitted which gives it a solid note as you step on the throttle! It has custom black leather seats with red piping and ultra rare Team Dynamic wheels! The car runs like a champ and can be driven anywhere as a daily driver if preferred. This will be listed for a short time only and serious buyers are preferred, no trade offers please. Included are some pictures which were taken on 6/21 and a few days earlier.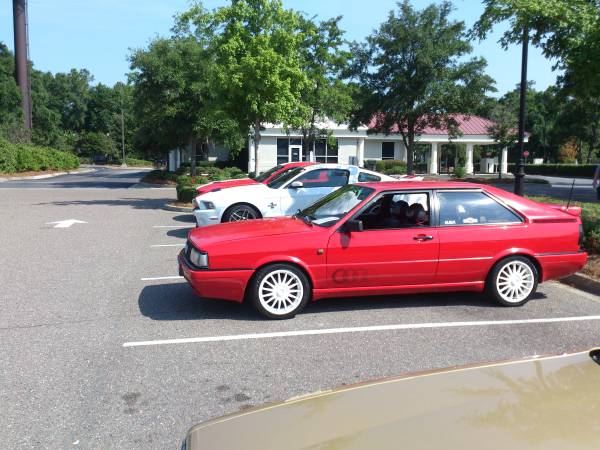 Underneath, there are few differences from the 4000S/CS Quattro that came to the U.S., but outside you get the great shape of the Coupe. This particular car has some modifications that make it look a little less original and a bit more purposeful; the white Team Dynamics alloys are a nod to the Sport Quattro wheels that came hued in white. They hint at performance that really isn't there, unfortunately, but these 2.2 inline-5s are still entertaining to drive and unbelievable when properly equipped with snow tires in the white stuff. It's a shame that this car is apparently suffering from underbody corrosion; while a rebody it possible from a GT, it's not really a simple matter and again the pricepoint for your work suddenly pushes you squarely into Quattro territory. I suppose it wouldn't be to hard to pass this car off as a Turbo variant, as most non-specialists can't tell the difference – heck, even my GT gets called an "Ur" from time to time at events, but that's not really the point of buying this car. Though it's appealing to think about owning this car for the uniqueness, I'm afraid even as devote a Coupe fan as I am, I'd pass – I'd instead choose to pick up a clean 4000 model for around the same price. If the price dipped to below $5,000, it may be worth the repairs.
Thanks to our reader Walker for sending the updated link!
-Carter