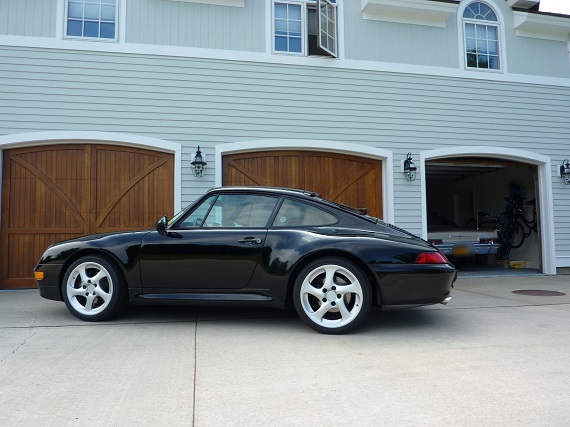 I've made clear throughout these pages my general love for the classic 911 and there are a variety of reasons for that love. But from a perspective of pure understated aesthetic beauty the 993 Carrera S quickly moves to the top of the list. With all of the corners of the classic design smoothed over the 993 in general has less of a wild look to it. Add to that the wider rear of the Carrera S and cover the whole thing in a deeply lustrous black paint and you have what many might consider the apex of 911 design. These cars were no slouch when it came to performance either with nearly 300 hp delivered to the rear wheels via a standard 6-speed manual transmission. They never possessed the sheer terror-inducing capabilities of the 930, but as a more refined 911 the 993 checks all of the boxes. The example featured here is a Black on Black 1998 Porsche 911 Carrera S, located in New York state, with 73,088 miles on it.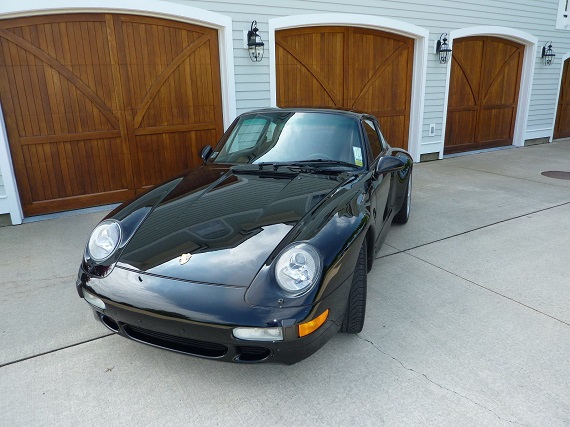 Year: 1998
Model: 911 Carrera S
Engine: 3.6 liter flat-6
Transmission: 6-speed manual
Mileage: 73,088 mi
Price: Reserve Auction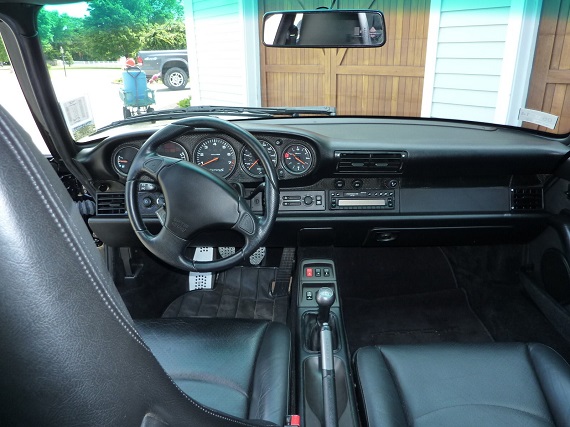 Up for auction is a 1998 Porsche 911 Carrera S in black with beautiful black interior. This rare example of the last of Porsche's air-cooled cars has only 73,000 miles, and maintenance records that address all of the potentially expensive problem areas on these cars. A new clutch, an engine reseal, new power steering rack, new brakes, and new tires mean that the lucky winning bidder will have nothing to do, but drive this wonderful car, and appreciate owning a classic Porsche.

This car is a well maintained example that has not been abused or seen track time. I can provide a clean Carfax report to interested buyers. It exhibits no smoke on cold startup, runs like new, and shows beautifully.

Car will come with the aftermarket steering wheel, and Fabspeed exhaust installed. The stock factory wheel, exhaust, and an aftermarket Turbo tail that bolts up with the factory hardware is also included.

Significant Recent Maintenance:
72,100 – new (reman'ed) steering rack, rotors and pads, 4 new Pilot Sport Michelin tires
71,814 – engine reseal
61,680 – new clutch, distributor

In addition to the significant maintenance above, normal maintenance, and smaller items like the hood and trunk shocks have all been addressed.

Options installed from the factory per the factory build sticker codes:
329 Radio – ?
425 Rear wiper
437 Comfort seat left
454 Automatic speed control
650 Sunroof
692 Remote CD changer (6-disc)
C02 Equipped with catalytic converter

Please contact me to schedule a PPI, or discuss details of the sale. Winning bidder has the right of refusal, if the car does not meet expectations.

A complete album of pictures is available, please contact me for the link.
The 993 hasn't typically been the best entry-level 911 since the price for that entry never really dropped to the levels we saw with the 911SC and 3.2 Carrera. However, as those models gradually ascend in price we begin to become mighty close to the territory where buyers have a serious question to consider when deciding which model to jump into. The 964 might be the best overall bargain at the moment, but a quality 993 Carrera S like the car we see here will always be a tough commodity to pass up.
-Rob