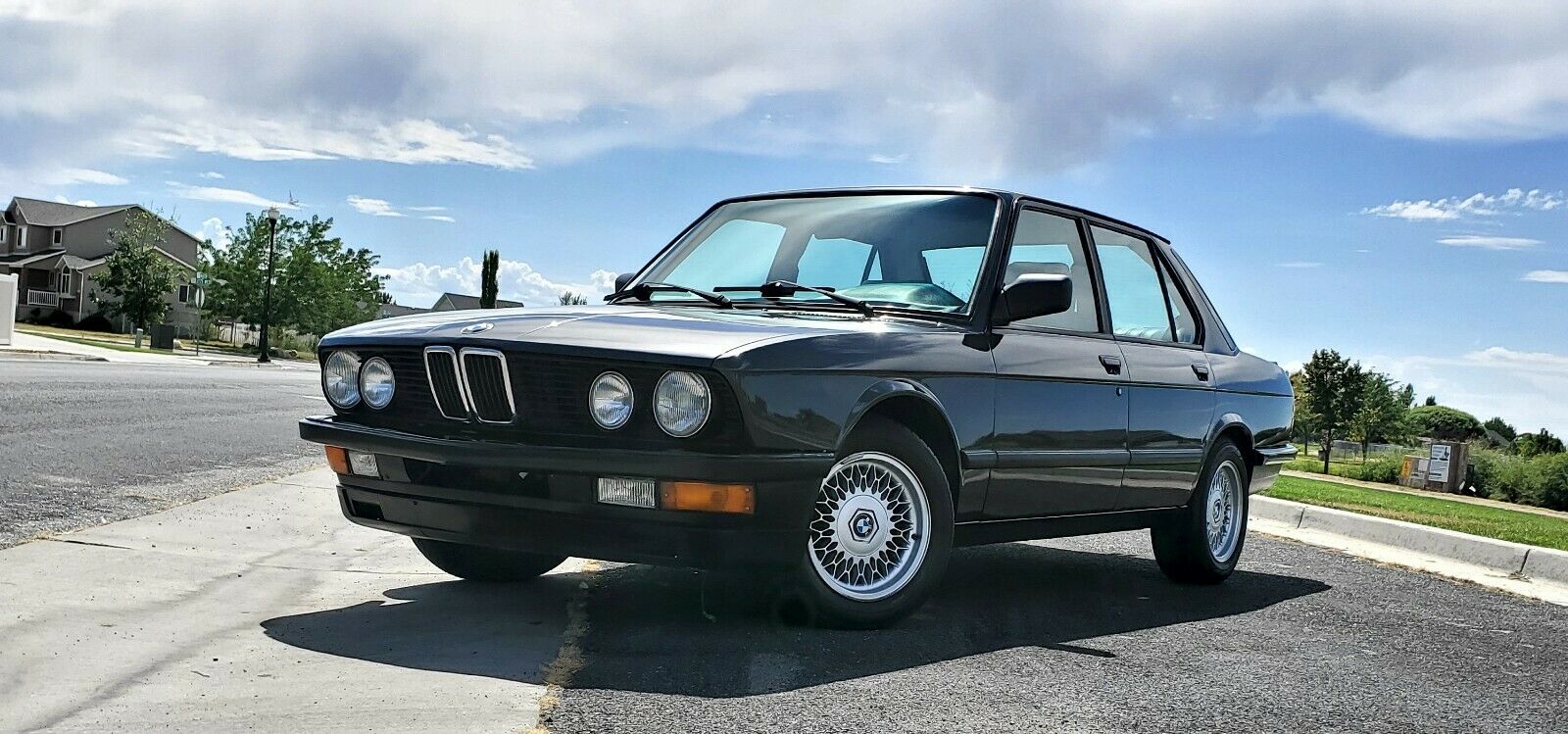 Update 9/13/19: This 535iS sold for $7,000.
There's always a bit of confusion about "M" branded models from the 1980s, since there was a difference in nomenclature between the E24 and E28. While the M6 and M5 co-existed in the United States market, they did not in Europe. This left the M635CSi to be the equivalent of the M6. I talked about this recently in a M635CSi post:
But the same was not true of the M535i. This model was sold as a more affordable alternative to the M5; most of the look of the Motorsports model but without the bigger bills associated with the more exotic double overhead cam 24 valve M88/3. Instead, you got a 3.4 liter M30 under the hood just like the rest of the .35 models. The recipe was a success, selling around 10,000 examples in several different markets – but never in the U.S..
Instead, the U.S. market received the 535iS model. The iS model was specific to the North American market and gave you the look of the U.S.-bound M5, with deeper front and rear spoilers, M-crafted sport suspension and sport seats. But as with the M535i, there was no S38 under the hood – rather a stock M30 3.4. It, too, was quite popular – between 1987 and 1988, just over 6,000 examples sold in the United States alone, and of those, a little more than half were the preferred manual variant. One of the nice aspects of the 535iS was that if you enjoyed colors other than black you were able to order the lesser model in any shade you wanted, unlike the M5. Today's 535iS is still in a dark tone, but here it's 181 Diamantschwarz Metallic accented by a Euro bumper swap…but that's just the start: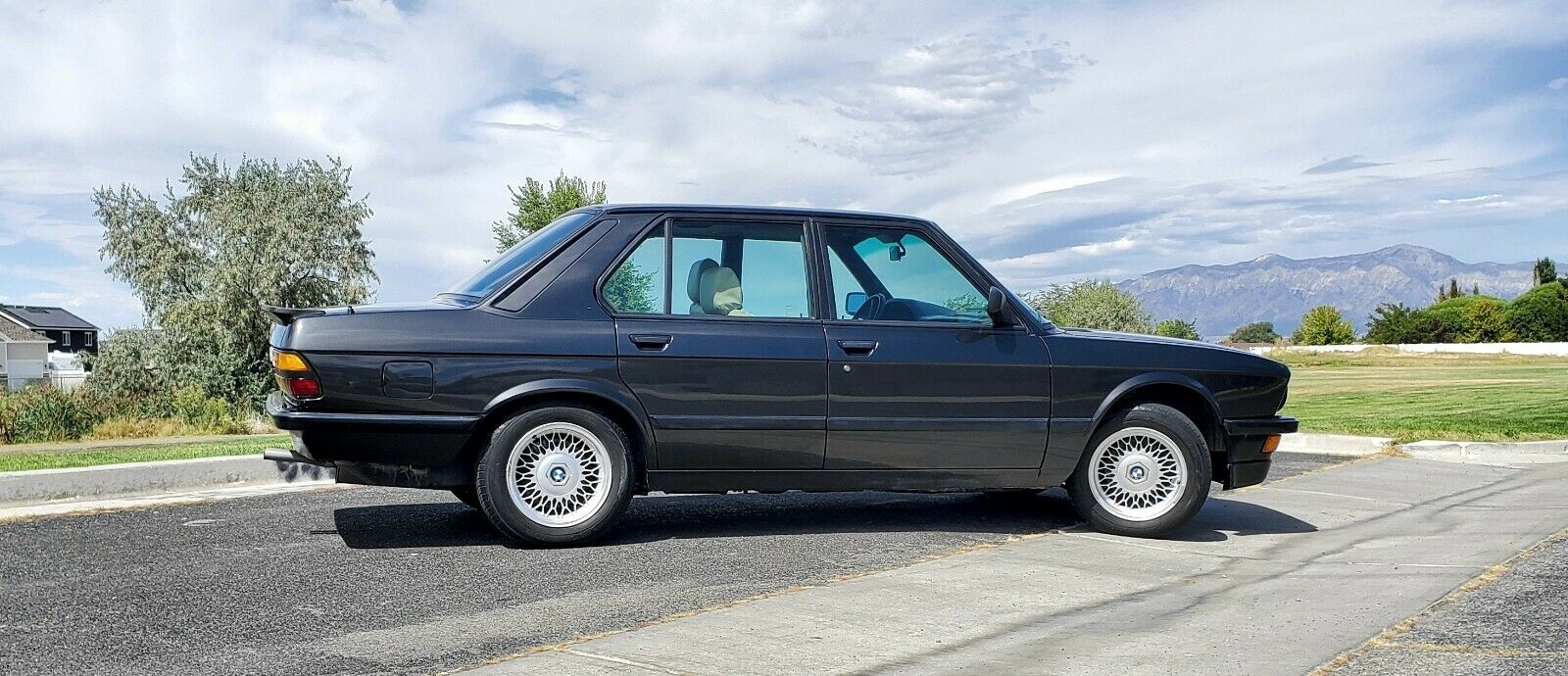 Year: 1987
Model: 535iS
VIN: WBADC8407H1721890
Engine: 3.4 liter inline-6
Transmission: 5-speed manual
Mileage: 164,500 mi
Location: Layton, Utah
Price: Reserve Auction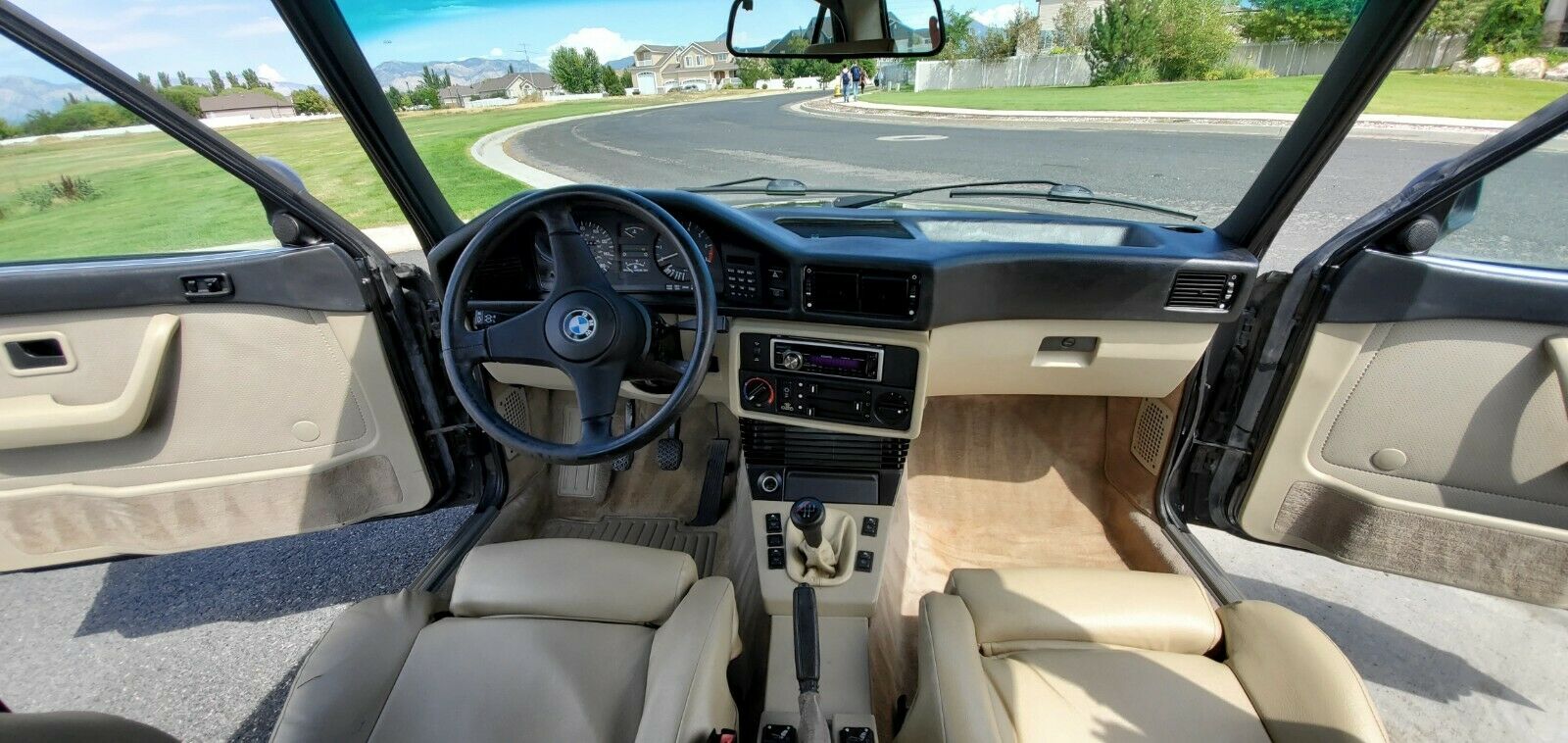 I've decided to sell my driver/project to finance another project. Today was the first time I've driven the car in 8 months (was deployed overseas for a while) and it reminded me how much I love this thing. Every time I drive this car after I instantly regret the idea of selling it. It's not easy for me to put this up for sale but priorities are priorities.

I purchased this vehicle in a three years ago from California with a blown head-gasket, paint was scorched and with diving board bumpers.

First order of business was tearing into the engine to get it running correctly. I pulled the head off, had it inspected/tested and resurfaced. Also, had a valve job done including seals. All parts used are listed below. It ran like a champ afterwards.

Next up was getting rid of the automatic. All parts listed below were changed in the process. New clutch, resurfaced flywheel, rebuilt slave and master cylinders, u-joint driveshaft, new motor mounts, trans mounts, CSB and guibo. The auto gearing on the LSD with the 5-speed is a phenomenal combo.

Stripped it down for paint and had it redone in Diamond Schwartz. Fairly good paint job, only a couple imperfections (some VERY faint tiger stripes on hood, sanding marks under the clear in a spot or two) but you'd have to look very close to see them. It's obviously not a "Concours" car, more like a VERY good-looking weekend/daily-driver on the outside. Tons of new gaskets. Door handles and trim was powder coated black. Classic Euro Parts repro euro bumpers were painted to match the body. Also, added Euro headlights/grill. M5 valance, fogs, turn signals and lip. Blacked out chrome in rear lights. New roundels.

No trades or payment plans. Cash only.

The reserve is generously low.

Offers accepted for early termination of the auction but lowballs will be ignored.

Shipping at your expense and arrangement.

Basics:

1987 BMW 535is

Diamond Schwartz

Beige

5-Speed Manual (swapped)

164k (may go up a little as I love driving the thing)

OEM LSD Rear Diff

Rebuilt top end

Paint 3 yrs old

Almost ZERO rust

Not so great:

– Beige sport seats leather isn't good. Not abysmal but not great. They're currently covered with vinyl covers.

– Rear seat is black (I'll include the stock beige rear seat, it's a little tattered but usable.)

– Dash isn't good. Currently has a dash cover. I have a spare dash with some marks I'll throw in the sale. For a possibility of send the spare off for re-covering.

– Slight PS/Hydroboost leak. Barely noticeable but in full disclosure. I'll include a brand new oem hose.

– Exterior temp sensor busted. Replacement sensor included.

– Antenna mast busted by a car-wash. Motor works. Hole is plugged up. I'll include a new mast.

– M5 Fogs have cracked lenses. Can't really notice but in full disclosure, they're not perfect.

– Idles a TINY bit lumpy but these engines aren't known for their smooth idle. Every M30B34 I've owned has idled the same. Accelerates like butter.

– A few little things here and there but overall a VERY solid, great looking, great driving, great running car.

The good:

– Freshly detailed (literally hours ago from posting this). The detailer's steamer broke so he wasn't able to clean the engine bay so please keep in mind the engine wasn't cleaned unfortunately. It's a little dusty from sitting for a while.

– A/C blows cold (recharged with R12 with a new drier)

– TONS of new parts

– Drives amazingly

All items below installed at 159k. A few were mentioned above. I used genuine BMW parts as much as possible (or as much as made financial sense). I have a spreadsheet with all part numbers used and the purchase source located:

https://drive.google.com/file/d/1xa0qh7qKwZx8O1rBIPdZYID1Vl7SaoRS/view?usp=sharing

Pilot Bearing

Crankshaft Seal Shim

Bolts – Clutch Pressure Plate to Flywheel

Transmission Cross Member

Hose – Reservoir to Clutch Master Cylinder

Flywheel Bolt

Crankshaft Seal

Spring for Throw-out Bearing

Pivot Pin for Throw-out Bearing

Distributor Cap

Ignition Rotor

Fork Lever

Valve Cover Gasket

Exhaust Manifold Gasket

Flex Disc for Driveshaft

Rear Crankshaft Seal

Driveshaft Center Support Bearing

Clutch Release Bearing

Oil Filter; Cartridge Style

Bosch Silver Spark Plugs

Door Lock Cylinders

Shifter Arm Bracket

Clutch Slave Cylinder Repair Kit

Clutch Master Cylinder Repair Kit

Head Gasket Kit

Head work (Inspected/tested/surfaced/valvejob'd/ect)

Motor Mounts

Exhaust Manifold Studs

Exhaust Manifold Nuts

Exhaust Studs

Exhaust Nuts

Head Bolts

Thermo Valve

Injector Rebuild/Flow Service

Injector Plugs

Manifold Heatshields

Center Console (Used)

Shift Boot (Used)

Exhaust Hangers (Front)

Exhaust Hangers (Rear)

Coolant Level Sensor

M5 Fog Lights

Roundel (Front)

Roundel (Rear)

Roundel Grommet (4)

Selector Shaft Seal

Reverse Light Switch

Output Shaft Seal

Euro Bumper Mounts

Front/Rear Euro Bumpers (Reproduction Fiberglass)

Euro Signals

M5 Lower Valience

Headlights H4/H1

Euro Headlights

Windshield Weatherstrip (F)

Windshield Weatherstrip (R)

Windshield lockstrip (2ea)

Window Lower Strip (RL)

Window Lower Strip (RR)

Window Lower Strip (FR+FL)

Foglight Covering Right

Foglight Covering Left

All New Headlight Hardware

Headlight Bucket Powder Coat

Door Moulding F/L

Door Covering F/R

Door Covering F/L

Door Moulding R/L

Door Covering R/L

Door Covering R/R

Door Covering R/L

Euro Front Valance
Coolant Temp Sensor
Leather Shifter Boot
The exterior shots of this car look so promising that the interior ends up being quite a let-down. But there are some real net positives about this particular example. Not only was it saved from the wrecker, the seller went through some good upgrades and heavy lifting; rebuilding the M30, swapping a 5-speed and LSD, swapping the Euro trim, repainting the car. The E32/4-spec Style 7s aren't quite the right look to me, but that's easily fixed. The interior is really what's left to work through in this project, and barring a major discovery of rust (which doesn't appear to be very likely here, though "almost ZERO" is a strange concept), it seems like a really worthwhile undertaking to have a neat driver. Mount up some M5-spec 16″ BBSs or M-System IIs and this car would be a real stunner from the outside, and a few thousand dollars worth of interior leather work could make it show worthy. The seller has opted for a reserve auction and so far no bids have met that number; with nice iSs trading for what used to be M5 money, it may be worthwhile to throw a few bids at this one and hope you get a steal.
-Carter