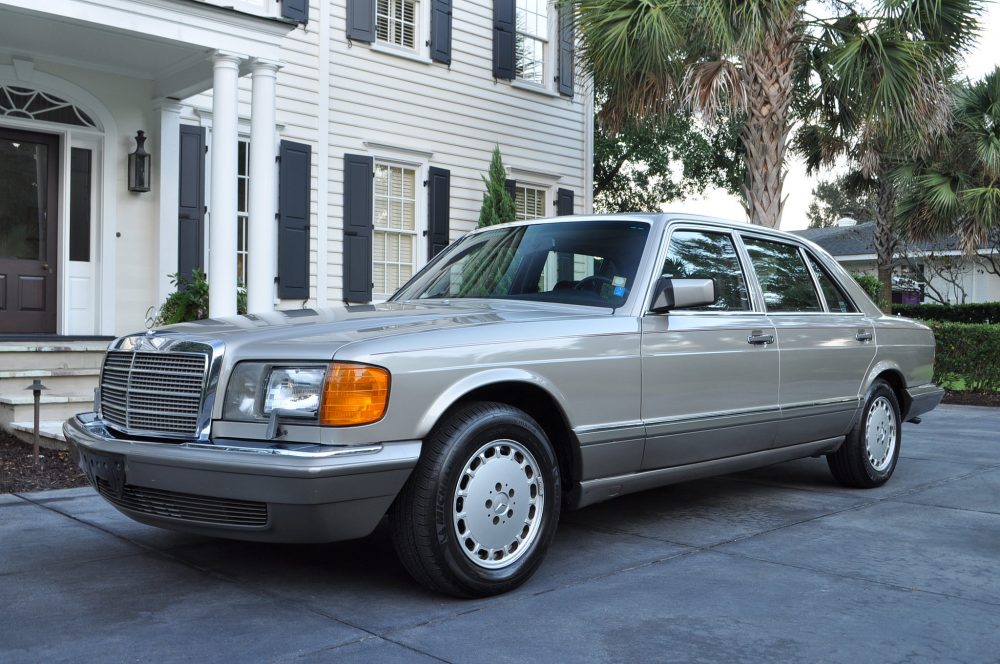 Almost a month ago I checked one of the best Mercedes-Benz W126s I've ever seen in a Concours-level 1987 560SEL. Today, we have another outstanding 1987 W126 that isn't quite Pebble Beach-ready, but it is damn close. This car comes to us from South Carolina dressed in Smoke Silver Metallic with the rare burgundy leather interior in a condition that isn't often seen. And oh yeah, it's a diesel too.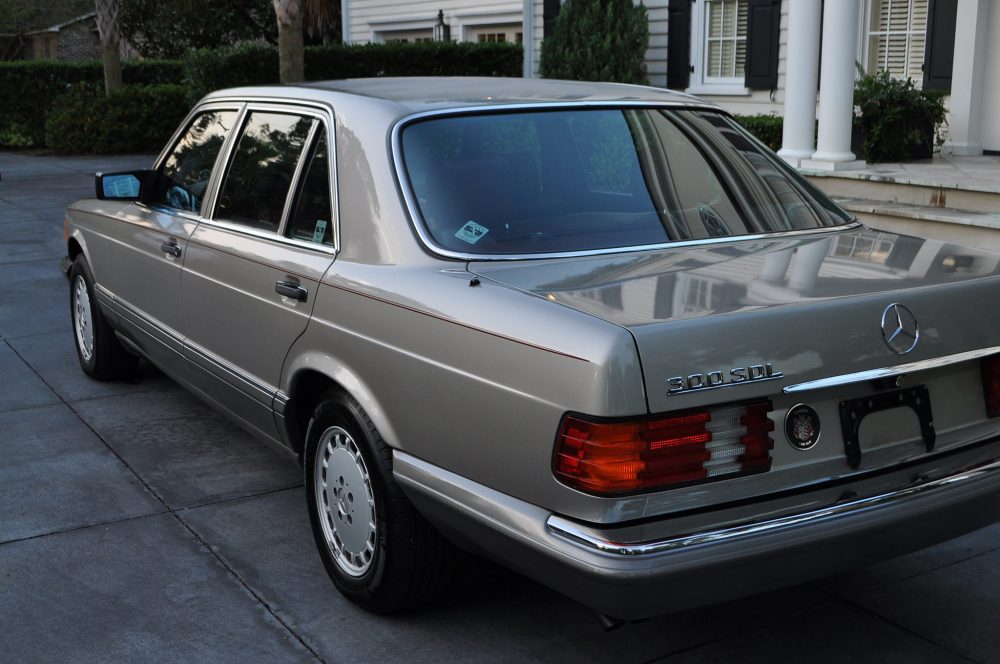 Year: 1987
Model: 300SDL
Engine: 3.0 liter turbocharged inline-6
Transmission: 4-speed automatic
Mileage: 62,400 mi
Price: Reserve Auction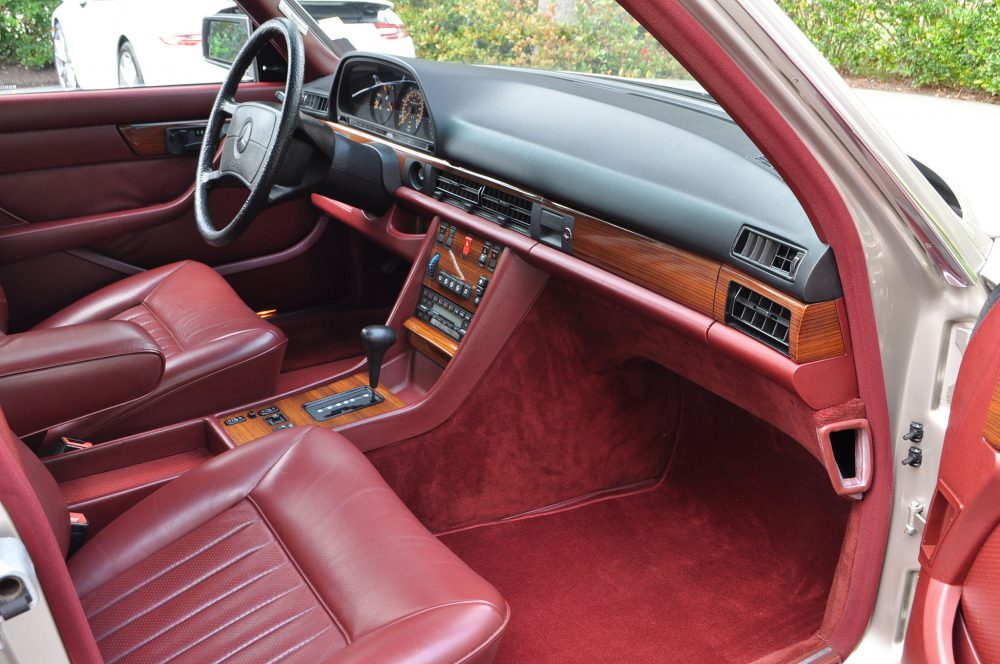 1987 Mercedes Benz 300SDL – The legendary W126 – True Long Wheelbase – Turbo Diesel

– 1 Owner from new – Purchased new in 1987 from Loeber Motors in Chicago Illinois, ordered in 702 Smoke Silver Metallic with 77 Burgundy Leather interior and sliding electric sunroof. The pinstripe is high quality 3M Vinyl and can be removed very easily if the buyer desires

It comes with all original owners manuals, original window sticker + order sheet, all records.

This vehicle has been dealer serviced its entire life with a mix of services done by an Independent Mercedes certified garage . Over $12,000 in service records, oil changed yearly regardless of miles, Michelin MXV4 tires with 95% tread. In the past 10,000 miles it has had control arms, shocks, brakes and multiple other bushings replaced as well as almost 8 oil changes!

The A/C has been converted by MB to R134A. It blows extremely cold, and the vacuum system works as it should, diverting air from floor, to dash, to compartment as it did from the factory.

The body is in extremely good condition, as well as the interior. It is striking how preserved this car is. The 300SDL at some point received an extremely high quality, glass out, trim off, doors off repaint in its original Mercedes 702 Smoke Silver Metallic. The chrome is in excellent condition, as well as all trim and seals. No dry rotting, or cracking.

The interior is immaculate showing almost 0 wear. All of the glass is perfect, and all original with VIN numbers stamped, the leather is supple and clean with no cracking, the wood holds perfect gloss with no fading or cracking. The original books and manuals are in the glove box, as well as the original medical kit in the rear compartment.

It drives extremely well, its incredible to get in something 30 years old and feel how tight and well built they used to make them. It tracks straights, it is smooth over bumpers, brakes are straight and strong and the tires are quiet.

The carfax is clean and shows no accidents, based on my inspection as well as my mechanics it has always been an accident and rust free vehicle

All electronics work as they should
-Power seats
-Windows
-Cruise control
-Sunroof
-All backlights and lights
-Mirror adjust
-Down to the headlight mounted wipers

This Monday I dropped it off at German Auto Repair in Charleston and requested the owner perform an oil change and full mechanical inspection and to replace any items that warranted: he found nothing and made very positive remarks.

Cons:
-Small touchup on front left of bumper (shown in photos).
-Antenna is temperamental, I will be happy to order a replacement

An almost identical, same color combination 300SDL of this caliber sold on eBay recently with a few differences:
-It was a 1986, not a 1987 like mine
-It had 70,418 miles, not 62,XXX miles like mine
-It was not a 1 owner vehicle and did not have the documentation or service records like mine
-My reserve is set much lower than this above mentioned vehicle sold for ($15,900 + dealer fees)

I have a flickr album full of additional photos and I am happy to provide videos or further photos if you request them –

My name is Jack Handegan III, I am the owner and sole operator of Handsome Motors, a small enthusiast owned boutique dealership located in Charleston SC . I am a member of Mercedes Benz Club of America and a true "car guy" . I charge no additional fees and only collect sales tax if you are a resident of SC. I am happy to assist in shipping anywhere in the USA.

Jack@HandsomeMotors.com or call me at 843-870-7006

I want to mention that while my business account for Handsome Motors is new, I have sold multiple cars on forums, eBay and Bring A Trailer all over the country before I became a licensed dealer. I am happy to answer any questions you have. Thanks and happy bidding.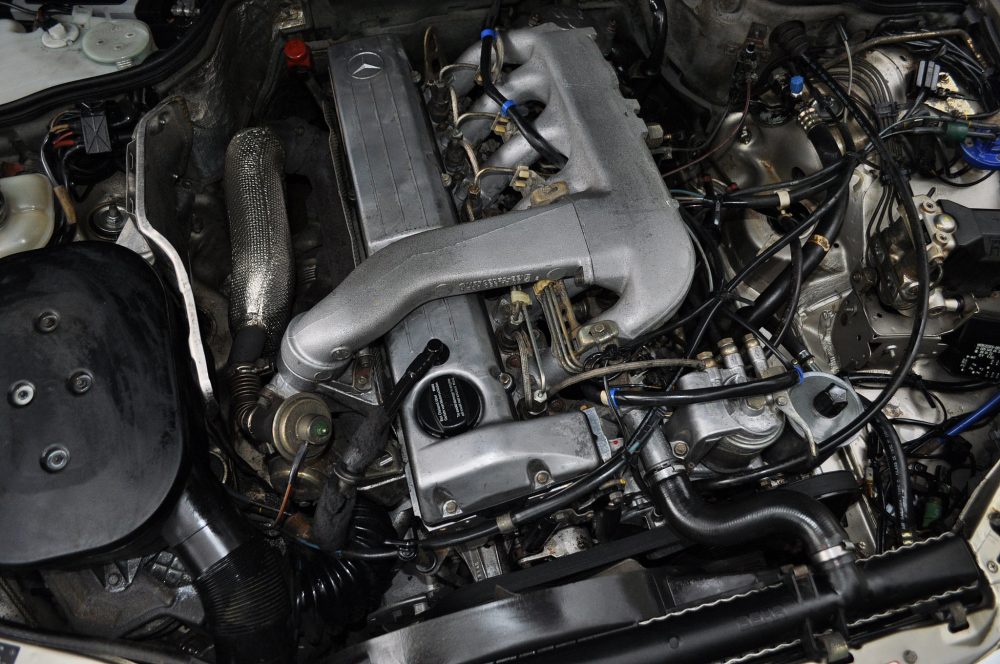 Oh goodness is this a great example of a W126. The spotless exterior is wonderful and all, but where I get totally on board with this car is the burgundy leather interior. It is nearly showroom spotless and I am so glad an example this clean still exists. Now that we are 30 years deep with color combinations like this, it is full into "retro-chic" territory and not shunned aside as "awful 1980s" anymore. Under the hood the OM603 looks to be in good shape and the seller doesn't mention anything about it being swapped out. These engines have a pretty infamous reputation with head issues, but the some think the 1987s are less vulnerable to issues. My opinion here is that if this engine has shown any problems in the first 30 years of service, it is probably going to be fine in the long haul. A clean bill of health from a specialist shop also affirms that thought too.
Where will the bidding stop with this one? If I had to guess, I'd say that anything under $15,000 would surprise me a lot. I think it is totally worth that and if it doesn't meet the reserve, I'd throw a Buy It Now on this one and field offers all day on it. The OM603 W126s always give those in the know a pause because of the fatal flaw it does have, but if you can rationalize that this car probably doesn't suffer from that (which I think again, does not) then there is no reason to shy away from this great example.
– Andrew