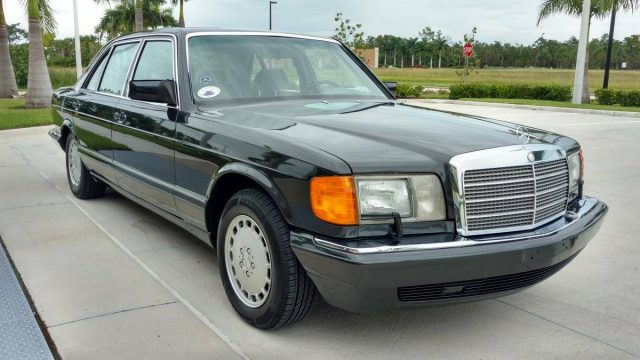 When I see the word "concours" being thrown out there when describing a used car, my eyes usually roll over pretty hard. It's becoming the buzzword for any car that is generally above average in condition, but no where near the level of pulling it on a golf course and having a group of men in floppy hats inspect for dirt under the fuse box lid. Every once in a blue moon, of those cars does actually pop up for sale and it carries an outrageous price. But this 1986 560SEL for sale in Florida not only looks outstanding, but won't cost you the price of a new S-Class either.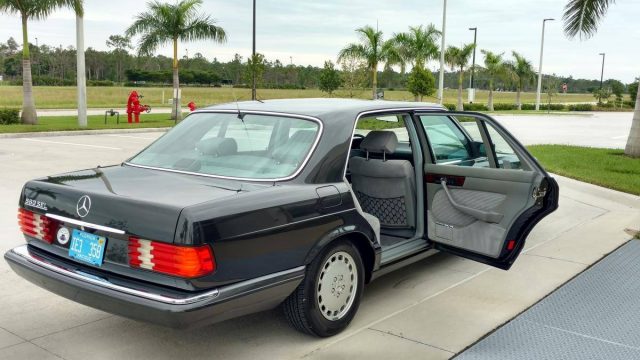 Year: 1987
Model: 560SEL
Engine: 5.5 liter V8
Transmission: 4-speed automatic
Mileage: 33,002 mi
Price: $21,500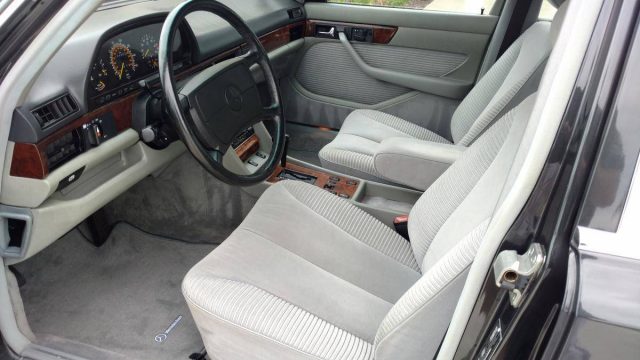 Concours condition and flawless performance; all wrapped within an extremely low mileage time-capsule 560SEL. Add a rare factory combination of Mercedes-Benz's Blue-Black (Blauschwarz) body color with immaculate heated velour interior, paired with a factory still-in-the-box set of rear privacy curtains and you arguably have the best 560SEL currently available. Anywhere.

I will try to keep the writing to a minimum, letting the photos speak for themselves but there are a few characteristics that should be pointed out.

– Documented 33,002 miles.

– Clean Autocheck report available upon request. No accidents and clean Florida title.

– All original with flawlessly glossy factory paint. These photos have not been doctored like many other ads and they were taken with my MOTOROLA CELLPHONE.

– Interior is immaculate. Not a single rip, tear or scuff anywhere on seats, including driver seat.

– Every single function works as it should. Factory radio, cruise control, power windows, roof, antenna, rear reclining heated seats, door locks and of course strong/cold air conditioning.

– Always serviced at the Mercedes-Benz dealer with stamped service book dating to when the car was new.

– Before shipping the car to Florida, I took it to Mercedes-Benz of Pittsburg (May 15th, 2017) and had them perform a full "PPI". As you may already know, dealers will maximize their potential income by finding every single flaw they can possibly come up with. As a result, the following items were done by a Mercedes-Benz specialist within the past four months:

New factory washer fluid sensor.
New factory hood pad.
New factory thermostat kit.
New factory radiator (turns out it didn't really need one but we went ahead and replaced it anyways).
New factory temperature sender.
New factory rear accumulators.
New factory rear door switch surround.
New antenna mast with grommet.
New rear coil springs and shims.
Fresh fluids including engine oil and hydraulic fluid changes.
Tires are virtually new with 95% thread left on them.
Included with this car:

– All owner manuals and dealer stamped service book.

– Unused factory tools.

– Unused spare tire. Never been out of the trunk.

– Unused factory first aid kit.

– Still in the wraps, Mercedes-Benz privacy curtain kit.

As you see on the photos, this car looks pristine but more important is that it performs as it intended thanks to its low mileage, proper care and due to the fact that it has been maintained to Mercedes-Benz standards since day one. As a result, its optimal mechanical condition allows this 560SEL to quietly cruise at 90+mph on the interstate while effortlessly and safely overtaking mundane modern cars. The looks on other drivers' faces as this classic 30 year old Mercedes-Benz flies by? Priceless.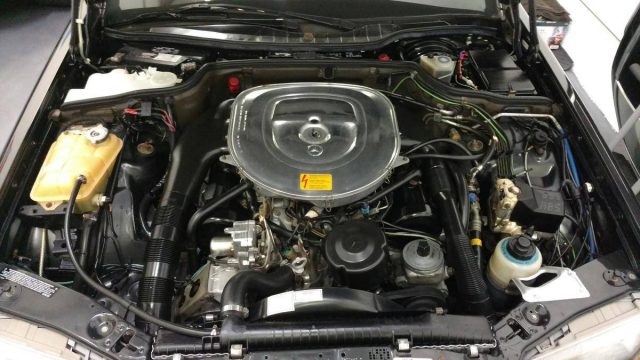 This is just a killer W126. It's 99% flawless in every aspect of the car plus has some rare options that you don't see very often on the majority of these. The velour interior looks great over what normally would be leather like you are used to seeing. It is probably not that great to ride in during the summer months as this car is in hot, sticky Florida, but on those cooler days these seats just eat you up. The rear area has not only the cool little foot rest option, but heater seats too. I almost never see rear heated seats in US spec'd cars, so this was a pleasant surprise. The rest of the car like I said, is almost flawless. Even something like the door strikers look new and has almost no signs of wear of them. The only small flaw I could find is that there are four holes on the side carpeting in the passenger foot well where a car phone mount was drilled in then removed. Not a huge deal at all, but just something to know.
How much for all this perfection? A surprising $21,500. I honestly expected to open this ad for this W126 and see it listed $50,000 for something like this because God knows I've seen it before. People love massively over-valuing their stuff when they think it is rare and even more so when it is in outstanding condition. But this car, I think it's priced totally fair. When I look for comparables, this 1986 560SEL that actually also had rear heat and foot rest, triple the miles and some cosmetic issues sold for $9,100 recently. So looking at this one, you can argue that it's worth almost double the price seeing it is on another level compared to the rest of the 560SELs out there. At the end of the day, it all comes down to whether or not you want to drive these cars. If you are looking for a collector to sit in the garage only to drive a handful of times a year, this one is probably your car. But if you are looking for a driver that will see some use, then another car would probably be a better buy.
– Andrew