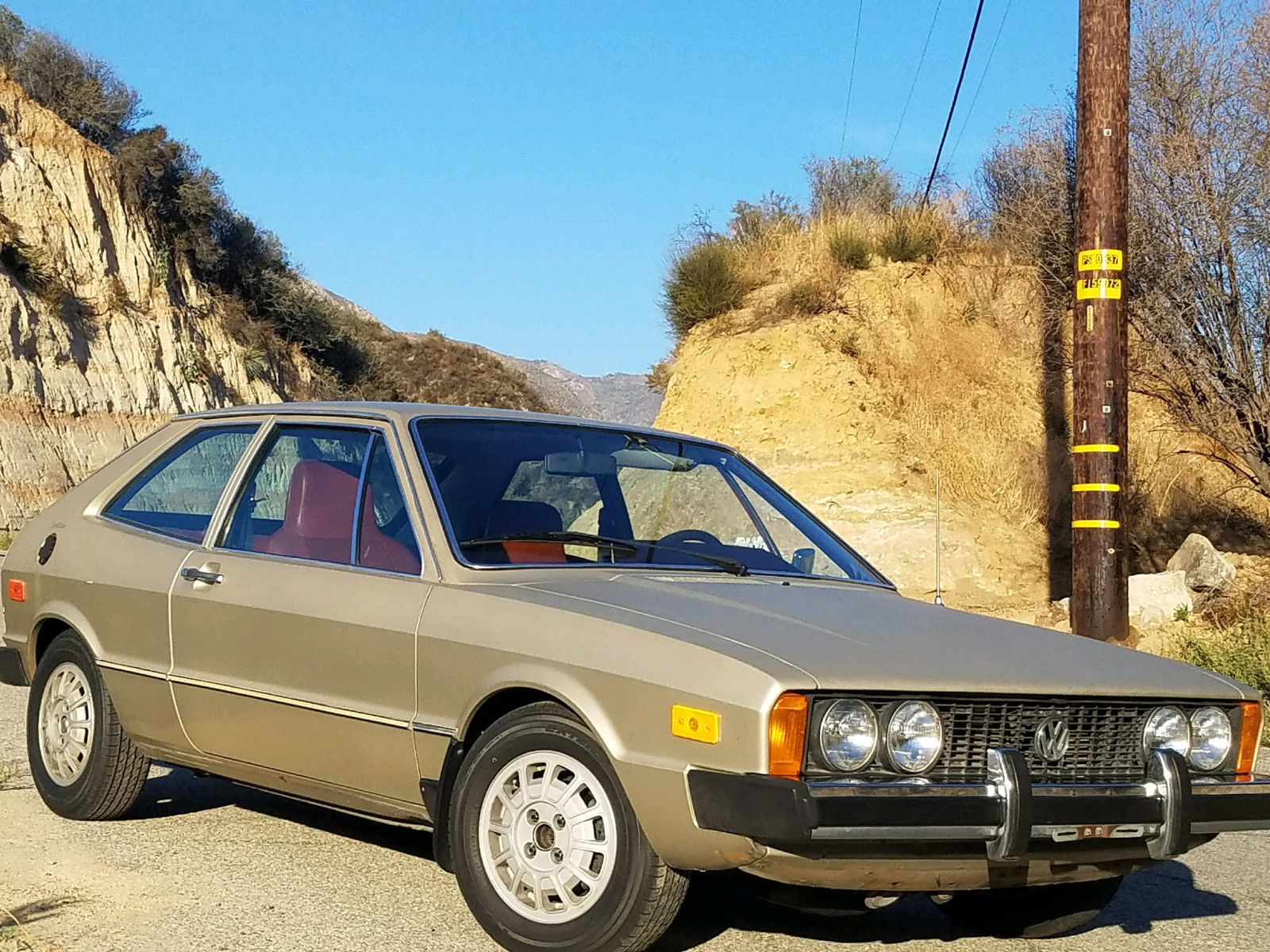 If you haven't been paying attention and like the early Scirocco, you'd be forgiven for thinking this was a cheap classic. But over the past year several exceptional examples of the first generation Giugiaro coupe have popped up and the result has been sticker shock. For a while it was only the GTI which generated really big numbers, but a niche appreciation for these little 2-doors has sent prices through the roof.
The first shot across the bow was in April 2016, when a pristine and original survivor '81 with 51,000 miles hit $17,100 after 95 bids:

That was followed in September of this year by two strong but not original examples; the New Dimensions Turbo example brushing up against $15,000:

And the clean resprayed '80 hit $9,300:
Wild or Mild? Double Take: 1978 and 1980 Volkswagen Sciroccos

But the culmination of these examples was the best I've seen yet. It was a massively impressive '1978 that appeared throughout near new, and it was no surprise that bidding at the last moment rocketed up to $17,700:
So it was somewhat without surprise that suddenly my filters are full of early Sciroccos. Over the past few weeks, even more examples have hit eBay in what I can presume is an attempt to capitalize on the capital generated by these cars. The same trend happened a few years ago when we saw big numbers on A1 GTIs. So here we go again, this time with a pre-facelift '77 model in California: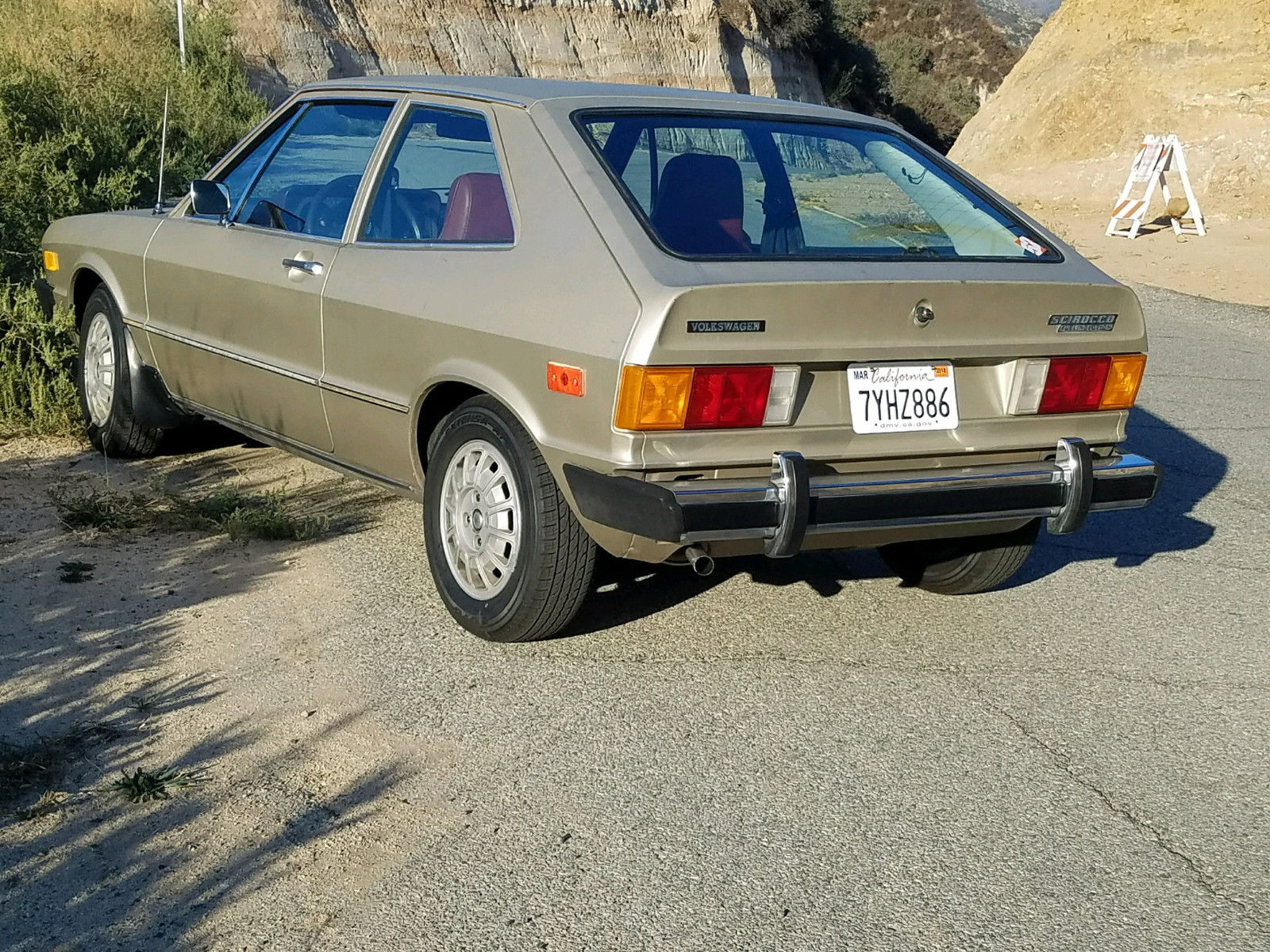 Year: 1977
Model: Scirocco
Engine: 1.6 liter inline-4
Transmission: 4-speed manual
Mileage: 136,157 mi
Price: $7,500 Buy It Now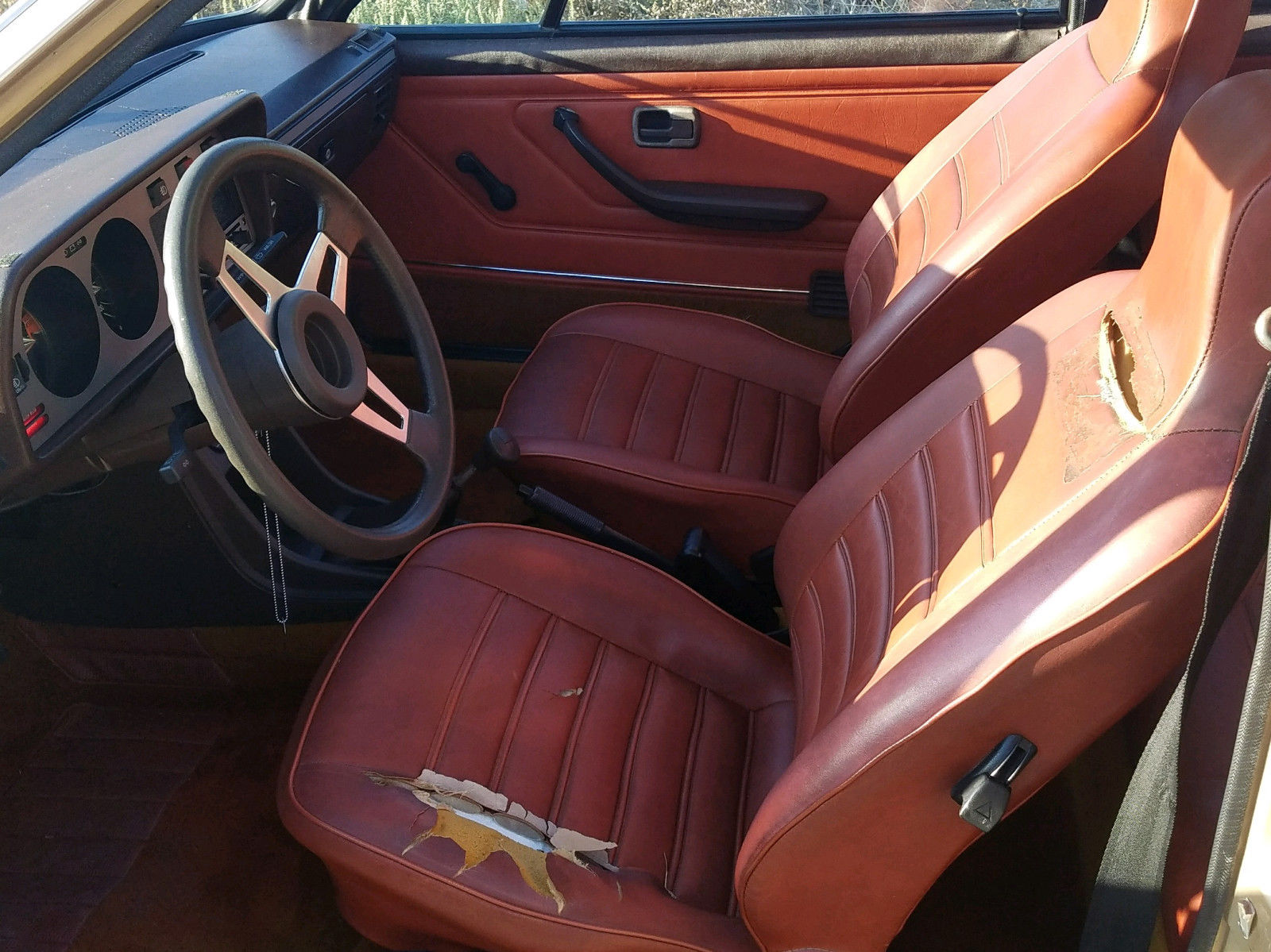 Goldie is a 1977 Scirocco, she was the poster car for Fifteen 52 when the came out with the "snowflake" re-makes. I bought the car from Brad and Matt about 5 months ago with the intention of making a fun weekend car (she is my second 1977 Rocco), but I'm buying a house so I need a down payment. They put on the ST coilovers and replaced most of the suspension bushings. She is a good handling car and it can go LOW (earlier pics included), but I have it set at a reasonable height currently. She was re-painted at some point in semi-gloss platinum gold (she was originally gold). The interior is very nice with some fading on the carpet, the rough driver's seat and some cracks on the dash. The door panels and sides are really nice. A lot of the rare bits are real nice, the grill, headlights, tail lights, side lights and inner tail light covers. The bumpers are clean and 3 outa 4 of the corners are perfect. She has all 5 alloy wheels with fresh Kumho tires. All the seals are above average, with the windows up she is pretty quite. And the best part about this girl, she has always been a California car, NO RUST, all the panels are straight, no rust underneath, beautiful. Only problem with any of the metal is some spots on the rocker from poor jacking.

I got her 4 months ago and I have driven her about 250 miles. I have a few buddies who have owned about 20 MK1 VWs, they helped me wake the car up. This is my 4th VW, I'm surrounded by them as the pictures will show. The list of what has been replaced is also below. She drives very well, shifts gears smoothly and doesn't make any bad noises. Look at the pictures carefully to see how well preserved she is. Body panels are great except for the lack of clear coat . All of the glass is original except the windshield, all of the window rubber is great. I have found a few minor problems and I bet she has a few I didn't find. The warm idle is finicky, she stalls sometimes. The fuel gauge stay at a 1/4 full, the seats rock a bit, the dome light doesn't work nor does the lighter. The motor has a few oil weeps but doesn't spot the floor.

You could use this as a great start for a restoration or drive her like she is. This car will never be worth less than it is today, what do you think this girl was worth 5 years ago… I bet she doubles in the next 5 years.

The car is tagged and titled in California, passed SMOG, on non-op status. Tags good for 11 months.

Work done:
Drained tank
Replaced fuel pump
Replaced fuel pump relay
Rear fuel lines
Replaced 2 front fuel lines
Replaced throttle body with another used one, cleaned, lubed nice and smooth
Fuel filter
Oil and filter Castrol 20/50
Replaced air filter
Replaced timing belt and tensioner
Replaced Alt/water pump belt
Replaced Spark plugs, plug wires, cap, rotor and points
Bleed brakes, inspect lines, pads and rotors
4 new Kumho tires mount and balance
Replaced front left outer drive shaft boot.
Replaced coolant temp sensor
Replaced fan control/temp sensor(in radiator)
Replaced windshield wiper
Replaced battery
Replaced shifter bushings
Replaced turn signal stalk
Replaced turn signal relay

Problems:
Horn doesn't work
Turn signals don't work (but Hazards do)
Reverse lights don't work
Odometer and trip meter don't work (not sure when they stopped but I swear the worked on my first and second drive)
Fuel gauge stops at 1/3 full. All other gauges including console gauges work great
Driver's seat is a bit rough, carpet faded
Idle is a bit high and she does stall every so often
Maybe other flaws I missed, nobody's perfect

She is a cool car. I have a bunch of other photos feel free to call with questions. 828-773-2289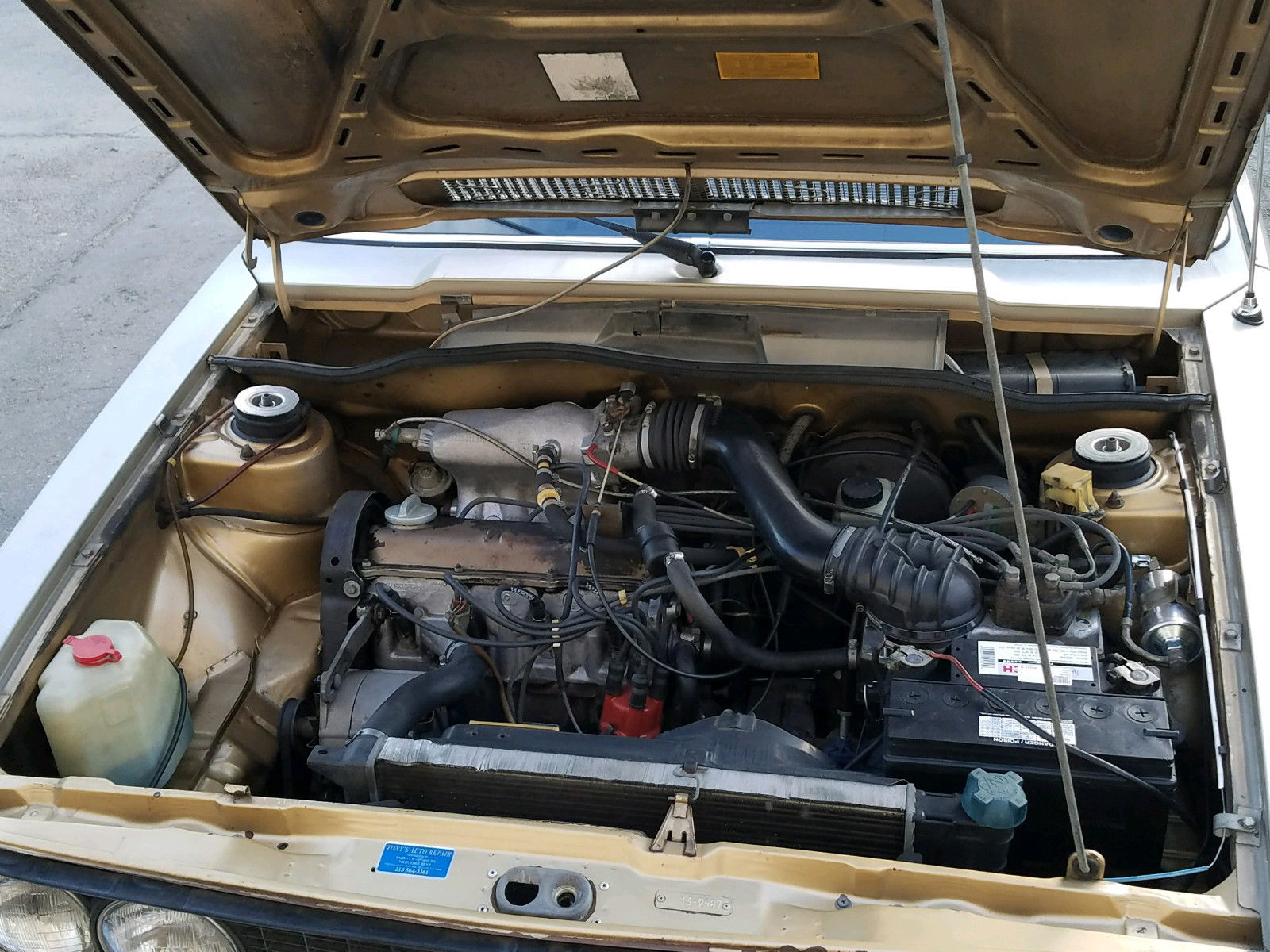 So is 'Goldie' the gold-standard of early Sciroccos? Well, you probably knew looking through the photos early on that it wasn't perfect. The sunset photos seem to probably oversell the condition slightly; this is not a show car, but it does look like an honest driver that could be improved upon. There's plenty of fault to point out, but flip this around; it's a non-rusty example that appears to be pretty straight and generally well preserved. The seller did the car favors by raising the ride height and it appears that they've also done a lot of mechanical work getting this car back to driver condition. It has some neat accessories, like the chromed bumperettes and molded mud flaps. Just like the '78 we looked at recently, this car appears to originally have been Pearl Metallic with Sienna interior. Look, you could exhaust yourself pointing out what's wrong with this car and claiming it's not worth what the '78 was, and you'd be right. But that's not the question, as the seller isn't looking for that amount. So, is this car worth a little less than half that example? If you factor that to be a really pristine example, you'd need to drop about $10,000 on paint, interior and minor sorting, then it would seem in line. To me, it feels slightly high if I'm honest, but given the market on these cars I think that the current ask probably isn't too far out of line.
-Carter