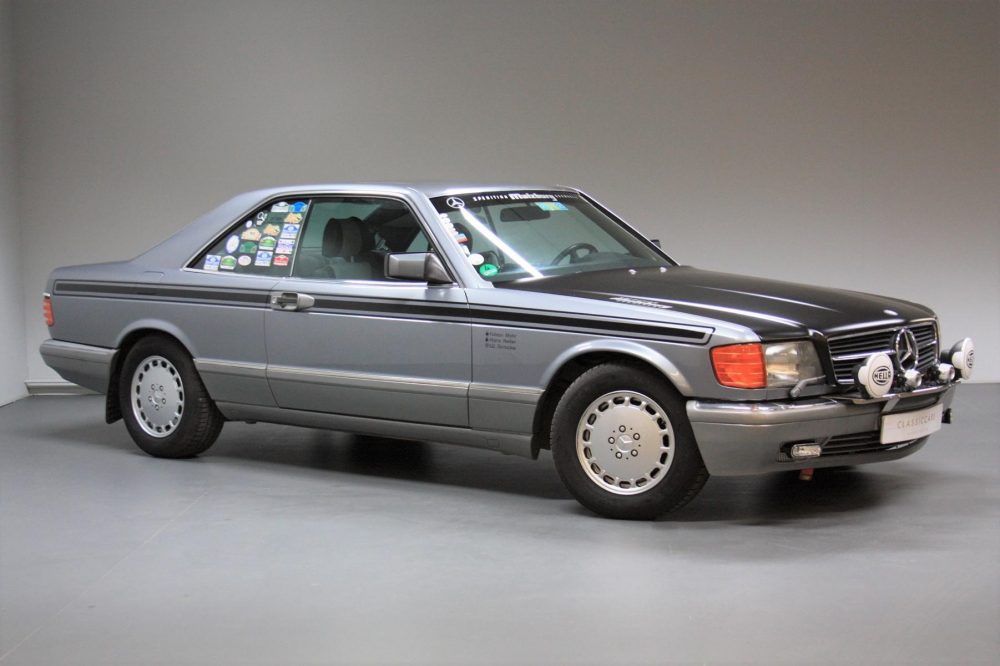 One of the big things keeping the classic car hobby alive and more importantly keeping these cars moving are the classic rallies. All the way from the top at the Mille Miglia to the little local club drives to the local BBQ restaurant, these events keep the wheels turning. No matter what kind of event you are into and what era car you own, you can probably find something you live.
Today, we have an unusual example for a classic rally, but that doesn't mean the previous owners didn't go all-in with the theme. This 1987 Mercedes-Benz 560SEC up for sale in Germany has all the equipment to compete in a number of events and the stickers to prove. Not a brand choice to soak up miles.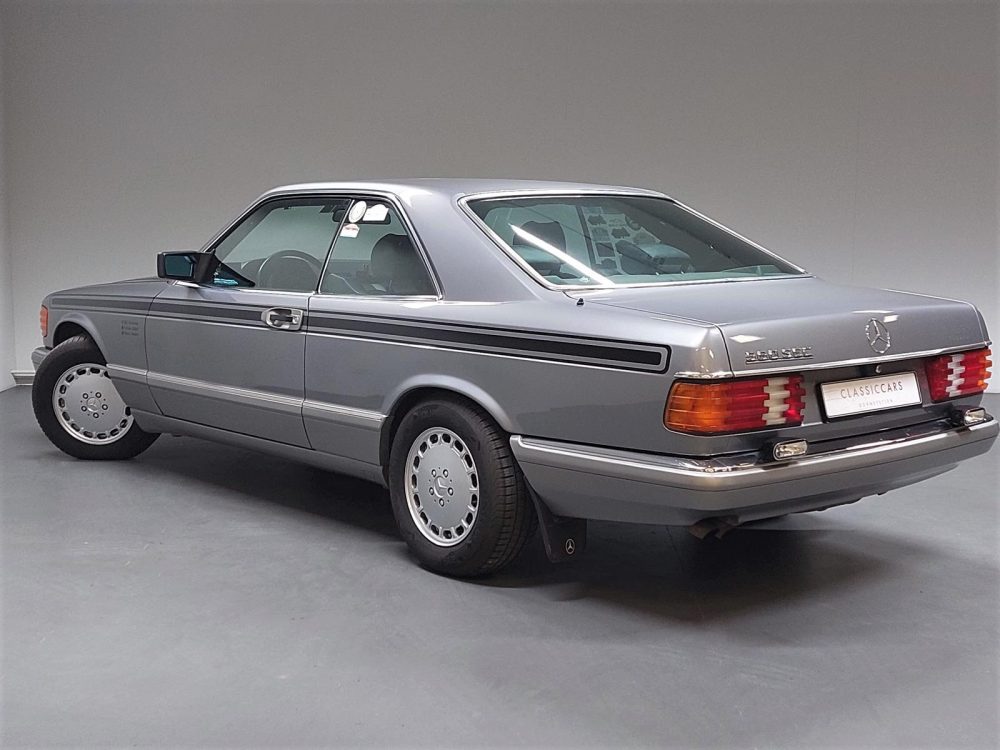 Year: 1987
Model: 560SEC
VIN: N/A
Engine: 5.5 liter V8
Transmission: 4-speed automatic
Mileage: 189,000 km (117,439 mi)
Location: Dornstetten, Germany
Price: €27,900 ($28,666)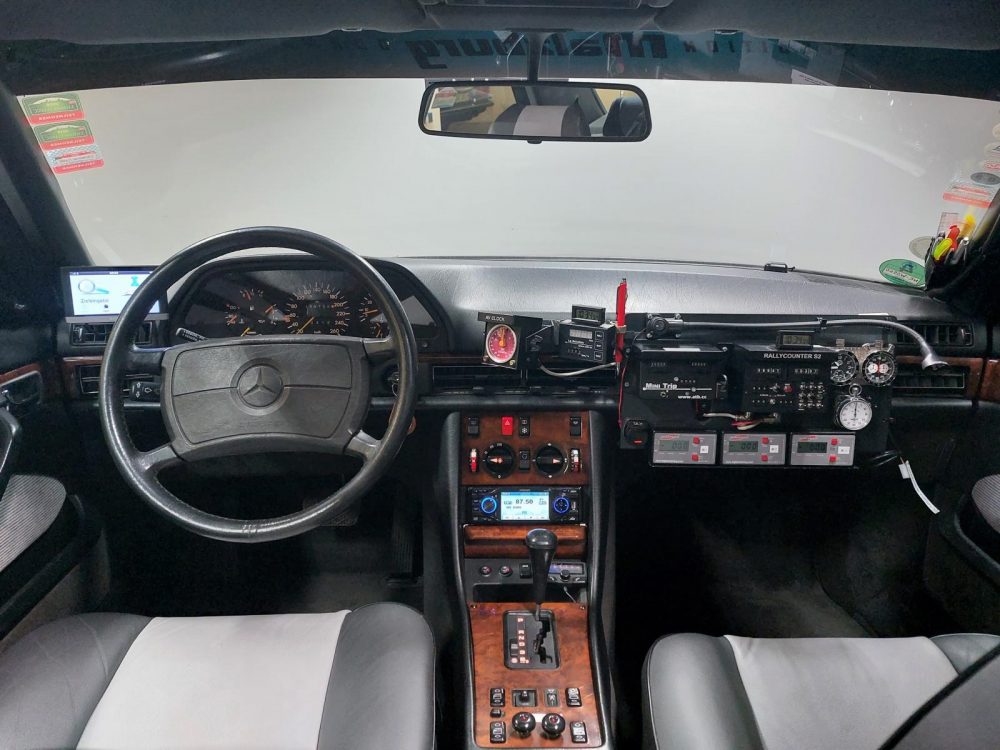 Manufacturer: Daimler Benz

Model: 560 SEC – Rally

First registration: 03/31/1987 in Dormitz (D)

Mileage: 189,000 km (engine partially overhauled)

Engine: V8 cylinder, injector, catalytic converter

Displacement: 5,491 cc

engine power. 178 kW / 242 hp at 4,800 rpm

Transmission: 4-speed automatic with two driving programs

Dimensions: length 4.94 m, width 1.83 m, height 1.41 m

Curb weight: 1,750 kg

Paint finish: Pearlescent Gray Metallic with Matte Black Bonnet

Interior: leather and velor in medium gray and anthracite

Equipment features: Automatic, power steering, cruise control, ABS braking system, alloy wheels, metallic paint, fog lamps, xenon wide beam headlights, long-distance headlights, reflectors. Electrically operated exterior mirrors, windows, sunroof and front seats. Air conditioning, heated front seats, Garmin navigation system, Kramer navigation system with radio/DVD/USB, fire extinguisher, leather and Velius upholstery, driver's airbag, belt feeder for driver and front passenger. Extensive rally instrumentation.

Historic rallies are becoming increasingly popular. Three things are essential to be able to win there: A good navigator, a driver who knows his car and the car itself, which has to do exactly what the driver wants. Nothing should jerk or drop out just before the light barrier, and the equipment in the car must be such that the navigator can call up all the values ​​he needs at that precise moment.

Here we offer you such a perfectly equipped and victorious rally car. The Mercedes-Benz 560 SE Coupe delivered in Germany was perfectly prepared for a rally vehicle in 2015. Sensitive points such as timing chains, chain tensioners were made and the cylinder heads were overhauled at the same time. In the last few years he has participated in a whopping 21 classic rally events very successfully and is used to winning. The mother-of-pearl gray Mercedes 560 SE Coupe is well known – and feared – to regular rally participants.

The excellent technical equipment includes special broad beam and wide beam headlights, as well as very bright reversing headlights. A lighting system, such as that used at the Histo Monte Carlo. For participation in the hourglass class, manual precision stopwatches are available, the purchase price of which is in the four-digit range. Thousands of euros are also invested in the other instruments and odometers, AV clock, etc. etc. The driver and front passenger seat have special upholstery that offers lateral support like a sports seat, but the seating comfort is still close to the original S-Class seating comfort – because it's still the original SEC seat.

Luxury relaxes and so this rally coupe has amenities such as power seats, power windows front and rear, power mirrors and power sunroof, air conditioning, heated seats, cruise control, stereo and navigation system. The only thing missing is a champagne cooler, which can be retrofitted.

Technically, there is automatic, power steering, ABS braking system and 242 hp with a catalyst.

All lettering and the side rally stripe are only glued and can be removed at any time. He has the tax-friendly H license plate and is immediately ready to go.

This is a rare opportunity to purchase a classic car that has proven its winning ability, kitted out for use in historic rallies without regard to cost. Best material and super comfortable on top of that. At the latest when you see the exhausted crews of the old Porsche 911 going to bed in the evening, you will congratulate yourself on having bought a superior Mercedes 560 SEC for a quarter of a 911 budget.

EUR € 27,900.00 (sale on behalf of a customer)

or in Classic Car Leasing: €349 monthly leasing rate with €3,900 one-off special payment, term 36 months

an offer from Comco Leasing GmbH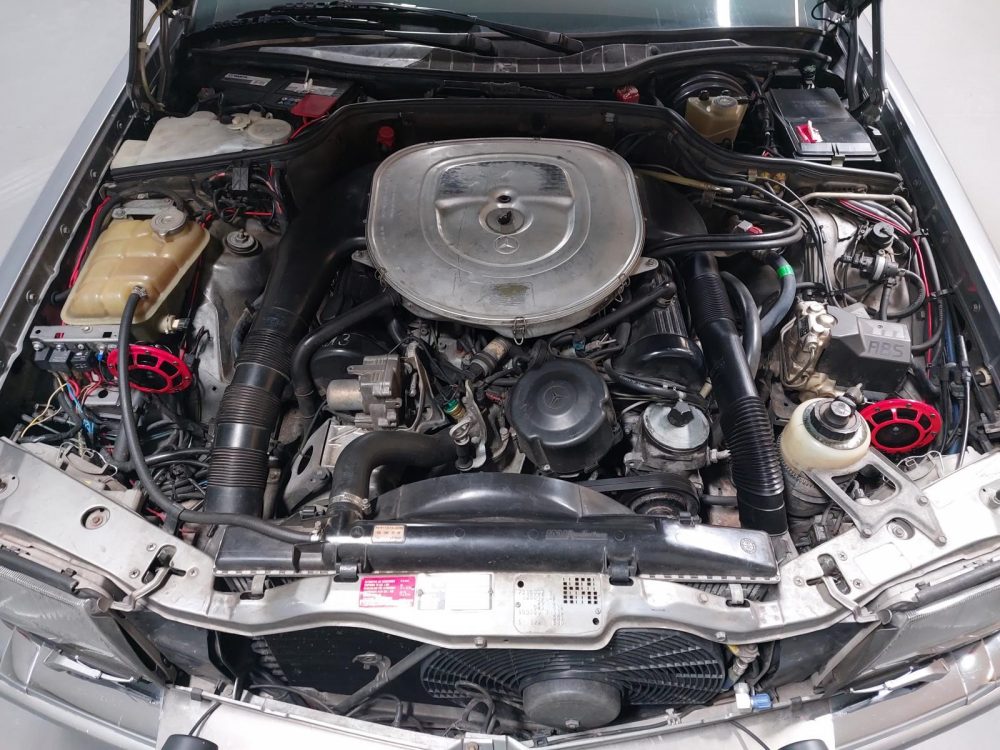 I can't say my mind jumps to 560SEC when I think of rally car, but this one gets the job done. Outside of the added extra lights, the real equipment is on the inside. The passenger dash is absolutely littered with stopwatches, timers, and other timekeeping systems. I can't help but thing an iPad and an iPhone do all of this in a much tidier fashion, but I understand keeping the theme period-correct for style points.
For almost $30,000, it is a lot of money for a very specific car. Can't say I'd pick this one if I was just daily driving a 560SEC, but if you are looking for a turn-key car to go do events, this is far from a bad choice. I just hope the air conditioning system works.
– Andrew