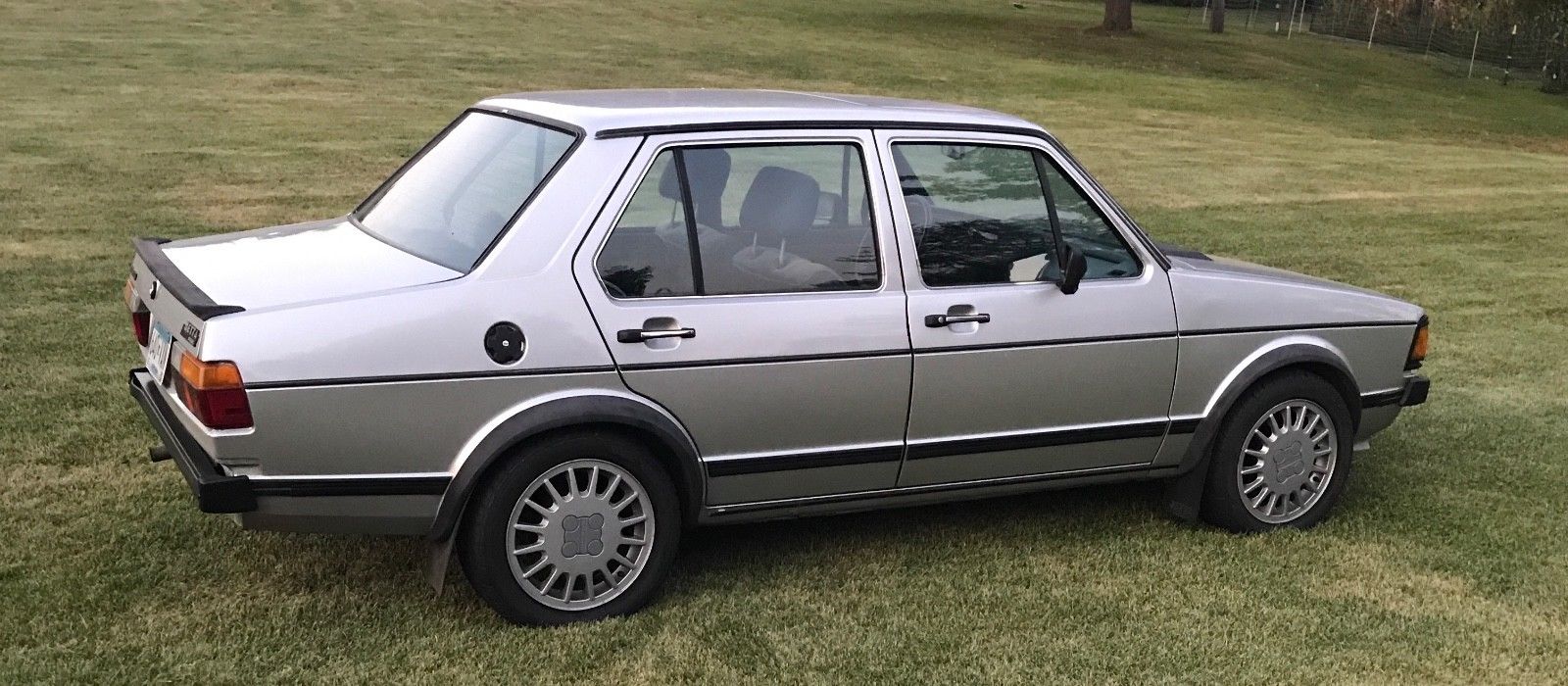 As we saw with the Dasher Hatchback from last week, just because it's older and in good shape doesn't automatically mean it's worth a lot. If it's a GTI or a Scirocco, sure – sit back with the popcorn and watch the bids roll in, but that Dasher? It sold for $1,600. Admittedly, it needed at least that amount and probably more in mechanical freshening, but still – you're looking at a unique classic for well under $5,000 all in.
Today is another such beast, and like the Dasher, it's a niche car that most will probably pass over for the more exciting metal. But this is one trick little bit of kit as you look a little closer. A1 Jettas are pretty rare to begin with, and this is a claimed rust-free example – always a good place to start. Euro bumpers slim down the look while Corrado Sebrings and a lowered ride height beef it up, but the clean presentation is really highlighted by the rare drivetrain – the CY turbocharged diesel inline-4 mated to a 5-speed manual transmission, good for 68 horsepower and 98 lb.ft of torque. This motor was also briefly available in the first generation Audi 4000. The 10.6 quoted 0-60 time won't sound particularly exciting, but it was quite a bit quicker than the standard diesel and recorded better fuel economy (Volkswagen claimed it could top 54 mpg!). But the key to this car is the relative obscurity and rarity of the package.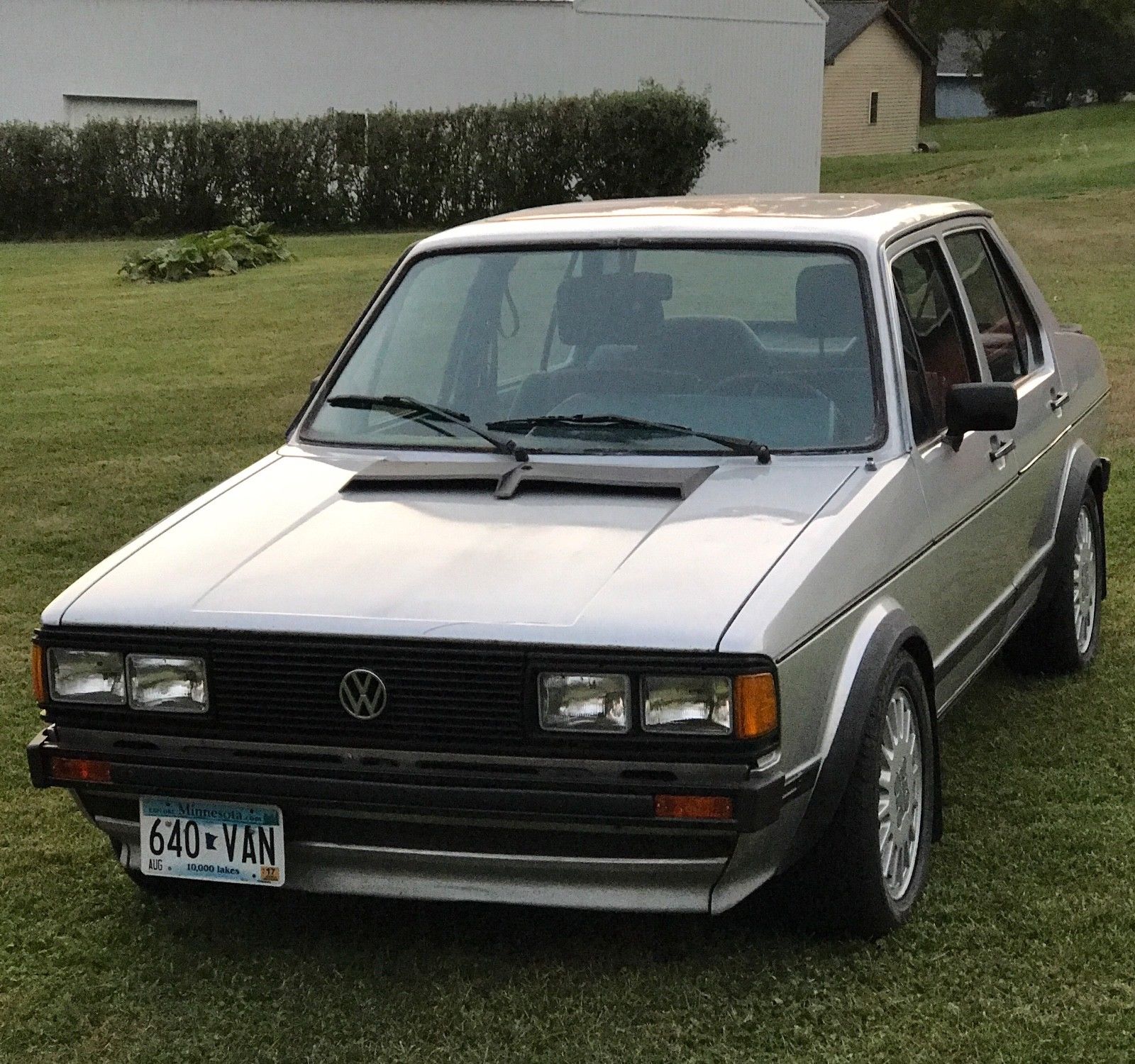 Year: 1984
Model: Jetta GL Turbo Diesel
Engine: 1.6 liter turbocharged inline-4 diesel
Transmission: 5-speed manual
Mileage: 133,000 mi
Price: No Reserve Auction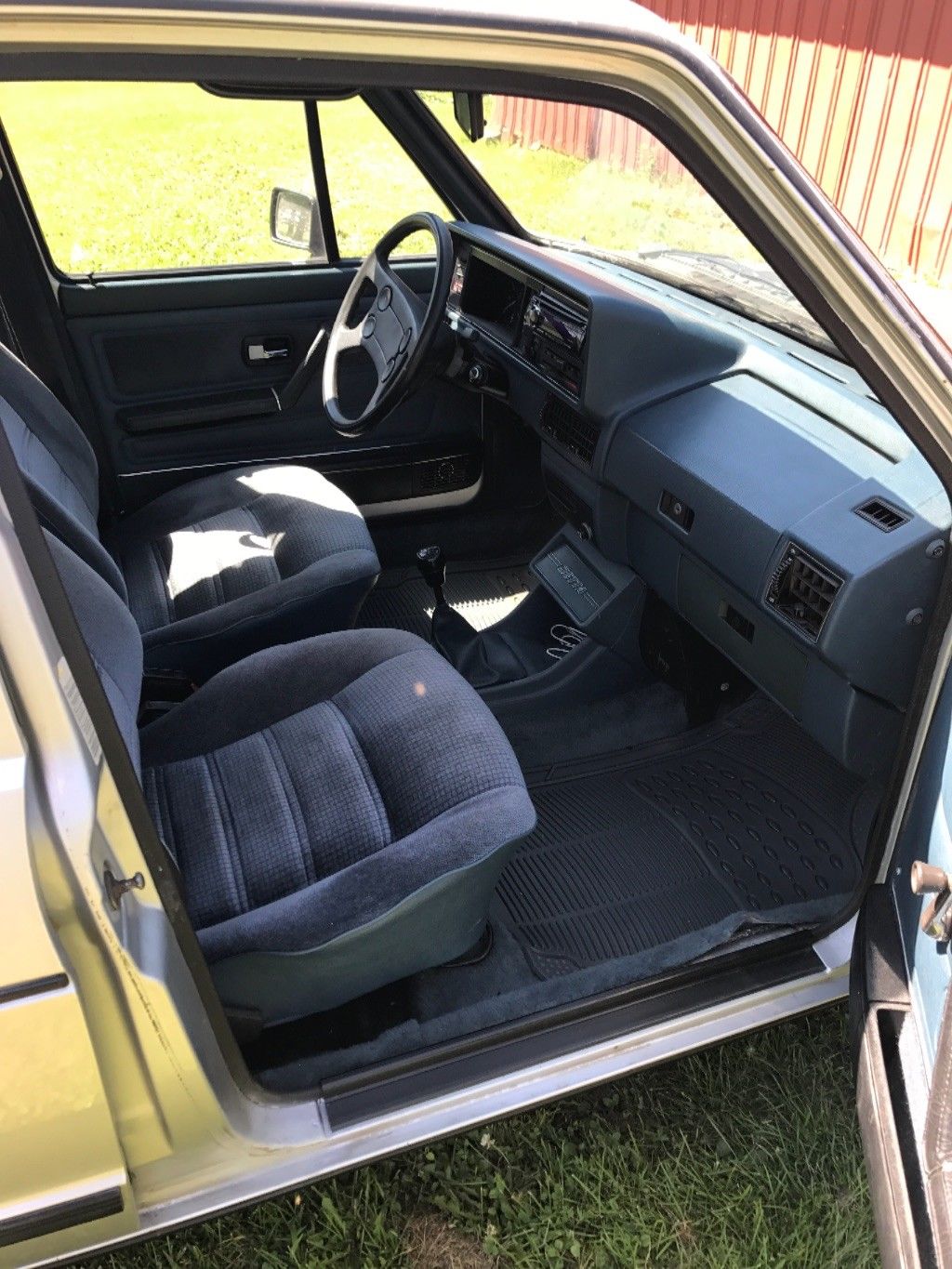 You are bidding on a 1984 VW Jetta with a 4 cylinder turbo diesel engine and a 5 speed manual transmission.

The car has just over 133,000 miles on the odometer and has been in storage for over 20 years. It was parked because the clutch was slipping so that was the first thing I repaired by installing a new clutch assembly. I'll go as far as saying the car has no rust. When I got it there were small amounts of surface rust that I cleaned up and treated with rust converter and then painted over with some spray paint just to keep them from rusting until it's able to be painted correctly, there are 3 small areas on the drivers side that are visible in the pictures provided. The interior is blue in color and is in amazingly great shape for the age. The dash doesn't have any cracks, the seats look good and the door cards are all in decent shape despite a few small cracks on the passenger front door panel. The car does have the air conditioning option although I'm not certain that it's working, it feels like it's blowing a bit of cold air but I'm not 100% sure. I installed a brand new heavy duty aluminum radiator as the original had a small leak. I also replaced both outer cv joints as they were starting to make noise. I changed the oil, drained and replaced the antifreeze and drained and replaced the old diesel fuel with new before I started it for the first time after being in storage. I inspected the brakes and everything looks good in that department. I've put on over 4000 miles on the car in the year I've owned it and it runs and drives great. This is the first time I've owned a MK1 turbo diesel and there is quite a bit more power than the naturally aspirated 1.6 diesel as this car gets up and going to highway speeds no problem.

Tasteful mods include: short shift kit, brand new H&R brand sport lowering springs with new shocks and struts. Kamei brand old school hood scoop, BMW trunk spoiler (fits this car nicely), very nice corrado alloy wheels (siebrings I believe) with brand new tires, and a set of brand new small bumpers. The car does handle much better with the sportier suspension setup. Has an aftermarket radio CD head unit with USB and aux input, new speakers and 10″ subwoofer and amp. It also had a recent alignment completed. I'm probably forgetting some minor things I've either fixed or added. I'll try to dig up any receipts I have and will send them with the car at the time of sale.

The sunroof works as it should and I don't believe it leaks. I don't see any drops of oil or any other fluids on the driveway. I didn't check the exact mpg while I had it but I know these turbo diesels with the 5th gear (highway gear) can get over 45 mpg if driven nicely. I repaired the glow plug relay system that wasn't working when I got it and it now works like a champ as the car starts right up once the glow plug dash light goes off. No excessive black smoke at startup, accelerating or cruising.

With the suspension upgrades, new cv joints, new radiator, clutch, and small bumpers along with the Kamei hood scoop, BMW rear wing, alloy wheels along with some other maintenance related items I invested a lot of money for maintenance and modifications.

Only selling because winter is coming and I need the space to store other projects + cash for other projects too 🙂

I've been involved with MK1 VW's for a long time and have been through quite a few of them. I grabbed this vehicle when it was listed for sale on my local Craigslist because I know how rare these cars are getting. The last time I ran across a 4 door MK1 Jetta it was parked in the weeds behind a local business over 25 years ago. I don't believe I've ever seen one driving on the road in my entire lifetime.

WORTH NOTING

The car does have its fair share of dings, dents and scratches. The windshield has a 6-7 inch crack and the seal was leaking so I covered it with clear silicone sealant as a temporary fix. The short shifter takes a bit of getting used to (you can revert back to stock setting very easily). The headliner needs some cleaning, the hood is sun faded and there are some small isolated spots on the roof where the clear coat is peeling. The speedometer seems like it's reading too fast. Although the car has NO overheating issues, the temp gauge quit working recently (I suspect the temp sending unit / sensor on the engine). While driving it does have some rattles but nothing unusual for a VW of this age.

TERMS




SHIPPING: You will make your own arrangements. Have your shipping company contact me when they are ready to pick up the vehicle and I'll make the vehicle available for them to be picked up. I will not be responsible for any damage or theft once the shipper accepts the vehicle.

PAYMENT: $500 deposit in PayPal within 24 hours. Remaining balance payment made within 5 days of auction end.
 For the remaining balance I only accept certified bank checks sent by registered mail or cash in person. I reserve the right to end the listing at any time and sell to other parties as this vehicle is listed for sale locally. If you are picking up the vehicle in person or having it shipped this must be completed within 14 days of auction end unless we agree to different terms prior (full payment still required in 5 days).

COMMUNICATION: I prefer email to communicate as I like all correspondence recorded within eBay in case there are any issues. Please ask all questions prior to bidding. 
I encourage all bidders to inspect the vehicle in person prior to bidding. Once the auction ends this item belongs to the highest bidder, there will be no inspections after the auction end as the vehicle is considered sold.

FEEDBACK: Please do not leave poor feedback without trying to resolve problems with me first. I take pride in my awesome feedback rating. I am a reasonable guy, if your request is reasonable we can surely work out any problems.

Please keep in mind that this vehicle is over 30 years old and its not perfect. I've described / represented the vehicle as accurately as I could, if I overlooked or forgot to mention something I can not be responsible for this. There is no warrantee expressed, written or implied as this vehicle is being sold "as is".

Although I'm not a dealer, I've sold quite a few cars and motorcycles on ebay over the years with all positive feedback on each one. I will go out of my way to make the purchasing process nice and smooth. Trust in my 100% feedback rating as I've been buying and selling on eBay for quite some time.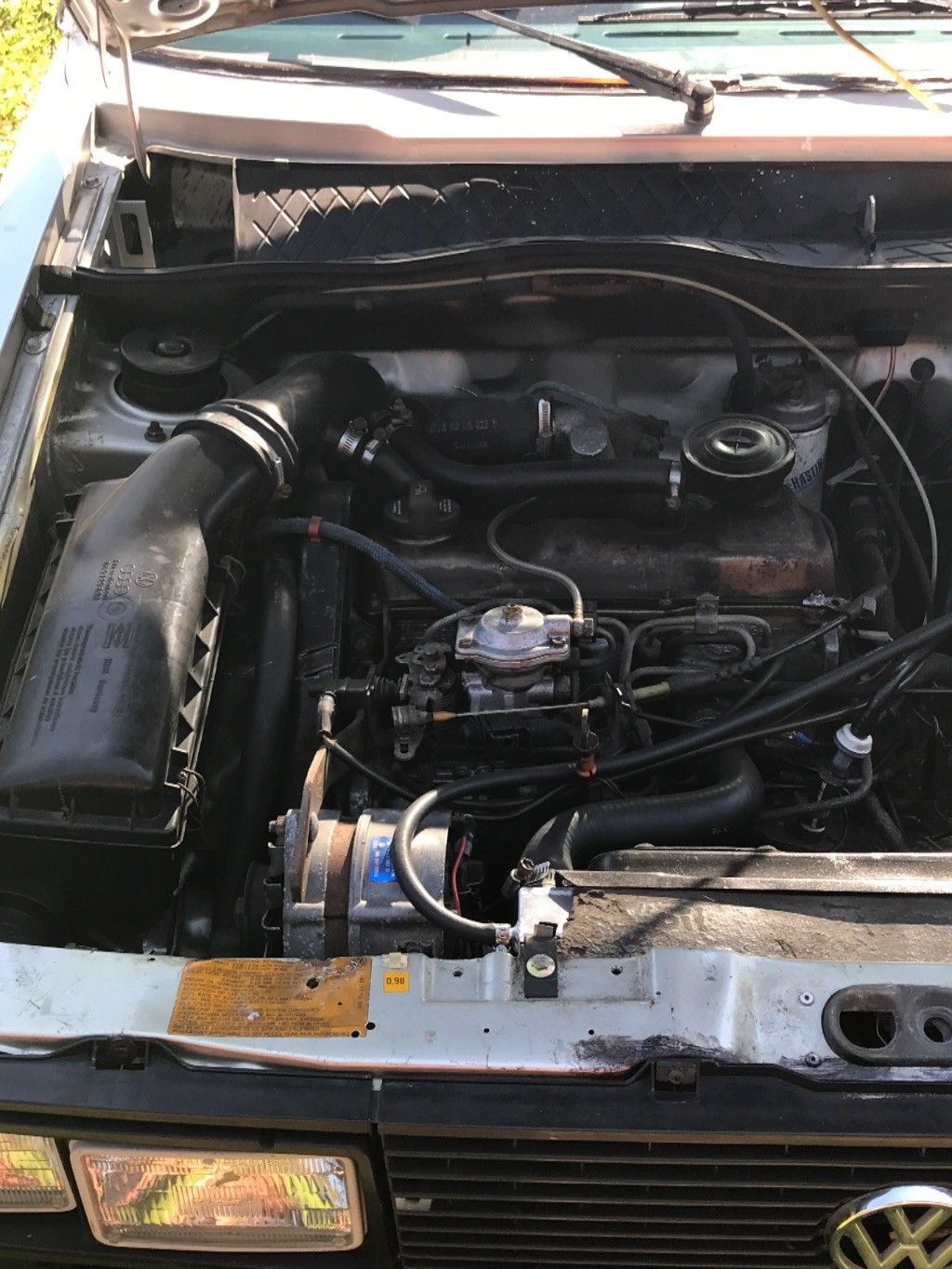 This example appears to wear the Polar Silver Metallic (LA7V) paint that was unique to the Jetta range in 1984. It's far from perfect, but it's still quite presentable in its current state. The blue cloth interior is even better, and throughout the presentation is pretty tidy. The car has some resto-mod pieces which generally fit well, though I'm not a fan of the Kamei hood scoops. Everything else comes together well. It's easy to forget just how tiny these cars were, but catch it from the right angle and you suddenly get the wild greenhouse to metal ratio that shows off the relative size. You'd be well advised not to use this car on the school run, as a full 75% of it lives under the bumper line of a modern Suburban.
But as an occasional car to drive to an event? This should still generate smiles. It's not as desirable as a GLI, but still the VW fans will love to see a turbo and it's instantly eye-catching. The seller mentions in the listing that he's looking for nearly $4,000, but the current auction is no reserve and sits at less than half that amount. If it sees through, this should be a great deal for an A1 fan.
-Carter