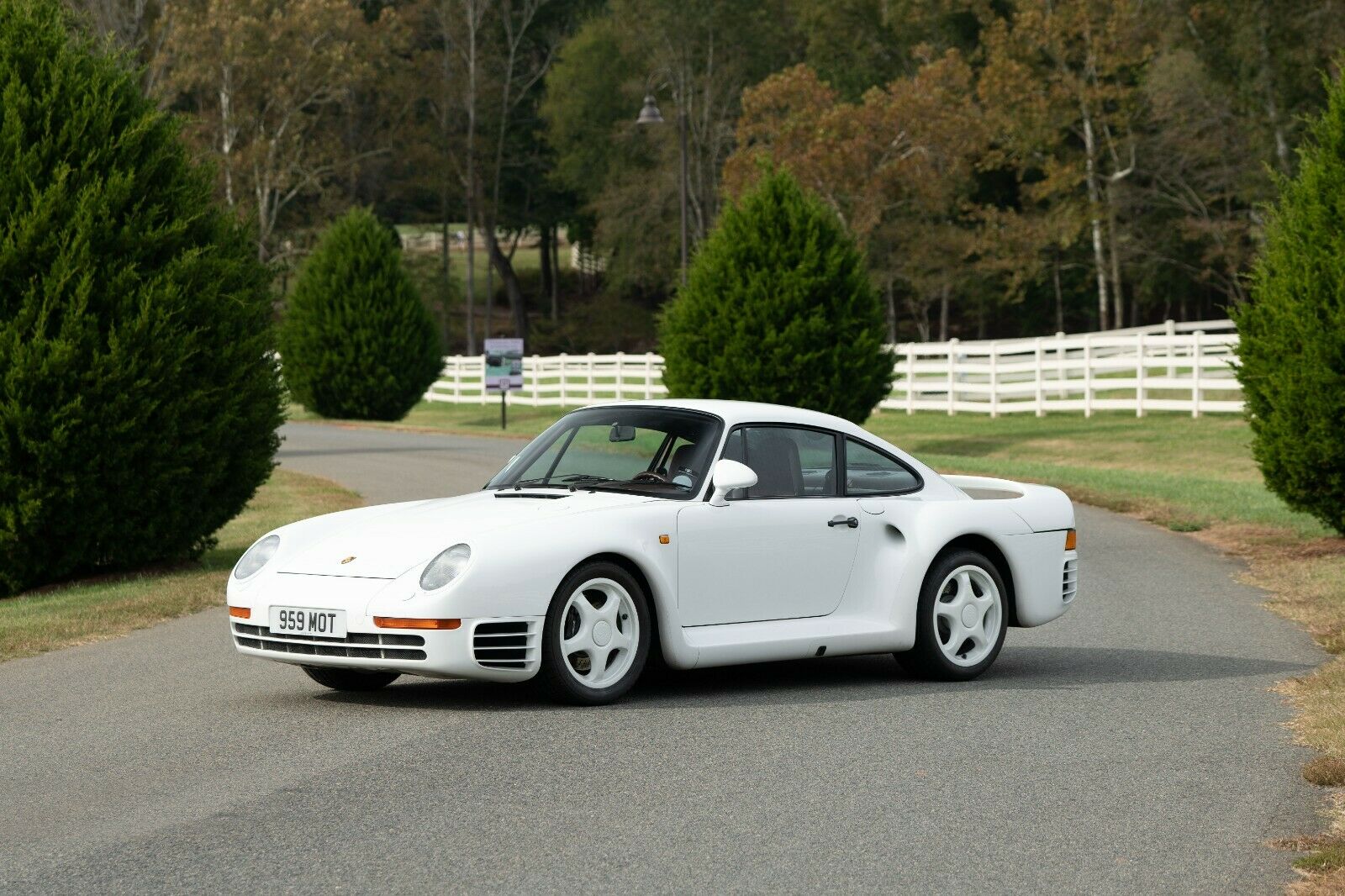 We could argue the merits of what made the "ultimate" 924/944/968 all day long. A lot depends on what you consider the most desirable, or most pure form. Take that argument to the 911 range, and it becomes even more convoluted. Is it the 901? The RS? The Turbo Carrera? For me, it's this car.
If the Ferrari F40 was the pin-up hero for most teenage boys, the Porsche 959 was its arch-enemy, and was the car I was always interested in. The F40 was a pared down street racer, while the 959 sported experimental exotic technologies that even 30 years later most cars don't have – 6 speed manual? Yep. Active suspension? Yep, that too. Hollow spoke wheels with tire pressure monitoring system? Sure, we can do that. Kevlar composite body? Why not? Active torque splitting all-wheel drive system? Let's give it a go. A technological Tour de Force, the 959 wowed crowds with all of these shocking options when it was launched in a still hard to believe 1985, beating the F40 to the market.
Even at the time it was released, the 959 was a bit of an enigma – did Porsche want to win Le Mans or Paris Dakar with it? Well, it did both – Paris Dakar outright, and it won its class at Le Mans. It was also one of the fastest production cars in the world, with a sub-4 second 0-60 time – something that modern supercars still strive for. Did I mention this car is the best part of 30 years old? Like all of the dream cars that remained firmly out of U.S. buyers hands, the 959 remained a forbidden fruit for many years. But today, even if your name isn't Gates or Seinfeld, you can own in the U.S. one of the most highly sought after cars ever made – a Carrera White 1987 Porsche 959 Komfort: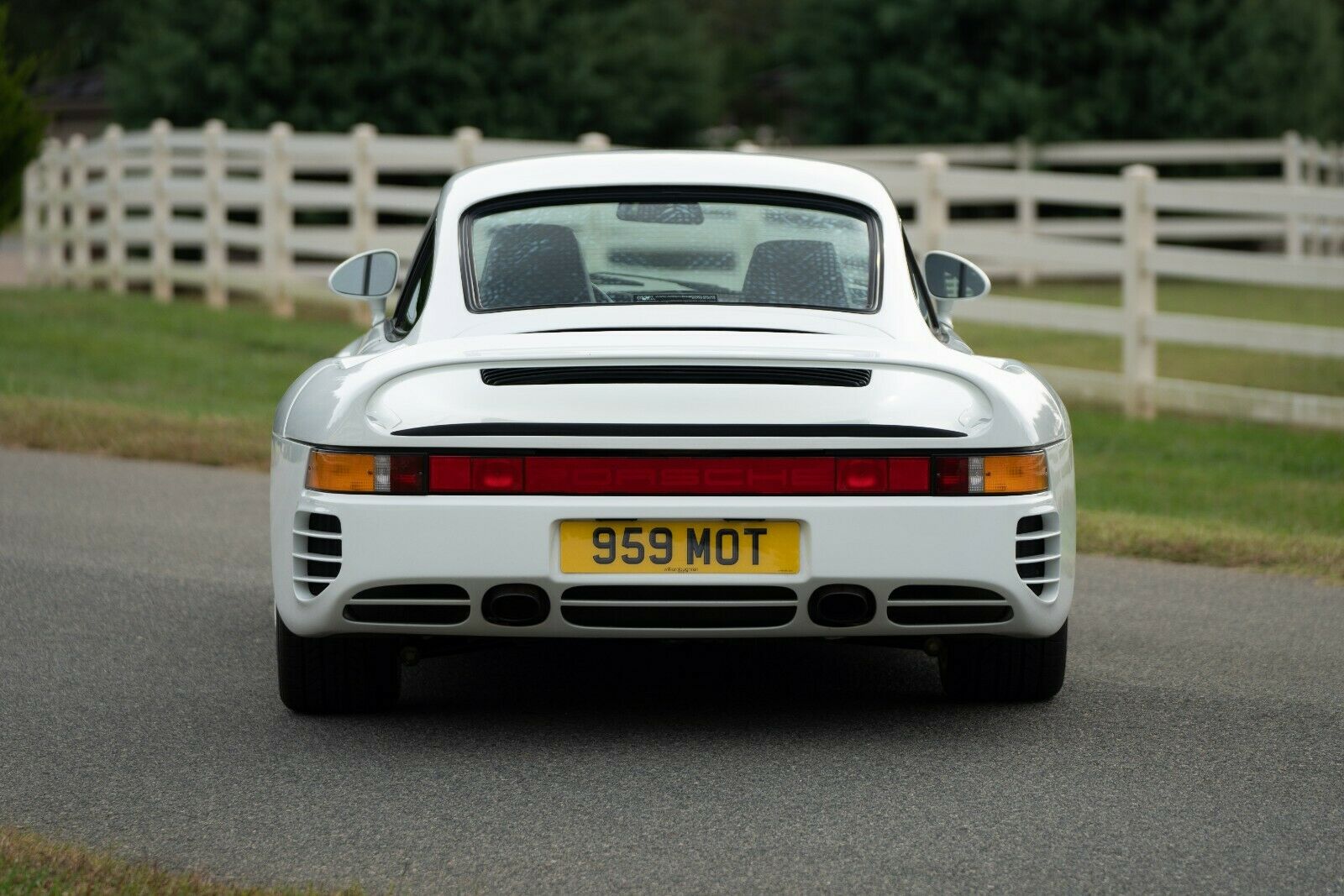 Year: 1987
Model: 959 Komfort
VIN: WP0ZZZ95ZJS900175
Engine: 2.85 liter twin-turbocharged flat-6
Transmission: 6-speed manual
Mileage: 34,449 mi
Price: $1,399,999 Buy It Now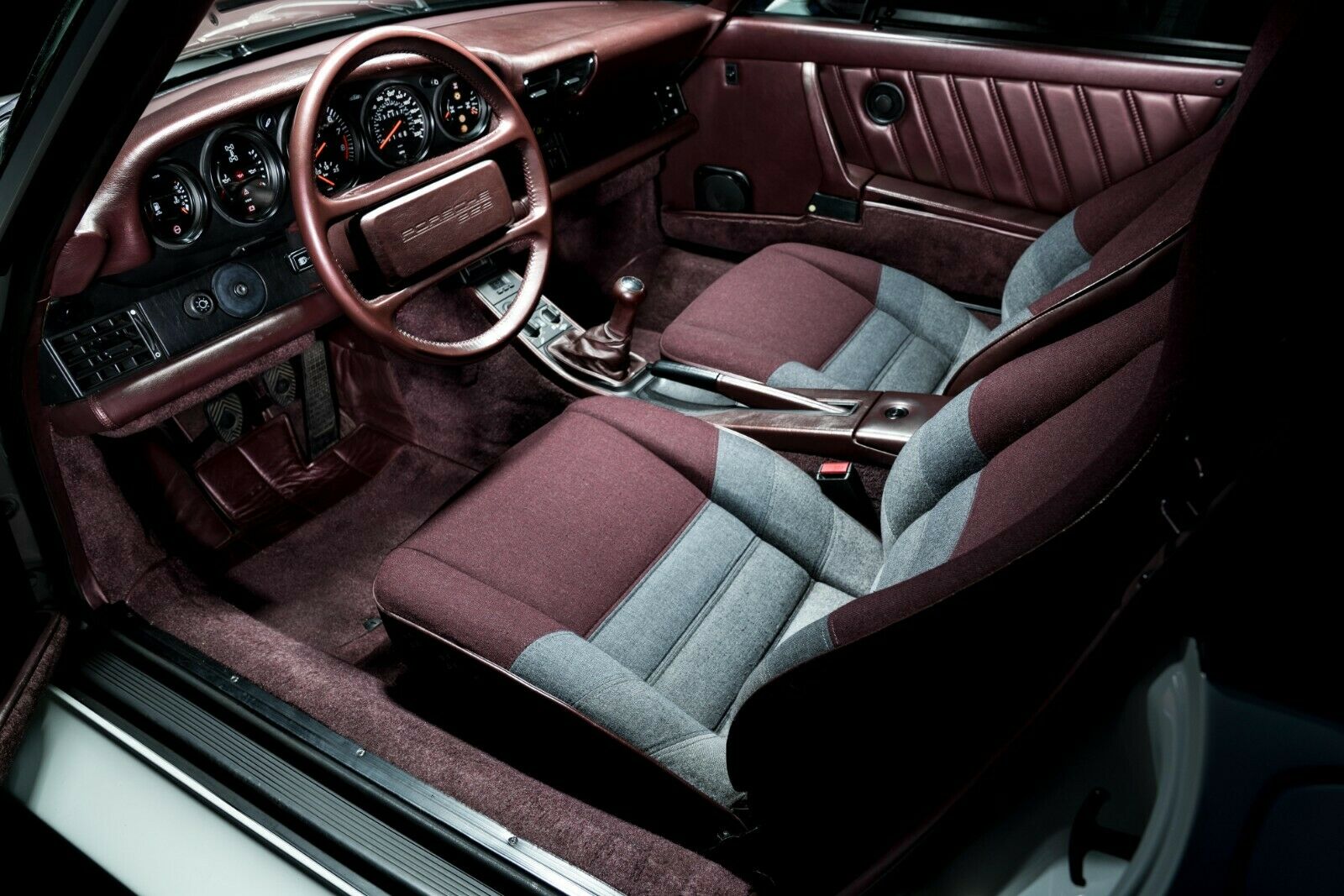 1987 PORSCHE 959 KOMFORT COUPE

THE ORIGINAL OWNER OF THIS CAR WAS
THE LORD OF MEXBOROUGH IN LONDON
AND WAS FEATURED IN MANY MAGAZINE ARTICLES.

MAGAZINES INCLUDED W/SALE:
SUPER CLASSICS
PERFORMANCE CAR
EUROPEAN CAR
EVO
911 & PORSCHE WORLD X2

WE PURCHASED THE CAR FOR A LOCAL
CLIENT IN OCTOBER OF 2014.

THIS SUPER-RARE SUPERCAR IS IN
IMMACULATE CONDITION WITH ONLY
34K MILES AND INCLUDES ALL
BOOKS, DETAILED SERVICE RECORDS, ORIGINAL
INVOICE OF SALE AND MORE.

GRAND PRIX WHITE EXTERIOR

BURGUNDY UPHOLSTERY

ONLY 34,449 MILES!

************************************

FINANCING:

WE OFFER MANY FINANCING OPTIONS FOR ALL SITUATIONS. RATES ARE
BASED ON CURRENT INTEREST RATES AND CUSTOMER CREDIT RATING.

************************************

INTERIOR:

BURGUNDY / GRAY CLOTH INTERIOR

VDO GAUGES

BLAUPUNKT RADIO

12V CIGARETTE LIGHTER

AIR CONDITIONING

WINDSHIELD DEFROSTER

RIDE HEIGHT ADJUSTER

SUSPENSION ADJUSTER

POWER WINDOWS

PORSCHE CARPETED FLOOR MATS

POWER / HEATED FRONT SEATS

************************************

EXTERIOR:

GRAND PRIX WHITE EXTERIOR

WHITE WHEELS

BRIDGESTONE RE71 TIRES

HEATER SIDE MIRRORS

BLACK PORSCHE BRAKE CALIPERS

DRILLED BRAKE ROTORS

EXTERIOR DIMENSIONS:
WHEEL BASE: 2,272 MM (89.4 Inches)
LENGTH: 4,260 MM (168 Inches)
WIDTH: 1,840 MM (72 Inches)
HEIGHT: 1,280 MM (50 Inches)
CURB WEIGHT: 1,450 KG (3,200 LBS)

************************************

DRIVETRAIN:

2.9L BI-TURBO FLAT-6 CYLINDER ENGINE

450HP @ 6500 RPM / 370LB-FT TORQUE @ 5500 RPM

6-SPEED MANUAL TRANSMISSION

ALL-WHEEL DRIVE

************************************

PERFORMANCE SPECS:

0-60 MPH: 3.9 SEC

0-100 MPH: 8.5 SEC

QUARTER MILE: 12.1 SEC

TOP SPEED: 197 MPH

************************************

The engine used by Porsche for the 959 was a lightly modified version of the engine the Porsche used in the "Moby Dick" racer as well as its Indy Car program. With a displacement of 2.9 liters (the engine is technically a 2.85-liter unit), the 959 was about a liter down compared to most 911s of the day. With the block, heads and pistons made from aluminum, combined with titanium connecting rods and a dry-sump oiling system, the engine was very light and very compact. This engine used an interesting dual-cooling solution that saw the cylinders stay cooled via air as all Porsches were, but the heads had water cooling. Equipped with a pair of sequential turbochargers, Porsche was able to push the horsepower of this motor up to 444 ponies with torque coming in at 369 pound-feet. Porsche used this sequential turbo setup, rather than the traditional usual turbo setup to improve responsiveness and cut lag.

Making sure this engine can get power to the road, Porsche created a new Porsche-Stuer Kupplung (PSK) all-wheel-drive system. Even today the PSK system is considered to be one of the most advanced ever made. Many modern systems can vary torque to various axles, but this alteration of torque only occurs when slippage occurs. The PSK system could vary power in normal running conditions regardless of wheel slip. While the system ran in a 40:60 configuration most of the time, as much as 80-percent of the power would be routed to the rear wheels under hard acceleration to make the most of the traction afforded by a rear-engine platform.

When all was said and done, the Porsche 959 was good to hit the 62-mph mark from a dead stop in just 3.7 seconds. Even 100 mph rolled around in just 8.3 seconds. Top speed was a record setting 197 mph.

To help the 959 come to a stop quickly, it was fitted with the largest set of brakes Porsche had put on a production car. The rotors where 12.6-inches up front and 12.1-inches in the rear. These rotors where ventilated and cross-drilled to improve performance. All four tires were clamped by aluminum, four-piston calipers and the car was fitted with ABS as well, another first for a Supercar.

Come in and test drive today, on your way to ownership!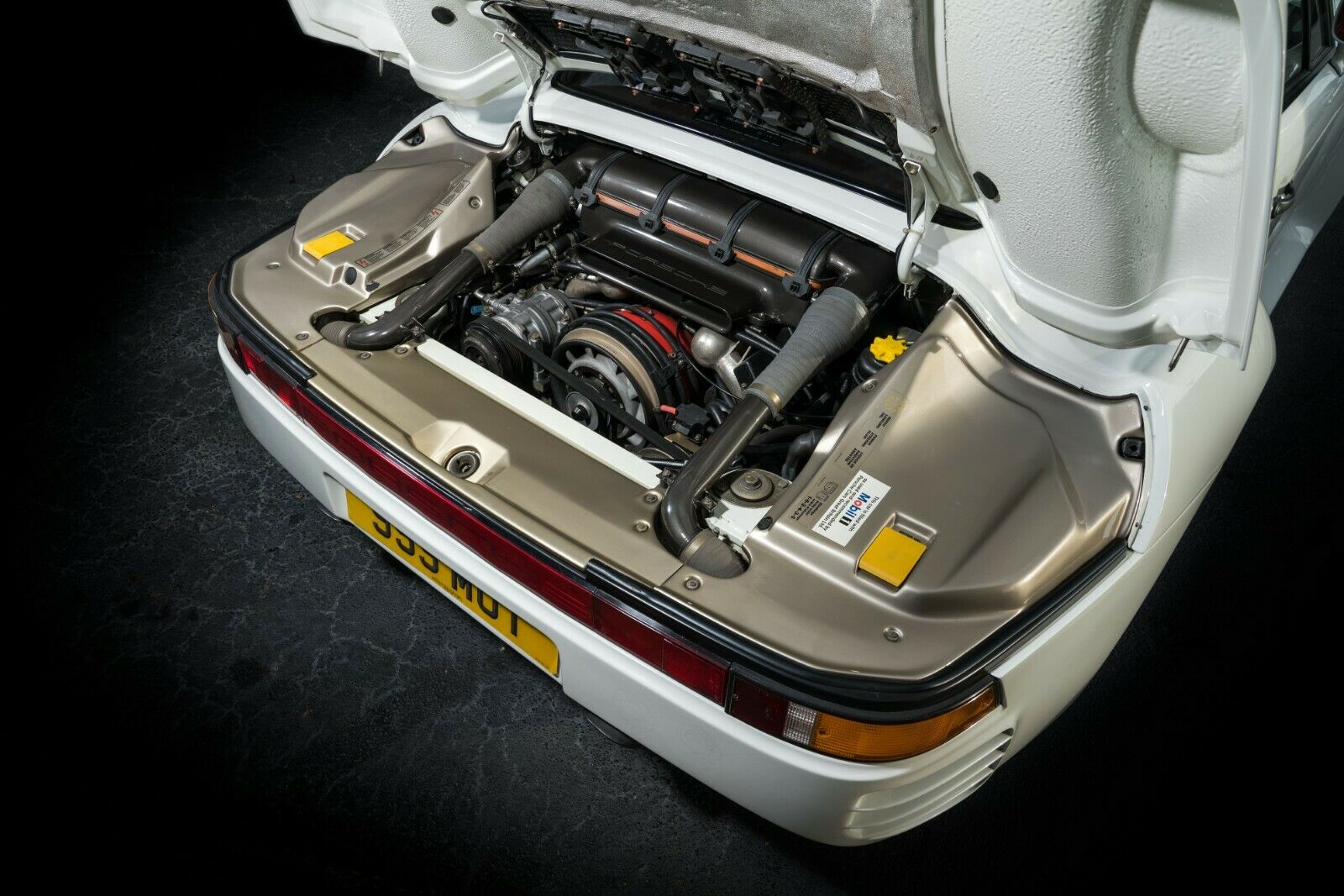 Of course, getting one of these 959s is still pretty much the domain of names such as Gates and Seinfeld. In the 1980s, this was one of the most expensive cars you could buy. Today, this is one of the most expensive cars you can buy. Sure, F40 prices have been shocking at close to 2 million dollars. But the 959 is right there, too – a Komfort model like this one in Silver sold for $1,160,000 in January 2018. Even crashed examples trade for nearly half a million dollars. These have always been dream cars, and continue to be for many people. Just a simple service on this car is more than most spend on new cars.
This one looks beautiful, but considering where the 8,000 mile example sold at a year ago it's hard to justify the quarter million dollar premium on this one considering it's got over four times the mileage. Truth told I prefer this color combination to the silver many examples were painted – it's closer to the original Pearl Gruppe B concept – and then that interior is just stunning. Were I to be rich and completely irrational, you could drop 1.5 million dollars on any of the bevy of current supercars. But my money would still go to this.
-Carter