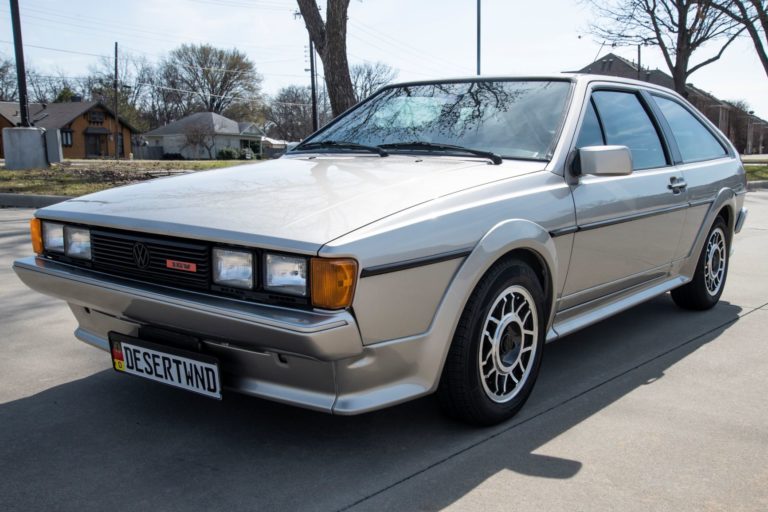 The arrival of the second-generation Scirocco in 1982 was, to be honest, not much of a revelation. It's not as though I don't appreciate the design, though how it came about is somewhat suspect. Volkswagen canned Giugiaro as the replacement designer for the exceptionally beautiful and unique first-generation car, moving in-house to Karmann for the second go at the Golf-based sport coupe. The result looked rather suspiciously like Giugiaro's Italdesign Asso di Fiori from 1979 and Asso di Quadri from 1976, though – the car that became the Isuzu Impulse. Two years later, and Viola! the Scirocco II debuts from Karmann with a near-identical shape. On top of that, the mechanicals continued to be based upon the first generation Golf.
It wasn't until 1986 that VW coupe fans finally got to rejoice as the addition of the PL 1.8 liter dual-cam inline-4 finally joined the lineup. Now with 123 high-revving horsepower, the Scirocco went a bit more like the wind it was named after. The wide-ratio, economy-minded gearbox of yore was gone too, replaced by a close-ratio gearbox. Like the GTI and GLI, 14″ 'Teardrop' wheels and a new bodykit heightened the boy-racer appearance, and the 16V models got all matchy-matchy before the Golf and Jetta, too, with body-colored painted bumpers.
Today they're hard to find in good condition at all. But this Flash Silver Metallic example threatens to break your Radwood savings account wide open with its near-showroom appearance: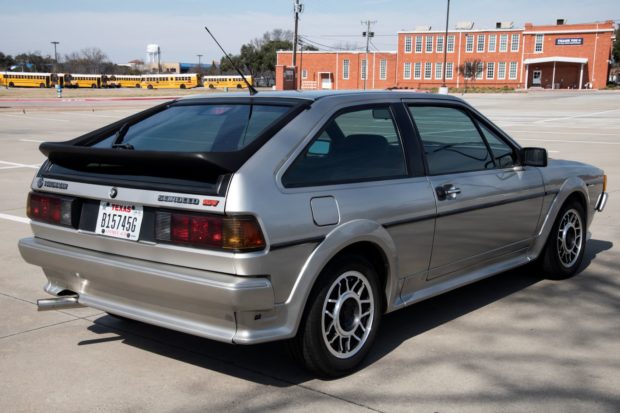 Year: 1987
Model: Scirocco 16V
VIN: WVWCB0538HK016263
Engine: 1.8 liter inline-4
Transmission: 5-speed manual
Mileage: 31,000 mi (TMU)
Location: Richardson, Texas
Price: Auction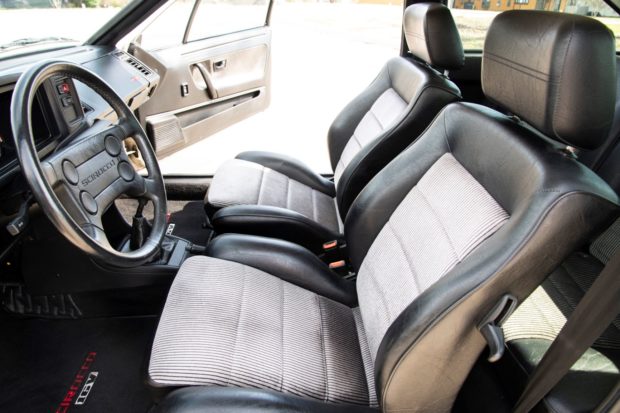 This 1987 Volkswagen Scirocco 16V is said to have been sold new to a Volkswagen employee in Troy, Michigan and was subsequently brought to Texas. The seller reportedly purchased the car from its original owner in 2017, and service has since included converting the A/C to R134a as well as replacing the radiator, water pump, fuel pumps, alternator, and more. Finished in Flash Silver Metallic over a black interior, the car is powered by a DOHC 1.8-liter inline-four paired with a five-speed manual transmission and has been fitted with 14″ Snowflake alloy wheels, European-style bumpers, Neuspeed upper and lower strut braces, Bilstein shocks, and a Borla exhaust. This Mk2 Scirocco has won several awards at local events over the years and is now offered with factory literature, a window sticker, service records, trophies, a clean Carfax report, and a clean Texas title in the seller's name.

The exterior is finished in Flash Silver Metallic (LPY7), and 16V models featured a rear spoiler, a rear window wiper, and a body-colored aerodynamic body kit, including matching mirrors and fender flares. Color-keyed European-market bumpers have been installed and the windows have been tinted. Photos of paint meter readings are shown in the gallery below, and a video of the exterior can be viewed here.

14″ Snowflake wheels from a Mk1 GTI wear 185/60 Kumho Sense tires that were reportedly installed in March 2018. The suspension features Bilstein shocks and Neuspeed upper and lower front strut braces. Four-wheel disc brakes came standard on the Scirocco 16V.

The interior is trimmed in black leatherette with stripped gray cloth inserts, and aftermarket floor mats line the footwells. Amenities include power windows, power locks, a leather-wrapped steering wheel, a manual sunroof, and a cassette stereo. The air conditioning received a replacement compressor and was converted to R134a in June 2019, while the blower motor and hatch struts were replaced in 2018. Videos of interior functions are provided on the seller's YouTube channel.

Instrumentation includes a 140-mph speedometer and a tachometer with a 7,200-rpm redline. The speedometer was replaced in December 1987 at 10,084 miles according to the stamped maintenance booklet shown in the gallery, and the current six-digit odometer shows 31k miles, approximately 1,200 of which were added by the seller.

The 1.8-liter inline-four features KE-Jetronic fuel injection and double-overhead camshafts to produce 123 horsepower from the factory. Drive is sent to the front wheels through a close-ratio five-speed manual transmission. The timing belt was reportedly replaced under prior ownership in December 2017, while maintenance completed by the seller is said to have included the following:

September 2019 – Fuel pump, injectors, and oil change
June 2019 – Transfer fuel pump, A/C compressor
January 2019 – Knock sensor, radiator, silicone coolant hoses
June 2018 – Spark plugs, wires, distributor cap and rotor, belts, battery
February 2018 – Clutch cable and blower motor
January 2018 – Water pump, thermostat, radiator fan switch, alternator, right engine mount, steering column bushing

Additional photos in the gallery show the underbody and Borla stainless-steel exhaust system. A video of the underside can also be viewed here.

The window sticker lists options, delivery to Volkswagen of America in Troy, Michigan, and a total new price of $15,610.

The Carfax report lists no accidents or other damage and shows registration history in Texas from its first entry in June 1989 through its most recent update in January 2018.

Several trophies from local shows and events are displayed above and included in the sale. A start-up video can be viewed below, and additional clips can be seen on the seller's Vimeo channel.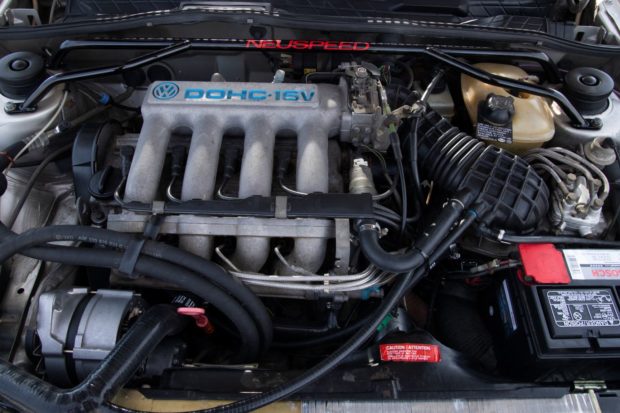 To put it bluntly, you don't come across no-excuses 80s Volkswagens often. Here's one. Yeah, it's TMU, but even that is documented. The modifications are minimal and the condition is outstanding. The radio works. The windows work. The air conditioning is updated. It's clean. It was vacuumed. All the documentation is there.
These are things you expect in, say, a 1987 Porsche 911. But they're achingly rare in Audi/VW products from the same period. It should probably come as no surprise, then, that it will likely carry a hefty reserve. How hefty? We can judge the outcome by another recent Bring a Trailer Scirocco 16V that hit $28,000. This well-documented example could bring similar money if the right players are in on it.
-Carter