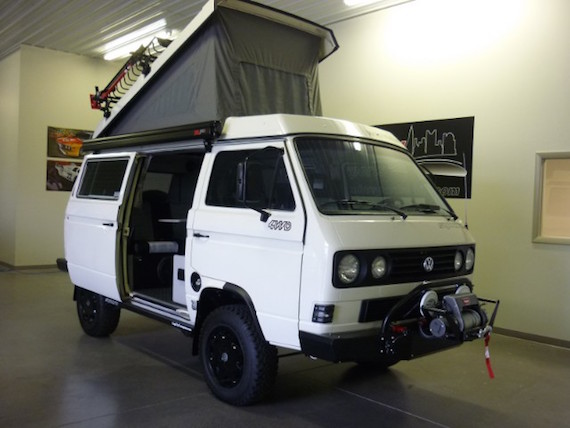 It's been a while since we've seen the kind of Syncro Westy that can command the better part of a hundred thousand dollars. We've seen some nicely restored and modified examples, but even then they've struggled to break $40k. Well, folks, we caught a big one. Let's see if we can haul it aboard.
Inside out and top to bottom, this Westy is mega. Starting with the mechanicals, there's no Subaru imposter or rebuilt wasserboxer here – it's a like-new, $35k 1.8T conversion putting out a very healthy 255hp with custom cooling and exhaust systems. Underneath you also get new suspension and a big brake kit, along with a rebuilt front differential and Porsche 930 axles. I especially like the dual fuel tanks for removing any range anxiety when you're way out in the woods.
From there, we're just looking at a no-holds-barred interior and exterior. Inside, there's an entertainment system with a back-up camera surrounded by a custom houndstooth interior. It has everything a Westy lover dreams about, from the solar system connected to twin auxiliary batteries to an on-board air compressor and front-mounted Warn winch, though I'm rather confused as to why they put the Hella lights in a position where they're blocked by the winch.
This van goes well beyond what is necessary to live the Van Life. It's an exercise in how far you can go and how many dream-boxes you can check, but the resulting price tag is similarly fantastical.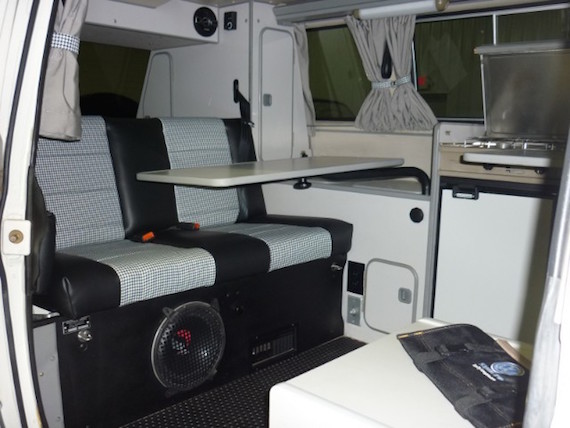 Year: 1987
Model: Vanagon Westfalia Syncro
Engine: 1.8 liter turbocharged inline-4
Transmission: 5-speed manual
Mileage: 154k mi on chassis, 100 mi on engine
Price: $109,870 OBO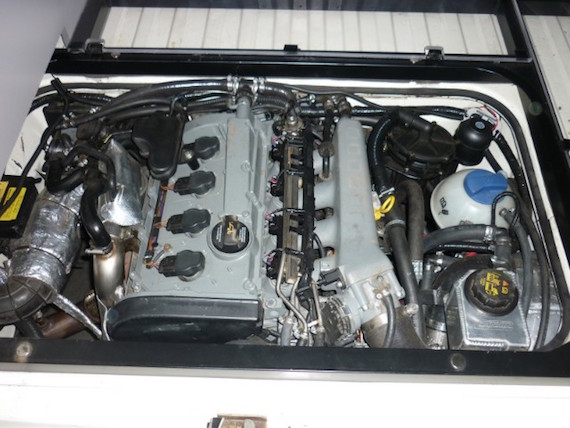 **Please call us with specific questions on this. We are open to reasonable offers. This one is as new as it gets, truly. Read over the list below to understand what when into this and why it's priced the way it is. The engine conversion alone was nearly $35K. A nice Syncro Westy is at least $30-35K…..then start adding. It gets easier to see how much went into it.**

1987 Vanagon Syncro Westfalia Full Camper CCMS CUSTOM BUILD!! This has been a 180 day INCREDIBLE build out! We purchased this from a private owner on the West Coast because of it's good history and overall great condition. The Chassis has 154K miles on it. It is finished in White with Painted and Matching Fiberglass. We did a Custom one-off Sewfine Interior in this one using Hounds-tooth fabric for the inserts. Then we added New German Carpet and Custom ABS Door Panels throughout!! After it's Ohio arrival and some sorting/additions here in our shop, we shipped it out to Stephan's Auto Haus in Sacramento for one of his infamous 1.8t conversions. There, Stephan and his Crew installed a FRESH 1.8t that ended up pumping out roughly 255 HP and got all the fixings!! This one had NO expense spared! It runs and drives AWESOME! There is NO hill that will leave you longing for more power! The list of Mods is incredibly long, but we will attempt to give you an idea of what was completed. We are happy to talk to interested parties in depth! We have it all documented. This received: 0 mile Fresh Fully Rebuilt 1.8t with all new internals, Rebuilt Front Differential and VC, HD Clutch, Porsche 930 Axles, Water over Air Inter-cooler System with Custom Boost Gauge install, Custom Exhaust and Stainless Steel Coolant Pipes! Features include: Air Conditioning and Cruise Control, Burley Motorsport Suspension, Big Brake Kit, Dual Aux Battery with built in Solar Charging System(So 3 total Batteries on board!) and Go-Westy Solar Panel, Custom Stereo/Navigation/Back-up Camera, Brand New Propex Aux Heater, On-Board Air Compressor for airing up tires in the field, Dual Fuel Tanks(Yes, an extra fuel tank!), South African Grill with High Power lighting, RMW Bumpers with Roo Bar and Hella Lights with Front Mounted Warn Winch, Fiamma F45 Awning in Black with Grey Vinyl, Das Mule Rock Sliders/Step ups, TF-49 Truck Fridge, Porta Potty with Custom Cabinet Enclosure to match the Westy Cabinets, New Propane Tank, Van-Cafe Tinted Taillights and Turn Signals, New 3-window Canvas Tent, 3 Point Seat-belts in Rear, Roof Mounted Basket with High Jack Lift mounted to it and Rear Ladder for access, 15" Euro-look Wheels painted Black with new BFG's All-Terrain KO's and MUCH MUCH MORE!!! This one is truly unreal! It is a blast to drive! We are not new to doing Custom Builds here, but this one even blows our minds! Call us for more info. Priced really well for the amount of time and $$$ that is invested and what you as the customer will be getting! We think that the right individual will see the value with ease. You may call us for more information, or even to inquire about us doing a Custom Build for you to suit your individual needs and budget. We are passionate about these Vanagon's and our one-off builds…..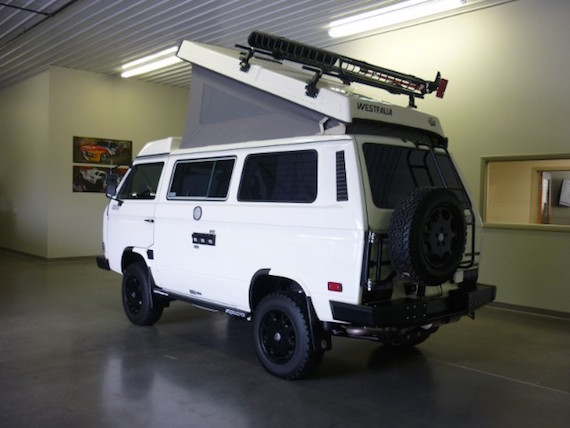 Other than the light positioning, there isn't a single piece of this van that I wouldn't like. But the sum of the parts ends up looking more like the vehicle of a spoiled person who knew their G500 4×4² was too bougie but still wanted a mega off-roader beyond the reach of normal folk. Rolling up to a Westy convention in this might get some oohs and ahhs, but I think most Vanagon lovers would hold strong assumptions that the owner is a rich d-bag. I'll keep aspiring to one of the awesome $20-30k Syncros we've featured and leave this one for the one percenters.
-NR