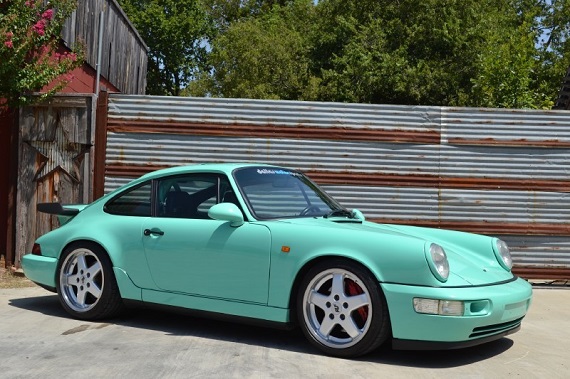 For a few decades now Ruf Automobile GmbH has provided Porsche owners unsatisfied with the marque's standard offerings the opportunity to have something that is quite a bit more special. In some cases, those builds look like entirely original designs where we might fail to recognize the original chassis upon which it was based, but most of Ruf's work is easily identifiable and the untrained eye may not even realize these are any different from a standard Porsche. There has always been a serious sleeper factor to a Ruf build and it is that dedication to maintaining the refined nature of any Porsche that I think has made Ruf such a serious manufacturer and sustained its success. The example here, a 1989 Ruf RCT Evo, I think falls into that latter category of build that, for the most part, differs only subtly from the 911 from which it sprang. Under the exterior, however, lies a much more potent beast: 425 hp directed through a 6-speed manual transmission and delivered, in this case, only to the rear wheels makes for serious performance and an attention-holding driving experience. That's a good 45 hp even above the 3.6 Turbo S! A Ruf build always has been a complete work enhancing each aspect of the car's performance so, naturally, upgrades to braking and suspension are included to help keep that extra power under control. There are a few details of this RCT Evo that I would change: it doesn't possess the interesting rear light treatment we see on some RCTs, the rain rails are still present, and Mint Green, though one of the special 964 colors, has never been my favorite. Those are minor niggles (well, other than the Mint Green exterior) and entirely aesthetic so we can rest assured the performance remains top notch. All together this is a special 964 and a conversion we come across much less frequently than those for the 930.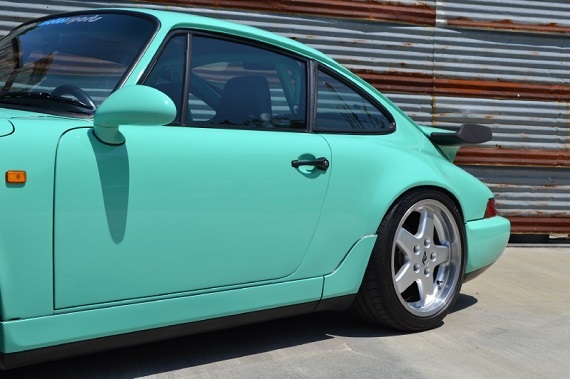 Year: 1989
Model: RCT Evo
Engine: 3.6 liter turbocharged flat-6
Transmission: 6-speed manual
Mileage: 167,310 mi
Price: $123,900 Buy It Now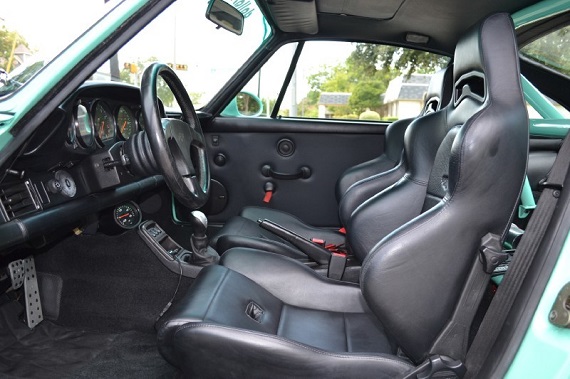 1989 Porsche 911 RUF RCT Evo 964
Dallas Motorsports is pleased to offer this unique 1989 Porsche 911 (964) RUF RCT EVO conversion done by the RUF factory in Pfaffenhausen Germany.

The RCT EVO conversion delivers 425hp through the 3.6 RUF Turbo Flat 6. This particular RCT EVO is essentially a narrow body 964 GT2 that is incredibly fast yet very civilized to drive. There are less than 10 RCT EVO conversions in North America.

Based on a Silver/Black 1989 Porsche 964 C4

Sent to RUF Factory in 1998 by Dr. Ron Forrestal for extensive RUF conversion:
RUF RCTEVO Turbo Engine Conversion (engine conversion alone currently listed at 42,840 euro on the RUF website)
RUF 6 Speed Conversion to 964 C4 5 Speed Transmission
RUF Brake Upgrade
RUF Suspension Upgrade
RUF Strut Tower Brace
RUF Steering Wheel
RUF Pedals
RS Door Panel
Porsche Turbo Tail
Porsche 993 Aero Mirrors
Rear Seat Backs Removed

Sold to Wayne Corley at RUF Auto Centre in Dallas, Texas in September 2007.

Converted to rear wheel drive with new Porsche 993 RS Transmission-G50/31 (Steel Syncros, Porsche Motorsport Limited Slip)
RUF 993 Six Speed Shift Knob
RUF 993 18" Wheels
DAS Sport Bolt In Roll Bar
Koenig Seats
6 Point Harnesses (in addition to stock 3 point seat belts)
Oil Cooler Vents in Front Bumper

Subsequent work that has been done since Wayne Corley owned the car:

Full color change repaint to Mint Green (964 factory color)
Full set of RUF Gauges
Replaced RUF 993 18" wheels with RUF 964 18" wheels
Fresh carpet
Fresh RUF Floor mats

The RCT EVO is in excellent condition and has had a major service completed within the past few months.

Some of the items covered in the most recent service include:

Valve Cover Gaskets replaced
Timing Cover Gaskets replaced
Rear Mail Seal Replaced
Full Fluid Service
Drive Belts Replaced
Clutch Accumulator Replaced and fluid flushed
Brake Accumulator Replaced and fluid flushed
Steering Rack Replaced
Full 4 Wheel Alignment
Above Service Items completed April 2015

Don't miss this opportunity to own an extremely unique piece of RUF history!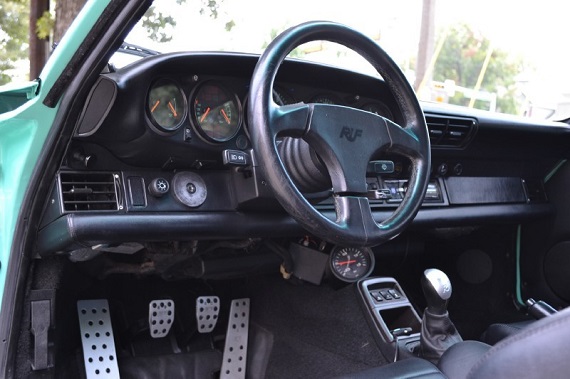 So, how much does a RCT Evo cost? There aren't very many of them so it is tough to gauge, but the general sense I have is that they haven't eclipsed $100K. Granted there isn't much data out there and as the air-cooled 911 market rises so do values of cars like this. I suspect that this price only begins to make sense if it's been put together exactly as you'd want and as you can tell from the details of the ad there was a lot of work put into this 964 to produce the full conversion. The question we must ask with regard to the asking price is how much a interested buyer would have to pay to produce his own conversion. Much depends on whether the donor 964 already is owned since purchasing it might set you back $30K-40K in itself, though we should note that probably gets you a car with fewer miles on it than this one. The RCT Evo engine kit alone will set you back €42,840 and we probably have to add half that again for the transmission, suspension, braking, and wheels. Once we then factor in the costs of the work (and time) to complete the project it becomes clear that there is no cheap path to a Ruf RCT and it wouldn't shock me at all if the total cost were higher than the asking price here. No doubt, it is a lot. There are plenty of other options out there at these prices and for many the total cost wouldn't make sense, but we must admit that at the end of the day you'd have one of the baddest air-cooled 911s on the road and for fans of the 964 it's seriously tough to beat.
-Rob