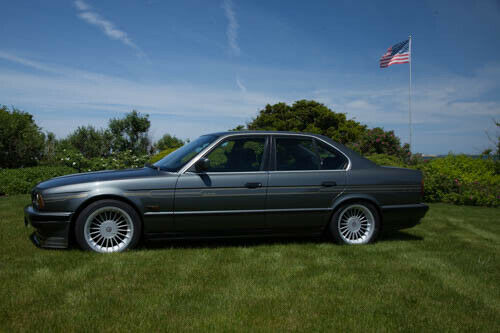 It's hard to imagine being the bottom of the totem pole at Alpina, but the 3.5/1 might just be that car. In part that's because the E34 lineup was so robust, featuring the cool 3.0 Allrad and the Learjet-channeling BiTurbo. When BMW ceased the production of the M30, V8 powered 310 and 340 horsepower 4.0 and 4.6 models replaced the inline-6. In comparison to those headliners, the 254 horsepower B10 3.5/1 seemed like an article more suited for the corner of page 2. However, consider for a moment that the B10 3.5/1's power numbers weren't too far off the contemporary super-saloon S38-powered M5 and it helps to restore some clarity to the impressiveness of the products rolling out of Buchloe. Today one of the 572 3.5/1s produced is up for sale in Massachusetts: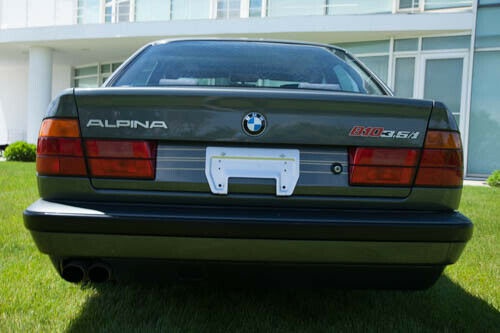 Year: 1988
Model: 3.5/1
VIN: WBAHD110602648441
Engine: 3.5 liter inline-6
Transmission: 5-speed manual
Mileage: 91,645 mi
Location: Swampscott, Massachusetts
Price: $26,000 Buy It Now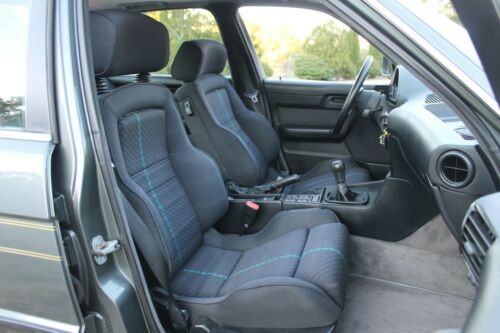 Discreet changes to the exterior, larger ones to the technology and an extremely exclusive character – these traits have always distinguished cars bearing the Alpina logo, basing on standard BMW models, but highly modified by the Buchloe-based automaker from Bavaria. In the case of the B10 3.5/1 model we are talking about just 572 units of the BMW E34 sedan with an improved engine and suspension. The powertrain with a capacity of 3.5 l received new Mahle pistons, increasing the compression ratio and power to 254 HP, the engine's control unit (ECU) was reprogrammed and a special Alpina exhaust was installed. The suspension of the B10 3.5/1 was provided by Bilstein – as always, made accordingly to Alpina's specifications. The cabin received Recaro seats and a leather Momo steering wheel. The body was equipped with pronounced spoilers, a must-have of the 80s.

This 1988 Alpina B10 3.5/1 is #0009 of 572 total produced. A very early B10, being the 9th car built. It was brought over to US from Japan in April 2015 and is in excellent condition throughout. This is a stock example with catalytic converters in place and 147,489k kilometers works out to 91,645 k original miles. This car original Buhloe build 5-speed car not a conversion. The car is both rust and accident-free with one repaint & the body panels are straight with good gaps. The Delphin Metallic signature Alpina shade with the factory 5 speed, as compared to most others being autos, is a really nice combination.

Over $3k of engine work recently spent. Correct period radio with additional aux port. Front spoiler recently resprayed, I have new gold Alpina decal. Brand new Bilstein sport shocks from Turner Motorsports just installed.

The Alpina striped interior is in great original shape & includes an original Alpina factory installed 4 spoke Momo steering wheel, Alpina gear shift knob & e-brake all stitched with signature blue & green threading.

Accompanied with official Alpina verification documentation.

These Alpinas are rarer than the M series e34, e24. Great car for Radwood…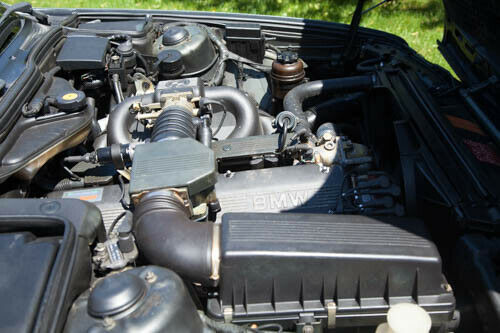 Number 009 does appear in the Alpina Archives as a Delphin with gold decor manual '88, and seems to line up with the seller's story. That's important, along with the documentation, because otherwise this car doesn't carry an Alpina VIN. It's not unusual for the Japanese-market cars, but something you definitely want to have your ducks in a row on. Outside of that and some expected wear, this one looks pretty nice overall. The market on clean E34s has definitely moved higher recently, and the ask at $26,000 will get you into a M5. But there aren't many cheaper Alpina 5s out there, and this one might be worthy of consideration even at the high asking price.
-Carter