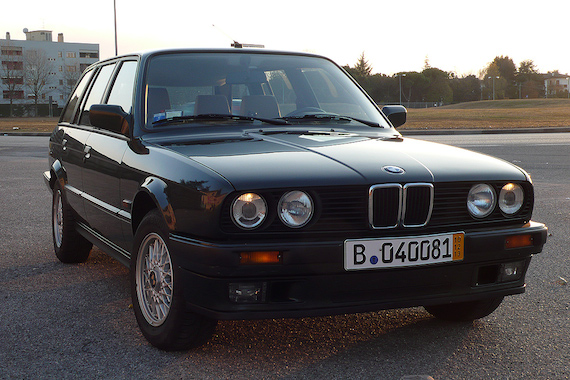 Could the Touring be the next big thing when it comes to E30s due to their rarity in the US market? Good ones seem to be disappearing fast in other markets, so if you've wanted one, your window of time is now open as the very first examples have reached the 25 year threshold for legal US importation. While Malachite Green isn't to everyone's liking, I feel it lends a decidedly posh flavor over tan leather.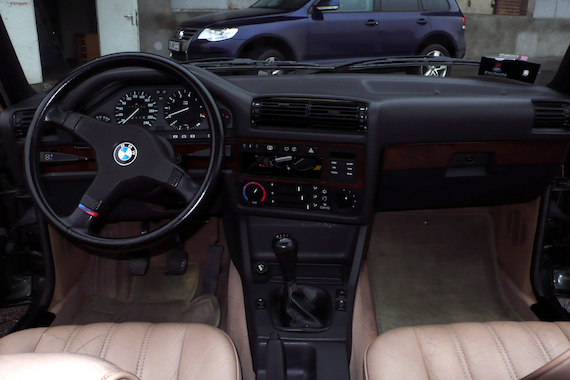 Year: 1988
Model: 320i Touring
Engine: 2.0 liter inline-6
Transmission: 5-speed manual
Mileage: 158,000 km (~ 98,000 mi)
Price: No reserve auction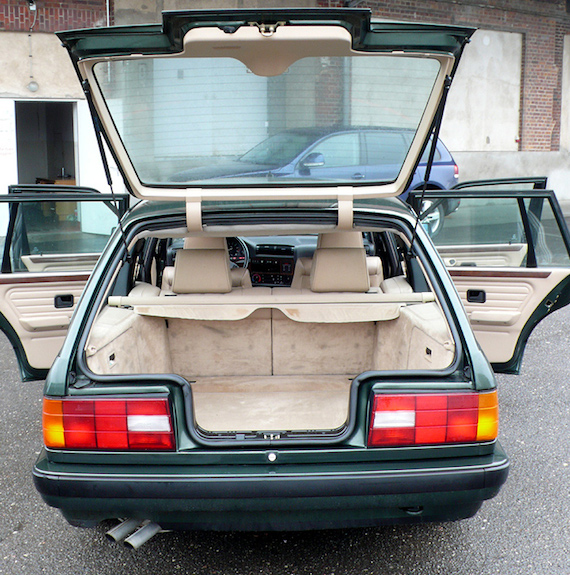 This E30 spent all its life with one owner in sunny and dry Udine, a small italian town between Venice and the alps. Manufactured in late 1988, it is subject to a classic US import with almost no customs and, being exempt of DOT and EPA, registration as is. (Ebay system does not recognize the Euro VIN after 1980, therefore it was set to 1980, sorry for that.)

It comes with a collection of more than rare features for age and location: air condition, which you almost never find due to mild european climate and the standards of the time, manual shifting, which is impossible to find together with a/c, the smooth and powerful 6 – cyl. inline gas engine, leather, rear headrests, a sound system, outdoor temperature indicator, the pretty distinguished malachitgreen and very nice cross spokes alloy wheels. Probably I forgot something… ah, of course power steering, front windows, mirrors and locks.

Morevoer, the mileage is very low with 158,000 km = 98,000 miles. This again is very hard to find, as esp. the wagons were usually workhorses calculated by the miles they can do per year. Below 100 k miles: rare. And then the condition of this BMW is even way better than these miles and age would make you think it is. Pictures tell most of it: The owner kept it like his own eyeballs.

Being in contact with friends of friends of the owner's family of Doctors, Artists and Architects, I was offered this car, since the owner stopped driving now. So I flew into Venice yesterday with my temporary plates showing a Berlin number, was picked up by a family member, driven to Udine and after a Pizza and a Cappuccino drove to Munich, where the E30 was put on the car train to Berlin, letting me sleep well during the night and arrive more than happy in the morning.

Frankly, the BMW drives like on the first day. No vibrations, clattering or rattling from neither the interior nor the undercarriage neither on cobblestones nor at the typical speeds of wheel resonances. No play in steering, clutch or shifter, any of the locks, the turn lever or whatever else you can touch. Eeverything feels and looks like two years old. Windows are clear, wipers in good shape, oil is new.

Only minus is a headliner that should see the saddler, as the glue obv. fades. More than common problem of the Touring.

Cosmetical wear is minimal. No cracks in dash, no rips in the leather. Factory paint. Not smoked in, no smells. The heating control, often nasty, works. Doors open and close like on a new car, the BMW drives and stops as straight as it looks and the smooth, silent and efficient engine likes going fast. If you still think 126 hp aren't enough, it is not a big deal to swap for the 325e, the 170 hp of a 325 or even the so-called eta conversion to 210 hp. But try it out, I don't think you will do that.

Cassette player is stowed in glove box for safety reasons on boat. Maybe you've seen ebay item 111188358875 few weeks ago for comparison. In Europe they are quickly gaining value now. (At least LHDs…) I confess, I love the BMW driving machines of the late eighties for their design, but also for their quality. These were the best years car builders had. After all a BMW that does not come again, neither in features nor in condition.

Just make yourself a decent Christmas present that you deserve! Included in the auction is trucking to German port of Bremerhaven. Boat trip, about €1,000 to Baltimore for example, is yours. I can give you advice and will walk you through the procedure, it's easy. Please send a deposit within a day by paypal and the balance as wire in USD to my bank account within a week. Thanks for that. Please place your bid in time. That is better than asking me wether the winner sent the balance. Thanks!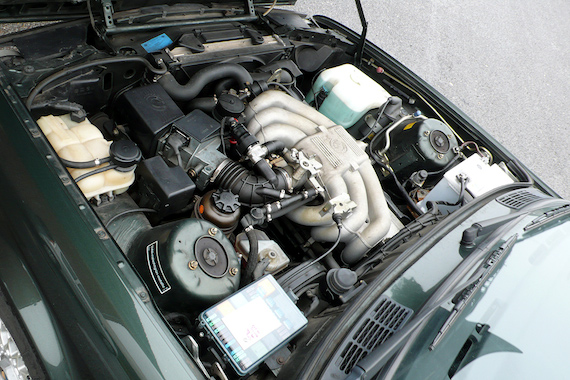 The last few E30 Tourings we've spotted for sale in the US and Canada have been fetching in the $10,000 to $14,000 range, so the staring bid on this one seems in line with the market but leaves a small amount of room to snag a good deal. I doubt this auction will end with zero bids, but how high will it go?
-Paul