One of the most popular theme weeks we've head here at GCFSB.com was "Shark Week", where we reviewed one of each iteration of the E24 chassis. People love the classic styling, the understated performance, and ability to gobble up miles on the highway, and the relatively low entry price. They're all the makings for an enjoyable classic that is affordable, too! With prices of the M models and every E30 made on the rise, these E24s are still good value. While most enthusiasts lust after the M6 and the legendary S38 powerplant, the reality is that for most of us, the less complicated and less expensive to maintain M30 found in the 635 CSi among others is a smarter option. Production ended in 1989 and these cars were lightly updated mid-88 with revised headlights and bumper covers, such as we see on this sharp white 1988 model: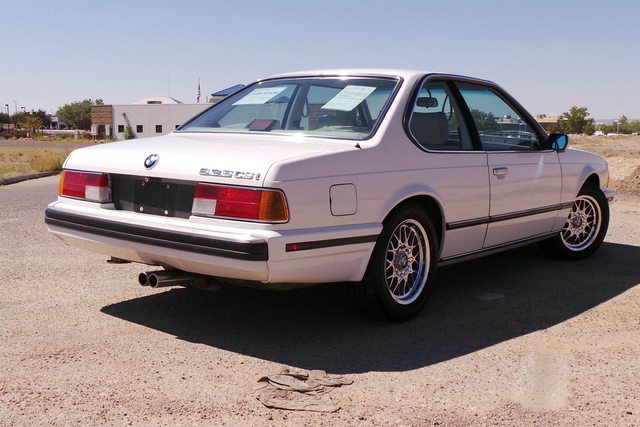 Year: 1988
Model: 635 CSi
Engine: 3.5 liter inline-6
Transmission: 5-speed manual
Mileage: 113,455 mi
Price: Reserve Auction, current bid $5,600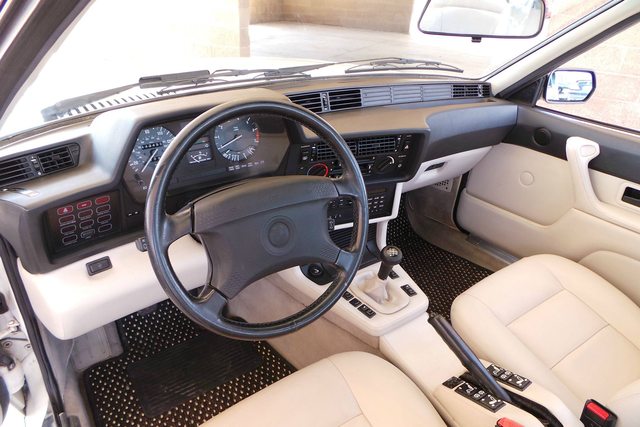 The classic "shark" or "sharknose" body style, chassis code E24, which is often heralded as the most beautiful of all vintage BMWs, had a very long production run from 1976 until 1989. Unfortunately, the 6-series cars for the United States market were crippled with significantly reduced power in addition to ugly and bulky padded bumpers up until the 1988 model which featured revised aerodynamic "world" bumpers and an engine upgrade that boosted power up to match the European specification car. These revised and very desireable post 1988 cars were then discontinued the very next year in 1989 and virtually all the cars imported to the US were optioned with the Automatic Transmission. This car has the best and rarest possible combination, the final body style, final upgraded engine, Manual Transmission, nearly all factory options, a full service history including original manuals and window sticker, we believe this car to be in original condition and completely unmolested. The only non-original parts on the car are 16″ authentic BBS wheels, replacing the stock TRX wheels which are no longer viable (the TRX specification tires are no longer in production).

Originally purchased in Hollywood California by a BMW collector who used it as his driver before passing it on to another BMW collector in New Mexico, this car has been in the best of hands its whole life from new. Of the 47 Alpine White 635csi's with the Lotus White leather interior, only 11 of these cars had manual transmissions. This may be the only surviving one, and it is in pristine condition, with only minor flaws which I will note in detail. Being a Southwestern car, it has absolutely no body rust of any kind, the underbody coating is completely intact.

1988 BMW 635CSi, Alpine White over Lotus White
– Full leather interior, all seats, center console, headliner, door cards and handles, dash underside, rear speaker shelf leather wrapped
– Power seats with 3 position memory, power sunroof, power windows, cruise control
– Cold air conditioning (I do not know whether it is R12 or R134, but it works!)
– M30B35 3.5L Straight 6-cylinder engine with Motronic Fuel Injection, 221HP and 225LB-FT Torque
– Getrag 260 5-speed Manual Transmission
– Original BMW stereo, speakers, power antenna fully functioning, even BMW tape deck cleaner
– All features, lights, buttons, inside and out are fully functioning properly
– Heavy duty floormats
– BBS chrome 16″ wheels with nice 225/55/16 tires
– Rear air conditioning and drink cooler works great
– Suspension has been updated with Bilstein shock absorbers

This car runs and drives like you would expect it to as new in 1988, it runs nice and smooth, the engine purrs and pulls hard to redline, the suspension soaks up road imperfections as it should in a world-class touring car.

Noted Imperfections:
– Very small clearcoat loss (about quarter sized) driver's side fender near base of windshield
– Shift knob is loose
– Scuffed paint on driver's side front fender top edge
– Trunk can get stuck if opened too far
– Driver's side interior door handle shows slight wear and is pulling away from door card slightly
– Center console leather has two small imperfections
– There are a two slight depressions in the roof, and one in the hood, very hard to see unless you look, easy to correct
– The exhaust has a broken hangar and the muffler is somewhat rusty, it does not leak
– A metal bracket attached to the front driver's side frame rail, that appears to be an attachment point for an engine undertray is bent
– Rubber seals around outer door handles need replacement
– I cannot discern whether the memory function on the power seats work, all power functions work great however
– Slight scuff on driver's side rear bumper

Contact:
My name is Ian, and I am here to help you with your purchase. Do you have any questions about the vehicle? Call my direct line at (505) 449-1316 or email me at iriela@powerfordnm.com.

This sales account is brand new, and as such we realize that we have yet to build up a large background of positive reviews on eBay. Our sales team is well versed in eBay auctions however, and we will treat all bidders with the same care and respect we treat all our customers at Power Ford. Please feel free to contact us, we are here to address your concerns and provide you with customer service that is second to none!

I have a complete album with 100 pictures including underbody and all detail shots of imperfections in this web album: Photo Album. Listed below are some pictures of the car as it is right now. Some minor defects in the white paint were too difficult for the camera to pick up and are hard to detect even by human eye and shots are not included.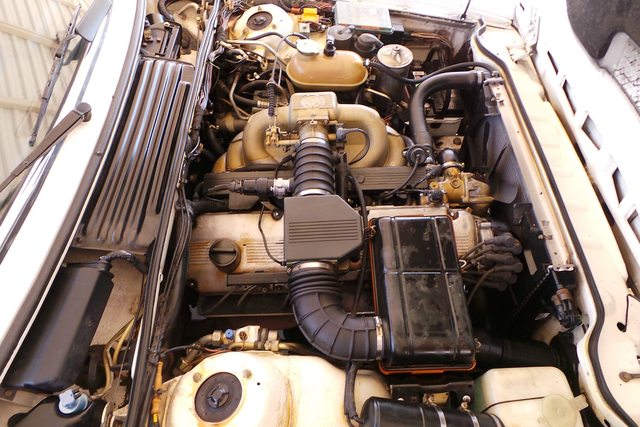 For a dealer, this car seems to be very honestly presented, which if you follow auctions is fairly remarkable. The seller notes the small details that are imperfections on the car, and seems to actually know what it is, too – a bit of a rarity. As the seller notes, the later cars are hard to find with a manual transmission. This car has the extended leather option like the M cars, and it looks to be in fantastic condition. Also rare for an Ebay dealer are all of the records which come with the car, making this the one to look at seriously. Downside? Well, the 528i spec wheels in chrome fit the Hollywood origins, but not the car. That said, wheels are a pretty easy fix and generally an individual item anyway, and while I'm not a fan of those wheels on this car it certainly wouldn't stop the sale for me.
Values of these 6s have been all over the map as of late – some M6s pushing $20,000 plus for nice examples, but some 635s failing to sell well under $10,000. As the last of the breed and equipped with a manual condition, with all records and in good condition, this is the most valuable of the non-M models currently, and I would expect it to be priced between $10,000 – $12,000 depending on interest. I do hope that this dealer receives positive feedback for their ad print as I really think they advertised the car the way we all like to see it. It's hard to believe, but in most states around me, this car could be registered as an antique and enjoyed on the weekends and at shows – rather than purchase an older car that has more needs, this might be a smart way to have a great looking and reliable weekender!
-Carter