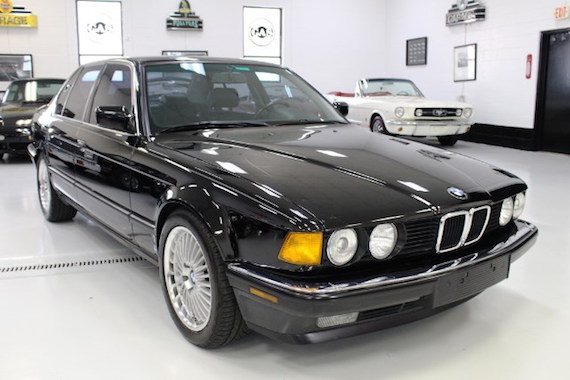 BMW introduced the E32 generation 7-series in 1987. The car's design was a successful blend of the old and the new. Traditional styling cues – the four headlights, square kidneys and angular lines – kept the car looking fairly restrained and clearly part of the BMW stable. But it was also eminently more modern-looking than its main competitor, the W126 chassis S-class. And perhaps a bit less stately too. If the Mercedes was a car for high level officials and diplomats, the BMW was a car for the young, new titans of the 80s and 90s; Wall Street bankers, lawyers and real estate tycoons. Both cars still look good today, and each can give even the most budget-conscious, contemporary owner a frisson of ultra luxury, albeit 30 years after the fact. But there are hardly any E32s left on the road these days. Whether because of finicky electronics, poor paint and interior materials or just wayward owners who didn't care for them as they should have, most have been left to rot in junkyards. This makes this low mileage, nicely specified car an attractive proposition.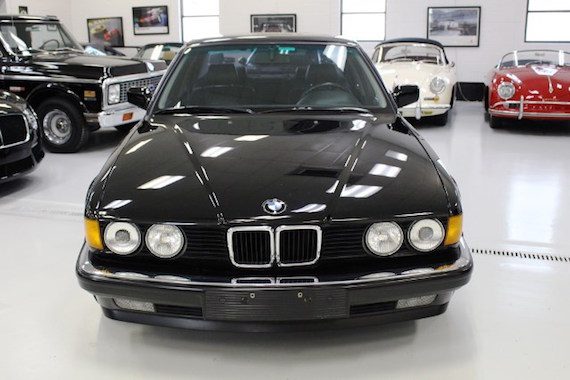 Year: 1988
Model: 735i
Engine: 3.4 liter inline-6
Transmission: 5-speed manual
Mileage: 83,918 mi
Price: $9,995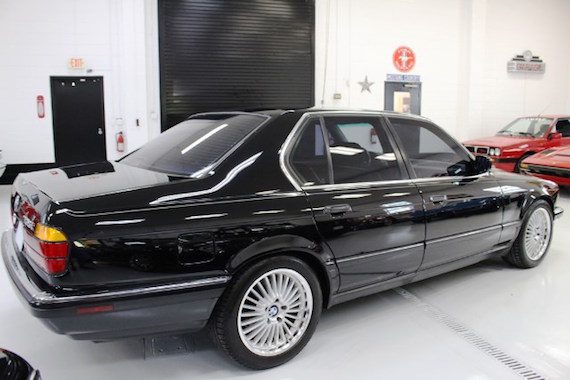 EXTREMELY RARE 5 SPEED MANUAL. 3 OWNER CAR WITH EXTENSIVE SERVICE HISTORY. EXCELLENT CONDITOIN. BMW CCA MEMBER OWNED. JUST SERVICED. STUNNING JET BLACK PAINT OVER BLACK LEATHER. LESS THAN 3K MILES PER YEAR WERE PUT ON THIS RARE BMW. ONLY 83K MILES SINCE NEW. RUNS AND DRIVES OUTSTADING. RECENT INSPECTOIN. NO KNOWN ISSUES. GAS MOTORCARS INC IS A FAMILY OWNED AND OPERATED DEALERSHIP LOCATED IN MARIETTA GA. WE ONLY SELL VEHICLES OF THE HIGHEST QUALITY. Visit Gas Motorcars online at www.gasmotorcars.com to see more pictures of this vehicle or call us at 770-455-8494 today to schedule your test drive.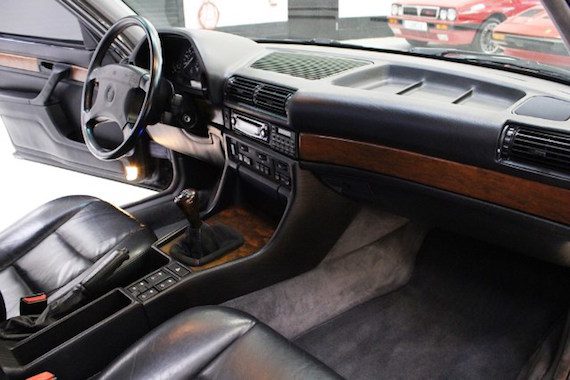 Not only does this black on black car appear to be in supernaturally excellent shape (for an 80s BMW), it marries a 5 speed manual gearbox to the celebrated 3.5 (actually 3.4) liter M30 engine, an unusual and quite desirable combination. This is one of the few motors in BMW's history that rivals those from Mercedes in terms of reliability. While not a terribly powerful unit, especially for a car this size (it makes about 208 hp), the manual transmission helps give this 7-series a slightly more sporting character than one might expect. The car is said to run and drive properly with a recent servicing having been completed. The exterior is set off nicely by a set of aftermarket wheels; they appear to be Beyern Multispokes, although I'm not 100% sure. I'm not usually a fan of newer wheels on older cars, but I could live with these. If given the choice, I'd probably throw on a set of period correct basket-weaves.
A google of the VIN reveals a blog post dating from 2014 in which the car was listed for sale by the son of the first owner. It's not clear how many owners it's had since then, but the post reveals some service history that suggest the car was very well cared for early in its life. This would explain the excellent condition on show here. Back then, with even fewer miles on the odometer, the car was offered for $6,200 – a very good price, I must say. It's not clear to me that there has been any surge in the market for E32s that would justify the bump in price to $10k. I think the seller is going to have to come down a bit to shift this car, nice though it is.
– Craig