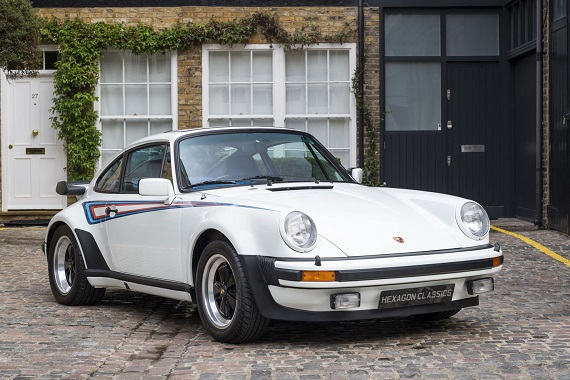 Martini's sponsorship is fairly well known in racing circles and the connection to Porsche has been solidified for decades. Naturally, Martini cosmetic packages have been around nearly as long. While mostly used by racers who desired a more bonafide appearance for their track cars, the graphics packages available from Porsche found their way to street cars as well. We've seen them on the 911SC and the 924. In some cases, if you had a chance to step inside one of those machines you might come across something truly special: a Martini package that included an interior treatment. These are wild and certainly not for the faint of heart. The most sought after of all were the packages applied to the 930. How many were there? The numbers don't seem certain as I've seen suggestions ranging from three total all the way up to eight! As you can tell, regardless of the numbers there were very few of these genuine 930 Martini packages produced. The car we see here, a 1978 Porsche 930, purports to be one of those few. Whether it is can be hard to know for sure and we aren't offered a lot here to validate those claims other than the reputation of a dealer that tends to traffic in some very high caliber vehicles. If it is the real deal, then this 930 not only should make for a wonderful edition to any Porsche collection, but it will also be quite valuable.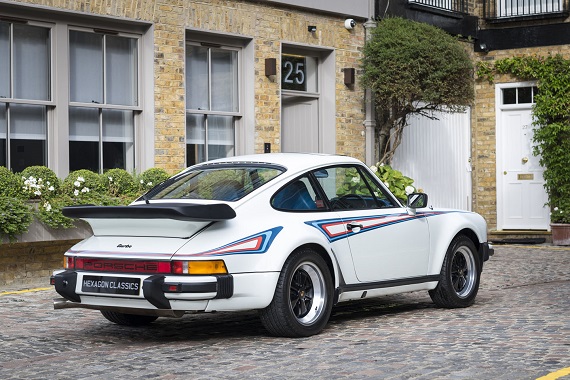 Year: 1978
Model: 911 Turbo
Engine: 3.3 liter turbocharged flat-6
Transmission: 4-speed manual
Mileage: 100,846 mi
Price: Inquire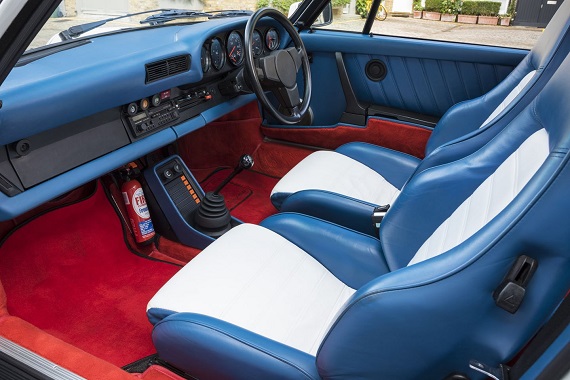 Porsche 911 Turbo 3.3 Martini (1978)

Right Hand Drive: UK Supplied: Original Factory Supplied "Martini Specification"
Fully Documented Historical Chassis File from New
Bring on the flared trousers, big hair and gaudy furniture! Nothing about the Seventies was subtle – and the 911 followed the trend. As early as 1972, Porsche was using turbocharging technology in its race cars, developing incredible 1,100bhp competition monsters for the Can Am Challenge Cup series in North America. That year, the marque took three out of the top four places, followed by five out of the top six the next season. Inevitably, turbocharged road models were soon turning track wins into showroom sales.

Conceived as the flagship of the 911 range, the first Turbo went on sale in 1974. The '930', as it was referred to within Porsche AG, had a completely reworked 3.0-litre flat-six engine. Before long, the car became infamous for its exhilarating acceleration, challenging handling and extreme turbo lag. That didn't stop it being a success, however, and buyers clamoured to have the Turbo badge on the back of their 911.

As its popularity continued, the model was developed further. In 1978, engine capacity rose to 3.3 litres and power was boosted by 40bhp to 300bhp. The increase in power and torque helped to offset the weight gained by the additional standard and optional equipment added to the revised model, in keeping with its luxury status. The most obvious difference between the 3.3 and the 3.0 models is in the aerodynamic tail spoiler. On the 3.0 model it is a relatively flat, rubber lipped 'whale tail', whilst on the 3.3 model, the rubber lip edges are curved significantly upwards, leading to it being referred to as a 'tea tray' rear wing. For 1978, the engine was moved 30mm further back to improve weight distribution and handling, but the four-speed gearbox remained unaltered, this true Seventies supercar was in a league of its own.

The Martini connection was not the first car from Stuttgart to adopt the name, after the drinks brand started sponsoring Porsche race teams in a partnership that proved enormously successful. These particular 911 Turbo 3.3-litre Martini examples built in 1978 celebrated this relationship.

Martini's colours were white, red and blue, which is why there are stripes on the outside and a bright cabin trim in the same colours. However, all Turbo interiors placed the emphasis on luxury rather than race-inspired minimalism, a tradition that continues to this day.

Our ultra-rare 930 Turbo Martini was supplies new on the 25th January 1978 by the official Porsche Centre, Malaya Garages of Billinghurst, Sussex to J.E Baty & Co. Ltd of Burgess Hill, Sussex. The historical records show only 6 additional keepers since new!

In 2005 the Porsche commenced its "complete and detailed" restoration and both pictorial and works invoices are presented in the cars large historical chassis file, which includes:

Original Hand Book Pack and Drivers Manual /Maintenance Record
Service History from New!
MOT Certificates from 1984
Historical Road Tax Certificates from 1985
Original Tool Roll and Jack
Original Air Compressor
Martini Car Cover
This magnificent original Martini 930 Turbo presents in concours condition with a complete documented mileage record of 100,846 miles from new and seven recorded keepers.

A rare and unique opportunity to acquire one of the most sought after 911 Turbo's of all time!

Available now for the closest inspection at our South Kensington showrooms.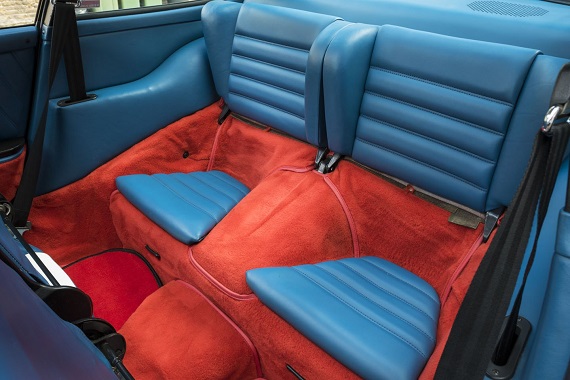 When I first came across this 930 it wasn't through Hexagon's site so all of the pictures weren't readily visible. As I scrolled through them enjoying the excellent lines of the Martini stripes I suddenly came to the first interior picture and nearly shouted! Blown away. I won't say it was entirely in a good way – this interior is kind of crazy, as any of the Martini cars are – but I soon began to laugh at the audacity of it. It's something else. The big question though, is it real? My hesitation is that the only other example I've seen of these (and granted there are few comparisons available) had different style seats. Very different. It had Fuhrmann seats with the middle sections in both blue and red. They are actually even more crazy looking than the example here, which kind of look like the standard 930 seats redone in blue and white. I'm not intending to cast aspersions upon the validity of this 930, especially given that other Martini interiors I've seen, though not on a 930, have each been different, but it raises questions and the authenticity of this as a Martini spec'd 930 is so important. That any prospective buyer will do his homework is a given so there's little to worry about there. The questions just need to be raised. Outside of that, it looks in great shape! This 930 has even seen a good number of miles as it's traveled just over 100K over its life. That's still not a lot of miles per year, but given the potential rarity of such a car we can definitely consider it to have been enjoyed. In the end, I hope it's the real deal, but it is still quite a treat to come across even if it's one that someone put together after the fact.
-Rob