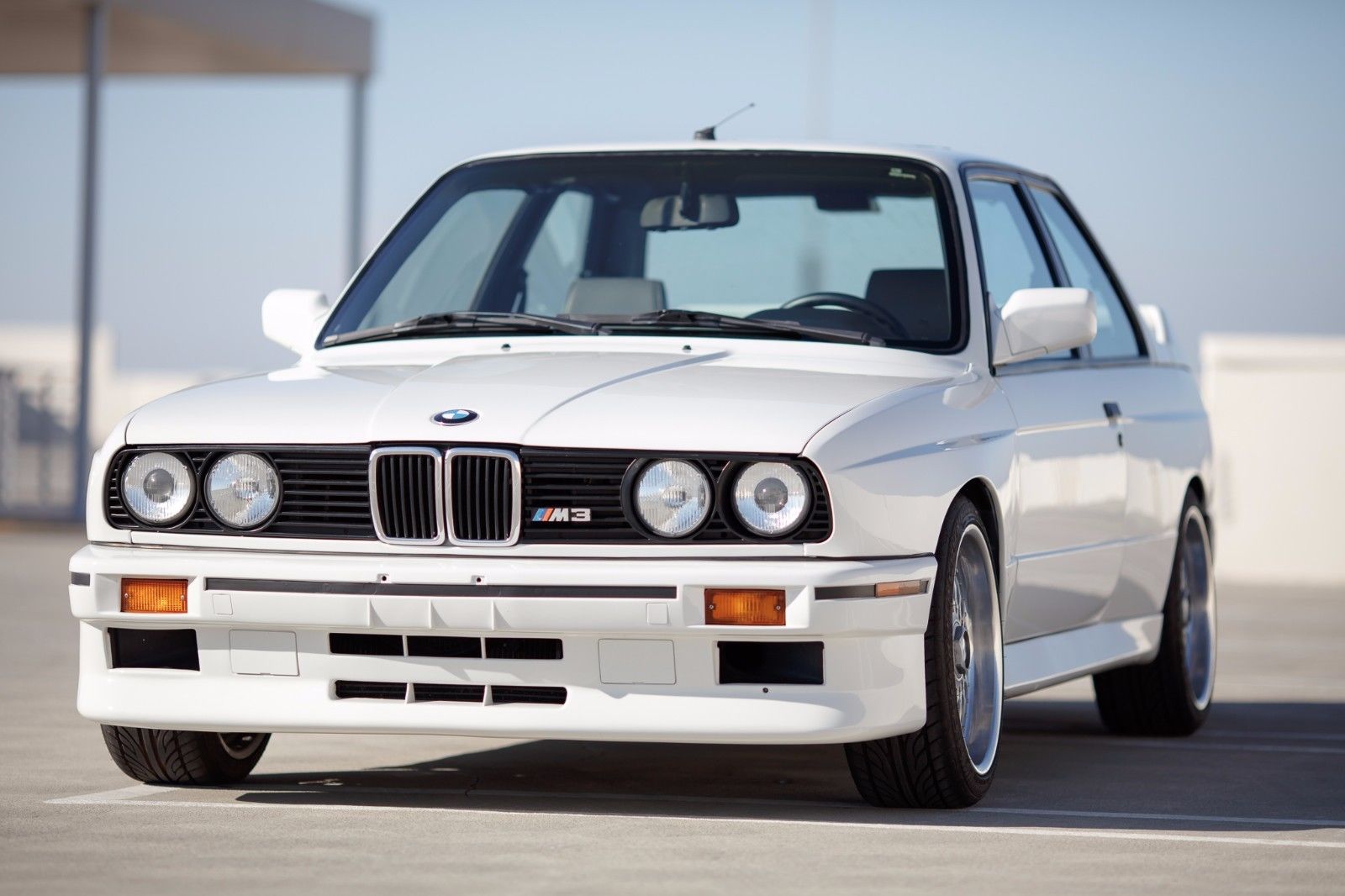 It's only been a little over a week since I last looked at an E30 M3. A 297,000 mile example with extensive rebuild work, it brushed up against $40,000 in bidding in the no reserve auction.
Clearly, M3 mania hasn't died down all that much.
Sellers have taken note; at any given time, there are a plethora of E30 M3s available on the market. Today's search yielded no less than eight examples on eBay; average asking price? About $64,000. But that's nothing compared to the nine that Enthusiast Auto Group have, including no less than five Sport Evolutions. If you have to ask….
But not many sellers are laying it out on the line. If the market really is plum crazy for these cars, why are more people not rolling the dice and taking market value? For example, if a nearly 300,000 mile example hits the best part of $40,000, what would a much lower mile example bring?
We're about to find out.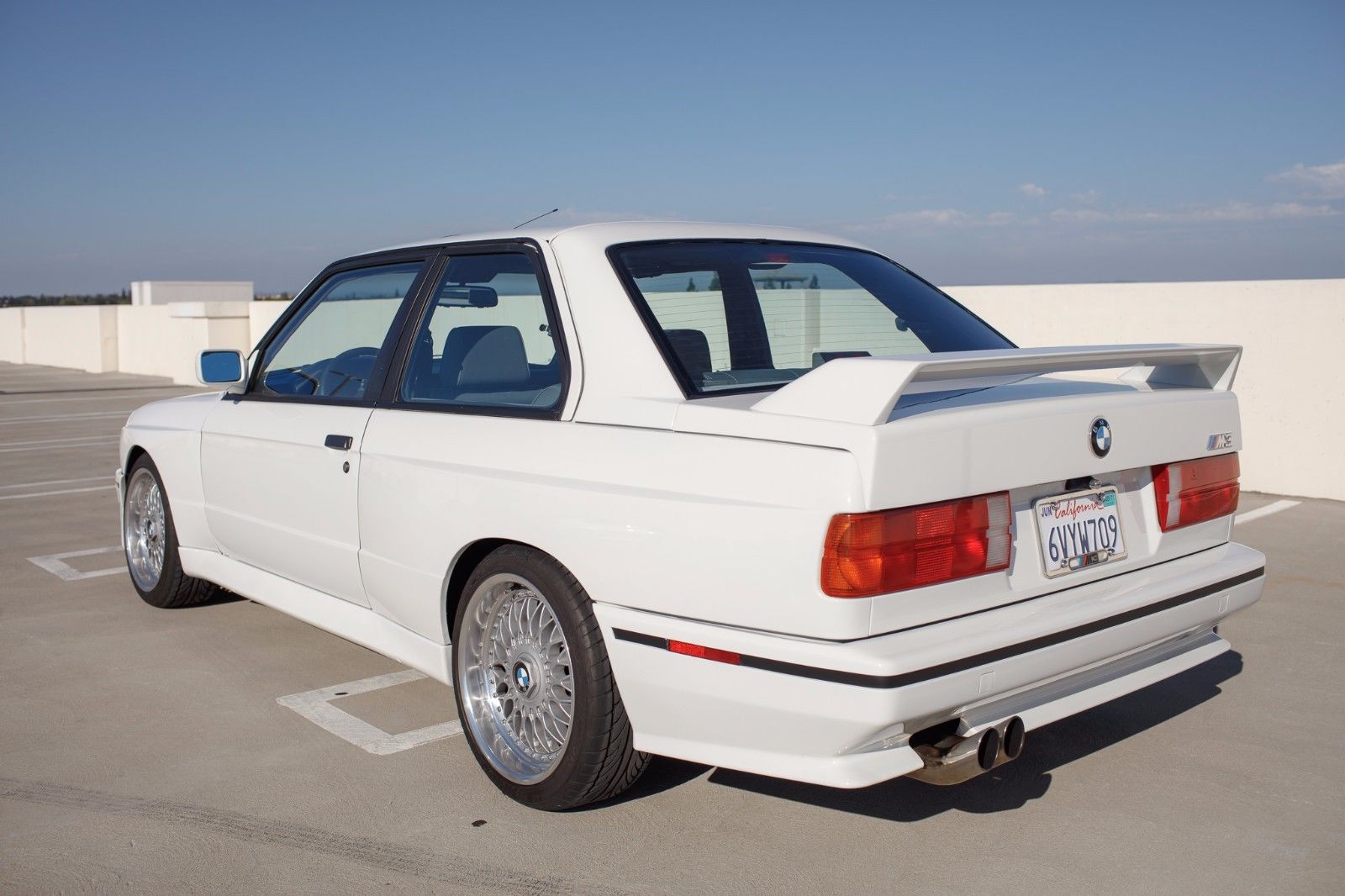 Year: 1988
Model: M3
Engine: 2.3 liter inline-4
Transmission: 5-speed manual
Mileage: ~93,000 mi (TMU)
Price: No Reserve Auction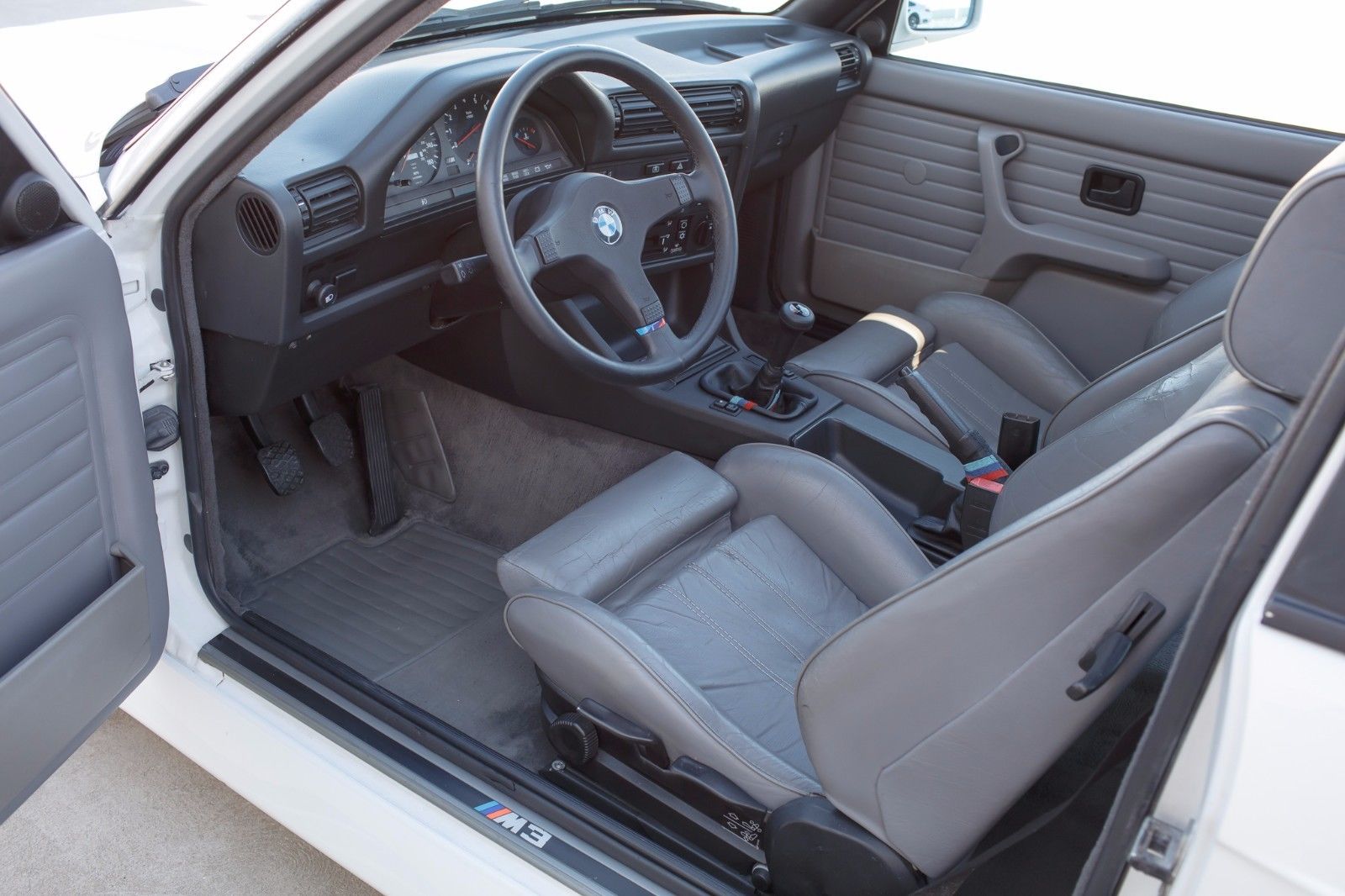 For Sale: 1988 BMW E30 M3 Alpine White
Title: Clean Title
Mileage: 56,267
Engine: 2.3L
Transmission: 5-Speed Manual
VIN#WBSAK0308J2197387
Exceptionally well maintained and prepared
https://drive.google.com/drive/u/0/mobile/folders/0BwG1Vc4cHVMra01QTS1xSFhEanM

Selling my E30 M3 which is in SUPER clean condition. Runs and drives Great. Engine pulls very strong and it runs like new. It has been a CALIFORNIA car. RUST FREE. Interior is super clean condition as well. BBS wheels currently on the car and I have the Original set as well, which will be included.

– Complete service records and receipts, with the cars VIN#. THICK stack of paperwork. All records of maintenance and work done since day one.
All original books and manuals are included along with 3 keys for the car.

– All power electronics work perfectly, windows, sunroof, etc..

Engine:
2.3L S14 with ~25,000 miles on the Top and bottom end rebuild with all receipts
Compression and Leakdown shows perfect numbers in PPI
Car will pass California Smog and Inspection without issue
Turner Chip
Recent Catalytic Converter Replacement
Electric Fan
Supersprint Exhaust

Drivetrain:
Metric Mechanic Limited Slip Differential with 40% Lockup ($2K alone)
Finned Z3M diff Cover
Turner Street Short Shift Kit
5 speed Getrag 265 performs Flawlessly
Sachs Clutch engages smoothly and holds

Suspension:
Everything is Turner motorsort unless otherwise noted
J Stock Springs
Bilsteins with J stock matched valving
Aluminum Rear Shock tower mounts
Kmac Camber Plates
Front subframe weld in reinforcements
Rear subframe adjustable camber- Kmac
22/19mm Swaybars
Strut Brace
Turner Swaybar endlinks
Aluminum evo e30 M3 Front Control Arms (more recent replacement)

Braking:
Track Pads
Turner Motorsport DOT Legal SS Brake Lines
All new Hard Lines installed along with Master Cyl etc. Complete restored system
Turner Motorsport Backing plates and brake ducting for heat management

Mileage:
I can provide full documentation to support all mileage stated here.
True Chassis mileage: 93k
Mileage on full rebuild, all moving and wear parts replaced down to the gas tank, all rubber under the car etc etc etc. 25K
Odometer shows 51,000 as cluster was replaced with a different one during the build.
The original cluster showed 68,108 upon removal in 2001 shown on purchase documents and the new cluster installed showed 25,569. The car has accumulated 25,000 since 2001. So 68K+25k=93k chassis miles. The new cluster matches mileage recorded on all government documents from 2001 on. Carfax shows a mileage discrepancy from a reading on the original cluster back in 1998 vs later readings as software is confused by the cluster swap.

Interior:
Completely Serviced and Rebuilt Cluster to prepare for sale
Full stock black headliner
Grey carpet
Uncracked dash
Stock Stereo
stock steering Wheel with Quick release hub

Wheels and tires:
Track: 15x 8 Kosei K1 with 225/50r15 Kumho V710 DOT Slicks with minimal wear
Street: Borbet Type B 15×7 with 205/55r15
Tire Rack Tire Totes
BBS Style 5 oem set
Oem 15 inch M3 stock wheels will be also included

-Custom fit Car Cover will be included in the sale
-A/C compressor missing

I do not really want to sell this car, but if I get the price that I am looking for I will sell it. I originally bought it as a collectors car and was planning on keeping it but some plans have changed.

Please check out all the recent pictures of the car below.

Car is sold as is with no warranty.
If you have any questions, please email me through ebay. Thank you
All pictures up to date and were taken same day listing was posted, what you see is what you get.
If i get reasonable offer then I can end bidding early.
Serious bidders only please!

On Sep-06-17 at 12:57:12 PDT, seller added the following information:

AUTO CHECK AVAILABLE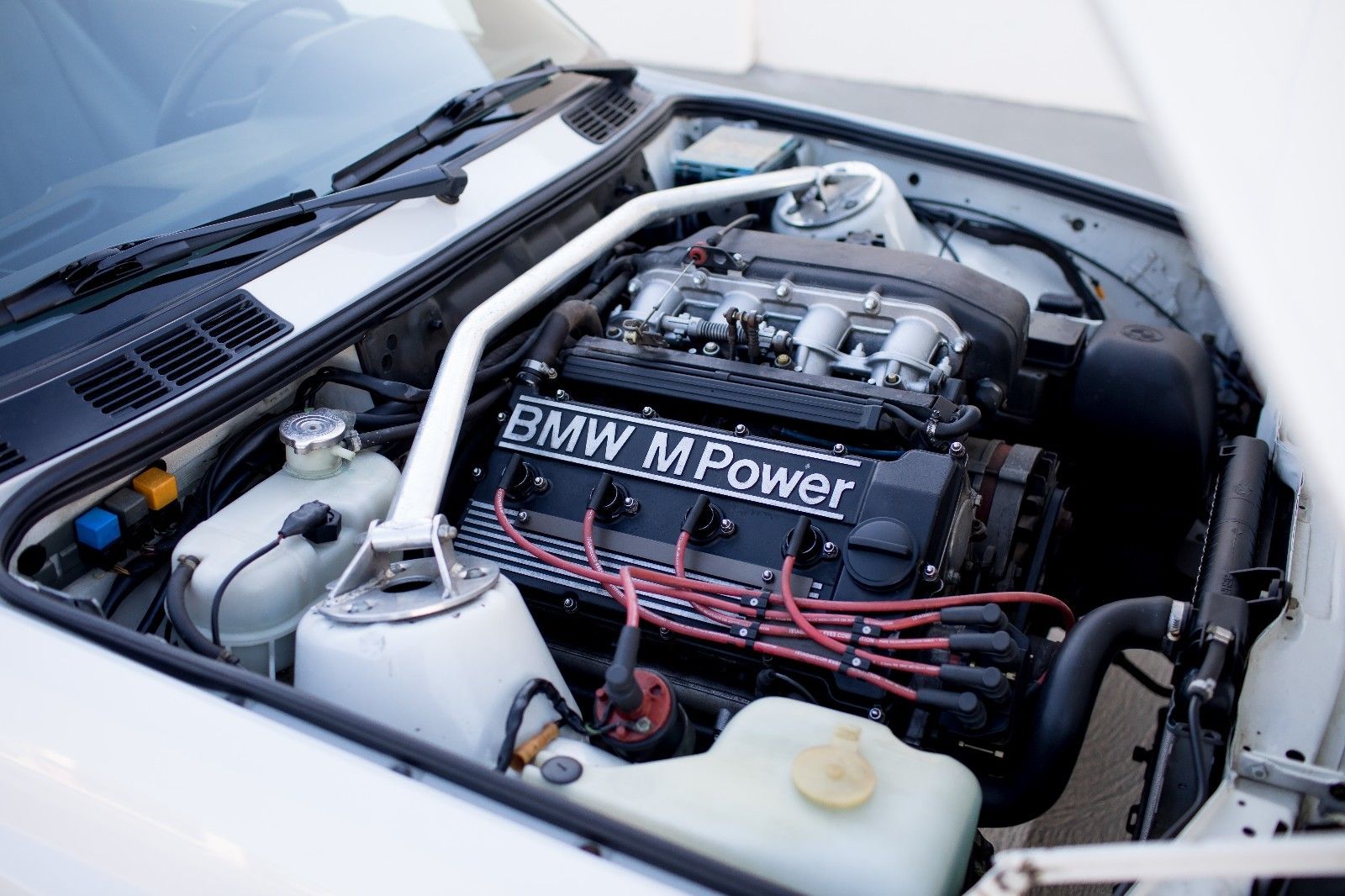 Unlike the prior example that retained most of the stock configuration, this one is pretty heavily modified. However most of the items added on are high quality units that both enhance the driving experience and for most the look of the M3, while simultaneously being fairly easily reversible. The Alpine White (presumably, we'll get to that in a moment) paint works well with the gray interior and the presentation is good. The car comes with multiple sets of wheels, documentation of an engine rebuild and all maintenance, as well as a pretty thorough set of photographs both above and below the skin. What's not to like?
Well, there are problems. First, some will worry about what seems to be a track history of the car. The car wears several track-specific items, but the seller doesn't disclose how often or what mileage was accrued on the track. That the motor was rebuilt at what is claimed to be a pretty low mileage might be an indication, though. Second is the mileage discrepancy; the car is listed with all sorts of different mileage, and the sellers logic and the number of different mileage numbers thrown into the listing are confusing, both to a potential buyer and also, apparently, to government authorities. Further concerning in this regard is the VIN which is supplied. The seller states, but does not type in nor show a photo for, VIN WBSAK0308J2197387. Running the last seven digits for that number produced WBSAK0300J2197387. What appears to be a simple transposition error (0 and 8 are easily mistaken) becomes more worrying when you view the actual results, which claim this chassis is a Diamantshwarz Metallic (181) over Black (0203) leather. After viewing this, I went back to find any other indications that the VIN pull was wrong, but further worrying is that the seller then shows no further VIN tags on panels, the VIN itself and the car is missing its original color sticker from the shock housing.
Perhaps these things don't make you raise your eyebrows, but for me they surely do. This car could easily have been a BMWCCA J-Stock racer, for example, and it could have been hit on track. If it wasn't an insurance job, the accident would not have been reported. This theory could go a long way towards explaining the odometer, color change and modifications. On the other hand, it could just be a series of accidents that are easily explained away, but the combination of circumstances here makes me wonder mightily what exactly is going on. To then say that Autocheck is available but not enter the VIN to allow it through the site is even more puzzling. Clearly, research is required as to why these items are off to ensure the value of the car.
Bidding has not been as active on this no reserve auction, so perhaps others have similar concerns. Four bids have reached $31,400 so far at time of writing, but the last example shot up quickly at the end of the auction. Despite my concerns (which are perhaps unfounded, it should be noted), I believe it's quite likely the value of this non-original example will eclipse the stock but high mileage '90.
-Carter