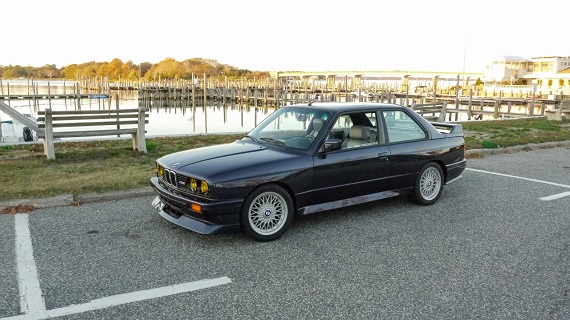 Seller boisterousness and bravado is always a thing which interests me, and its something which comes out in droves when we're talking about rare cars. In the U.S. market, many people consider the M3 to be rare, though it's very far from being the most rare M product from the 1980s and it's not hard to find multiple good examples for sale any day of the week. But rare does describe the limited edition models of the E30 M3. In total, 7 different limited edition models were produced. The best known are the Evolution series, but there were others that did not get the performance boost of the Evo models. One such example was the Europameister model shown here. They were built to celebrate Roberto Ravaglia's successful seasons in both the European Touring Car Championship. Painted only Macao Blue Metallic with Silver Nappa leather, they were effectively loaded luxury versions of the normal M3. With only 148 produced, they're indeed quite rare to see – especially stateside: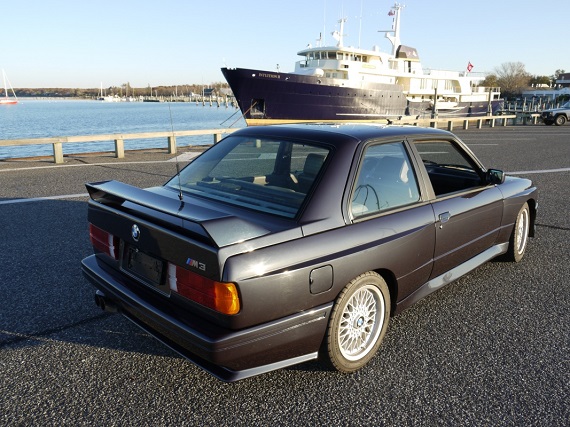 Year: 1988
Model: M3 Europameister
Engine: 2.3 liter inline-4
Transmission: 5-speed manual
Mileage: 28,355 mi
Price: $105,000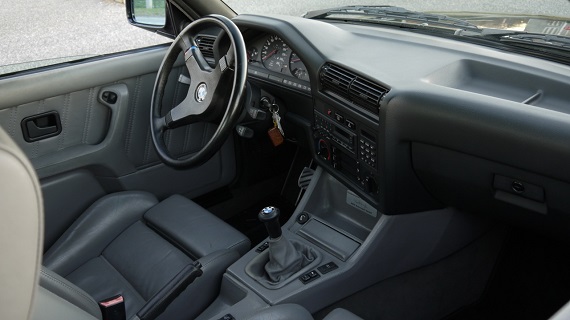 1 of 148 units made, the rarest M3 variant. This is the only 1 in the US!

BMW celebrated the dominance of its E30 M3 in the 1988 Touring Car season with a limited run of 148 "Europameister" edition road cars built from October through December of that year. Based on the regular production M3 with the 195-hp catalyst-equipped S14 2.3L engine. Each was painted Macao Blue metallic (250) and most were equipped with a Silver Nappa leather interior with hide covering the center console and special diagonally-pleated door panels, plus M-stripe lapels on all four seats. A complete Silver Nappa leather interior (including the entire dashboard, glovebox door and steering wheel) was offered as a rare (and expensive) option. In addition, the Europameister interior included door sill plates with the M3 insignia and an M foot rest for the driver. A special plaque on the center console read "Europameister 1988 auf BMW M3″ and was signed by driver Roberto Ravaglia. Most examples of the Europeameister were heavily optioned, though additional standard equipment over the normal M3 included only the 7.5×16-inch alloy wheels, green-tinted windshield stripe and power windows.

The Exterior has been repainted in it's original Macau Blue. No dings, dents, scratches or rock chips present. There was damage from original owner to the passenger rear quarter panel which expertly repaired using the original panel and paint.

Original 16" alloy wheels wrapped in brand new Toyo Proxes 225/45 ZR16 on the front and 225/45 ZR16 on the rear.

The Silver Nappa leather interior is original and supple showing no sign of wear. The headliner, carpeting, dash are all in original condition.

Fully serviced with brand new brakes (the last set from the factory) and new tires Toyo Proxy R1R.

This car looks and drives amazingly!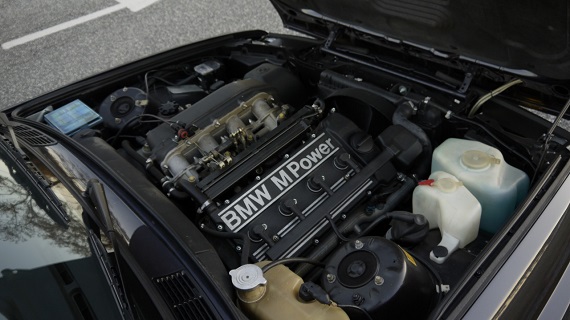 I'm guessing that the seller doesn't frequent these pages, because if they did they'd learn a few things – like, for example, that we featured a Europameister last fall with 17,000 miles. That particular car hammered on eBay for a staggering $86,100. That's big money for any M3, but there were several non-original items, disclosed damage and a full repaint which made it seem even dearer. The seller in that particular sale claimed the car was worth $125,000 given its rarity, but that didn't really seem to flush out. One other thing the seller would have learned is that the Europameister edition is not the rarest; despite their complete borrowing of the M Registry description of the car, they missed that the Tour de Course was limited to only 50 models. Regardless, it's a rare M3 to find, and was claimed to be the only one in the U.S..
Yet, here we are again with another? Well, not so fast. The description is eerily similar to the original. The VIN isn't listed so I can't confirm it's the same car, but it seems as though it may be. What is particularly interesting to me, though, is not that the asking price is up from the $86,100 sale last fall to a $105,000 ask this year. There were some notable record sales of E30 M3s recently including one that crested $100,000 – but it was a completely original 10,000 mile model. What is more interesting to me is that the mileage is up – substantially – from last year. Now listed as 45,601 km, has someone really driven this collectable M3 11,000 miles in 12 months? I suppose it's possible, but boy does it seem unlikely. Something is amiss with this car – did it really sell for the $86,100 reported last fall, or was it a non-sale? With 50 bids, it would seem that there were many people interested in getting this one, so you'd assume that the seller had plenty of second chance offers. My guess, though, is that they've misreported the miles and are holding out for over $100,000 again with a lazy listing – which, to me, still seems quite optimistic at this time for this repaired and non-original model now matter how rare it is.
-Carter