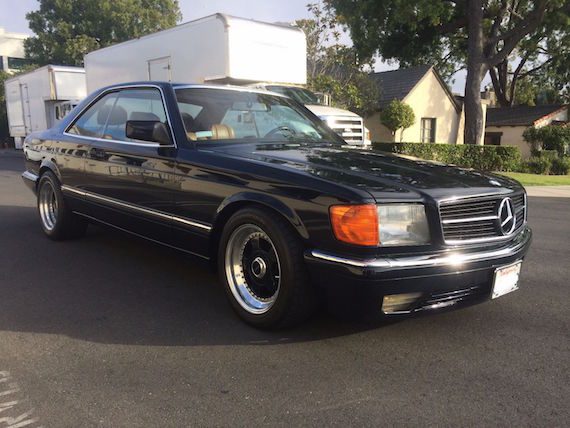 Mercedes's C126 coupe first appeared in 1981 and remained in production until 1991. Derived from the W126 platform SE/SEL, the SEC combines the stately grace of the S-class sedan with the sportiness and elegance of a long, pillar-less coupe. These cars still look special today, especially with all the windows down, looking low and mean. The examples that usually catch my eye are either bone stock and completely original, or outrageously modified cars like the AMG wide-bodies which, when they do come to market, are usually priced at a couple of hundred grand. Today's car, which is mostly stock but has been gently modified with some Euro and Lorinser accessories, represents a nice balance between the two.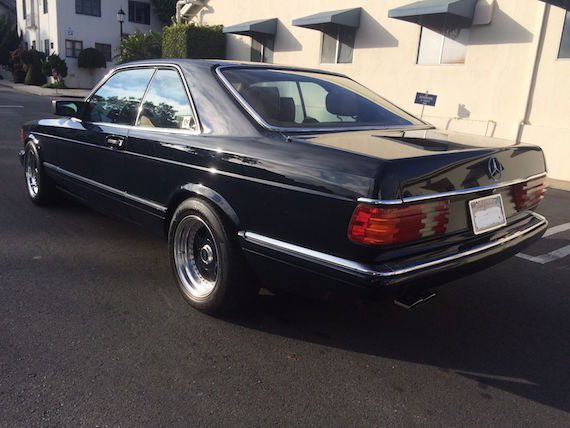 Year: 1988
Model: 560SEC
Engine: 5.6 liter V8
Transmission: 4-speed automatic
Mileage: 76,838 mi
Price: No reserve auction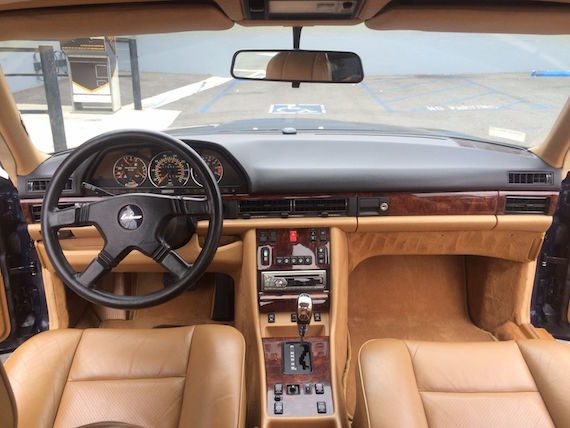 1988 Mercedes 560SEC – Show-winner with Euro and Lorinser Add-ons

OVERVIEW AND HISTORY

It is with some regret that I am selling my fully-documented, award-winning, low-mileage 1988 560 SEC. Sold new by Palmer Import Motors in Long Beach, CA, this beautiful 904 Midnight Blue on 274 Java coupe has never left the state of California.

I purchased the car in 2009 with 66,000 miles on it and have put a little over 10,000 miles on it since. I drive it regularly for business and pleasure and when not driven it is stored in a climate-controlled underground garage. I have the complete set of documents, books and records since new, down to the original salesman's business card.

The car runs, drives and looks beautiful. When I bought the car, it was equipped with stock U.S. spec equipment, which has since been upgraded with hard-to-find OEM Euro-Spec performance and cosmetic upgrades.

For performance, I added OEM MB Tri-Y Headers and a custom exhaust system, while keeping the stock catalytic converter and all CA-mandated equipment. (These headers are reported to increase output by about 25HP.)
For appearance, I ditched the giant U.S. spec bumpers for the correct and much sleeker gen2 OEM European bumpers. (Some of you know how hard, if not impossible, these are to find). I also added OEM Euro headlights and blinkers and deleted the wipers
Additional modifications from stock are all from well-known Mercedes tuner Lorinser. I added staggered 16×8/9, 3 piece BBS-RT for Lorinser wheels with color-matched centers, a leather Lorinser steering wheel and a Lorinser burlwood shift knob
I showed the car with these modifications at the Legends of The Autobahn in Monterey and it took 1st prize in its class
I have spared no expense on this coupe. Below is a complete rundown on its condition and some additional information –

MECHANICAL

The stock-US-spec M117 5.6L V8 with upgraded exhaust provides plenty of torque and HP and just a subtle note of performance. Road manners are top notch, as are handling and braking, and the car is comfortable whether tooling through L.A. traffic or cruising on the open highway.

Under my ownership, maintenance has been performed at only the top local Independent Mechanics, using only the best or OE parts. I have a 3–ring binder FULL of receipts for parts and services — this is a complete service history since new.

The car is mechanically excellent, the engine starts without hesitation, idles smoothly as it should at 550RPM and pulls strongly through the gears. Speaking of gears, the timing chain, guides and rails were done at approximately 70,000 miles.

The car performs and handles very well — as would be expected since the entire front end was also rebuilt less than 7,500 miles ago. The car rides on performance BF Goodrich G-Force Sport tires, which like the front end have less than 7,500 miles on them. The front and rear shocks and springs are also new, and are OEM replacements (with the lowest spring pads to give a slightly aggressive stance… One additional note on the suspension – the prior owner removed the SLS.)

All electrical, lights and gauges function as they should, including the power sunroof which functions flawlessly. In addition, both the seat belt presenters work every time. In addition the heat blows hot and the A/C blows ice cold. The original Becker radio was removed by the prior owner in favor of a new Alpine AM/FM/CD unit which works well and includes Sirius XM functionality. The only issues I'm aware of are the idiot light for the SRS and light bulb stay on. That's it.

If you look closely at the photos of the immaculate engine bay, you'll notice a number of new / recently replaced parts including the nice white expansion tank, but more importantly the new battery, new power steering lines and new fuel lines. Also new are the power steering pump, drive shaft, flex disc, hood pad, valve cover gaskets, and other small / misc items

EXTERIOR

The exterior of this car is in excellent condition.

The 904 Midnight Blue paint, which is a very high-quality respray, is marred only by very minor imperfections (none of which are significant enough to detract from the car's overall appeal or even appear in the pictures)
The body is in great condition, entirely straight and retaining factory consistent gaps and panel fits
All of the glass, rubber and chrome is in fantastic shape, as are the bumpers and lower body trim. (The rear glass still retains the factory radio anti-theft stickers!)
The 3 piece BBS-RT / Lorinser wheels are near flawless, with ZERO curbing.

INTERIOR

The 274 Java interior of this car is in great shape, was never smoked in, and shows none of the issues that can plague these w126 coupes.

All of the wood was professionally refinished by Madera Concepts in 2011 and still looks like new
The dash pad is perfect and free of cracks. It has never seen any Armor-all or silicone
The restored instrument cluster is mint, with bright orange needles that show zero fading
The headliner was replaced and does not droop or sag. C-pillars are excellent and do not droop or rattle
The door panels are clean, with nice carpet and minimal wear
The driver seat shows slight wear (see pic), the rest of the seats are very nice. Carpets are similar, with driver showing minimal wear
Parcel shelf was recovered and is excellent
Those who really know these cars will notice that the seats and door cards are from a late Gen2 ('89-91) model. I replaced the '88 stuff with the later edition equipment, well, because it is just nicer and better quality.

ABOUT ME

I am a collector and an enthusiast and not a dealer. I am a long-time eBayer with 100% feedback. I've bought and sold cars happily and successfully here on eBay (including the sale of a 1983 500SEC AMG). Please check my feedback and bid with confidence.

I have tried to describe this car as accurately as possible, and I've included as many pictures as I can. I've posted photos in different types of light so you can see how the 904 Midnight Blue changes color from shade to sun. If you have questions please don't hesitate to ask. The car is for sale locally and on enthusiast forums so I reserve the right to end the auction early. In case you want to know, the only reason I am selling the car is to fund a 1989 AMG SEC Widebody project.

You can message me here or call/text 818-749-7764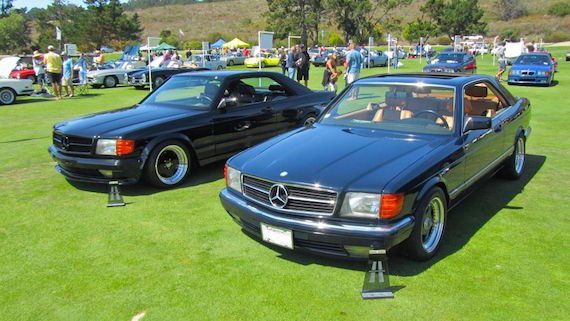 The midnight blue paint on this car – a high quality respray, the seller notes – looks gorgeous over the spotless java leather interior, which has benefitted from some light restoration work and the addition of a Lorinser shift knob and steering wheel. The look of the car is set off nicely by the 3 piece, color matched Lorinser/BBS-RT wheels, Euro headlights and bumpers. The car is mechanically stock with the exception of upgraded headers and an exhaust, claimed by the seller to add around 25 hp to the M117 5.6 liter V8's output, which should bring total power to around 260 hp.
With a mere 77k miles on the odometer, the car appears to have been kept in wonderful condition by its enthusiast/collector owner. Bidding starts at $21,990 so it's certainly not cheap. But this SEC offers a great overall package for someone looking for a special C126 that doesn't cost supercar money.
– Craig