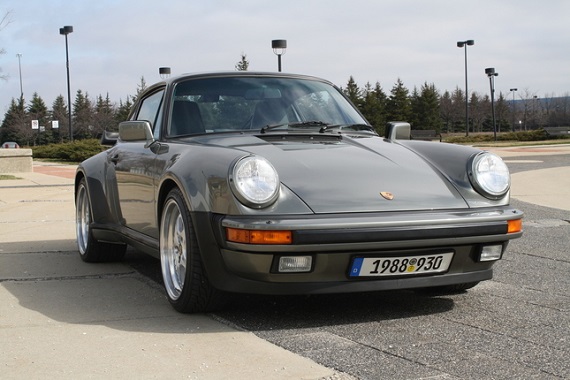 We feature Porsche's 930 rather frequently on these pages. It's a much beloved and respected performance machine that in its day set a high bar for other automakers to reach. But even with its prevalence on our pages on occasion we still come across examples that really attract our attention or are simply color combinations that we have not seen. Such is the case with the example here, a Granite Green Metallic 1988 Porsche 930 Coupe, located in Michigan, with a Grey Green interior and 72,443 miles on it. 1988 marked the final year the 930 would be equipped with a 4-speed manual transmission and as such they are the most advanced model available prior to the significant price increases we see for the '89 MY. As I mentioned in my last post of a 930, the market has been tough to pin down. With some caveats that I mention below the asking price here isn't too out of line with the market and given the color could represent a pretty good value.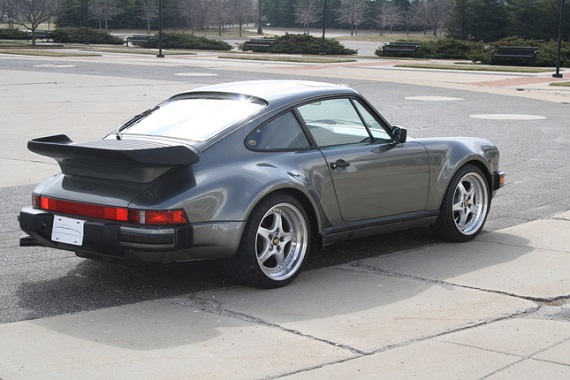 Year: 1988
Model: 911 Turbo
Engine: 3.3 liter turbocharged flat-6
Transmission: 4-speed manual
Mileage: 72,277 mi
Price: $105,000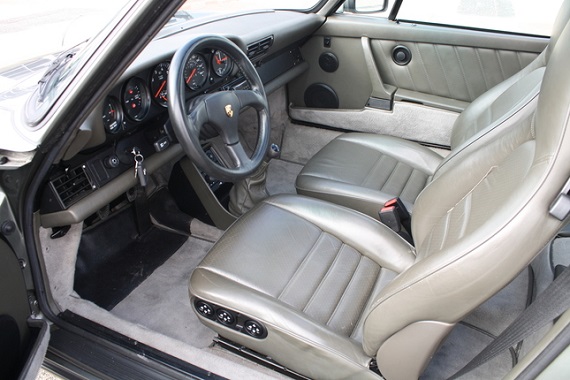 We love it when we get a nice 930 Turbo! This one is no exception!!!! This documented one family owned example is finished in rare Granite Green Metallic paint with a matching Grey Green Interior and is in outstanding condition. The paint is original, there have been no accidents and there are lots of service records plus a clean Carfax. Recent service includes a new battery, brake flush and oil change. This 930 Turbo is nicely set off with its 18" Speedline 3 piece wheels. The matching number 3.3L Turbo Charged Flat Six pulls well and this car drives excellent at speed. At 72,277 miles, this car drives as well is the day it left the showroom floor. WP0JB0932JS050075. Asking $125,000.00 Make: Porsche 911 (930) Turbo Year: 1988 Miles: 72,443 Exterior Color: Granite Green Metallic Interior: Gray Green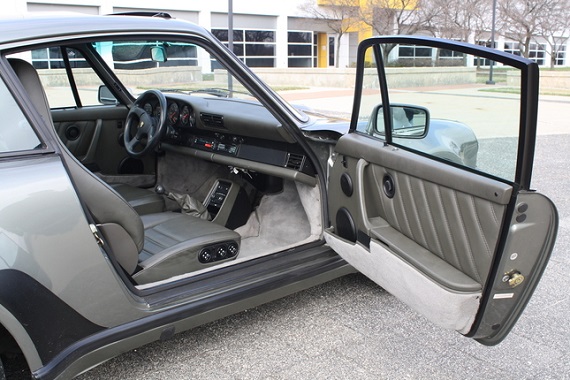 Granite Green Metallic is pretty rare and it looks great on a 930. This also may be one of the rare cases where I like the somewhat monochromatic nature of the interior color matching the exterior. The shades are offset just enough, and the interior itself has just enough of its own contrast, that it works pretty well. Perhaps one of the darker tan interiors Porsche offered would better complement the exterior, but I'm not sure whether it would improve the look. The Speedline wheels also fit the persona of the 930 quite well and altogether the package really works for a somewhat understated but still quite aggressive appearance. As nice as those wheels are, though, at this price we do need some assurance that the original wheels come with the car. The same goes for the interior where both the steering wheel and radio have been replaced. Even though both might be improvements over stock (especially the steering wheel) originality remains pretty important. But as I said that's more a matter of the asking price rather than issues with the items themselves. Perhaps with some negotiating everyone can be happy and a new owner can take possession of what should be a really nice late example of Porsche's iconic 930.
-Rob