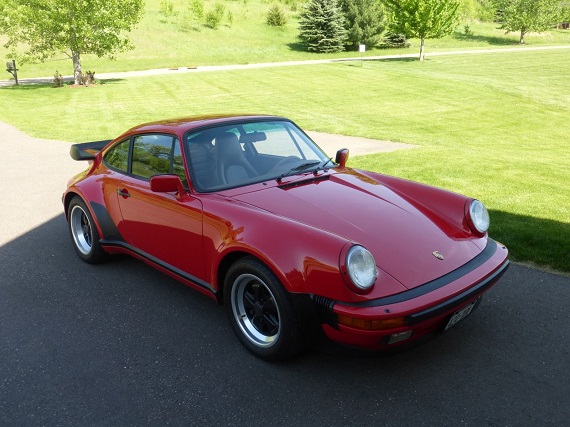 The Guards Red 1988 Porsche 930 Coupe with Mahogany interior, which we featured back in June, remains for sale. The seller appears to be quite motivated as his asking price continues to come down with each passing auction. It now sits at $112,500 and given the mileage and somewhat rare interior color the pricing doesn't seem too bad.
The below post originally appeared on our site June 25, 2016: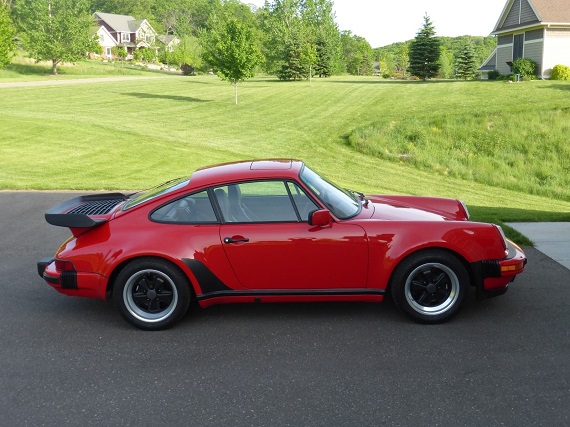 I believe I've said this before, but red Porsches have pretty much gone out of style. I can't remember the last time I saw one on the road and there's a pretty good chance that if you do see one it will be an older model rather than a 997 or 991. I have no idea why this is the case as red cars still seem prevalent among other marques. But a red Porsche is now a rare thing. This wasn't always the case. Or, since my memory of the '80s may be lacking, at the very least we see red Porsches quite frequently on the second hand market. For me, the dearth of red 911s currently available is a negative. I love the look and just like with blue, red seems to contrast well with a wide variety of interior colors making for a good number of excellent color combinations. This particular red Porsche showcases that well as it sits with one of the more rare interior options. Here we have a Guards Red 1988 Porsche 930 Coupe, located in Wisconsin, with a Mahogany leather interior and 49,500 miles on it.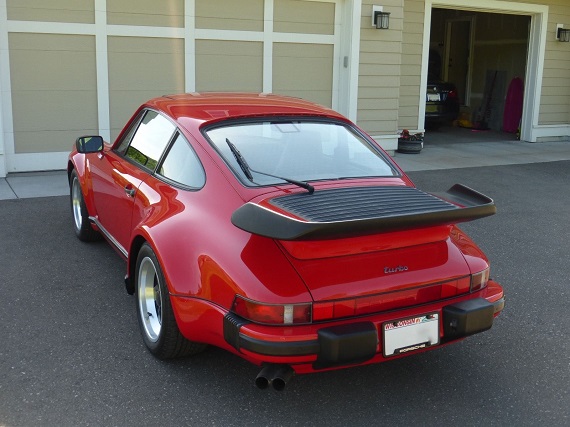 Year: 1988
Model: 911 Turbo
Engine: 3.3 liter turbocharged flat-6
Transmission: 4-speed manual
Mileage: 49,500 mi
Price: $130,000 Buy It Now
Moving…MUST SELL!…SEE NEW PRICE. Investment grade 930 (911 Turbo) completed on August 22, 1987 and sold new on November 14, 1987, this 1988 Porsche 930 is 100% original with the entire ownership history known. This car has been meticulously maintained and with the previous owner for over 17 years. Service records are included going back to its first oil change with only 1,900 miles on the odometer.

Of the late 80s air-cooled 930s built, the fewest number were built in 1988 with only 50% of the 1987 production. This color combination is gorgeous and rare with Mohagany colored leather. The car's paint is 100% original and near flawless. Unlike most Fuchs, the wheels have never been repainted. Interior is spectacular and in spectacular condition with the original Blaupunkt radio, original owners manual and tool kit. The car comes with extensive records including service records, inspections, bills of sale and a Certificate of Authenticity by Porsche. The engine bay is beautiful and the engine is without any leaks or the common heat shield sagging. The clutch was replaced at 33,367 miles. Optional equipment on the car includes limited slip differential, Blaupunkt "Reno" radio, electric sunroof, alarm system, Dunlop tires, lumbar support, and stone guards.

The condition of this 911 Turbo is between Mint and Excellent inside and out. Extremely honest car with no stories. One of the most beautiful 1988 Turbos on the market.

$130,000 Negotiable. Ask for James.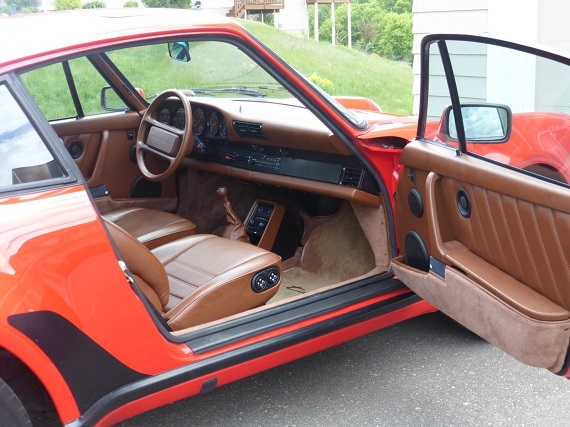 My past encounters with Mahogany have been on lighter-colored 911s so this one provides a much different contrast. It's kind of like an inside-out caramel apple and while I'm not sure I prefer the look as compared with an option like Cork, Mahogany does look better than some of the lighter tans that are available. The condition of both the interior both look quite good. Add to that the reported existence of a complete maintenance and ownership history and this 930 should attract a good deal of notice from collectors. The seller's statement of a "must sell" certainly should benefit buyers, but at $130K I'm not sure how quickly those buyers will be getting in line. The 930 market has been interesting though and very nice, low mileage, examples do still command a good deal. But it seems like this is the sort of price we'd see for an '89 rather than for earlier model years. Thorough documentation goes a long way though so if everything in that regard is in order then we may just see this one sell.
-Rob