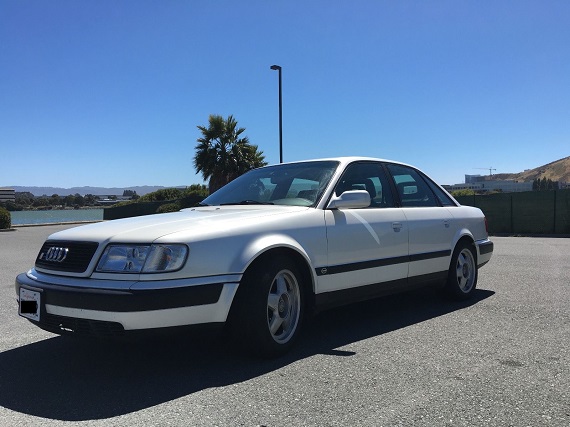 Late last week, Craig went through the super-sedan competition in the early 1990s, starting with the '93 500E and moving on to a '91 M5. While both of those cars are legends and fan favorites in their own right, I'd like to suggest that most underappreciated yet most capable of that generation was the C4 Audi S4. Out of the box, it was at a disadvantage to the other two; it's small displacement cast-iron inline-5 hung fully in front of the forward axle line and was at a distinct power disadvantage. With 227 horsepower on tap, it was some 84 horsepower shy of the S38B36 and nearly a hundred down on the M119. But it was turbocharged, so torque was over 250 lb.ft – close to the BMW's level. Still, they were fairly heavy and if you wanted to shuffle with the Municher and Stuttgarter, you had to keep that AAN on boil and on boost. But the trump card that Audi presented in the market at that point was all-wheel drive, and coupled with the tunable nature of the AAN, it meant there was a lot of potential in the chassis of the C4. That was met with excellent build quality to create what was perhaps the zenith of Audi's production in the inline-5. Despite that, they have remained far more affordable than either of the competition, though finding a good one today can be difficult: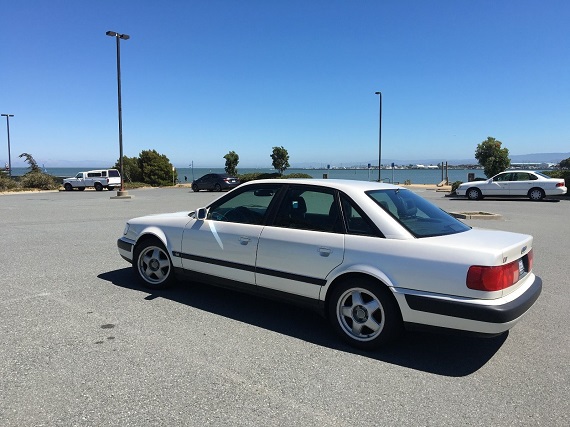 Year: 1993
Model: S4
Engine: 2.2 liter turbocharged inline-5
Transmission: 5-speed manual
Mileage: 142,430 mi
Price: $8,550 Buy It Now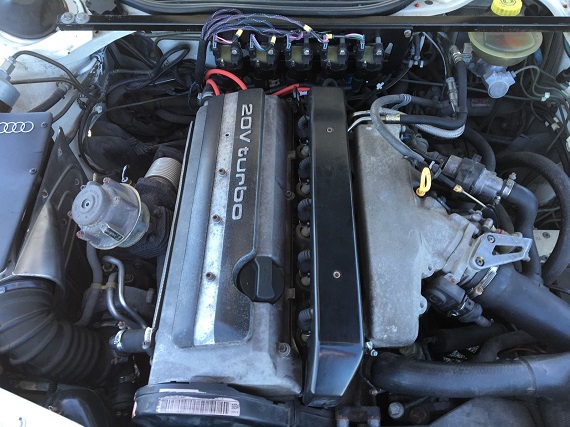 Pics: http://imgur.com/a/S7Ebq/layout/grid

CL: http://sfbay.craigslist.org/pen/cto/5702852765.html

Quick summary:

-Black leather interior with recaros

-5-speed manual transmission with new clutch and flywheel

-Quattro with locking differential

-Bose stereo w/ 10-disk CD-changer in trunk (sounds great)

-Amazing condition inside and out

-Really low mileage example (142,430)

More detail:

Unfortunately, the time has come to sell my 1993 Audi S4 (UrS4). I have owned this car for over 10 years and it has been a fantastic vehicle without a single issue the entire tenure of ownership. I am the second owner and babied this car just as much as the first owner. Garaged 99% of its life and pampered, this example still smells and feels new (seriously amazing leather smell). I hate selling, but I have a shoulder injury that will no longer allow me to drive a manual transmission. My plan was to keep this forever, so I have taken care of any and all maintence for some time. It has been smogged and checked out recently in SF and passed with flying colors. This engine is in tip-top shape.

Exterior

Not a speck of rust on the body of this example. The pearl paint is in fantastic, and gets a lot of compliments. There is a tiny bit of cracking on the clear coat on the trunk, I think this can be buffed out with a clear coat etch. You can not even see the cracks unless you are VERY close.

Interior

The interior is pristine. The carbon fiber trim does not have a single crack and looks amazing. Also, like I said before the leather still smells new. I regularly (~every 6 months) condition the leather with griot's leather rejuvenator and clean every square inch. The bolsters of the recaro seats tend to wear out, but they look great on this car and are still soft to the touch.

The interior of UrS platform is top notch, from the recaro seats to small details like gauges with white faces and the UrS "S" logo – they simple do not make interiors like this anymore.

Engine

The 20v Turbo just sings, this is one of the finer examples of this amazing motor configuration. The turbo has absolutely zero play. The engine will not consume a single drop of oil (or any other fluid) between every 5K oil change (always with Rotella T6). Pulls very hard (and fast) to redline. The 034 tune is very linear boost and feels great – overboosts to 22lbs and will taper slightly to redline, and pulls like a freight train.

Modifications

Engine:

-034 Stage 1+ (1+ software, new RS2 injectors, 1.9 WG spring, VMAP-D) https://store.034motorsport.com/chip-tuning-package-aan-aby-stage-1.html

-LS2 coil upgrade http://www.efiexpress.com/catalog/product_info.php?cPath=15&products_id=18

-FR5DTC spark plugs (F5DPORs drop electrodes)

-SPEC clutch with single mass flywheel

-Full silicone boost hoses (all red samco's + 034 airbox-> turbo)

-034 short shift kit

-034 Fuel relay kit

Convenience:

-Keyless entry unit with Audi flip key

Suspension:

-H&R springs with bilstein struts

Interior:

-Upgraded instrument cluster bulbs from 1.1 to 2 watt bulbs + LED in LCD

-Black suede headliner

-Auto dimming mirror with homelink

-LED interior lights

-Autometer boost gauge

Exterior:

-DDM 55w 5000K HID with euro lenses (great beam cutoff) – headlights and foglights

-Front headlight water removal (originals come with)

-New belly pan + dzus clips

Recent Maintenance:

-Full timing belt done at 132K (timing belt, roller, thermostat, water pump and serpentine belt)

-All wheel alignment 132K

-New Cam position sensor 140K

-New LS2 coils 142K

-New rebuilt J-hose by Spokane House of Hose 139.5K

-New camber plates and rubber mounts 135K

-New Fuel rail with better flow 141K

-New fuel pressure regulator (4.0 bar) 135K

-Recent gearbox oil change with factory Audi fluid (G005000) 132K

-Recent rear diff fluid change with GL5 132K

-Recent factory fuel pump 96K

-New "turbo timer" switch (447965571A) 132K

-New "H" valve (034906283H) 132K

-New Audi expansion tank (4A0121403) and various coolant hoses. 132K

-New alternator regulator 132K

-New O2 sensor 132K

-A thick stack of records since new

Extras

-Full toolbox with all parts that could* leave you stranded noted by the QW forum:http://forums.quattroworld.com/s4s6/msgs/200702.phtml (but I have never needed any of them)

-Stock ECU + stock fuel injectors

-Stock coils with "20vt" metal cover, POSs, POS cover, boots/covers

-Stock boost hoses

-MAF

-Many other odds and ends

Travel – out of California

I live close to SFO airport – so if you would live to fly out and drive home I am happy to swing by and pick you up. I would trust driving this UrS anywhere in the country. Let me know if you need this type of accommodation.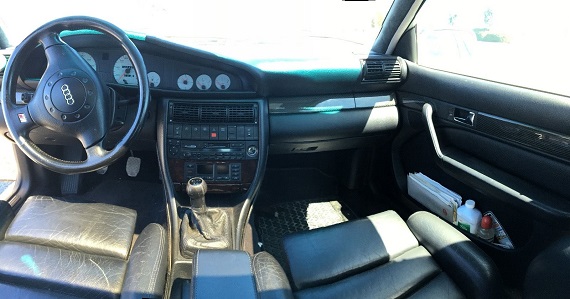 At first glance, $8,500 seems like all of the money for an S4; many come to the market for only half that or less. However, start to add up the work done here and you'll quickly see the value. Top that off with what is far above average condition, and suddenly the asking price comes into much clearer focus. I particularly like the lightly modified Fuchs wheels which take a decidedly more Speedline look with the custom centercaps. Pearlescent White Metallic may be the signature color of top-range Audis, but seldom is it well presented like here, and the wide molding black rub strips help to break it up unlike on the later S6. The H&R springs are a known weak spot as they tend to break (especially on the front) but that seems to be more in rust-prone areas. Although 140,000 miles may sound like more than you'd hope for on a 500E or M5, here it's almost a breath of fresh air as seeing 300,000 mile Ur-S cars isn't out of the norm. Plus, the AAN has gained a reputation as a powerhouse in disguise; spend some money and you'll have a car that 500Es wish they could keep up with. This one has just the right mix of modifications and maintenance to make the next owner happy. For some time Audis were fringe cars that only peculiar enthusiasts took to; today, the popularity of the newer models means you won't be unique in owning an Audi if you bought this one, but you'd certainly be owning a unique Audi.
-Carter