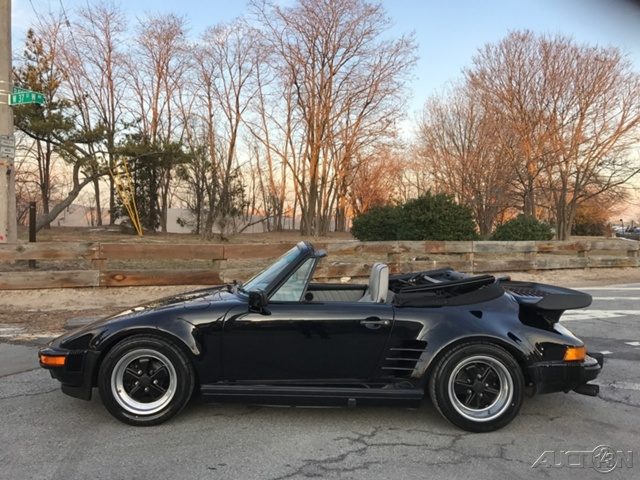 It feels like it's been a while since I featured a Slantnose. They aren't incredibly common by any means, but we also come across them fairly frequently. Admittedly a lot of them aren't in great shape or have completely insane pricing. This one still seems priced high, but it at least comes in at a point that we can work with and the condition looks very good. Among '80s machinery the Slantnose typifies the excess that defined parts of that decade. I can't recall whether the 930 itself was considered an exotic; relative to the Ferraris and Lamborghinis of the day a 930 is almost tame in its appearance. The Slantnose is a different animal though, and the Slantnose Cabriolet really takes those excesses to their limits. With the sloping front, a wide array of vents and strakes, and a massive whale tail, all found on a car where the top went down these definitely could be considered an exotic. It's a car to be seen in and even today will attract plenty of notice.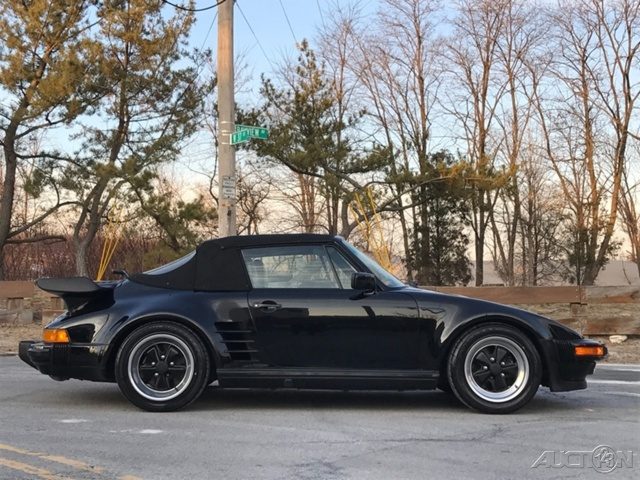 Year: 1988
Model: 911 Turbo
Engine: 3.3 liter turbocharged flat-6
Transmission: 4-speed manual
Mileage: 51,796 mi
Price: $159,950 Buy It Now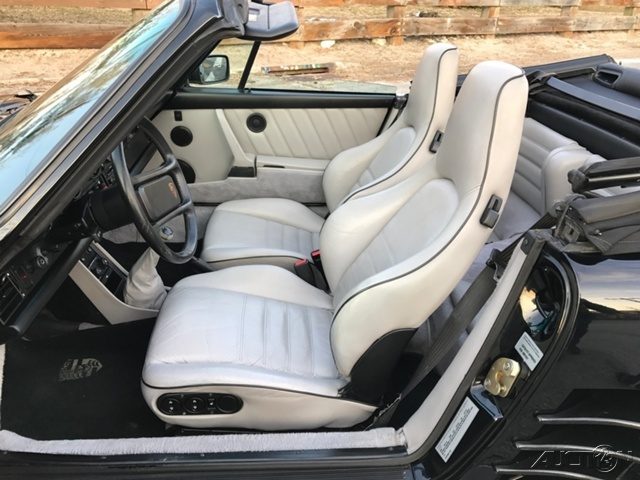 1988 Porsche 911 Turbo (930) with the factory Slant Nose!!!

You are looking at a gorgeous, NUMBERS MATCHING, extremely well-kept, very exclusive and rare 1988 Porsche 911 Turbo Slant Nose.

This is one of perhaps less than 300 outfitted from the factory as a convertible, turbo and slant nose 930.

It has never been wrecked, flooded, salvaged, or anything of that nature. It is easy to see that it was loved and taken care of since day 1.

This Slant Nose looks, drives, and feels amazing.

The original Fuchs forged wheels are in excellent condition, correct in size, and with brand new tires.

7JX16 Forged Alloy Wheels, 205/55VR16 Tires in the front and the 9JX16Forged Alloy Wheels, 245/45VR16 Tires in the back.

It comes in a gorgeous Black exterior paint coat over Silver/Gray Leather Interior.

The paint is smooth and glossy and really looks amazing showing MUCH LESS than normal wear for a car this age. No dents, damage, rust or blemishes!

Mechanically it runs strong and has no known faults.

The top is in excellent condition and fully functioning.

Included in the sale are a set of factory carpet floor mats, full spare tire kit, original maintenance & service history records, a history report, and the owner's manuals. We also have the Certificate of Authenticity as well as a picture of the duplicate window sticker, both of which show the slant nose option, which was a ~$29,595 option at the time.

MSRP on this 1988 911 Turbo Cabriolet was $118,298 !!!

OVER 80 PHOTOS ARE INCLUDED FOR YOUR VIEWING PLEASURE!

This 911 Turbo Slant Nose comes very well equipped and includes:

930S Slant Nose Package

Leather Interior

Sport Seats W/ Electric Height Adjustment

Heated Seats

Limited Slip Differential

16″ Turbo Forged Alloy Wheels w/ Performance Tires (All Original FUCHS)

Upgraded Stereo

Power Operated Top

Full Power Options

Not to mention a very impressive and smooth running 3.3L Horizontally Opposed 6-Cylinder engine mated to a 4-speed manual transmission, and much more..

Mechanically this Porsche runs perfectly and has no known faults. It has been properly serviced, maintained, and loved since day one. It has spent the majority of its life in Florida, garage kept, and has never seen snow.

In a nutshell, this is a perfect opportunity to get your hands on a piece of automotive history, as very few of these Slant Nose 930's were built and even fewer are such great examples.
Even 29 years later, by today's standards, this Porsche is very much still a gorgeous, agile, and extremely fun to drive sports car. Even offering a driving experience that tops some of today's sports cars.

If you are a car enthusiast, and in the market for a classic, extremely well-kept, and low-mile Porsche, then this Turbo Slant Nose is the car for you. I think that you would be hard pressed to find a similar Porsche that is in as great condition, and low-mileage, as this one.

Buy with confidence, you will not be disappointed.

Please call me if have any questions or concerns 718-372-6555 X8001 Steven Schmidt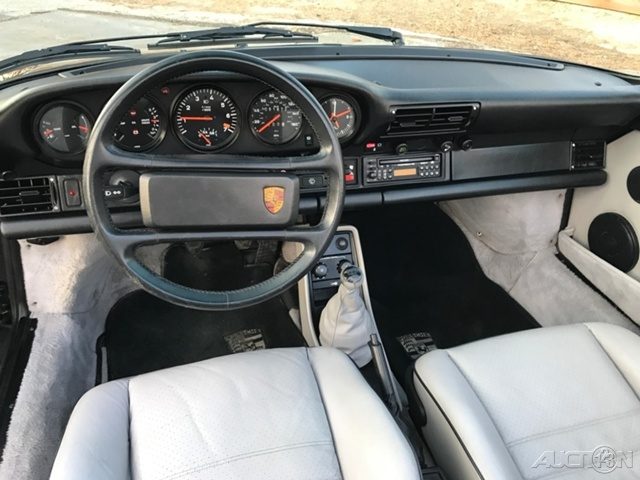 With the influx of 930s onto the market the examples that still possess collector appeal might get lost in the shuffle. That applies to the Slantnose as well, though always to a lesser degree as they begin a step above a standard 930 from the start. Black is a pretty common exterior color on these, but the Silver Grey interior provides a nice change of pace. That's especially true with the top down as the seat backs peak above the body of the car. I wouldn't naturally be drawn to this as an interior color, but here the contrast works to nice effect. And the condition of that interior looks quite good. Some minor wear shows to the seats, but certainly not enough to warrant much concern given the age and mileage of the car. It also appears entirely original. The exterior presents similarly with the paint and trim pieces all looking in good condition. It seems evident that this 930 has seen a good deal of care during its life.
Even given these positives, I don't know if there's much chance of it selling at this price. The mileage is pretty low and it appears to possess a decent amount of documentation, but the 930 market in general just doesn't have the strength it once had. Were it a '89 then we'd have something. We'll have to wait and see. Altogether this 930 Slantnose does present well and looks to be a nice example of one of the more audacious cars Porsche produced during this period.
-Rob