Just the other day, I wondered what kind of large wagon you could still buy. The Mercedes-Benz E-Class and recently introduced Volvo V90 seem to be the last two holdouts in what was once a robust market of longroof models. Back up a decade, and you could add the Audi A6 Avant and 5-series Touring/Sport Wagon to the mix, and both are still quite desirable in their last form.
With forced induction and plenty of technology as well as a sport ride, both the Audi and BMW entrants into the marketplace were expensive alternatives to the rest of the now traditional "Sport Utility" lineups. And both sold in very small numbers, giving enthusiasts precious few options to choose from when it comes to the used market. In the case of the BMW, the most desirable models are the M-Sport models offered late in the run, and they're not frequently seen. So much so, that when this one popped up I was certain it was the same 2010 I looked at recently. The color combination of Tiefseeblau Metallic and Natural Brown Dakota combined with the M-Sport package seemed too unlikely to immediately come across again; yet, here we are, with a VIN only about 100 after the recent example. Is this one a winner?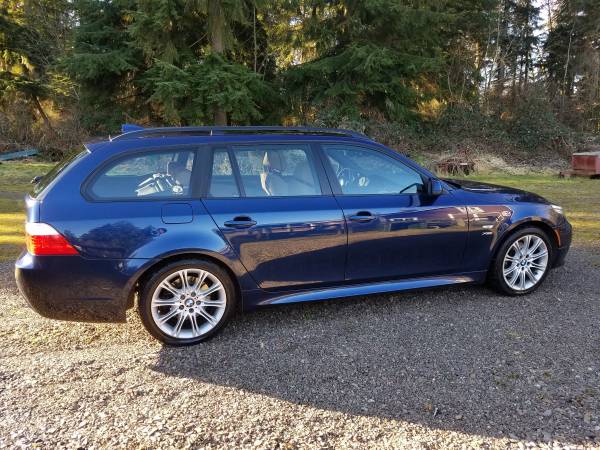 Year: 2010
Model: 535xi Touring
Engine: 3.0 liter turbocharged inline-6
Transmission: 6-speed automatic
Mileage: 102,000 mi
Price: $14,800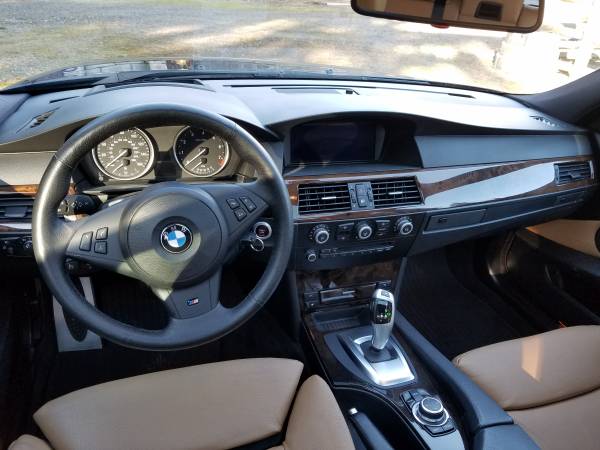 Fully optioned 2010 BMW 535i xDrive Wagon – 102K miles. 2nd owner since around 52K miles. No modifications or accidents. Only appreciable exterior damage is to the front air dam (from hooking on curbs). Option highlights – Panoramic moon roof, HUD, M Sport package (super-comfy seats), Multi-zone climate control, Heated front and rear seats, OEM radio will rip CDs into internal storage, Bluetooth for phone, iPod (30pin) & USB interface cable included.

Packages: Cold Weather (heated steering wheel, front seats, Retractable headlight washers, Ski bag), M Sport package (18″ wheels, Sport package, Shadowline trim, Comfort seats w/lumbar support, M steering wheel, Aerodynamic package, Anthracite headliner), Premium Package (Automatic tailgate operation, Universal garage door opener, Auto-dimming mirrors, Auto-dimming rearview mirror, Ambient light package, Leather Dakota)

Other Options: Park Distance Control (front and rear), Navigation System, HD Radio, iPod (30 pin) & USB adapter, Rear manual side window shades, STEPTRONIC automatic transmission, High Beam Assistant, Head-up Display, Heated rear seats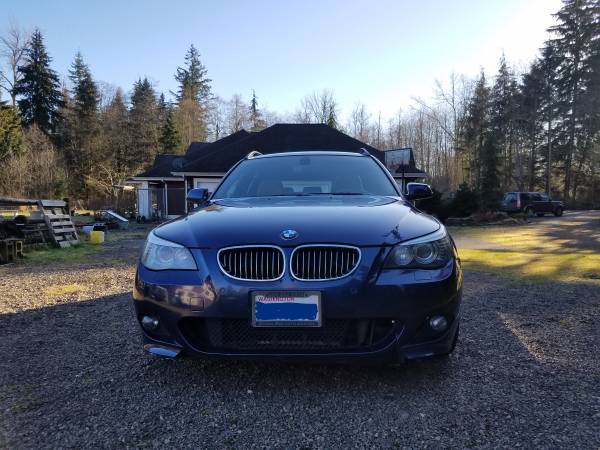 Fully optioned does pretty well summarize this E61. You paid dearly for those options, but basically this was as fully loaded as you could get a 5-series in 2010. Outside of an Individual color, I don't believe anything was left unchecked. It's better equipped than the last example we looked at, too. Condition from what is shown is very good overall, but with 100,000 miles and at $15,000, I'd be more interested in hearing about what maintenance had been done to the notoriously expensive to correct N55 than what the original options were.
There are two problems with looking at this wagon; first, those looking for a reliable bit of transportation could pop in to one of the new Volvos or Mercedes. Both offer more power and equal amounts of tech with warranties. Yes, the most basic Volvo is triple the price of what is shown here; but then, it's brand new, too. What's amazing to me is that now 7 years on, the base price of both the new wagons is below that of the 535xi in 2010. From that perspective, the E61 is a great deal of luxury, power and utility for your money. But to jump into this E61, you'd have to do it as a bit of a past time rather than a turn-key, dead-nuts reliable form of transportation. Not that the E61 is an old English car you're not likely to complete a single journey in without a ride-along mechanic, but like all cars, it's going to break. If it's not already done, the rubber bushings in the front on items like the front control arms, sway bar links and air suspension will probably need replacing. The high pressure fuel pump and VANOS systems in the N55 also experience problems and both can be expensive to rectify. You have to want to be a 5-series Sport Wagon owner,and it will reward you with a sublime driving experience for such a large car – often missing in these types of luxury rides – but it will require regular intervals of tribute. That makes other wagons – like the S6 Avant from yesterday – compelling to consider as a more classic alternative.
The asking price is very close to where market valued the last example. Bidding on that lower mile, but less well equipped, 535 ended just south of $14,000, but it failed to sell. Often it seems that the sellers of these cars overvalue them, but this one seems about right for the mileage, options and condition. Is it a car for everyone? No, but for those who like them, they're very special indeed.
Thanks to our reader Shawn for the spot!
-Carter