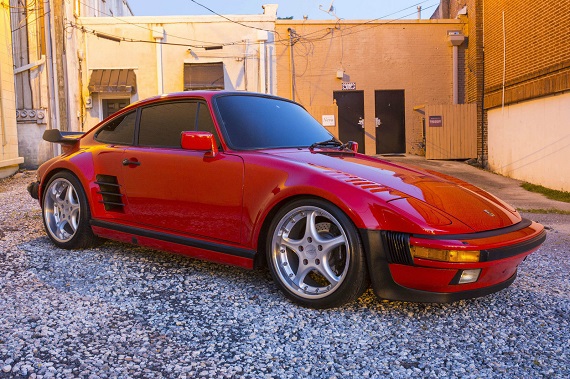 It feels like it has been a while since I featured a Slantnose. For pure audacity it is one of my favorite designs from Porsche and epitomizes the '80s style excesses that compliment the 930 so well. The Slantnose isn't to everyone's liking as it diverges from one of the 911's primary design cues, the two forward-pointing round headlamps that immediately signal to any knowledgeable observer exactly what car is approaching. In the case of the Slantnose Porsche reached back to its design of the 935 racer for its inspiration and the design certainly lends an extra degree of aggressiveness to the already aggressive lines of the 930 itself. In Coupe form I absolutely love them; Cabriolets and Targas I am less enamored. But in this case, we have a coupe! A Guards Red 1988 Porsche 930 Slantnose, located in Atlanta, with 33,780 miles on it.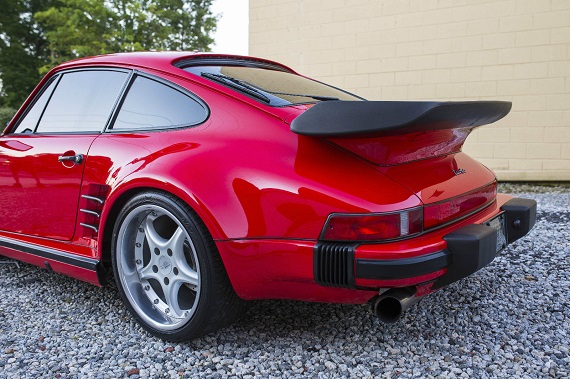 Year: 1988
Model: 911 Turbo
Engine: 3.3 liter turbocharged flat-6
Transmission: 4-speed manual
Mileage: 33,780 mi
Price: $149,500 Buy It Now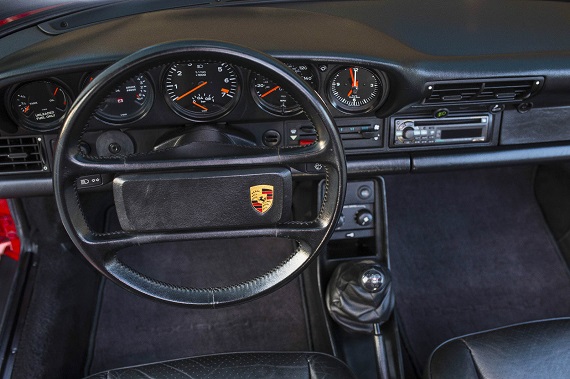 Amazing 1988 Porsche 930 Authentic Slant Nose in pristine condition inside and out as the pictures will attest.

This car is privately owned with clean title and presented in Guards Red exterior over black leather interior. The car itself has spent it's whole life in TN and GA. It has been meticulously maintained by a PCA club member since 2007 placing first place in Porsche Concours events. The car has had some minor upgrades to give a slightly more aggressive appearance and sound including: door handles, exhaust, wheels and radio but all original parts are included with the car to bring it back to 100% stock. The owner also tinted the windows to preserve and maintain the luster of the original leather. Tint can be easily removed if desired. Beyond the aforementioned items, the car is completely original and has a full clear bra on the front of the car. The original red Fuchs wheels are in a box and are in near perfect condition.

The Slant Nose model was only produced in 1987-1989, of which there were only 349 total coupes manufactured. This car represents 1 out of only 145 Slant Nose models manufactured in 1988 and has the Porsche documents for validation. There have been no accidents on this car of any kind and all panels are original. Regarding paintwork, the car was professionally resprayed in prior ownership to capture it's original luster. There are no issues with this car and it drives exactly as it should with excellent handling and tracking. The clutch exhibits smooth operation and gear shifts are crisp indicating no wear issues with the transmission.

A discerning eye would notice some small rubs on the side of the driver's seat as well as some wear on a few of the seals lining the door and engine compartment. Beyond these items, it would be hard to find any measurable flaws with the car. The engine compartment is immaculate and shows the care taken by the car's fastidious owner.

This car has had multiple owners but a comprehensive binder of service records comes with the car spanning the ownership history and includes all manuals, tools and keys. The original window sticker is not with the car but there is a photocopy of the sticker along with a Porsche Certificate of Authenticity. Anyone would be very fortunate to own a car of this caliber as the value of these cars are only going to go up over time. Please feel free to call Burt at 404-429-9006 with any questions and there are more pics available on request.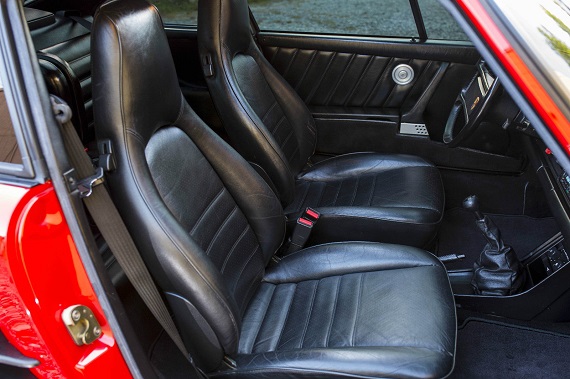 As 930s go this one looks to have been very well maintained and shows with fairly low mileage for its age. While the wheels shown here would not be my favorite on this body design, the seller states that the original red Fuchs wheels come with the sale so there should be no issues in that regard. In similar fashion, the original exhaust, door handles, and radio are also included. For a low-mileage 930 with this sort of asking price, those original items are a must have (and the owner probably would be better suited refitting the original items prior to putting it up for sale anyway). Regarding that price, all things considered it is very much on the high end for an '88, but I have seen a wide range of asking prices for an original Slantnose and few outright auctions so it is tough to get an accurate gauge on where these currently are selling.
-Rob