In an era when cars look more and more alike, enthusiasts with the means will always seek out a way to have something unique that is tailored to their tastes. Case in point, the Porsche "Sonderwunsch" program, which is currently known as Porsche Exclusive. This program offers buyers the opportunity to specify options and configurations not normally seen in the standard Porsche lineup, such as the famous 964 Speedster Widebody, a particular body or interior color to sample, or in the case of this 930 Turbo for sale in San Francisco, the Flachbau, or Slantnose option.
My fellow contributor Brian and I look back on the 1980s with fond memories from time to time and this 930 Slantnose pretty much epitomizes the era, in the same way the Testarossa did for Ferrari and the Countach did for Lamborghini. Finished in Grand Prix White with Fuchs wheels to match, it doesn't get much more over the top than this.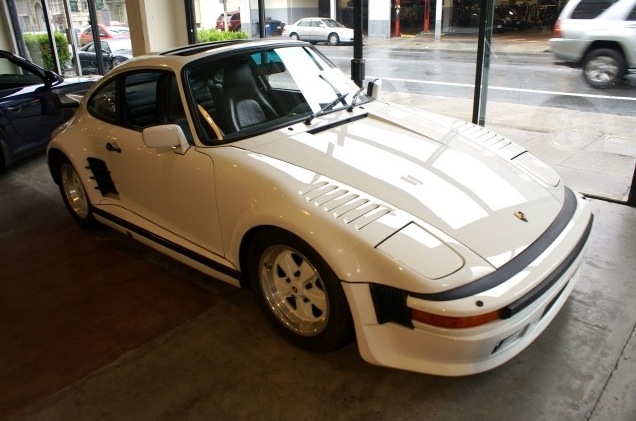 GP White over Black 4-speed, 3.3 Turbo, upgraded turbocharger, Ruf intercooler, $103k MSRP. This is a factory M505 steel slantnose coupe and is 1 of 271 total cars built in 1988. Options include: steering wheel with raised hub, Heated seat left and right, LSD, GP White Fuchs, left seat lumbar support, velour luggage compartment, supple leather. $13k of recent maintenance including new clutch, engine reseal. Speedline multi-piece 18″ wheels are available separately for $5,500.
Like many 911s, values for the 930 Turbo have been strong over the years, and for those with the Slantnose option, even more so. It's fairly rare that I see a high mileage Slantnose, as those who bought these cars typically had a stable of toys to choose from. For a 24 year old car then, the 40,000 miles covered is typical for one of these sports cars. If this were a 930 without the Slantnose, we might be looking at a $40,000 to $60,000 car, depending on mileage and provenance. At $70,000, this seems to be in the ballpark for what a Slantnose is worth, as I've seen a few come about in the $50,000 range and some edging close to six figures.
-Paul