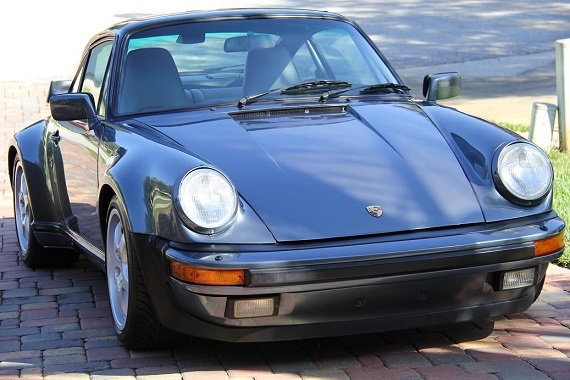 The Porsche 930 has always been a personal favorite as it was the performance variant predominantly available during my youth. The performance and aesthetics both held a certain wildness that few cars could replicate without us moving well into supercar territory. At some point, it'd be fantastic to own one, but prices on these cars are on the rise, especially for an example that remains in good condition. The car featured here looks to be one of the lowest mileage I've come across and appears nearly pristine inside and out. Here we have a 1988 Porsche 930 located in Florida that has seen a scant 4042 miles and comes in what I'm guessing is Marine Blue, though the seller lists it simply as "Blue". Either way, it's a fantastic color that stands apart from the standard colors while providing the subtlety some owners might desire.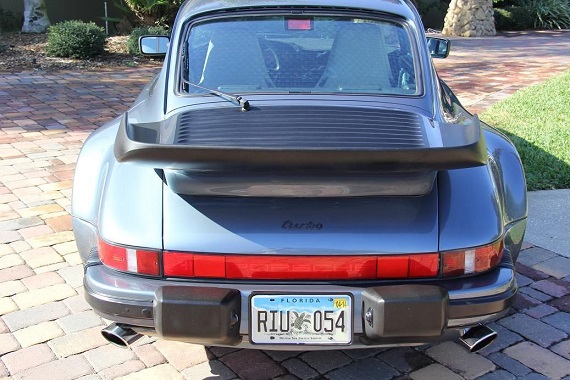 Year: 1988
Model: 911 Turbo
Engine: 3.3 liter turbocharged flat-6
Transmission: 4-speed manual
Mileage: 4,042 mi
Price: Reserve Auction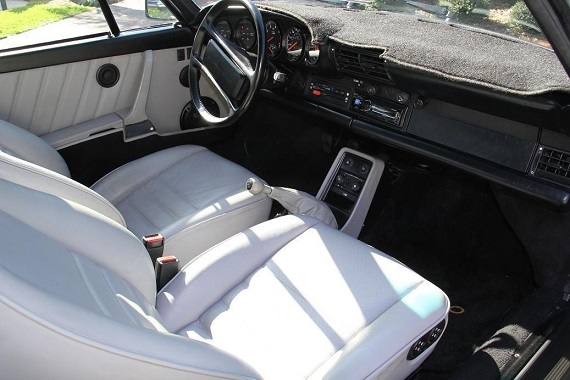 4042 ORIGINAL DOCUMENTED MILES. THIS IS NOT A TYPO. THIS CAR IS TRULY A ONE OF A KIND – YOU WILL NOT FIND A PERFECT CONDITION 4042 MILE 930 TURBO ANYWHERE, EXCEPT HERE!

This car has now had 3 owners, which includes myself. I purchased the car from the family of a deceased car collector in Orlando Florida. This collector had 40+ cars which he would only drive a very small amount of miles, then basically put the car in storage. As you can see from the Title, the collector purchased the car from his friend with only 960 miles. Per the family and Carfax, the first owner had a small accident to the front right, apparently a small dent from a Moped. The collector friend purchased the car, made the repair, drove it up to 3562 miles, put it in storage, then I purchased after years of sitting.

When I purchased, the car had not been driven for many years. Consequently we had to replace / repair anything that had fuel in it, including many small repairs from just so many years of sitting. All Mechanical repairs have been conducted by German Excellence in Orlando which is the very best in working on Porsche's, receipts in pics. We also decided to do a full restoration and had a down to the metal repaint of the car, same original color. Body painting was done by Performance Plus in Orlando who is a Porsche specialty shop sought out by collectors wanting the very best work on their high end Porsche's.

The car mechanically and appearance wise is second to none! Truly a collectors dream car that's all complete and ready for your enjoyment.

Where will you find this car in such perfect condition and with 4042 Document Miles…this really is a one of a kind!

Take a look at the pics, and watch the walk around video:

http://www.youtube.com/watch?v=XVOf1ZiSK_Y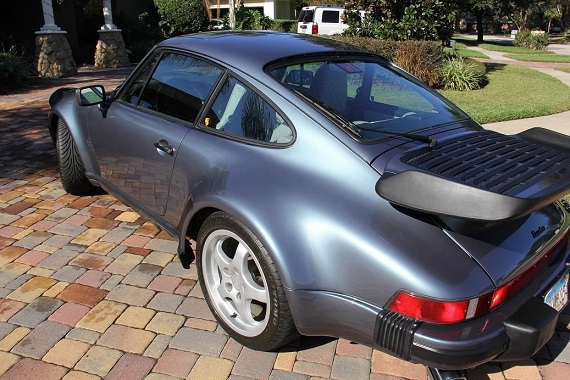 As we'd expect with a car having this few miles, the condition of the paint and the interior looks excellent. Given the lightness of the interior color, I think I'd have taken pictures out of direct sunlight so as to provide a more accurate depiction, but nonetheless everything looks to be in good order. It even has some carpeting to protect the dash, which I'm not sure I have seen on any previous cars! Goofy but functional. This particular 930 will not come cheaply and bidding reflects that at $52,600 with reserve still on. Where this ends up remains to be seen but at the very least this auction should give us an idea of the market for an extremely low mileage 930.
-Rob