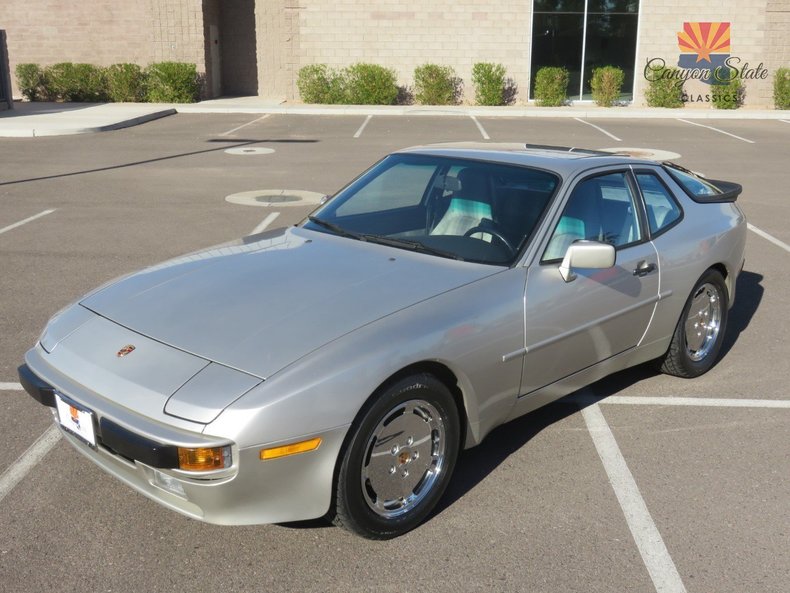 Update 3/9/18 – The asking price has dropped from $19,900 to $18,500.
In my recent double Porsche 924 post, the rhetorical and problematic question posing entry-level Porsches arose – 'why not just get a 944'?
It's a very valid question. Indeed, why would you choose a 924 – even a very nice, limited production one – over a 944? The answer is simple. Price.
When the 924S Special Edition was last on the market in 1988, you could stroll down to your dealer and pick one up for around $23,000. If you wanted to step up to the 944 – which offered no practical improvement in performance, mind you, as it was actually slower than the 924S – you'd have to shell out an additional $10,000. In many ways, that gulf of value perception remains today; it's possible to find deals on 944s, but equal 944s to the two 924s I looked at? They don't come cheap, at least not in asking price.
Yet while I've spent considerable time talking about the 924S Special Edition and what a cool package it offered you on the cheap, we never really look at its 944 equivalent. Often referred to as the 'Celebration Edition', just like the 911 and 924S the 944 received a Special Edition package in 1988. Built to commemorate the 250,000th 911 produced but coinciding with 100,000 944s made, too, Porsche officially referred to the 944's trim as the "Special Edition Package". What did you get?
For $2,437, Porsche equipped your car with option code M757. This gave the car "a unique leatherette/gray-plaid cloth interior, silver velour carpeting, and a commemorative plaque which may be personalized with the owner's name" according to Porsche. You also had to select metallic paint, a $645 charge, in one of two colors; Satin Black Metallic or Zermatt Silver Metallic. Otherwise these cars were pretty well loaded; the antithesis of the lightweight, stripped-down 924S SE. They came with split-folding rear seats, electric sunroof, rear window wiper, and 15″ 'Phone Dial' wheels, along with standard fog lights, central locking, electric mirrors, power windows, power steering, and automatic climate control. Like pretty much every special edition Porsche, these cars were seemingly earmarked for collectors: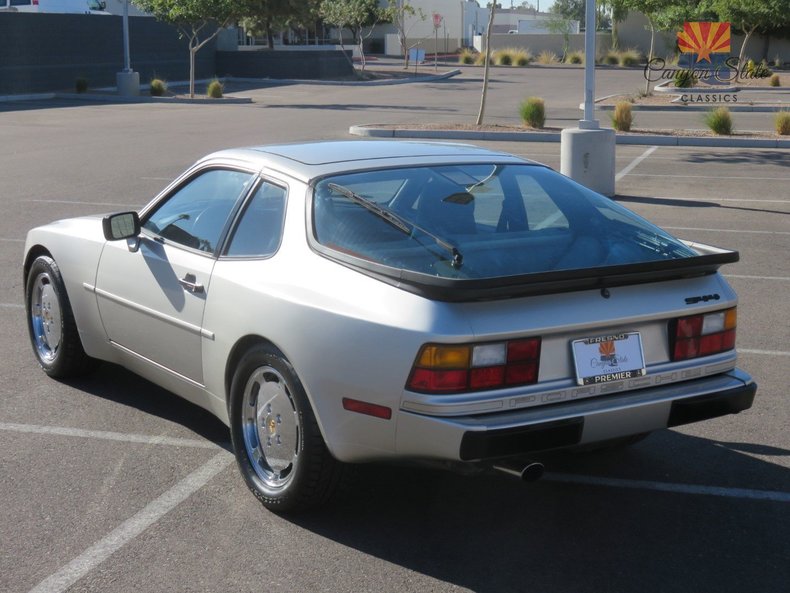 Year: 1988
Model: 944 Special Edition
Engine: 2.5 liter inline-4
Transmission: 5-speed manual
Mileage: 56,394 mi
Price: $18,500 Buy It Now
1988 Porsche 944 5-Spd, 56k Mi CA Car, 1 of 250 Celebration Ed, Window Sticker!

A 1988 Celebration Edition 944 with more miles than mine sold recently at RM Auction at Amelia Island for $26,900 plus buyers premium…so over $30,000. Buy now before prices increase more. Great collectors car and investment. This Porsche 944 has the special designation of being the Celebration Edition or Silver Anniversary Edition. This Porsche was 1 of 250 built in Zermatt Silver in 1988 as the Celebration Edition. This is the only year it was made, so it is VERY RARE! With only 56,000 original documented miles, it could quite possibly be one of the lowest mileage Celebration Edition in the US, quite possibly the entire world. This car is so rare in fact that the Porsche Museum does not even have one in their collection. The interior cloth takes you back to the 1980's and is fun and again all original. The dash has no cracks or blemishes. Wheels are chrome Turbo style wheels with brand new BF Goodrich tires. This car speaks for itself and Porsches are only going up in value. 1 of 250 built for the US market in Zermatt Silver…how many surviving Celebration Editions are remaining? Of those how many under 60,000 miles? Contact Jon @ 480-703-2337 with any questions.

Year after year, Canyon State Classics has been your source for excellent Western States vehicles. We have had a presence on eBay since 2001 and obtained the distinction of an Ebay Top Rated Platinum Seller by keeping 100% POSITIVE feedback with our buyers. We are experts in International transactions and have sent cars to nearly every continent! Please check our ratings and BUY WITH CONFIDENCE!!

Please make time to visit our interactive website to view all of our other extraordinary inventory. Check us out 24/7 365. Fresh inventory arriving daily! Click here to view our inventory!
What really makes the 944 SE worth a look is that great 'Studio' interior. Like the Silver Rose Turbo S, the 924S SE and even the 959, these unique multi-color cloth interiors really stood out then and do so today, but in a tasteful way. Otherwise, this is pretty much just a standard albeit somewhat loaded 944 with the later high-compression 2.5. Mileage is below average, but it should also be noted that this particular example deviates from stock. First off, the wheels are optional 16″ forged 'Gullideckel' units that are chromed rather than polished and anodized. The tires are oversized at 225/55 16; originally the SE came with 215/60 15s. With an extra 1/2″ of tire height, the wheel wells are filled out, but between the wheel finish and the tire selection it doesn't quite look right to me. The front bumper has also been tucked. There's also no note of whether the commemorative metal comes with the car, either. Big deal, right? Well, to a potential collector it would be. Case in point is the car referenced by the seller for $26,900. Indeed, that car did trade at Amelia Island for that amount, but look through the gallery there and you'll start to understand why that car carried a premium. This 944 is in very good shape, that one was outstanding and completely original.
So is this car worth nearly $20,000 at the end of the day? For that price, you could buy a fleet of 924s. The lower mileage (albeit admittedly automatic) 924S SE sold for $4,600, while the Turbo barely crested $4,000. People might think you're nuts for buying a 924, but frankly I feel you'd have to be off your rocker to pass a clean 924S SE up and pay quintuple for a 944 with a nice shirt.
-Carter