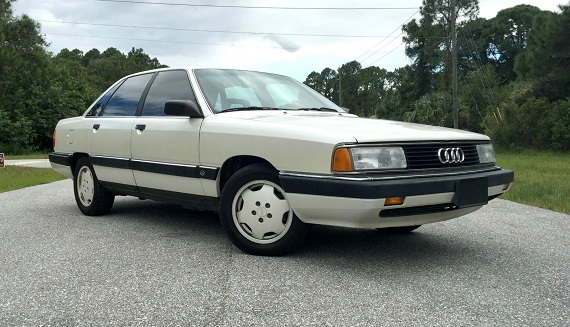 So synonymous with the Audi brand is the all-wheel drive moniker "quattro" that you'd be forgiven for assuming that the brand didn't offer two-wheel drive vehicles in the same vein as Subaru. But before quattro fully gained traction, Audi's bread and butter was the front-wheel drive market and they produced some great examples. In part, that was because unlike most other modern platforms that copied the Mini's transverse engine configuration, in the 1980s and forward to the Golf-based Audi built their platforms to accept the rearward heading drive shaft which necessitated a longitudinal engine configuration. While this pushed the engine weight farther forward than most other front-wheel drive packages, it also balanced power delivery and the driving experience in all of the non-quattro Audis in the 80s was remarkably sprite. Models like my favorite Coupe GT have gained a popular following as great drivers, but the large sedans – especially in turbo configuration – are less frequently seen: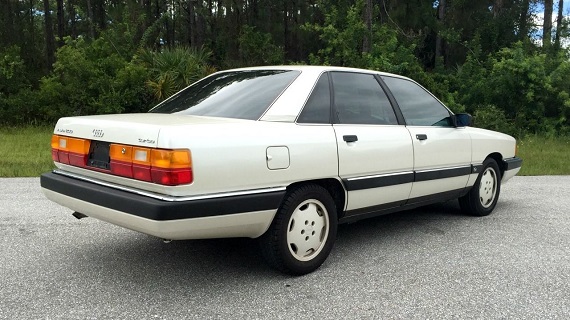 Year: 1989
Model: 200 Turbo
Engine: 2.2 liter turbocharged inline-5
Transmission: 3-speed automatic
Mileage: 79,600 mi
Price: $3,900 Buy It Now
1989 Audi 200
2.22L 5 Cylinder Gas SOHC Turbocharged Engine
Front Wheel Drive 3-speed Automatic Transmission

***ONLY 79,600 ACTUAL MILES***
AMAZING for a 26 year old vehicle (3,000 miles/year)

Exterior color: Pear White
Interior: Quartz Grey Chenille Velour and Grey Leather

Features:

Engine fuel-injected with hydraulic valve lifters and electronic idle
Ignition and boost control
Knock sensor
Boost air intercooler and water-cooled turbo housing
Front Wheel Drive
Engine Oil Cooler
Clutch, self adjusting hydraulic with asbestos free lining
Coil spring/shock absorber struts (Front & Rear)
Negative steering roll radius
Front & Rear stabilizer bar
Torsion crank axle, panhard rod
Anti-lock brake system (ABS)
Brake linings
Power 4-wheel discs (vented front)
Power rack and pinion steering
205/60 15 steel belted radial tires
Alloy wheels, aero style

Comfort & Convenience:

Automatic climate control
Anti-theft alarm system
Front & Rear center folding armrests
Digital clock
Center console w/ air vent
Electronic cruise control w/ resume feature
Rear window defogger
Lockable fuel cap w/ retention feature
Tinted glass; banded windshield
Four overhead assist handles
Heat ducts to rear seat area
Ignition key with integrated light
Interior courtesy/delay illumination
Power locking system (including trunk)
Child safety rear locks
Front seatback pockets
Power outside mirrors w/ defog feature
Illuminated vanity mirrors
6 speaker system
AM/FM stereo w/ auto-reverse cassette
8-way power front seats w/ 4 memory positions
Leather wrapped steering wheel w/ shift knob and shift boot
Wood inlays for console, dashboard and door panels
Power 2-way sunroof
Full leather upholstery
Chenille velour upholstery
Power windows w/ one-touch down driver window & rear window lock out
Intermittent front wipers w/ hinged foldable wiper arms

Stats:

Horsepower: 162 @ 5500 RPM
Torque: 177 ft. lbs. @3000 RPM
Compression Ratio: 7.8:1
Bore: 3.19 in.
Stroke: 3.40 in.

Thank you for looking.
Price is negotiable. Make your best offer.
Questions? Comments? Please contact me.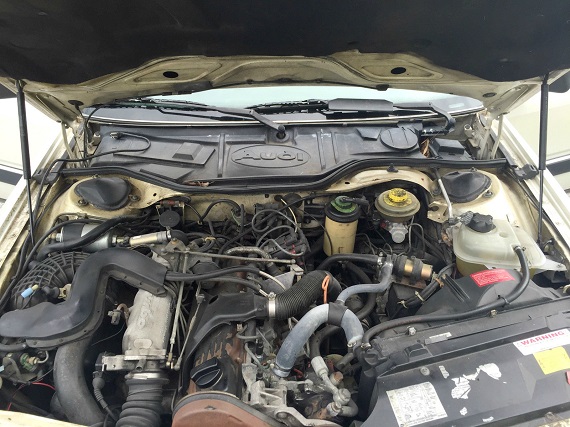 The condition on this '89 Turbo is certainly impressive and above market average. Mechanically, the front-drive 200 is nearly identical to the quattro version forward of the flywheel. Obvious differences in this case is the 3-speed automatic transmission, and in the rear the non-quattro Type 44s had a torsion crank axle with Panhard rod setup similar to the B2 chassis. Presented in Pearlescent White Metallic with Platinum Grey leather, the front drive model is really only distinguishable outside because of the wheels; unlike the BBS models that would be featured on quattro models, the Turbo got a development of the 6-spoke aero wheel featured on the previous 5000 model and would later continue to be seen on the 1990 V8 quattro and early C4 100 models in various widths. Is this a $4,000 example? I find it hard to believe anyone would be that excited to get into this package at that amount. For $4,000, you can find a more desirable 20V quattro version from 1991 albeit probably not in this condition, or similarly a later and better C4 S4. These Turbo models, as with the other Type 44 models, will continue to die out as more parts become unavailable and the complicated models begin to fail. I do hope someone saves this one, but it'll probably have to be a devoted Audi fan and at a much lower price.
-Carter