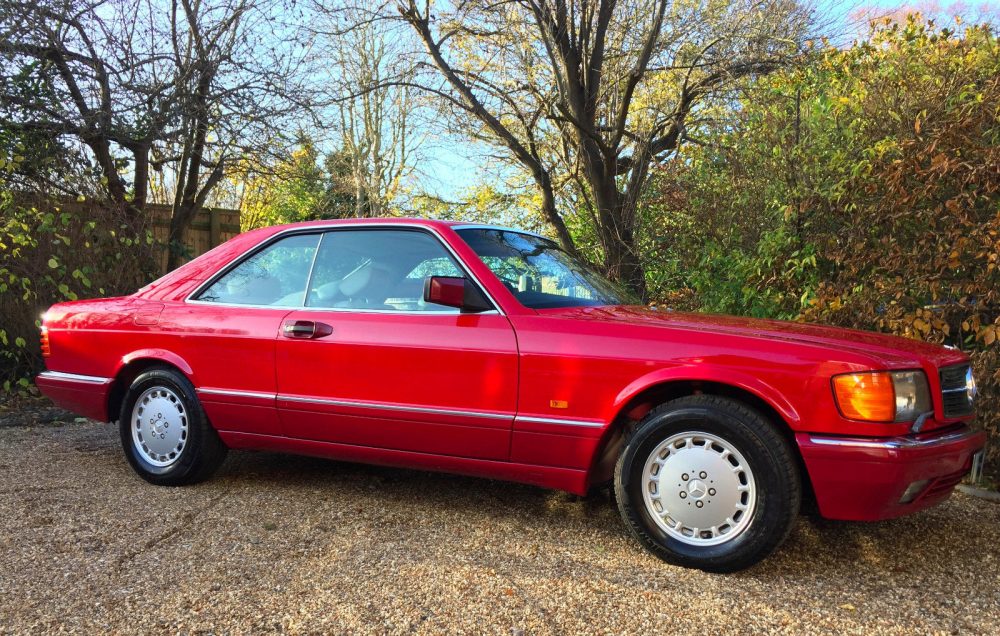 I go back and forth on red Mercedes-Benz. On certain models like the SL, I think the color suits the car quite well. On sedans, I generally despise it. Coupes? Well, it can go either way in my eyes. This car, a 1989 560SEC for sale near London, I'm actually a fan of. Painted in Signal Red, this Bruno Sacco designed coupe is a lot of red to take in, but it's far from garish in my opinion. Granted, the European-spec C126 looks really good in any color and Sacco himself that it is one of his favorite designs (outside of the door handles that he lost the battle with the engineers over). I must admit, I can't argue with him.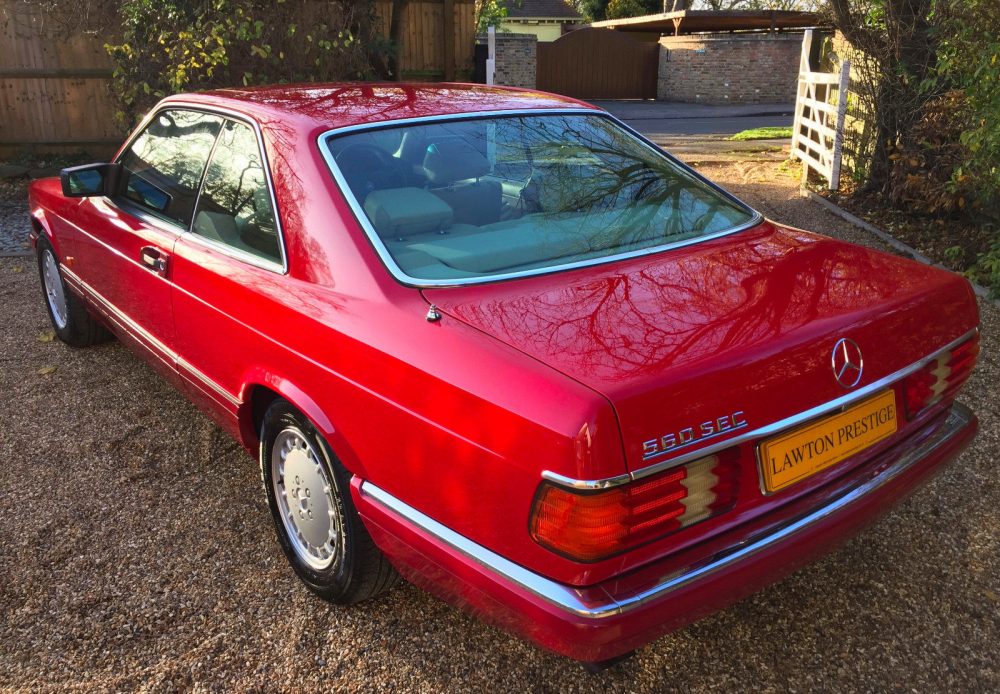 Year: 1989
Model: 560SEC
Engine: 5.5 liter V8
Transmission: 4-speed automatic
Mileage: 120,000 mi
Price: £17,995 ($24,939) Classified Ad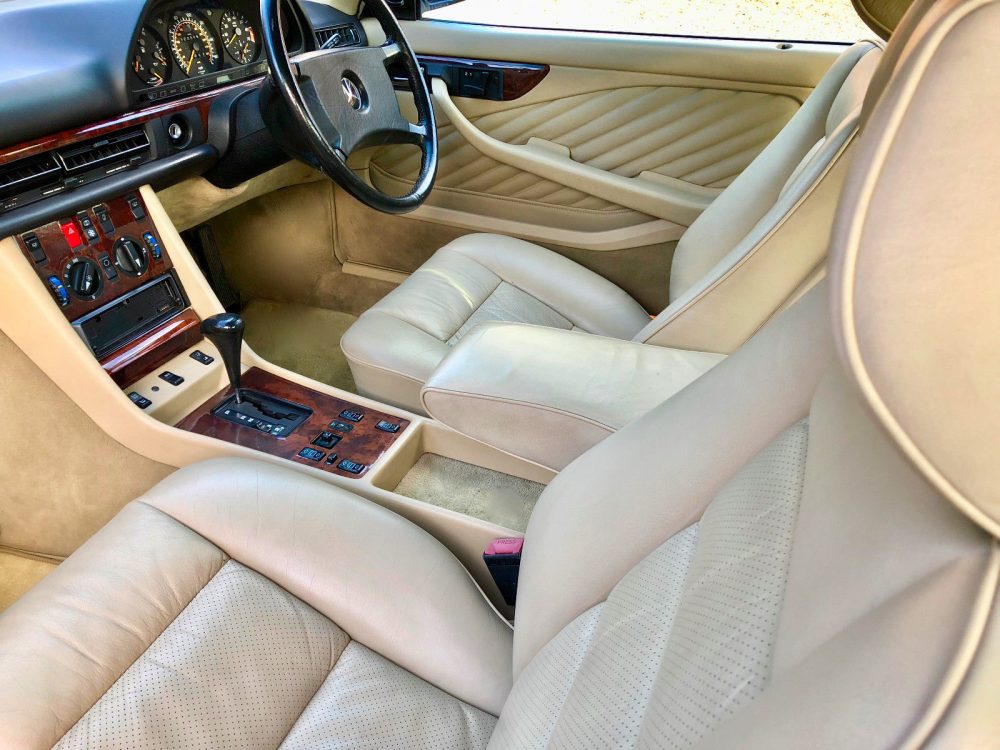 A rare, range-topping UK-supplied 560SEC in remarkable condition inside and out. Sold six months warranty and having just had a major service, MOT, and various works at a marque specialist.

Registered in June 1989 and supplied by Rose & Young Mercedes Caterham to its owner in South London, the car has been maintained superbly throughout its life by main dealers and specialists.

25+ photos can be found here

SERVICE HISTORY

There are 25 service entries in the book together with a folder of invoices and old MOT certificates plus the original owner's manuals along with 2 keys.

– Last service: c100 miles ago, by a marque specialist including all fluids, filters, spark plugs and anything else required.

– MOT: to Jan 2019.

– Mileage: 120k

– Previous owners: 5 (husband and wife owned since 2004)

– HPI Clear with certificate

EQUIPMENT

Its specification/options from factory included:

SUNROOF

AIR CONDITIONING

ELECTRIC FRONT SEATS WITH DRIVERS MEMORY

SELF LEVELLING SUSPENSION (REAR)

ABS

TWO-TONE HORN

CRUISE CONTROL

LIMITED SLIP DIFFERENTIAL

265A

LEATHER – MUSHROOM

471

ACCELERATION SKID CONTROL (ASR)

568

SIGNAL RED

873

HEATED FRONT SEATS

The purchase price in 1989 was circa £72k or £178k in today's money which goes some way to showing the level of quality and innovation that Mercedes succeeded in engineering into these cars.

An excellent example with all the right options and significant sums recently spent to ensure it looks and drives as Mercedes intended.

Please get in touch with any questions. Viewing by appointment.

Delivery available, please enquire.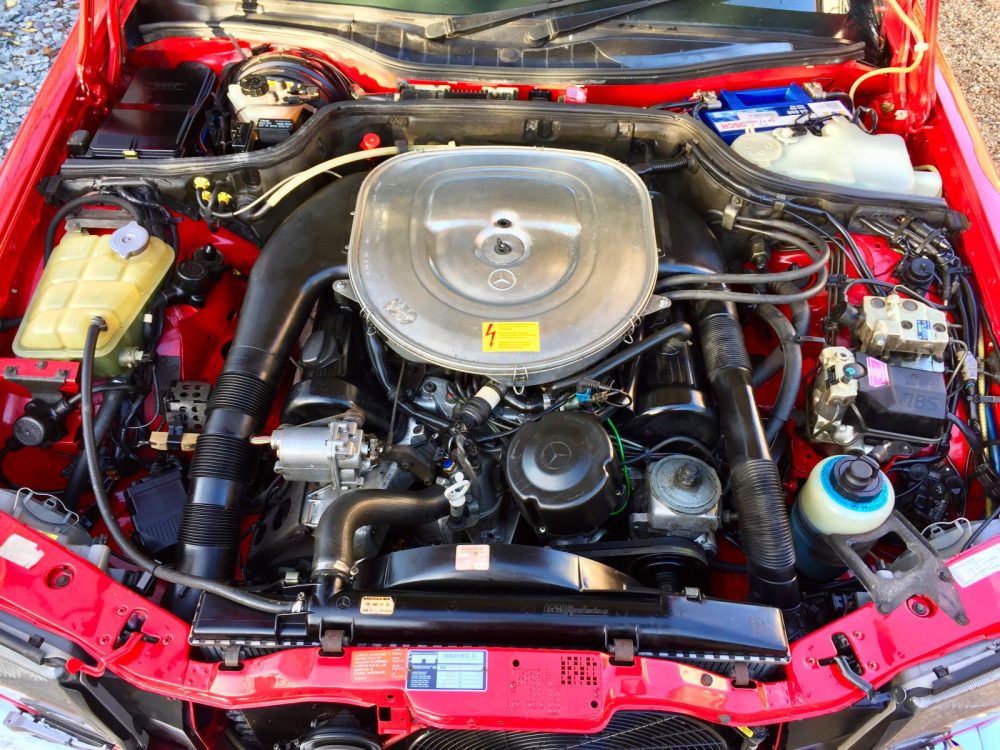 Almost every C126 coupe right is a hot buy and this one is no different. This 1989 is no mileage queen with over 120,000 but it doesn't look like it one bit. The Signal Red paint shines great, the interior looks well cared for (from what I can see) and the engine is quite tidy for having this kind of mileage. The seller does say that it has a full service history as well as a recent once-over to take care of some usual maintenance which is a good sign for this car. It's always odd to me to see these top of the line 560SECs with manual climate control and a non-airbag steering wheel, but it isn't the worse thing ever and comes with the territory on these European-spec cars.
At a hair under $25,000, I'd say this C126 is priced fairly for what it is. It's not the cheapest example out there and it is far from a great deal, but you right now your choices are pretty limited if you are seeking out a Signal Red 560SEC. These cars are going full speed into collectible status so buying one probably will won't be a bad choice in terms of value. You can fully enjoy these cars and not lose your shirt on them. Are they going to double in value the next ten years? Probably not. Mercedes made a good many of these and they aren't exactly hard to find, but like anything, a nice one is harder find. This one with its color combination? It looks like a winner to me.
– Andrew