Warning!
This post is in our archives. Links in this post may have been updated to point to similar cars available to bid on eBay.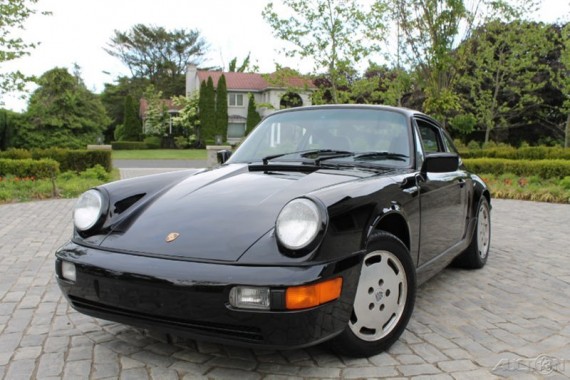 So long as I am contributing to GCFSB I will never pass up the chance to do a post on a 964 911, especially a black on with the mono block wheels. This is due partially in part to the fact that as I've learned more about classic 911's I've become increasingly fond of the 964 as it is largely the first modern 911. Additionally black 964 911's remind me of the bad guy's car in the original Beethoven movie and that was the first time I ever saw a Porsche on the big screen. The movie producers were probably trying to make some kind of statement by having a dog killing scumbag drive a black Porsche but that was lost on me, all I saw was a car that I liked. I've gone through phases of swearing that 3.2 Carreras and SCs are the "one's I'd go for" but at this point it has become clear that given my current living situation and driving habits, the 964 would make the most sense. Unfortunately for me, many other Porsche enthusiasts feel the same way and the popularity of these cars is higher than ever. Still, the occasional deal pops up and I think it's fair to say that despite not ideal mileage, this example is one of those deals.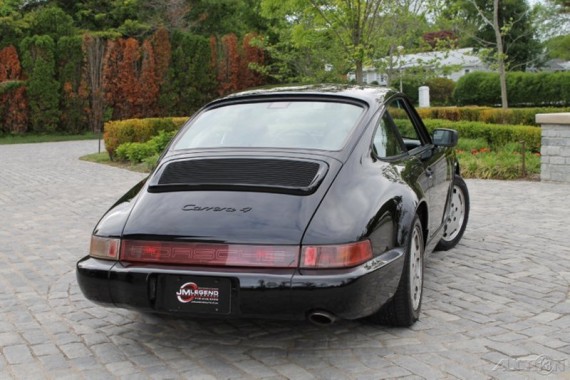 Year: 1989
Model: 911 Carrera 4
Engine: 3.6 liter flat-6
Transmission: 5-speed manual
Mileage: 135,366 mi
Price: $35,900 Buy It Now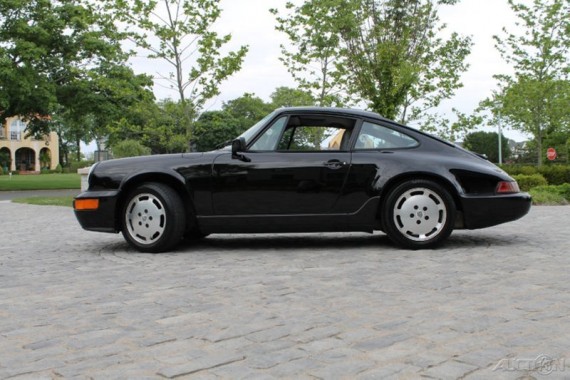 1989 Porsche 911 Carrera 4 Coupe
5-speed manual transmission
Black with classic Gray Supple leather interior
2-owner car from Virginia. It has been with the same owner since 2000. He is a Porsche Club of America member and has taken great care of this car. It is a highly original car with no modifications besides an updated Bluetooth stereo and aluminum pedals.
It comes complete with the window sticker, owners manual, maintenance manual, spare tire and tools.

We road tested this car around a twisty road and at 90 mph. It accelerated, shifted, turned and braked as we expected it to. No leaks, corrosion, rips, smells or problems that we could see.

Factory options include:
Supple leather with deviating color
Forged alloy wheels (this was a very rare option and looks great on this car)
Full power seats right and left
Lumbar support left
Radio with CD player

Please contact Steven Sasson to discuss this car
(212) 804-8070 or Steven@JMLegendAuto.com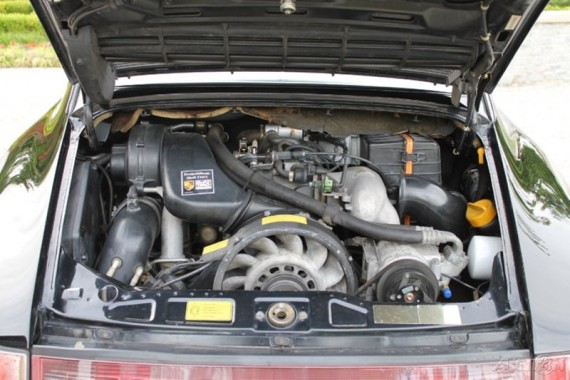 So this car was driven an average of 5,206 miles per year, that's a pretty easy life if you ask me. I know that 135k is a lot of miles for a classic 911 that a potential buyer hopes will appreciate but what about the buyer who just wants to enjoy driving the car? Are there any of you out there that are like me and want to daily a 964? When I get my classic 911 I'm going to drive it every damn day, might not be far buy it's coming out of the garage so long as there's no precipitation falling from the sky. Perhaps the previous two owners had the same rule and although I have to assume it would be mighty tempting to have some fun with the AWD system during a proper east coast snowstorm.
The car is very original, looks to have been well cared for, just normal wear and tear are apparent. The only real downside I see is the cheap-o Pioneer head unit. If you simply must have hands free calling and/or streaming audio in your car, at least get this clean looking Blaupunkt and stay away from the flashy stuff. Personally I'd keep the original stereo in and use a tape adapter if I want to listen to music, the hell with taking phone calls, I'm driving my 911!
This listing has the most pictures I've ever seen on eBay, I appreciate the attention to detail but damn, whole lot of scrolling to do. Some of you will probably catch imperfections that I missed but overall I think this car is fairly priced, I'd look to take it home for closer to $30/31k but that's just wishful thinking in this market. Until the bubble bursts(IF it bursts) I think this price point will be about as good as it gets for anything that's not a bit rough or a Targa. As we've seen in recent months, even those are coming up in value, so perhaps it's time to find a new car to lust after? Nah, just gotta look harder!
Cheers,
-Andrew