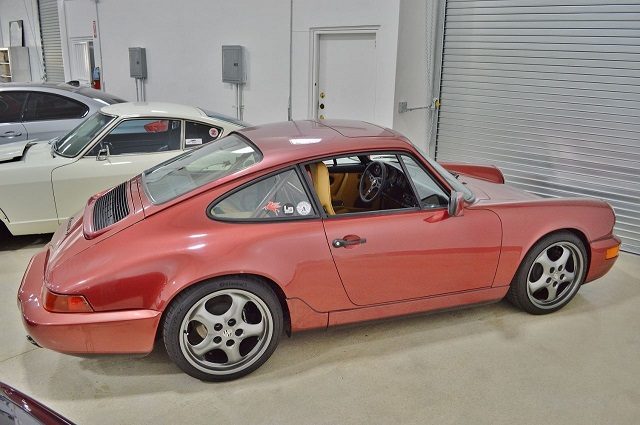 Second 964 in a row for me and this one is a little bit more unique. Given my discussion yesterday of the relative aesthetic merits of the 964 Coupe vs Targa it also makes for a fitting contrast. Like the Carmine Red 930 I featured last week, this 964 comes in one of the red variants that Porsche generally made available. Velvet Red Metallic is not nearly as subtle a contrast as Carmine Red, but it makes for a very nice color that is not quite Burgundy but also not one of the bright reds like Guards Red. The seller states that it's paint to sample, but that isn't correct. Regardless, it's rare and looks great here contrasted with the Tan interior. This 964 comes from the first year of the model's production, meaning not only was it the all new 911 design, but was also the first-year Carrera 4 that Porsche chose for the 964 debut. At a little under 100K miles it's a sharp-looking 911.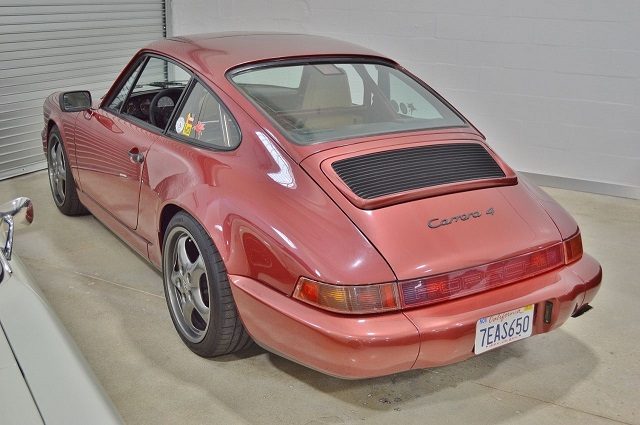 Year: 1989
Model: 911 Carrera 4
Engine: 3.6 liter flat-6
Transmission: 5-speed manual
Mileage: 97,000 mi
Price: $42,000 Buy It Now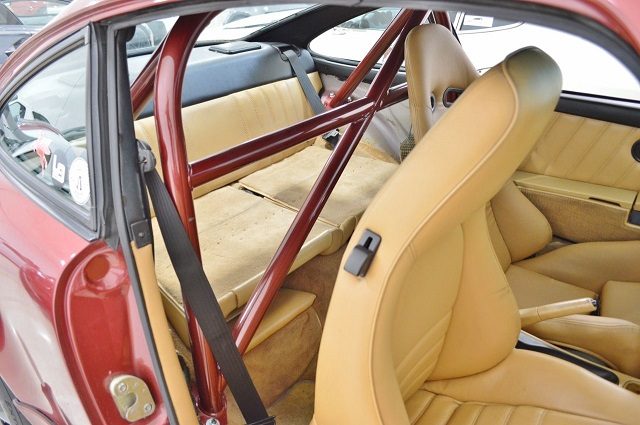 In 1989 the Carrera 4 was the most technically sophisticated 911 ever to enter serious production. This C4 Runs, Drives, and Performs Flawlessly, and is a blast to drive.
Shifts into all 5 gears well, and pulls hard our of each shift. No Smoking or funny noises coming from the engine. This is a California Car so no rust, corrosion anywhere. Does have typical 964 oil leaks, nothing major.

Paint and Exterior are in beautiful condition.

With the use of the new stout platform, a redesigned suspension and the marriage of four-wheel drive coupled to the new 3.6-liter flat six, Porsche had achieved the ultimate 911, the "C4".
This new technology is a direct result of the 959 development program. The new C4 was introduced mid-year 1989 during the tail end of the production for the last of the traditional 911's.

This C4 is nicely optioned starting with its rare "Velvet Red" metallic exterior paint, tan leather interior, power seats and electric sunroof. and some tasteful mods.

This makes for a rare and uncommon color combination that would most certainly garner some attention and lots of talk at the next PCA Cars and Coffee meet.

Paint to sample – Rose Velvet Red
Tan Leather Interior with sport seats
Bolt in cage
Cup 2 wheels
Driver side carbon backed Bride seat
Mechanically stock
All cosmetic parts are included besides original d90's

INQUIRIES CALL: DANNY 786-291-3622 or TONY 305-988-3092

CAN SHIP WORLDWIDE INSURED IF NEEDED
CAR IS LOCATED IN MIAMI, FLORIDA 33156
FINANCING IS AVAILABLE W APP CREDIT
TRADES WELCOMED UP OR DOWN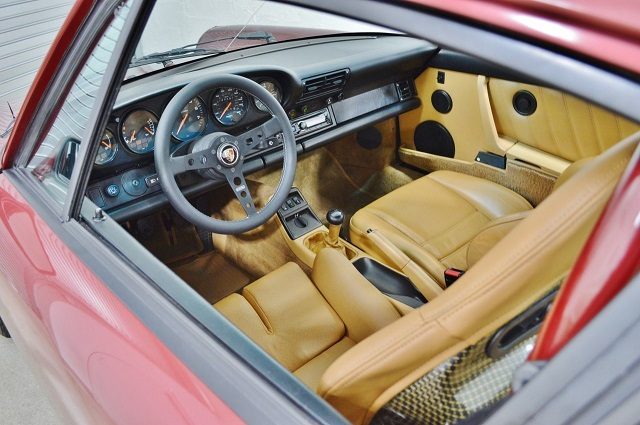 Given the modifications it's probably safe to assume this Carrera 4 has seen some track time. From the roll bar, to the driver's seat, to the air ducts replacing the front lenses, the feel here is of a mild track car. It's a 911 so that should not really surprise us nor concern us, but it should make prospective buyers take a more thorough look through whatever records exist so as to get a handle on servicing and other details. Everything looks in really nice shape though. I'd guess it's been repainted given that all of its stickers are missing from the engine bay so we might inquire as to the reason for that. Of some concern would be the statement about small oil leaks. Typical or not, those could hint at larger service bills to come.
Of the modifications, the cosmetic items (other than original wheels) are said to be included. Presumably that includes the original sport seat for the driver's side, which I'd guess would be of greatest import to potential buyers. This 964 probably won't attract too much notice from collectors so I don't think this is a matter of being able to return the car to its original condition. Rather, it might just be a matter of comfort and symmetry. Altogether the asking price isn't all that bad assuming a PPI reveals no major issues. For an attractive 964 Coupe in a rare color I'd guess there should be plenty of interest here.
-Rob